Abstract
Respiratory syncytial virus (RSV) is the key underlying cause of acute lower respiratory tract infection in infants; however, no licensed vaccine against RSV infection is currently available. This study was undertaken to assess the preventive effect of vaccine on RSV infection. In this metaanalysis, 1,792 published randomized clinical trials of RSV vaccines from Jan 1973 to Sep 2015 were examined. Among thirteen studies that met the inclusion criteria, eleven studies estimated the impact of RSV vaccines and four studies estimated the effect of adjuvants. The odds ratios (ORs) were 0.31 (95% CI, 0.15–0.67) and 0.62 (95% CI, 0.29–1.34), respectively. We found that RSV subunit vaccines can significantly reduce the incidence of RSV infection and that whether vaccination with adjuvant therapy was an effective strategy still remained to be studied. This analysis of the preventive effect of vaccines on RSV infection has direct applications for the prevention of RSV infections.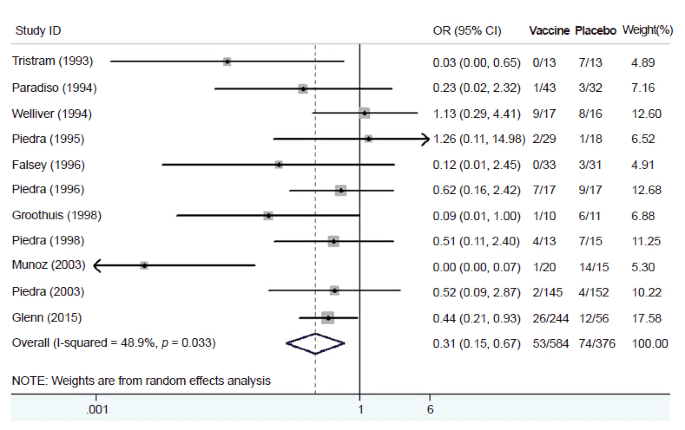 Access options
Buy single article
Instant access to the full article PDF.
USD 39.95
Price excludes VAT (USA)
Tax calculation will be finalised during checkout.
References
Belshe RB, Anderson EL, Walsh EE. 1993. Immunogenicity of purified F glycoprotein of Respiratory syncytial virus: clinical and immune responses to subsequent natural infection in children. J Infect Dis, 168: 1024–1029.

Bernstein DI, Malkin E, Abughali N, Falloon J, Yi T, Dubovsky F. 2012. Phase 1 study of the safety and immunogenicit of a live, attenuated respiratory syncytial virus and parainfluenza virus type 3 vaccine in seronegative children. Pediatr Infect Dis J, 31: 109–114.

Blanco JC, Boukhvalova MS, Shirey KA, Prince GA, Vogel SN. 2010. New insights for development of a safe and protective RSV vaccine. Hum Vaccin, 6: 482–492.

Bradley JS, Connor JD, Compogiannis LS, Eiger LL. 1990. Exposure of health care workers to ribavirin during therapy for respiratory syncytial virus infections. Antimicrob Agents Chemother, 34: 668–670.

Collins PL, Crowe JE. 2007. Respiratory Syncytial Virus and Metapneumo virus. 5th Edition edn Lippincott Williams&Wilkins, Philadelphia, PA, USA.

Collins PL, Graham BS. 2008. Viral and host factors in human respiratory syncytial virus pathogenesis. J Virol, 82: 2040–2055.

Collins PL, Melero JA. 2011. Progress in understanding and controlling respiratory syncytial virus: still crazy after all these years. Virus Res, 162: 80–99.

Connors M, Collins PL, Firestone CY, Sotnikov AV, Waitze A, Davis AR, Hung PP, Chanock RM, Murphy BR. 1992. Cotton rats previously immunized with a chimeric RSV FG glycoprotein develop enhanced pulmonary pathology when infected with RSV, a phenomenon not encountered following immunization with vaccinia—RSV recombinants or RSV. Vaccine, 10: 475–484.

Empey KM, Peebles RS, Kolls JK. 2010. Pharmacologic advances in the treatment and prevention of respiratory syncytial virus. Clin Infect Dis, 50: 1258–1267.

Falsey AR, Walsh EE. 1996. Safety and immunogenicity of a respiratory syncytial virus subunit vaccine (PFP-2) in ambulatory adults over age 60. Vaccine, 14: 1214–1218.

Falsey AR, Walsh EE. 1997. Safety and immunogenicity of a respiratory syncytial virus subunit vaccine (PFP-2) in the institutionalized elderly. Vaccine, 15: 1130–1132.

Falsey AR, Walsh EE, Capellan J, Gravenstein S, Zambon M, Yau E, Gorse GJ, Edelman R, Hayden FG, McElhaney JE, Neuzil KM, Nichol KL, Simões EA, Wright PF, Sales VM. 2008. Comparison of the safety and immunogenicity of 2 respiratory syncytial virus (rsv) vaccines—nonadjuvanted vaccine or vaccine adjuvanted with alum—given concomitantly with influenza vaccine to high-risk elderly individuals. J Infect Dis, 198: 1317–1326.

Falsey AR. 2010. RSV in adults: What do we know? What do we need to know? Where are we going? Paper presented at Proceedings of the 7th International Respiratory Syncytial Virus Symposium. Rotterdam, The Netherlands, 2 December.

Glezen WP, Taber LH, Frank AL, Kasel JA. 1986. Risk of primary infection and reinfection with respiratory syncytial virus. Am J Dis Child, 140: 543–546.

Glenn GM, Smith G, Fries L, Raghunandan R, Lu H, Zhou B, Thomas DN, Hickman SP, Kpamegan E, Boddapati S, Piedra PA. 2013. Safety and immunogenicity of a Sf9 insect cell-derived respiratory syncytial virus fusion proteinnanoparticle vaccine. Vaccine, 7: 524–532.

Glenn GM, Fries LF, Thomas DN, Smith G, Kpamegan E, Lu H, Flyer D, Jani D, Hickman SP, Piedra PA. 2015. A Randomized, Blinded, Controlled, Dose-Ranging Study of a Respiratory Syncytial Virus RecombinantFusion (F) Nanoparticle Vaccine in Healthy Women of Childbearing Age. J Infect Dis, pii: jiv406.

Groothuis JR, King SJ, Hogerman DA, Paradiso PR, Simoes EA. 1998. Safety and immunogenicity of a purified F protein respiratory syncytial virus (PFP-2) vaccine in seropositive children with bronchopulmonary dysplasia. J Infect Dis, 177: 467–469.

Hall CB, Weinberg GA, Iwane MK, Blumkin AK, Edwards KM, Staat MA. 2009. The burden of respiratory syncytial virus infection in young children. N Engl J Med, 360: 588–598.

Harcourt JL, Karron RA, Tripp RA. 2004. Anti-G protein antibody responses to respiratory syncytial virus infection or vaccination are associated with inhibition of G protein CX3C-CX3CR1 binding and leukocyte chemotaxis. J Infect Dis, 190: 1936–1940.

Julian PT, Sally Green. 2000. Cochrane Reviewers Handbook 4.1.1 [updated December 2000]. Oxford.

Kaaijk P, Luytjes W, Rots NY. 2013. Vaccination against RSV: Is maternal vaccination a good alternative to other approaches? Human vaccines & immunotherapeutics 9.

Langley JM, Sales V, McGeer A, Guasparini R, Predy G, Meekison W, Li M, Capellan J, Wang E. 2009. A dose-ranging study of a subunit Respiratory Syncytial Virus subtype A vaccine with and without aluminum phosphate adjuvantation in adults ≥ 65 years of age. Vaccine, 25: 5913–5919.

Mandell GL, Bennett JE, Kelvin GV. 2005. Principles and Practice of Infection Disease.sixth ed edn. Elsevier/Churchill Livingstone, Philadelphia, Pa.

Munoz FM, Piedra PA, Glezen WP. 2003. Safety and immunogenicity of respiratory syncytial virus purified fusion protein-2 vaccine in pregnant women. Vaccine, 21: 3465–3467.

Nair H, Brooks WA, Katz M, Roca A, Berkley JA, Madhi SA. 2011. Global burden of respiratory infections due to seasonal influenza in young children: a systematic review and meta-analysis. Lancet, 378: 1917–1930.

Paradiso PR, Hildreth SW, Hogerman DA, Speelman DJ, Lewin EB, Oren J, Smith DH. 1994. Safety and immunogenicity of a subunit respiratory syncytial virus vaccine in children 24 to 48 months old. Pediatr Infect Dis J, 13: 792–798.

Paramore LC, Ciuryla V, Ciesla G, Liu L. 2004. Economic impact of respiratory syncytial virus-related illness in the US: an analysis of national databases. Pharmaco Economics, 22: 275–284.

Piedra PA, Glezen WP, Kasel JA, Welliver RC, Jewel AM, Rayford Y, Hogerman DA, Hildreth SW, Paradiso PR. 1995. Safety and immunogenicity of the PFP vaccine against respiratory syncytial virus (RSV): the western blot assay aids in distinguishing immune responses of the PFP vaccine from RSV infection. Vaccine, 13: 1095–1101.

Piedra PA, Grace S, Jewell A, Spinelli S, Bunting D, Hogerman DA, Malinoski F, Hiatt PW. 1996. Purified fusion protein vaccine protects against lower respiratory tract illness during respiratory syncytial virus season in children with cystic fibrosis. Pediatr Infect Dis J, 15: 23–31.

Piedra PA, Grace S, Jewell A, Spinelli S, Hogerman DA, Malinoski F, Hiatt PW. 1998. Sequential annual administration of purified fusion protein vaccine against respiratory syncytial virus in children with cystic fibrosis. Pediatr Infect Dis, 17: 217–224.

Piedra PA, Cron SG, Jewell A, Hamblett N, McBride R, Palacio MA, Ginsberg R, Oermann CM, Hiatt PW. 2003. Immunogenicity of a new purified fusion protein vaccine to respiratory syncytial virus: a multi-center trial in children with cystic fibrosis. Vaccine, 21: 2448–2460.

Rudraraju R, Surman SL, Jones BG, Sealy R, Woodland DL, Hurwitz JL. 2012. Reduced frequencies and heightened CD103 expression among virus-induced CD8(+) T cells in the respiratory tract airways of vitamin A-deficient mice. Clin Vaccine Immunol, 19: 757–765.

Rudraraju R, Jones BG, Sealy R, Surman SL, Hurwitz JL. 2013. Respiratory syncytial virus: current progress in vaccine development. Viruses, 5: 577–594.

Ruuskanen O, Lahti E, Jennings LC, Murdoch DR. 2011. Viral pneumonia. Lancet, 377: 1264–1275.

Schepens B, De Baets S, Sedyen K. 2012. He's a novel target for RSV vaccination. Paper presented at Presented at the 8th Respiratory Syncytial Virus Symposium. Santa Fe, NM, USA.

Smith G, Raghunandan R, Wu Y, Liu Y, Massare M, Nathan M, Zhou B, Lu H, Boddapati S, Li J, Flyer D, Glenn G. 2012. Respiratory syncytial virus fusion glycoprotein expressed in insect cells form protein nanoparticles that induce protective immunity in cotton rats. PLoS One, 7: e50852.

Surman SL, Rudraraju R, Sealy R, Jones B, Hurwitz JL. 2012. Vitamin A deficiency disrupts vaccine-induced antibody-forming cells and the balance of IgA/IgG isotypes in the upper and lower respiratory tract. Viral Immunol, 25: 341–345.

Tayyari F, Marchant D, Moraes TJ Duan W, Mastrangelo P, Hegele RG. 2011. Identification of nucleolin as a cellular receptor for human respiratory syncytial virus. Nat Med, 17: 1132–1135.

Techaarpornkul S, Collins PL, Peeples ME. 2002. Respiratory syncytial virus with the fusion protein as its only viral glycoprotein is less dependent on cellular glycosaminoglycans for attachment than complete virus. Virology, 294: 296–304.

Thompson WW, Shay DK, Weintraub En, Brammer L, Cox N, Anderson LJ, Fukuda K. 2003. Mortality associated with influenza and respiratory syncytial virus in the United States. JAMA, 289: 179–186.

Tristram DA, Welliver RC, Mohar CK, Hogerman DA, Hildreth SW, Paradiso P. 1993. Immunogenicity and safety of respiratory syncytial virus subunit vaccine in seropositive children 18-36 months old. J Infect Dis, 167: 191–195.

Weinberg GA, Hall CB, Iwane MK. Poehling KA, Edwards KM, Griffin MR, Staat MA, Curns AT, Erdman DD, Szilagyi PG, New Vaccine Surveillance Network. 2009. Parainfluenza virus infection of young children: estimates of the population-based burden of hospitalization. J Pediatr, 154: 694–699.

Welliver RC, Tristram DA, Batt K, Sun M, Hogerman D, Hildreth S. 1994. Respiratory syncytial virus-specific cell-mediated immune responses after vaccination with a purified fusion protein subunit vaccine. J Infect Dis, 170: 425–428.
Additional information
ORCID: 0000-0003-4072-812X
These authors contributed equally to this work.
About this article
Cite this article
Zhu, T., Zhang, C., Yu, L. et al. The preventive effect of vaccine prophylaxis on severe respiratory syncytial virus infection: A meta-analysis. Virol. Sin. 30, 371–378 (2015). https://doi.org/10.1007/s12250-015-3630-3
Received:

Accepted:

Published:

Issue Date:

DOI: https://doi.org/10.1007/s12250-015-3630-3
Keywords
respiratory syncytial virus (RSV)

vaccine prophylaxis

meta-analysis