Abstract
Every year, millions of individuals throughout the world are seriously affected by dengue virus. The unavailability of a vaccine and of anti-viral drugs has made this mosquito-borne disease a serious health concern. Not only does dengue cause fatalities but it also has a profoundly negative economic impact. In recent decades, extensive research has been performed on epidemiology, vector biology, life cycle, pathogenesis, vaccine development and prevention. Although dengue research is still not at a stage to suggest definite hopes of a cure, encouraging significant advances have provided remarkable progress in the fight against infection. Recent developments indicate that both anti-viral drug and vaccine research should be pursued, in parallel with vector control programs.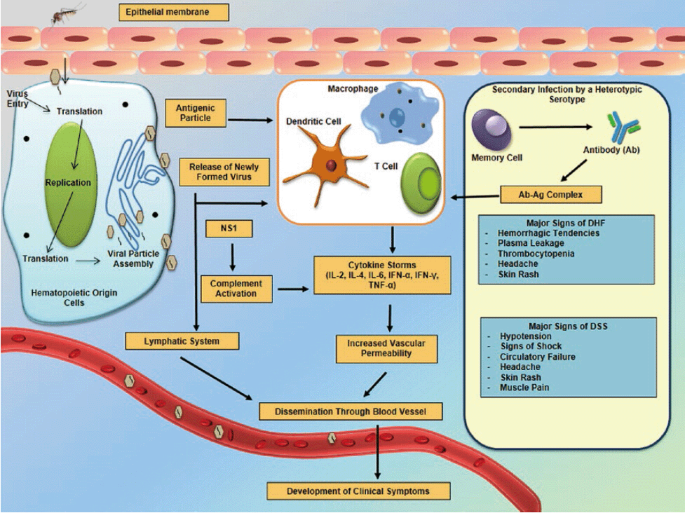 References
Acosta EG, Kumar A, Bartenschlager R. 2014. Revisiting dengue virus-host cell interaction: new insights into molecular and cellular virology. Adv Virus Res, 88: 1–109.

Akkina R. 2013. New generation humanized mice for virus research: comparative aspects and future prospects. Virology, 435: 14–28.

Alves MJ, Fernandes PL, Amaro F, Osorio H, Luz T, Parreira P, Andrade G, Zé-Zé L, Zeller H. 2013. Clinical presentation and laboratory findings for the first autochthonous cases of dengue fever in Madeira island, Portugal, October 2012. Euro Surveill, 18: pii: 20398.

Amarasinghe A, Kuritsky JN, Letson GW, Margolis HS. 2011. Dengue virus infection in Africa. Emerg Infect Dis, 17: 1349–1354.

Arias CF, Preugschat F, Strauss JH. 1993. Dengue 2 virus NS2B and NS3 form a stable complex that can cleave NS3 within the helicase domain. Virology, 193: 888–899.

Astrom C, Rocklov J, Hales S, Beguin A, Louis V, Sauerborn R. 2012. Potential distribution of dengue fever under scenarios of climate change and economic development. Ecohealth, 9: 448–454.

Australia Department of Health Western. 2012. Bali travel behind spike in dengue fever. Disease Watch, 16.

Avirutnan P, Punyadee N, Noisakran S, Komoltri C, Thiemmeca S, Auethavornanan K, Jairungsri A, Kanlaya R, Tangthawornchaikul N, Puttikhunt C, Pattanakitsakul SN, Yenchitsomanus PT, Mongkolsapaya J, Kasinrerk W, Sittisombut N, Husmann M, Blettner M, Vasanawathana S, Bhakdi S, Malasit P. 2006. Vascular leakage in severe dengue virus infections: a potential role for the nonstructural viral protein NS1 and complement. J Infect Dis, 193: 1078–1088.

Bäck AT and Lundkvist Å. 2013. Dengue viruses: an overview. Infect Ecol Epidemiol, 3: 10.3402/iee.v3i0.19839.

Barban V, Girerd Y, Aguirre M, Gulia S, Petiard F, Riou P, Barrere B, Lang J. 2007. High stability of yellow fever 17D-204 vaccine: a 12-year retrospective analysis of large-scale production. Vaccine, 25: 2941–2950.

Barniol J, Gaczkowski R, Barbato EV, da Cunha RV, Salgado D, Martinez E, Segarra CS, Pleites Sandoval EB, Mishra A, Laksono IS, Lum LC, Martínez JG, Núnez A, Balsameda A, Allende I, Ramírez G, Dimaano E, Thomacheck K, Akbar NA, Ooi EE, Villegas E, Hien TT, Farrar J, Horstick O, Kroeger A, Jaenisch T. 2011. Usefulness and applicability of the revised dengue case classification by disease: Multi-centre study in 18 countries. BMC Infect Dis, 11: 106.

Basilio-de-Oliveira CA, Aguiar GR, Baldanza MS, Barth OM, Eyer-Silva WA, Paes MV. 2005. Pathologic study of a fatal case of dengue-3 virus infection in Rio de Janeiro, Brazil. Braz J Infect Dis, 9: 341–347.

Beltramello M, Williams KL, Simmons CP, Macagno A, Simonelli L, Quyen NT, Sukupolvi-Petty S, Navarro-Sanchez E, Young PR, de Silva AM, Rey FA, Varani L, Whitehead SS, Diamond MS, Harris E, Lanzavecchia A, Sallusto F. 2010. The human immune response to Dengue virus is dominated by highly cross-reactive antibodies endowed with neutralizing and enhancing activity. Cell Host Microbe, 8: 271–283.

Barrett AD, Monath TP, Barban V, Niedrig M, Teuwen DE. 2007. 17D yellow fever vaccines: new insights. A report of a workshop held during the World Congress on medicine and health in the tropics, Marseille, France, Monday 12 September 2005. Vaccine, 25: 2758–2765.

Beatty ME, Vorndam V, Hunsperger EA, Muñoz JL, Clark GG. 2005. Travel-associated dengue infections- United States, 2001-2004. Morbidity and Mortality Weekly Report (MMWR), 54: 556–558.

Bente DA, Melkus MW, Garcia JV, Rico-Hesse R. 2005. Dengue fever in humanized NOD/SCID mice. J Virol, 79: 13797–13799.

Bente DA, Rico-Hesse R. 2006. Models of dengue virus infection. Drug Discov Today, 3: 97–103.

Bernardo L, Izquierdo A, Alvarez M, Rosario D, Prado I, Lopez C, et al. 2008. Immunogenicity and protective efficacy of a recombinant fusion protein containing the domain III of the dengue 1 envelope protein in non-human primates. Antiviral Res, 80: 194–199.

Bhamarapravati N, Sutee Y. 2000. Live attenuated tetravalent dengue vaccine. Vaccine, 18: 44–47.

Bhatt S, Gething PW, Brady OJ, Messina JP, Farlow AW, Moyes CL, Drake JM, Brownstein JS, Hoen A G, Sankoh O, Myers MF, George DB, Jaenisch T, Wint GRW, Simmons CP, Scott TW, Farrar JF, Hay SI. 2013. The global distribution and burden of dengue. Nature, 496: 504–507

Blaney JE Jr, Hanson CT, Hanley KA, Murphy BR, Whitehead SS. 2004. Vaccine candidates derived from a novel infectious cDNA clone of an American genotype dengue virus type 2. BMC Infect Dis, 4: 39.

Blaney JE, Hanson CT, Firestone CY, Hanley KA, Murphy BR, Whitehead SS. 2004. Genetically modified, live attenuated dengue virus type 3 vaccine candidates. Am J Trop Med Hyg, 71: 811–821.

Blaney JE, Matro JM, Murphy BR, Whitehead SS. 2005. Recombinant, live-attenuated tetravalent dengue virus vaccine formulations induce a balanced, broad, and protective neutralizing antibody response against each of the four serotypes in rhesus monkeys. J Virol, 79: 5516–5528.

Brandler S, Ruffie C, Najburg V, Frenkiel MP, Bedouelle H, Despres P, Tangy F. 2010. Pediatric measles vaccine expressing a dengue tetravalent antigen elicits neutralizing antibodies against all four dengue viruses. Vaccine, 28: 6730–6739.

Cafferata ML, Bardach A, Rey-Ares L, Alcaraz A, Cormick G, Gibbons L, Romano M, Cesaroni S, Ruvinsky S. 2013. Dengue epidemiology and burden of disease in Latin America and the Caribbean: a systematic review of the literature and meta-analysis. Value in Health Regional Issues, 2: 347–356.

Carey DE, Causey OR, Reddy S, Cooke AR. 1971. Dengue viruses from febrile patients in Nigeria, 1964–1968. Lancet, 1: 105–106.

CDC. 2007. Dengue hemorrhagic fever—U.S.–Mexico border, 2005. MMWR Morb Mortal Wkly Rep, 56: 785–789.

CDC. 2010. Locally acquired Dengue—Key West, Florida, 2009–2010. MMWR Morb Mortal Wkly Rep, 59: 577–581.

Chan YC, Salahuddin NI, Khan J, Tan HC, Seah CL, Li J, Chow VT. 1995. Dengue haemorrhagic fever outbreak in Karachi, Pakistan, 1994. Trans R Soc Trop Med Hyg, 89: 619–620.

Chang GJ, Hunt AR, Holmes DA, Springfield T, Chiueh TS, Roehrig JT, Gubler DJ. 2003. Enhancing biosynthesis and secretion of premembrane and envelope proteins by the chimeric plasmid of dengue virus type 2 and Japanese encephalitis virus. Virology, 306: 170–180.

Chen HW, Liu SJ, Liu HH, Kwok Y, Lin CL, Lin LH, Chen MY, Tsai JP, Chang LS, Chiu FF, Lai LW, Lian WC, Yang CY, Hsieh SY, Chong P, Leng CH. 2009. A novel technology for the production of a heterologous lipoprotein immunogen in high yield has implications for the field of vaccine design. Vaccine, 27: 1400–1409.

Chen L, Ewing D, Subramanian H, Block K, Rayner J, Alterson KD, Sedegah M, Hayes C, Porter K, Raviprakash K. 2007. A heterologous DNA prime-Venezuelan equine encephalitis virus replicon particle boost dengue vaccine regimen affords complete protection from virus challenge in cynomolgus macaques. J Virol, 81: 11634–11639.

Chen R, Vasilakis N. 2011. Dengue — Quo tu et quo vadis? Viruses, 3: 1562–1608.

Chowdhury DR, Angov E, Kariuki T, Kumar N. 2009. A potent malaria transmission blocking vaccine based on codon harmonized full length Pfs48/45 expressed in Escherichia coli. PLoS ONE, 4: e6352.

Churdboonchart V, Bhamarapravati NP, Futrakul NP. 1983. Crossed immunoelectrophoresis for the detection of split products of the third complement in dengue hemorrhagic fever. I. Observations in patients' plasma. Am J Trop Med Hyg, 32: 569–576.

Clyde K, Kyle JL, Harris E. 2006. Recent advances in deciphering viral and host determinants of dengue virus replication and pathogenesis. J Virol, 80: 11418–11431.

Cornet M. 1993. Dengue in Africa. Epidemiology of dengue and dengue hemorrhagic fever. Monograph on dengue/dengue hemorrhagic fever. Geneva: World Health Organization, 39–47.

Costa RL, Voloch CM, Schrago CG. 2012. Comparative evolutionary epidemiology of dengue virus serotypes. Infect Genet Evol, 12: 309–314.

Crabtree MB, Kinney RM, and Miller BR. 2005. Deglycosylation of the NS1 protein of dengue 2 virus, strain 16681: construction and characterization of mutant viruses. Arch Virol, 150: 771–786.

Cummings DAT, Iamsirithaworn S, Lessler JT, McDermott A, Prasanthong R, Nisalak A, Jarman RG, Bruke DS, Gibbons RV. 2009. The impact of the demographic transition on dengue in Thailand: insights from a statistical analysis and mathematical modeling. PLoS Med, 6: e1000139.

Dash AP, Bhatia R, Kalra NL. 2012. Dengue in South-East Asia: an appraisal of case management and vector control. WHO dengue Bulletin, 36: 1–13.

da Silva Voorham JM. 2014. A possible fifth dengue virus serotype. Ned Tijdschr Geneeskd, 158: A7946.

Dimopoulos G. 2003. Insect immunity and its implication in mosquito–malaria interactions. Cell Microbiol, 5: 3–14.

Doherty RL, Westaway EG, Whitehead RH. 1967. Further studies of the aetiology of an epidemic of dengue in Queensland, 1954-1955. Med J Australia, 2: 1078–1080.

Dorji T, Yoon IK, Holmes EC, Wangchuk S, Tobgay T, Nisalak A. 2009. Diversity and origin of dengue virus serotypes 1, 2, and 3, Bhutan. Emerg Infect Dis, 15: 1630–1632.

English L, Chemali M, Duron J, Rondeau C, Laplante A, Gingras D, Alexander D, Leib D, Norbury C, Lippé R, Desjardins M. 2009. Autophagy enhances the presentation of endogenous viral antigens on MHC class I molecules during HSV-1 infection. Nat Immunol, 10: 480–487.

Etemad B, Batra G, Raut R, Dahiya S, Khanam S, Swaminathan S, Khanna N. 2008. An envelope domain III-based chimeric antigen produced in Pichia pastoris elicits neutralizing antibodies against all four dengue virus serotypes. Am J Trop Med Hyg, 79: 353–363.

European Centre for Disease Prevention and Control (ECDC) bulletin. 2014. Dengue- Multistate (world)- Monitoring seasonal epidemics in Communicable Disease Threats Report.

Falgout B, Pethel M, Zhang YM, Lai CJ. 1991. Both nonstructural proteins NS2B and NS3 are required for the proteolytic processing of dengue virus nonstructural proteins. J Virol, 65: 2467–2475.

Fiqueiredo LTM, Cavalcante SMB, Simões MC. 1990. Dengue serologic survey of school children in Rio de Janeiro, Brazil in 1986 and 1987. Bull Pan Am Health Organ, 24: 217–225.

Freedman DO, Weld LH, Kozarsky PE, Fisk T, Robins R, von Sonnenburg F, Keystone JS, Pandey P, Cetron MS, GeoSentinel Surveillance Network. 2006. Spectrum of disease and relation to place of exposure among ill returned travelers. N Engl J Med, 354: 119–130.

Gasperino J, Yunen J, Guh A, Tanaka KE, Kvetan V, Doyle H. 2007. Fulminant liver failure secondary to haemorrhagic dengue in an international traveller. Liver Int, 27: 1148–1151.

Goncalvez AP, Engle RE, St Claire M, Purcell RH, Lai CJ. 2007. Monoclonal antibody-mediated enhancement of dengue virus infection in vitro and in vivo and strategies for prevention. Proc Natl Acad Sci USA, 104: 9422–9427.

Graham H. 1903. The dengue: a study of its pathology and mode of propagation. J Trop Med, 6: 209–214.

Guabiraba R, Ryffel B. 2014. Dengue virus infection: current concepts in immune mechanisms and lessons from murine models. Immunology, 141:143–156.

Guard RW, Stallman ND, Weimers MA. 1984. Dengue in northern region of Queensland, 1981-1982. Med J Australia, 140: 765–9.

Gubler DJ. 1976. Variation among geographic strains of Aedes albopictus in susceptibility to infection with dengue viruses. Am J Trop Med Hyg, 25: 319–325.

Gubler DJ. 1989. Aedes aegypti and Aedes aegypti-borne disease control in the 1990s: top down or bottom up. Charles Franklin Craig Lecture. Am J Trop Med Hyg, 40: 571–578.

Gubler DJ, Clark GG. 1995. Dengue/dengue hemorrhagic fever: the emergence of a global health problem. Emerg Infect Dis, 1.

Gubler DJ. 1997. Dengue and dengue hemorrhagic fever: its history and resurgence as a global public health problem. In: Dengue and dengue hemorrhagic fever. Gubler DJ, Kuno G (eds). London: CAB International, pp. 1–22.

Gubler DJ. 2004. The changing epidemiology of yellow fever and dengue, 1900 to 2003: full circle? Comp Immunol Microbiol Infect Dis, 27: 319–330.

Gubler DJ. 2006. Dengue/dengue haemorrhagic fever: history and current status. Novartis Found Symp. 277: 3–16.

Guha-Sapir D, Schimmer B. 2005. Dengue fever: new paradigms for a changing epidemiology. Emerg Themes Epidemiol, 2: 1.

Guirakhoo F, Pugachev K, Arroyo J, Miller C, Zhang ZX, Weltzin R, Georgakopoulos K, Catalan J, Ocran S, Draper K, Monath TP. 2002. Viremia and immunogenicity in nonhuman primates of a tetravalent yellow fever–dengue chimeric vaccine: genetic reconstructions, dose adjustment, and antibody responses against wild-type dengue virus isolates. Virology, 298: 146–159.

Gupta N, Srivastav S, Jain A, Chaturvedi UC. 2012. Dengue in India. Indian J Med Res, 136: 337–390.

Guzman MG, Halstead SB, Artsob H, Buchy P, Farrar J, Gubler DJ, Hunsperger E, Kroeger A, Margolis HS, Martínez E, Nathan MB, Pelegrino JL, Simmons C, Yoksan S, Peeling RW. 2010. Dengue: a continuing global threat. Nat Rev Microbiol, 8: S7–S16.

Guzman MG, Kouri GP, Bravo J, Soler M, Vasquez S, Santos M, Villaescusa R, Basanta P, Indan G, Ballester JM. 1984. Dengue haemorrhagic fever in Cuba. II. Clinical investigations. Trans R Soc Trop Med Hyg, 78: 239–241.

Guzman MG, Alvarez M, Rodriguez R, Rosario D, Vazquez S, Valds L, Cabrera MV, Kouri G. 1999. Fatal dengue hemorrhagic fever in Cuba, 1997. Int J Infect Dis, 3: 130–135.

Guzman MG, Kouri G, Valdes L, Bravo J, Alvarez M, Vazques S, Delgado I, Halstead SB. 2000. Epidemiologic studies on Dengue in Santiagode Cuba,1997. Am J Epidemiol, 152: 793–799.

Halstead SB, Shotwell H, Casals J. 1973a. Studies on the pathogenesis of dengue infection in monkeys. II. Clinical laboratory responses to heterologous infection. J Infect Dis, 128: 15–22.

Halstead SB, Shotwell H, Casals J. 1973b. Studies on the pathogenesis of dengue infection in monkeys. I. Clinical laboratory responses to primary infection. J Infect Dis, 128: 7–14.

Halstead SB. 2006. Dengue in the Americas and Southeast Asia: do they differ? Rev Panam Salud Publica, 6: 407–415.

Halstead SB. 2008. Dengue Virus–Mosquito Interactions. Annu Rev Entomol, 53: 273–291.

Halstead S, Thomas S. 2013. Dengue Vaccines. In: Dengue Vaccines. Plotkin S, Orenstein W and Offit P (eds). Elsevier: China, pp. 1042–1051.

Hammon WM, Rudnick A, Sather GE. 1960. Viruses associated with epidemic hemorrhagic fevers of the Philippines and Thailand. Science, 131: 1102–1103.

Heinz FX, Allison SL. 2003. Flavivirus structure and membrane fusion. Adv Virus Res, 59: 63–97.

Higa Y. 2011. Dengue Vectors and their Spatial Distribution. Trop Med health, 39: 11–27

Hirsch A. 1883. Dengue a comparatively new disease: its symptom. In: Handbook of geographical and historical pathology. Creighton C, editor. London: Sydenham Society, pp. 55–81.

Hotta S. 1957. Some immunological properties of dengue virus cultivated in tissue culture. Ann Trop Med Parasitol, 51: 249–255.

Hsieh SC, Zou G, Tsai WY, Qing M, Chang GJ, Shi PY, Wang WK. 2011. The C-terminal helical domain of dengue virus precursor membrane protein is involved in virus assembly and entry. Virology, 410: 170–180.

Huang Q, Chen AS, Li Q, Kang C. 2011. Expression, purification, and initial structural characterization of nonstructural protein 2B, an integral membrane protein of dengue-2 virus, in detergent micelles. Protein Expr Purif, 80: 169–175.

Hung SL, Lee PL, Chen HW, Chen LK, Kao CL, King CC. 1999. Analysis of the steps involved in Dengue virus entry into host cells. Virology, 257: 156–167.

Imoto J, Konishi E. 2007. Dengue tetravalent DNA vaccine increases its immunogenicity in mice when mixed with a dengue type 2 subunit vaccine or an inactivated Japanese encephalitis vaccine. Vaccine, 25: 1076–1084.

Ip YT. 2005. Drosophila innate immunity goes viral. Nat Immunol, 6: 863–864.

Isturiz RE, Gubler DJ, Brea del Castillo J. 2000. Dengue and dengue hemorrhagic fever in Latin America and the Caribbean. Infect Dis Clin North Am, 14: 121–140.

Jain B, Chaturvedi UC, Jain A. 2014. Role of intracellular events in the pathogenesis of dengue; an overview. Microb Pathog, 69-70: 45–52.

Jessie K, Fong MY, Devi S, Lam SK, Wong KT. 2004. Localization of dengue virus in naturally infected human tissues, by immunohistochemistry and in situ hybridization. J Infect Dis, 189: 1411–1418.

Jessie K, Fong MY, Devi S, Lam SK, Wong KT. 2004. Localization of dengue virus in naturally infected human tissues, by immunohistochemistry and in situ hybridization. J Infect Dis, 189: 1411–1418.

John ALS, Abraham SN, Gubler DJ. 2013. Barriers to preclinical investigations of anti-dengue immunity and dengue pathogenesis. Nat Rev Microbiol, 11: 420–426.

Johnson AJ, Roehrig JT. 1999. New mouse model for dengue virus vaccine testing. J Virol, 73: 783–786.

Kangwanpong D, Bhamarapravati N, Lucia HL. 1995. Diagnosing dengue virus infection in archived autopsy tissues by means of the in situ PCR method: a case report. Clin Diagn Virol, 3: 165–172.

Kay BH, Barker-Hudson P, Stallman ND, Wiemers MA, Marks EN, Holt PJ, Muscio M, Gorman BM. 1984. Dengue fever. Reappearance in northern Queensland after 26 years. Med J Australia, 140: 264–268.

Khanam S, Pilankatta R, Khanna N, Swaminathan S. 2009. An adenovirus type 5 (AdV5) vector encoding an envelope domain III-based tetravalent antigen elicits immune responses against all four dengue viruses in the presence of prior AdV5 immunity. Vaccine, 27: 6011–21.

King WW. 1917. The epidemic of dengue in the Porto Rico epidemic of 1915. New Orleans Med Surg J, 69: 564–571.

Knope K, Arbovirus N, Malaria Advisory Committee, Giele C. 2013. Increasing notifications of dengue in Australia related to overseas travel, 1991 to 2012. Commun Dis Intell Q Rep, 37: E55–E59.

Kochel TJ, Watts DM, Gozalo AS, Ewing DF, Porter KR, Russell KL. 2005. Cross-serotype neutralization of dengue virus in Aotus nancymae monkeys. J Infect Dis, 191: 1000–1004.

Koraka P, Benton S, van Amerongen G, Stittelaar KJ, Osterhaus AD. 2007. Characterization of humoral and cellular immune responses in cynomolgus macaques upon primary and subsequent heterologous infections with dengue viruses. Microbes Infect, 7: 940–946.

Kroschewski H, Lim SP, Butcher RE, Yap TL, Lescar J, Wright PJ, Vasudevan SG, Davidson AD. 2008. Mutagenesis of the dengue virus type 2 NS5 methyltransferase domain. J Biol Chem, 283: 19410–19421.

Kuhn RJ, Zhang W, Rossmann MG, Pletnev SV, Corver J, Lenches E, Jones CT, Mukhopadhyay S, Chipman PR, Strauss EG, Baker TS, Strauss JH. 2002. Structure of dengue virus: implications for flavivirus organization, maturation, and fusion. Cell, 108: 717–725.

Kurosu T, Chaichana P, Yamate M, Anantapreecha S, Ikuta K. 2007. Secreted complement regulatory protein clusterin interacts with dengue virus nonstructural protein 1. Biochem Biophys Res Commun, 362: 1051–1056.

Lambrechts L, Scott TW, Gubler DJ. 2010. Consequences of the expanding global distribution of Aedes albopictus for dengue virus transmission. PLoS Negl Trop Dis 4: e646.

Leng CH, Chen HW, Chang LS, Liu HH, Liu HY, Sher YP, Chang YW, Lien SP, Huang TY, Chen MY, Chou AH, Chong P, Liu SJ. 2010. A recombinant lipoprotein containing an unsaturated fatty acid activates NF-kappaB through the TLR2 signaling pathway and induces a differential gene profile from a synthetic lipopeptide. Mol Immunol, 47: 2015–2021.

Leng CH, Liu SJ, Tsai JP, Li YS, Chen MY, Liu HH, Lien SP, Yueh A, Hsiao KN, Lai LW, Liu FC, Chong P, Chen HW. 2009. A novel dengue vaccine candidate that induces cross-neutralizing antibodies and memory immunity. Microbes Infect, 11: 288–295.

Li H, Clum S, You S, Ebner KE, and Padmanabhan R. 1999. The serine protease and RNA-stimulated nucleoside triphosphatase and RNA helicase functional domains of dengue virus type 2 NS3 converge within a region of 20 amino acids. J Virol, 73: 3108–3116.

Limon-Flores AY, Perez-Tapia M, Estrada-Garcia I, Vaughan G, Escobar-Gutierrez A, Calderon-Amador J, Herrera-Rodriguez AJ, Brizuela-Garcia A, Heras-Chavarria M, Flores-Langarica A, Cedillo-Barron L, Flores-Romo L. 2005. Dengue virus inoculation to human skin explants: an effective approach to assess in situ the early infection and the effects on cutaneous dendritic cells. Int J Exp Pathol, 86: 323–334.

Limonta D, Capo V, Torres G, Perez AB, Guzman MG. 2007. Apoptosis in tissues from fatal dengue shock syndrome. J Clin Virol, 40: 50–54.

Liu Y, Zhang F, Liu J, Xiao X, Zhang S, Qin C, Xiang Y, Wang P, Cheng G. 2014. Transmission-Blocking Antibodies against Mosquito C-Type Lectins for Dengue Prevention. PLoS Pathog, 10: e1003931.

Lumley GF. 1942. Dengue. Part 1. Medical. In: Dengue. Lumley GF, Taylor FH (eds). Sydney: University of Sydney and Commonwealth Department of Health, pp. 9–142.

Ma L, Jones CT, Groesch TD, Kuhn RJ, Post CB. 2004. Solution structure of dengue virus capsid protein reveals another fold. Proc Natl Acad Sci USA, 101: 3414–3419

Mackenzie JS, la Brooy JT, Hueston L, Cunningham AL. 1996. Dengue in Australia. J Med Microbiol, 45: 159–161.

Marchette NJ, Halstead SB, Falkler WA, Stenhouse A, Nash D. 1973. Studies on the pathogenesis of dengue infection in monkeys. 3. Sequential distribution of virus in primary and heterologous infections. J Infect Dis, 128: 23–30.

Markiewski MM, Nilsson B, Ekdahl KN, Mollnes TE, Lambris JD. 2007. Complement and coagulation: strangers or partners in crime? Trends Immunol, 28: 184–192.

Martina BEE, Koraka E, Osterhaus ADME. 2009. Dengue virus pathogenesis: an integrated view. Clin Microbiol Rev, 22: 564–581.

McArthur JH, Durbin AP, Marron JA, Wanionek KA, Thumar B, Pierro DJ, Schmidt AC, Blaney JE Jr, Murphy BR, Whitehead SS. 2008. Phase I clinical evaluation of rDEN4Delta30-200, 201: a live attenuated dengue 4 vaccine candidate designed for decreased hepatotoxicity. Am J Trop Med Hyg, 79: 678–684.

McBride WJ, Mullner H, Muller R, Labrooy J, Wronski I. 1998. Determinants of dengue 2 infection among residents of Charters Towers, Queensland, Australia. Am J Epidemiol, 148: 1111–1116.

McLean DM, Magrath WJ. 1959. Dengue in the Northern Territory. Med J Australia, 46: 719–721.

Medlock JM, Hansford KM, Schaffner F, Versteirt V, Hendrickx G, Zeller H, Van Bortel W. 2012. A review of the invasive mosquitoes in Europe: ecology, public health risks, and control options. Vector Borne Zoonotic Dis, 12: 435–447.

Men R, Bray M, Clark D, Chanock RM, Lai CJ. 1996. Dengue type 4 virus mutants containing deletions in the 3' noncoding region of the RNA genome: analysis of growth restriction in cell culture and altered viremia pattern and immunogenicity in rhesus monkeys. J Virol, 70: 3930–3937.

Mercer J, Schelhaas M, Helenius A. 2010. Virus entry by endocytosis. Annual Review of Biochemistry, 79: 803–833.

Miagostovich MP, Ramos RG, Nicol AF, Nogueira RM, Cuzzi-Maya T, Oliveira AV, Marchevsky RS, Mesquita RP, Schatzmayr HG. 1997. Retrospective study on dengue fatal cases. Clin Neuropathol, 16: 204–208.

Miller S, Kastner S, Krijnse-Locker J, Buhler S, Bartenschlager R. 2007. The nonstructural protein 4A of dengue virus is an integral membrane protein inducing membrane alterations in a 2K-regulated manner. J Biol Chem, 282: 8873–8882.

Miura K, Keister DB, Muratova OV, Sattabongkot J, Long CA, Saul A. 2007. Transmission-blocking activity induced by malaria vaccine candidates Pfs25/Pvs25 is a direct and predictable function of antibody titer. Malar J, 6: 107.

Modis Y, Ogata S, Clements D, Harrison SC. 2005. Variable surface epitopes in the crystal structure of dengue virus type 3 envelope glycoprotein. J Virol, 79: 1223–1231.

Mohammed HP, Ramos MM, Rivera A, Johansson M, Munoz-Jordan JL, Sun W, Tomashek KM. 2010. Travel-associated dengue infections in the United States, 1996 to 2005. J Travel Med, 17: 8–14.

Monath TP. 1988. The Arboviruses: ecology and epidemiology. Yellow fever, vol. V. Boca Raton: CRC Press, pp. 139–231.

Moore CG, Cline BL, Tiben ER. 1978. Aedes aegypti in Puerto Rico environmental determinants of larval abundance and relation to dengue virus transmission. Am J Trop Med Hyg, 27: 1225–31.

Mosier DE. 2000. Human xenograft models for virus infection. Virology, 271: 215–219.

Munoz-Jordan JL, Laurent-Rolle M, Ashour J, Martinez-Sobrido L, Ashok M, Lipkin WI, Garcia-Sastre A. 2005. Inhibition of alpha/beta interferon signaling by the NS4B protein of flaviviruses. J Virol, 79: 8004–8013.

Munoz-Jordan JL, Sanchez-Burgos GG, Laurent-Rolle M, Garcia-Sastre A. 2003. Inhibition of interferon signaling by dengue virus. Proc Natl Acad Sci USA, 100: 14333–14338.

Murray NE, Quam MB, Wilder-Smith A. 2013. Epidemiology of Dengue: past, present and future prospects. Clin Epidemiol, 20: 299–309.

Mustafa MS, Rasotgi V, Jain S, Gupta V. 2015. Discovery of fifth serotype of dengue virus (DENV-5): A new public health dilemma in dengue control. Med J Armed Forces India, 71: 67–70.

Nakamura N, Arima Y, Shimada T, Matsui T, Tada Y, Okabe N. 2012. Incidence of dengue virus infection among Japanese travellers, 2006 to 2010. Western Pac Surveill Response J, 3: 39–45.

Nathan MB, Dayal-Drager R, Guzman M. 2009. Epidemiology, burden of disease and transmission. WHO. Dengue guidelines for diagnosis, treatment, prevention and control. New edition. Geneva: WHO, 1–21.

Neff JM, Morris L, Gonzalez-Alcover R, Coleman PH, Lyss SB, Negron H. 1967. Dengue fever in a Puerto Rican community. Am J Epidemiol, 86: 162–184.

Normile D. 2013. Surprising new dengue virus throws a spanner in disease control efforts. Science, 342: 415.

Nybakken GE, Nelson CA, Chen BR, Diamond MS, Fremont DH. 2006. Crystal structure of the West Nile virus envelope glycoprotein. J Virol, 80: 11467–11474.

Oliphant T, Nybakken GE, Engle M, Xu Q, Nelson CA, Sukupolvi-Petty S, Marri A, Lachmi BE, Olshevsky U, Fremont DH, Pierson TC, Diamond MS. 2006. Antibody recognition and neutralization determinants on domains I and II of West Nile Virus envelope protein. J Virol, 801: 12149–12159.

Onlamoon N, Noisakran S, Hsiao HM, Duncan A, Villinger F, Ansari AA, Perng GC. 2010. Dengue virus-induced hemorrhage in a nonhuman primate model. Blood, 115: 1823–1834.

PAHO. 2008. Number of reported cases of dengue and dengue hemorrhagic fever (DHF), Region of the Americas (by country and subregion) Washington: Pan American Health Organization.

Pandey BD, Rai SK, Morita K, Kurane I. 2004. First case of dengue in Nepal. Nepal Med Coll J, 6: 157–9.

Pant CP, Yasuno M. 1973. Field studies on the gonotrophic cycle of Aedes aegypti in Bangkok, Thailand. J Med Entomol. 10: 219–223.

Pham AM, Langlois RA, ten Oever BR. 2012. Replication in cells of hematopoietic origin Is necessary for dengue virus dissemination. PLoS Pathog, 8: e1002465.

Phillips D, Pearce M, Weimers M, Blumke G. 1992. Dengue 2 infection in northern Queensland. Comm Dis Intell (Aust), 16: 192–193.

Press release, Sanofi Pasteur's dengue vaccine candidate successfully completes final landmark phase iii clinical efficacy study in Latin America, Lyon France, 3rd September, 2014. URL: http://goo.gl/hTizPj.

Pugachev K, Zhang Z, Myers G, Levenbook I, Draper K, Lang J, Ocran S, Mitchell F, Parsons M, Brown N, Brandler S, Fournier C, Barrere B, Rizvi F, Travassos A, Nichols R, Trent D, Monath T. 2004. Safety and efficacy of chimeric yellow fever-dengue virus tetravalent vaccine formulations in nonhuman primates. J Virol, 78: 4761–4775.

Purdy DE, Chang GJ. 2005. Secretion of noninfectious dengue virus-like particles and identification of amino acids in the stem region involved in intracellular retention of envelope protein. Virology, 333: 239–250.

Putnak R, Barvir DA, Burrous JM, Dubois DR, D'Andrea VM, Hoke CH, Sadoff JC, Eckels KH. 1996. Development of a purified, inactivated, dengue-2 virus vaccine prototype in Vero cells: immunogenicity and protection in mice and rhesus monkeys. J Infect Dis, 174: 1176–1184.

Rahman M, Rahman K, Siddque AK, Shoma S, Kamal AH, Ali KS, Nisaluk A, Breiman RF. 2002. First outbreak of dengue hemorrhagic fever, Bangladesh. Emerg Infect Dis, 8: 738–740.

Rajapakse S. 2011. Dengue shock. J Emerg Trauma Shock, 4: 120–127.

Ramanathan MP, Kuo YC, Selling BH, Li Q, Sardesai NY, Kim JJ, Weiner DB. 2009. Development of a novel DNA SynCon tetravalent dengue vaccine that elicits immune responses against four serotypes. Vaccine, 27: 6444–6453.

Ramos C, Sánchez G, Pando RH, Baquera J, Hernández D, Mota J, Ramos J, Flores A, Llausás E. 1998. Dengue virus in the brain of a fatal case of hemorrhagic dengue fever. J Neurovirol., 4: 465–468.

Raut CG, Deolankar RP, Kolhapure RM, Goverdhan MK. 1996. Susceptibility of laboratory-bred rodents to the experimental infection with dengue virus type 2. Acta Virol, 40: 143–146.

Raviprakash K, Wang D, Ewing D, Holman DH, Block K, Woraratanadharm J, Chen L, Hayes C, Dong JY, Porter K. 2008. A tetravalent dengue vaccine based on a complex adenovirus vector provides significant protection in rhesus monkeys against all four serotypes of dengue virus. J Virol, 82: 6927–6934.

Ritchie SA, Pyke AT, Hall-Mendelin S, Day A, Mores CN, Christofferson RC, Gubler DJ, Bennett SN, van den Hurk AF. 2013. An explosive epidemic of DENV-3 in Cairns, Australia. PLoS ONE, 8: e68137.

Rodenhuis-Zybert IA, Wilschut J, Smit JM. 2010. Dengue virus life cycle: viral and host factors modulating infectivity. Cellular and Molecular Life Sciences, 67: 2773–2786.

Rosen L. 1958. Experimental infection of new world monkeys with dengue and yellow fever viruses. Am. J Trop Med Hyg, 7: 406–410.

Rosen L, Roseboom LE, Gubler DJ, Lien JC, Chaniotis BN. 1985. Comparative susceptibility of mosquito species and strains to oral and parenteral infection with dengue and Japanese encephalitis viruses. Am J Trop Med Hyg, 34: 603–15.

Rothman AL. 2004. Dengue: defining protective versus pathologic immunity. J Clin Invest, 113: 946–951.

Rothman AL. 2011. Immunity to dengue virus: a tale of original antigenic sin and tropical cytokine storms. Nat Rev Immunol, 11: 532–543.

Row D, Pearce H, Hapgood G, Sheridan J. 1993. Dengue and dengue haemorrhagic fever in Charters Towers, Queensland. Comm Dis Intell (Aust), 17: 182–183.

Rudnick A, Lim T W. Ireland J L. 1986. Dengue fever studies in Malaysia. Bulletin of the Institute for Medical Research Malaysia, 23: 1–241.

Russell RC, Lee DJ, Stanislas Y. 1984. Aedes aegypti (L.) (Diptera: Culicidae) in New South Wales. Gen Appl Entomol, 16: 9–16.

Sabchareon A, Lang J, Chanthavanich P, Yoksan S, Forrat R, Attanath P, Sirivichayakul C, Pengsaa K, Pojjaroen-Anant C, Chokejindachai W, Jagsudee A, Saluzzo JF, Bhamarapravati N. 2002. Safety and immunogenicity of tetravalent live-attenuated dengue vaccines in Thai adult volunteers: role of serotype concentration, ratio, and multiple doses. Am J Trop Med Hyg, 66: 264–272.

Sabchareon A, Lang J, Chanthavanich P, Yoksan S, Forrat R, Attanath P, Sirivichayakul C, Pengsaa K, Pojjaroen-Anant C, Chambonneau L, Saluzzo JF, Bhamarapravati N. 2004. Safety and immunogenicity of a three dose regimen of two tetravalentlive- attenuated dengue vaccines in five- to twelve-year-old Thai children. Pediatr Infect Dis J, 23: 99–109.

Sabin AB, Schlesinger RW. 1945. Production of immunity to dengue with virus modified by propagation in mice. Science, 101: 640–642.

Sabin AB. 1952. Research on dengue during World War II. Am J Trop Med Hyg, 1: 30–50.

San Martín JL, Brathwaite O, Zambrano B, Solórzano JO, Bouckenooghe A, Dayan GH, Guzmán MG. 2010. The epidemiology of dengue in the Americas over the last three decades: a worrisome reality. Am J Trop Med Hyg, 82: 128–135.

Sanchez V, Gimenez S, Tomlinson B, Chan PK, Thomas GN, Forrat R, Chambonneau L, Deauvieau F, Lang J, Guy B. 2006. Innate and adaptive cellular immunity in flavivirus-naive human recipients of a live-attenuated dengue serotype 3 vaccine produced in Vero cells (VDV3). Vaccine, 24: 4914–4926.

Sarkar JK, Chatterjee SN, Chakravarty SK. 1964. Haemorrhagic fever in Calcutta: some epidemiological observations. Indian J Med Res, 52: 651–659.

Scherer WF, Russell PK, Rosen L, Casals J, Dickerman RW. 1978. Experimental infection of chimpanzees with dengue viruses. Am J Trop Med Hyg, 27: 590–599.

Schlesinger RW, Gordon I, Frankel JW, Winter JN, Patterson PR, Dorrance WR. 1956. Clinical and serological response of man to immunization with attenuated dengue and yellow fever viruses. J Immunol, 77: 352–364.

Schlesinger RW. 1977. Dengue viruses. Virol Monogr, 16: 1–132.

Schmitz J, Roehrig J, Barrett A, Hombach J. 2011. Next generation dengue vaccines: A review of candidates in preclinical development. Vaccine, 29: 7276–7284.

Shaio MF, Chang FY, Hou SC. 1992. Complement pathway activity in serum from patients with classical dengue fever. Trans R Soc Trop Med Hyg, 86: 672–675.

Sharp TW, Wallace MR, Hayes CG, Sanchez JL, DeFraites RF, Arthur RR, Thornton SA, Batchelor RA, Rozmajzl PJ, Hanson RK, et al. 1995. Dengue fever in U.S. troops during Operation Restore Hope, Somalia, 1992-1993. Am J Trop Med Hyg, 53: 89–94.

Shepard DS, Coudeville L, Halasa YA, Zambrano B, Dayan GH. 2011. Economic impact of dengue illness in the Americas. Am J Trop Med Hyg, 84: 200–207.

Shepard DS, Undurraga EA, Halasa YA. 2013. Economic and disease burden of dengue in Southeast Asia. PLoS Negl Trop Dis, 7: e2055.

Simmons JS, St. John JH, Reynolds FHK. 1931. Experimental studies of dengue. Philippine J Sci, 44: 1–252.

Sirisena PD, Noordeen F. 2014. Evolution of dengue in Sri Lanka- changes in the virus, vector, and climate. Int J Infect Dis, 19: 6–12.

Smith GCE. 1956. A localized outbreak of dengue fever in Kuala Lumpur. Epidemiological and clinical aspects. Med J Malaya, 10: 289–303.

Souza-Neto JA, Sim S, Dimopoulos G. 2009. An evolutionary conserved function of the JAK-STAT pathway in anti-dengue defense. Proc Natl Acad Sci U S A., 106: 17841–17846.

Suharti C, van Gorp ECM, Setiati TE, Dolmans WM, Djokomoeljanto RJ, Hack CE, ten CH, van der Meer JWM. 2002. The role of cytokines in activation of coagulation and fibrinolysis in dengue shock syndrome. Thromb Haemost, 87: 42–46.

Sun W, Edelman R, Kanesa-Thasan N, Eckels KH, Putnak JR, King AD, Houng HS, Tang D, Scherer JM, Hoke CH, Innis BL. 2003. Vaccination of human volunteers with monovalent and tetravalent live-attenuated dengue vaccine candidates. Am J Trop Med Hyg, 69: 24–31.

Sun W, Nisalak A, Gettayacamin M, Eckels KH, Putnak JR, Vaughn DW, Innis BL, Thomas SJ, Endy TP. 2006. Protection of rhesus monkeys against dengue virus challenge after tetravalent live attenuated dengue virus vaccination. J Infect Dis, 193: 1658–1665.

Suttitheptumronga A, Khunchaia S, Panaampona J, Yasamuta U, Morchanga A, Puttikhuntd C, Noisakrand S, Haegemana G, Yenchitsomanusa P, Limjindaporn T. 2013. Compound A, a dissociated glucocorticoid receptor modulator, reduces dengue virus-induced cytokine secretion and dengue virus production. Biochem Biophys Res Commun, 436: 283–288.

Suzuki R, Winkelmann ER, Mason PW. 2009. Construction and characterization of a single-cycle chimeric flavivirus vaccine candidate that protects mice against lethal challenge with dengue virus type 2. J Virol, 83: 1870–80.

Tomashek KM, Rivera A, Muñoz-Jordan JL, Hunsperger E, Santiago L, Padro O, Garcia E, Sun W. 2009. Description of a large island-wide outbreak of dengue in Puerto Rico, 2007. Am J Trop Med Hyg, 81: 467–474.

Valdes I, Bernardo L, Gil L, Pavon A, Lazo L, Lopez C, Romero Y, Menendez I, Falcón V, Betancourt L, Martín J, Chinea G, Silva R, Guzmán MG, Guillén G, Hermida L. 2009a. A novel fusion protein domain III-capsid from dengue-2, in a highly aggregated form, induces a functional immune response and protection in mice. Virology, 394: 249–258.

Valdes I, Hermida L, Martin J, Menendez T, Gil L, Lazo L, Castro J, Niebla O, López C, Bernardo L, Sánchez J, Romero Y, Martínez R, Guzmán MG, Guillén G. 2009b. Immunological evaluation in nonhuman primates of formulations based on the chimeric protein P64k-domain III of dengue 2 and two components of Neisseria meningitidis. Vaccine, 27: 995–1001.

Valdes I, Gil L, Romero Y, Castro J, Puente P, Lazo L, Marcos E, Guzmán MG, Guillén G, Hermida L. 2011. The chimeric protein domain III-capsid of dengue virus serotype 2 (DEN-2) successfully boosts neutralizing antibodies generated in monkeys upon infection with DEN-2. Clin Vaccine Immunol, 18: 455–459.

Vasilakis N, Holmes EC, Fokam EB, Faye O, Diallo M, Sall AA, Weaver SC. 2007. Evolutionary processes among sylvatic dengue type 2 viruses. J Virol, 81: 9591–9595.

Vlaycheva LA, Chambers TJ. 2002. Neuroblastoma cell-adapted yellow fever 17D virus: characterization of a viral variant associated with persistent infection and decreased virus spread. J Virol, 76: 6172–6184.

Wahala WMPB, de Silva AM. 2011. The human antibody response to dengue virus infection. Viruses, 3: 2374–2395.

Wan S, Lin C, Wang S, Chen Y, Yeh T, Liu H, Anderson R, Lin YS. 2013. Current progress in dengue vaccines. J Biomed Sci, 20: 37.

Wang E, Ni H, Xu R, Barrett AD, Watowich SJ, Gubler DJ, Weaver SC. 2000. Evolutionary relationships of endemic/epidemic and sylvatic dengue viruses. J Virol, 74: 3227–3234.

Wei J, Chen H, An J. 2014. Recent progress in dengue vaccine development. Virol Sin, 29: 353–363.

Welsch S, Miller S, Romero-Brey I, Merz A, Bleck CK, Walther P, Fuller SD, Antony C, Krijnse-Locker J, Bartenschlager R. 2009. Composition and three-dimensional architecture of the dengue virus replication and assembly sites. Cell Host & Microbe, 5: 365–375.

Were F. 2012. The dengue situation in Africa. Paediatrics and International Child Health, 32: 18–21.

White LJ, Parsons MM, Whitmore AC, Williams BM, de Silva A, Johnston RE. 2007. An immunogenic and protective alphavirus replicon particle-based dengue vaccine overcomes maternal antibody interference in weanling mice. J Virol, 81: 10329–10339.

Whitehead SS, Blaney JE, Durbin AP, Murphy BR. 2007. Prospects for a dengue virus vaccine. Nat Rev Microbiol, 5: 518–528.

Whitehead SS, Falgout B, Hanley KA, Blaney JE, Markoff L, Murphy BR. 2003. A live, attenuated dengue virus type 1 vaccine candidate with a 30- nucleotide deletion in the 3' untranslated region is highly attenuated and immunogenic in monkeys. J Virol, 77: 1653–1657.

Whitehorn J, Farrar J. 2010. Dengue. Br Med Bull, 95:161–173.

Wilder-Smith A, Gubler DJ. 2008. Geographic expansion of dengue: the impact of international travel. Med Clin N Am, 92: 1377–1390.

Wilder-Smith A, Ooi EE, Vasudevan SG, Gubler DJ. 2010. Update on dengue: epidemiology, virus evolution, antiviral drugs, and vaccine development. Curr Infect Dis Rep, 12: 157–164.

Wisseman CL, Sweet BH, Rosenzweig EC. 1963. Attenuated living type 1 dengue vaccines. Am J Trop Med Hyg, 12: 620–623.

Wiwanitkit S, Wiwanitkit V. 2015. Acute viral hemorrhage disease: A summary on new viruses. Journal of Acute Disease, doi:10.1016/j.joad.2015.06.004.

World Health Organization (WHO). 1999. Guidelines for Treatment of Dengue Fever/Dengue Haemorrhagic Fever in Small Hospitals. WHO Regional Office for South-East Asia Publication.

World Health Organization (WHO). 2012a. Global Strategy for Dengue Prevention and Control, 2012–2020. Geneva: WHO Press.

World Health Organization (WHO). 2012b. Handbook for Clinical Management of Dengue. WHO Press.

World Health Organization (WHO). 2012c. Handbook for Integrated Vector Management. WHO Press.

Xie X, Gayen S, Kang C, Yuan Z, Shi PY. 2013. Membrane topology and function of dengue virus NS2A protein. J Virol, 87: 4609–4622.

Yasuno M, Tonn RJ. 1970. A study of biting habits of Aedes aegypti in Bangkok, Thailand. Bull. WHO, 43: 319–25.

Yauch LE, Shresta S. 2008. Mouse models of dengue virus infection and disease. Antiviral Res, 80: 87–93.

Yazi MM, Salas-Benito JS, Lanz-Mendoza H, Hernandez-Martinez S, Del Angel RM. 2002. A putative receptor for dengue virus in mosquito tissues: localization of a 45-kDa glycoprotein. Am J Trop Med Hyg, 67: 76–84.

Zompi S, Harris E. 2012. Animal models of dengue virus infection. Viruses, 4: 62–82.
Additional information
ORCID: 0000-0003-4263-125X
About this article
Cite this article
Islam, R., Salahuddin, M., Ayubi, M.S. et al. Dengue epidemiology and pathogenesis: images of the future viewed through a mirror of the past. Virol. Sin. 30, 326–343 (2015). https://doi.org/10.1007/s12250-015-3624-1
Received:

Accepted:

Published:

Issue Date:

DOI: https://doi.org/10.1007/s12250-015-3624-1
Keywords
dengue

epidemiology

pathogenesis

dengue vaccine

vector control

anti-viral

animal model