Abstract
Hepatitis B virus (HBV) infection is one of the most serious and prevalent viral diseases in the world. Although several anti-HBV drugs have been used clinically, their side and adverse effects limit treatment efficacy. Therefore, it is necessary to identify novel potential anti-HBV agents. The flavonol quercetin has shown activity against some retroviruses, but its effect on HBV remains unclear. In the present study, quercetin was incubated with HepG2.2.15 cells, as well as HuH-7 cells transfected with an HBV plasmid. Quercetin was shown to significantly reduce Hepatitis B surface antigen (HBsAg) and Hepatitis B e antigen (HBeAg), secretion and HBV genomic DNA levels in both cell lines. In addition, co-incubation with lamivudine (3TC), entecavir (ETV), or adefovir (Ade) further enhanced the quercetin-induced inhibition of HBV replication. This inhibition was partially associated with decreased heat shock proteins and HBV transcription levels. The results indicate that quercetin inhibited HBV antigen secretion and genome replication in human hepatoma cell lines, which suggests that quercetin may be a potentially effective anti-HBV agent.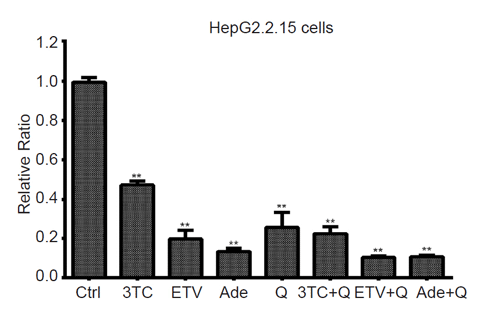 This is a preview of subscription content, log in to check access.
Access options
Buy single article
Instant access to the full article PDF.
US$ 39.95
Price includes VAT for USA
References
Bader T, Korba B. 2010. Simvastatin potentiates the anti-hepatitis B virus activity of FDA-approved nucleoside analogue inhibitors in vitro. Antiviral Res, 86: 241–245.

Baumert TF, Thimme R, von Weizsacker F. 2007. Pathogenesis of hepatitis B virus infection. World J Gastroenterol, 13: 82–90.

Beck J, Nassal M. 2007. Hepatitis B virus replication. World J Gastroenterol, 13: 48–64.

Davis JM, Murphy EA, McClellan JL, Carmichael MD, Gangemi JD. 2008. Quercetin reduces susceptibility to influenza infection following stressful exercise. Am J Physiol Regul Integr Comp Physiol, 295: R505–509.

Feng H, Chen P, Zhao F, Nassal M, Hu K. 2013. Evidence for multiple distinct interactions between hepatitis B virus P protein and its cognate RNA encapsidation signal during initiation of reverse transcription. PLoS One, 8: e72798.

Gonzalez O, Fontanes V, Raychaudhuri S, Loo R, Loo J, Arumugaswami V, Sun R, Dasgupta A, French SW. 2009. The heat shock protein inhibitor Quercetin attenuates hepatitis C virus production. Hepatology, 50: 1756–1764.

Gulati N, Laudet B, Zohrabian VM, Murali R, Jhanwar-Uniyal M. 2006. The antiproliferative effect of Quercetin in cancer cells is mediated via inhibition of the PI3K-Akt/PKB pathway. Anticancer Res, 26: 1177–1181.

Guo H, Zhou T, Jiang D, Cuconati A, Xiao GH, Block TM, Guo JT. 2007. Regulation of hepatitis B virus replication by the phosphatidylinositol 3-kinase-akt signal transduction pathway. J Virol, 81: 10072–10080.

Hakkinen SH, Karenlampi SO, Heinonen IM, Mykkanen HM, Torronen AR. 1999. Content of the flavonols quercetin, myricetin, and kaempferol in 25 edible berries. J Agric Food Chem, 47: 2274–2279.

Hu J, Flores D, Toft D, Wang X, Nguyen D. 2004. Requirement of heat shock protein 90 for human hepatitis B virus reverse transcriptase function. J Virol, 78: 13122–13131.

Kaul TN, Middleton E, Jr., Ogra PL. 1985. Antiviral effect of flavonoids on human viruses. J Med Virol, 15: 71–79.

Kelly GS. 2011. Quercetin. Monograph. Altern Med Rev, 16: 172–194.

Kumar P, Sharma S, Khanna M, Raj HG. 2003. Effect of Quercetin on lipid peroxidation and changes in lung morphology in experimental influenza virus infection. Int J Exp Pathol, 84: 127–133.

Larson AJ, Symons JD, Jalili T. 2012. Therapeutic potential of quercetin to decrease blood pressure: review of efficacy and mechanisms. Adv Nutr, 3: 39–46.

Levrero M, Pollicino T, Petersen J, Belloni L, Raimondo G, Dandri M. 2009. Control of cccDNA function in hepatitis B virus infection. J Hepatol, 51: 581–592.

Liaw YF. 2009. Natural history of chronic hepatitis B virus infection and long-term outcome under treatment. Liver Int, 29 Suppl 1: 100–107.

Liaw YF, Chu CM. 2009. Hepatitis B virus infection. Lancet, 373: 582–592.

Lozano R, Naghavi M, Foreman K, Lim S, Shibuya K, Aboyans V, Abraham J, Adair T, Aggarwal R, Ahn SY, et al. 2012. Global and regional mortality from 235 causes of death for 20 age groups in 1990 and 2010: a systematic analysis for the Global Burden of Disease Study 2010. Lancet, 380: 2095–2128.

Nassal M. 1992. The arginine-rich domain of the hepatitis B virus core protein is required for pregenome encapsidation and productive viral positive-strand DNA synthesis but not for virus assembly. J Virol, 66: 4107–4116.

Nassal M. 2008. Hepatitis B viruses: reverse transcription a different way. Virus Res, 134: 235–249.

Powers MV, Workman P. 2007. Inhibitors of the heat shock response: biology and pharmacology. FEBS Lett, 581: 3758–3769.

Romero MR, Efferth T, Serrano MA, Castano B, Macias RI, Briz O, Marin JJ. 2005. Effect of artemisinin/artesunate as inhibitors of hepatitis B virus production in an "in vitro" replicative system. Antiviral Res, 68: 75–83.

Seeger C, Mason WS. 2000. Hepatitis B virus biology. Microbiol Mol Biol Rev, 64: 51–68.

Seifer M, Hamatake RK, Colonno RJ, Standring DN. 1998. In vitro inhibition of hepadnavirus polymerases by the triphosphates of BMS-200475 and lobucavir. Antimicrob Agents Chemother, 42: 3200–3208.

Sells MA, Chen ML, Acs G. 1987. Production of hepatitis B virus particles in Hep G2 cells transfected with cloned hepatitis B virus DNA. Proc Natl Acad Sci U S A, 84: 1005–1009.

Trepo C, Chan HL, Lok A. 2014. Hepatitis B virus infection. Lancet.

Urban S, Schulze A, Dandri M, Petersen J. 2010. The replication cycle of hepatitis B virus. J Hepatol, 52: 282–284.

Wang YP, Liu F, He HW, Han YX, Peng ZG, Li BW, You XF, Song DQ, Li ZR, Yu LY, Cen S, Hong B, Sun CH, Zhao LX, Kreiswirth B, Perlin D, Shao RG, Jiang JD. 2010. Heat stress cognate 70 host protein as a potential drug target against drug resistance in hepatitis B virus. Antimicrob Agents Chemother, 54: 2070–2077.

Yang P, Markowitz GJ, Wang XF. 2014. The hepatitis B virus-associated tumor microenvironment in hepatocellular carcinoma. Natl Sci Rev, 1: 396–412.

Yuen MF, Lai CL. 2001. Treatment of chronic hepatitis B. Lancet Infect Dis, 1: 232–241.
Additional information
ORCID: 0000-0001-8044-7889
ORCID: 0000-0003-1393-3734
About this article
Cite this article
Cheng, Z., Sun, G., Guo, W. et al. Inhibition of hepatitis B virus replication by quercetin in human hepatoma cell lines. Virol. Sin. 30, 261–268 (2015). https://doi.org/10.1007/s12250-015-3584-5
Received:

Accepted:

Published:

Issue Date:
Keywords
hepatitis B virus (HBV)

quercetin

flavonol

antiviral activity