Abstract
Purpose
The purpose of this project was to design a computational decision support system (DSS) for compounded sterile preparations (CSP).
Methods
Error-free compounding is dependent on the proper selection of components and adherence to procedure during compounding. A material selection system (MSS) based on a graphical user interface (GUI), coupled with a barcode scanner and back-end database, was developed and tested for proper selection of items involving three different medication orders (MO). A video processing system (VPS) was implemented in MATLAB that evaluated live video feed from the compounding hood to monitor the compounding procedure when compounding the MO's. Surf detection was used to detect and locate compounding items placed in the hood. Various algorithms were developed and tested to enhance the accuracy and robustness of the VPS.
Results
The MSS was tested for all items used in compounding the MO's, and it performed error-free. The VPS evolved to VPS.03 from VPS.01 and VPS.02. The greatest accuracy and ability for real-time realization were seen in VPS.03. All deliberate mistakes made when compounding the tested medication orders were captured by VPS.03.
Conclusion
The new computational decision support system facilitated error-free selection of components and was able to monitor and evaluate the compounding process in real time. The platform may be used in CSP compounding rooms, to audit techniques and procedures, and in training or educational settings.
Access options
Buy single article
Instant access to the full article PDF.
US$ 39.95
Tax calculation will be finalised during checkout.
Subscribe to journal
Immediate online access to all issues from 2019. Subscription will auto renew annually.
US$ 79
Tax calculation will be finalised during checkout.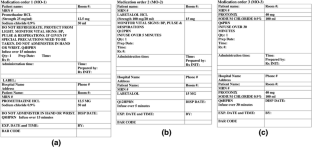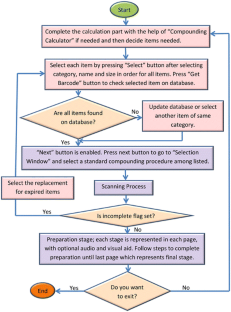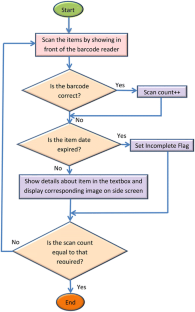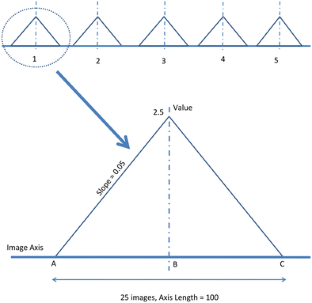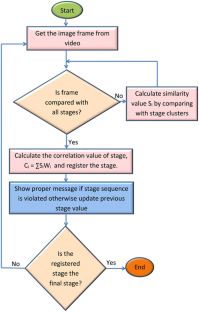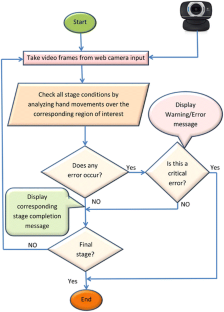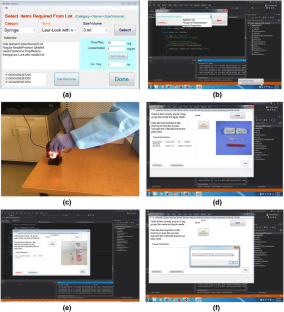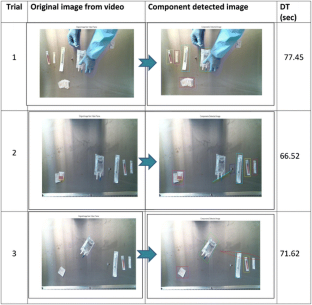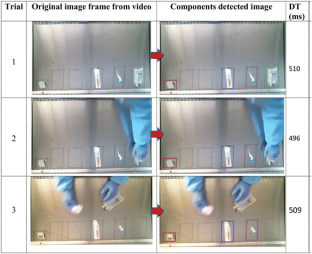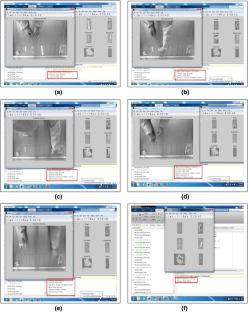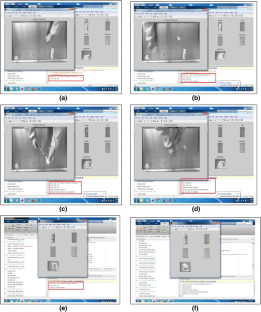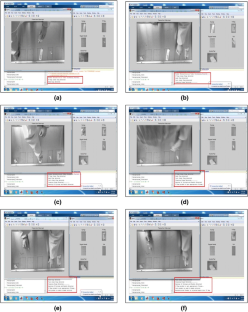 References
1.

Mirtallo J, Canda T, Johnson D, Kumpf V, Petersen C, Sacks G et al. Safe practices for parenteral nutrition. Journal of Parenteral and Enteral Nutrition. 2004;28(6):S39–S70

2.

Morris AM, Schneider PJ, Pedersen CA, Mirtallo JM. National survey of quality assurance activities for pharmacy-compounded sterile preparations. Am J Health Syst Pharm. 2003;60(24):2567–76.

3.

Trissel LA, Gentempo JA, Saenz LM, Woodard MY, Angeles CH. Effect of two work practice changes on the microbial contamination rates of pharmacy-compounded sterile preparations. Am J Health Syst Pharm. 2007;64(8):837–41.

4.

Goldberg RA, Flynn HW, Isom RF, Miller D, Gonzalez S. An outbreak of streptococcus endophthalmitis after intravitreal injection of bevacizumab. Am J Ophthalmol. 2012;153(2):204–8.e1.

5.

Control CD. Prevention. Multistate outbreak of fungal infection associated with injection of methylprednisolone acetate solution from a single compounding pharmacy-United States, 2012. MMWR Morb Mortal Wkly Rep. 2012;61(41):839.

6.

Control CD. Prevention. Pseudomonas bloodstream infections associated with a heparin/saline flush--Missouri, New York, Texas, and Michigan, 2004–2005. MMWR Morb Mortal Wkly Rep. 2005;54(11):269.

7.

Health UDo. Services H, Food, Administration D. FDA Alerts Health Care Professionals of Infection Risk from Repackaged Avastin Intravitreal Injections. Washington, DC: Food and Drug Administration; 2011.

8.

Chollet JL, Jozwiakowski MJ. Quality investigation of hydroxyprogesterone caproate active pharmaceutical ingredient and injection. Drug Dev Ind Pharm. 2012;38(5):540–9.

9.

Control CD. Prevention. Deaths from intravenous colchicine resulting from a compounding pharmacy error--Oregon and Washington, 2007. MMWR Morb Mortal Wkly Rep. 2007;56(40):1050.

10.

Gudeman J, Jozwiakowski M, Chollet J, Randell M. Potential risks of pharmacy compounding. Drugs R&d. 2013;13(1):1–8.

11.

Staes C, Jacobs J, Mayer J, Allen J. Description of outbreaks of healthcare associated infections related to compounding pharmacies, 2000–2012. Am J Health-Syst Pharm: AJHP: Off J Am Soc Health-Syst Pharm. 2013;70(15):1301–12.

12.

(ISMP) IfSMP. Proceedings from the ISMP Sterile Preparation Compounding Safety Summit: Guidelines for SAFE Preparation of Sterile Compounds 2013.

13.

Products PP. State of Pharmacy Compounding 2009: Survey Findings 2009.

14.

Pedersen CA, Schneider PJ, Scheckelhoff DJ. ASHP national survey of pharmacy practice in hospital settings: dispensing and administration-2011. Am J Health Syst Pharm. 2012;69(9):768.

15.

Augusto JC. Temporal reasoning for decision support in medicine. Artif Intell Med. 2005;33(1):1–24.

16.

Pronovost P, Needham D, Berenholtz S, Sinopoli D, Chu H, Cosgrove S, et al. An intervention to decrease catheter-related bloodstream infections in the ICU. N Engl J Med. 2006;355(26):2725–32.

17.

Zhao C, Jain A, Hailemariam L, Suresh P, Akkisetty P, Joglekar G, et al. Toward intelligent decision support for pharmaceutical product development. J Pharm Innov. 2006;1(1):23–35.

18.

Stevens JD, Bader MK, Luna MA, Johnson LM. Cultivating quality: implementing standardized reporting and safety checklists. AJN Am J Nurs. 2011;111(5):48–53.

19.

Sent D, Van der Gaag LC. Automated test selection in decision-support systems: a case study in oncology. Stud Health Technol Inform. 2006;124:491.

20.

Gwozdz R, Grass F. Contamination by human fingers: the Midas touch. J Radioanal Nucl Chem. 2004;259(1):173–6.

21.

Kundrapu S, Sunkesula V, Jury LA, Sitzlar BM, Donskey CJ. Daily disinfection of high-touch surfaces in isolation rooms to reduce contamination of healthcare workers' hands. Infect Control. 2012;33(10):1039–42.

22.

Haynes AB, Weiser TG, Berry WR, Lipsitz SR, Breizat A-HS, Dellinger EP, et al. A surgical safety checklist to reduce morbidity and mortality in a global population. N Engl J Med. 2009;360(5):491–9.

23.

Leape L, Berwick D, Clancy C, Conway J, Gluck P, Guest J, et al. Transforming healthcare: a safety imperative. Qual Saf Health Care. 2009;18(6):424–8.

24.

Shojania KG, Duncan BW, McDonald KM, Wachter RM, Markowitz AJ. Making health care safer: a critical analysis of patient safety practices. Rockville: Agency for Healthcare Research and Quality; 2001.

25.

Berenholtz SM, Pronovost PJ, Lipsett PA, Hobson D, Earsing K, Farley JE, et al. Eliminating catheter-related bloodstream infections in the intensive care unit*. Crit Care Med. 2004;32(10):2014–20.

26.

Betke M, Gips J, Fleming P. The camera mouse: visual tracking of body features to provide computer access for people with severe disabilities. Neural Syst Rehabil Eng, IEEE Trans. 2002;10(1):1–10.

27.

Pharmacopoeia US. USP General Chapter < 797>. Pharmaceutical Compounding-Sterile Preparations. 2004.

28.

Rinehart JR, Chan D, Cunningham M, Geller RE, Grandfield G, Heckman S, et al. ASHP guidelines on outsourcing sterile compounding services. Am J Health-Syst Pharm: AJHP: Off J Am Soc Health-Syst Pharm. 2010;67(9):757–65.

29.

Kienle PC, Mcelhiney LF, Osteen RB, Troell E, Massoomi F, Sheehy K, et al. ASHP guidelines on compounding sterile preparations. Am J Health Syst Pharm. 2014;71(2):145–66.

30.

Gawande A, Lloyd JB. The checklist manifesto: how to get things right. New York: Metropolitan Books; 2010.

31.

Brown E. Windows Forms Programming with C#. Manning Publications Co.; 2002.

32.

Hicks RW, Becker SC. An overview of intravenous‐related medication administration errors as reported to MEDMARX®, a national medication error‐reporting program. J Infus Nurs. 2006;29(1):20–7.

33.

Cowley E, Williams R, Cousins D. Medication errors in children: a descriptive summary of medication error reports submitted to the United States Pharmacopeia. Curr Ther Res. 2001;62(9):627–40.

34.

Bay H, Ess A, Tuytelaars T, Van Gool L. Speeded-up robust features (SURF). Comput Vis Image Underst. 2008;110(3):346–59.
Additional information
Hem Regmi and Jerry Nesamony contributed equally to this work.
About this article
Cite this article
Regmi, H., Nesamony, J. & Devabhaktuni, V. A New Computational Decision Support System for Material Selection and Real-Time Monitoring and Evaluation of Aseptic Technique when Compounding Sterile Preparations. J Pharm Innov 12, 124–141 (2017). https://doi.org/10.1007/s12247-017-9270-4
Keywords
Decision support system

Compounded sterile preparation

Graphical user interface

MATLAB

Material selection system (MSS)

Video processor system (VPS)

Medication order (MO)