Abstract
Purpose
The purpose of this study was to investigate what kind of regulatory affairs tasks is outsourced in the pharmaceutical industry and what are the reasons for outsourcing in the EU countries.
Methods
The study was conducted as an e-mail survey in the pharmaceutical industry in Finland, Sweden, Estonia, Germany, and Spain, focusing on those companies that undertake regulatory affairs.
Results
The survey received 71 completed responses out of 147, a response rate of 48 %. The most outsourced tasks were related to translations of product information texts (75 % of the respondents). The principal reason for outsourcing regulatory affairs tasks to a Contract Research Organization (CRO) was the excessively heavy workload in the company's regulatory affairs. Also, outsourcing should be cost-effective. The fact that the CRO has experience and knowledge was seen as a very important requirement when choosing the CRO partner. Personal, individual contacts were mentioned in many of the open-ended responses as an essential criterion in the selection of the CRO.
Conclusions
This survey indicated that outsourcing in regulatory affairs will continue. The quality of the CRO has a significant role when the companies select their partner. The CRO has to assure uniform quality of their personnel knowledge and skills in regulatory affairs, i.e., when the person in charge of the outsourced task changes in the CRO. Practically all product development steps can be outsourced by hiring local and multinational CROs. The companies should plan the outsourcing carefully and compare possible CROs even if the company has no plans to outsource at present.
Access options
Buy single article
Instant access to the full article PDF.
USD 39.95
Price includes VAT (USA)
Tax calculation will be finalised during checkout.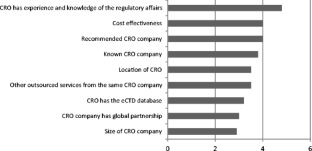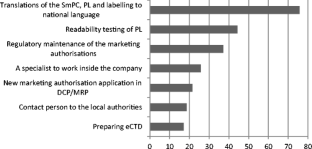 References
1.

Abodor H. Ethical issues in outsourcing: the case of contract medical research and the global pharmaceutical industry. J Bus Ethics. 2012;105:239–55.

2.

Bates S, Sloan E. Outsourcing regulatory affairs activities: how a policy can drive good decisions. Drug Inf J. 2000;34:981.

3.

Clemens N. Outsourcing in drug development. Drug Dev. 2010;5:48.

4.

Contract Pharma: outsourcing survey 2014. http://www.contractpharma.com/issues/2014-04-02/view_features/2014-outsourcing-survey/#sthash.REjeKhze.dpuf. Accessed 13 May 2014.

5.

Crossley R. The quiet revolution: outsourcing in pharma. Drug Discov Today. 2004;16:694.

6.

Cutting edge information: regulatory affairs: safeguarding submission success and product development strategy, 2012. http://www.cuttingedgeinfo.com/research/regulatory/market-approval. Accessed 20 Jan 2013.

7.

Drabu S, Gupta A, Bhadauria A. Emerging trends in contract research industry in India. Contemp Clin Trials. 2010;31:419–22.

8.

Kennedy T. Strategic project management at the project level. Clin Res Reg Aff. 2001;18:345–65.

9.

Lowman M et al. Innovation risks of outsourcing in pharmaceutical new product development. Technovation. 2012;32:99–109.

10.

Maat H, Lentz L. Improving the usability of patient information leaflets. Patient Educ Couns. 2010;80:113–9.

11.

Mason J. Strategic alliances: partnering for success. Manag Rev. 1993;82:10.

12.

Miller L. Commentary: outsourcing of regulatory activities: how a policy can drive good decisions. J Drug Inf. 2000;34:987–9.

13.

Montpart Costa, E. Making the most of the EU's regulatory resources. Regul Aff J: Pharma 2009; 20.

14.

Patton MQ. Qualitative evaluation and research methods. 2nd ed. Newbury Park: Sage Publications; 1990.

15.

Pearce J. Why domestic outsourcing is leading America's reemergence in global manufacturing. Bus Horiz. 2014;57:27–36.

16.

Piachaud B. Outsourcing in the pharmaceutical manufacturing process: an examination of the CRO experience. Technovation. 2002;22:81–90.

17.

Piachaud B. Outsourcing technology. Res Technol Manag. 2005;48:40–6.

18.

Quinn B. The outsourcing innovation: the new engine of growth. Sloan Manag Rev Summer. 2000;41:4.

19.

Sherlock A. Outsourcing: China takes center stage. Appl Clin Trials. 2012;28–31:33.

20.

Zirpoli F, Becker MC. The limits of designing and engineering outsourcing: performance integration and the unfulfilled promises of modularity. R&D Manag. 2011;41:21–43.
Conflict of Interest
The authors declare that they have no conflict of interest.
About this article
Cite this article
Gummerus, A., Airaksinen, M., Bengtström, M. et al. Outsourcing of Regulatory Affairs Tasks in Pharmaceutical Companies—Why and What?. J Pharm Innov 11, 46–52 (2016). https://doi.org/10.1007/s12247-015-9235-4
Keywords
CRO

Pharmaceutical industry

Regulatory affairs

Outsourcing