Abstract
The current inefficient utilization of frequency spectrum has alerted regulatory bodies to streamline improvements. Cognitive radio (CR) has recently received considerable attention and is widely perceived as a promising improvement tool in estimating, or equivalently sensing, the frequency spectrum for wireless communication systems. The cognitive cycle in CR systems is capable of recognizing and processing better spectrum estimation (SE) and hence promotes the efficiency of spectrum utilization. Among different SE methods, the multi-taper method (MTM) shows encouraging results. Further performance improvement in the SE for CR can be achieved by applying multiple antennas and combining techniques. This paper proposes a constructive development of SE using MTM, abbreviated as MTSE, and by employing multiple-input multiple-output (MIMO), parsed into separate parallel channels using singular value decomposition (SVD), and maximum ratio combining (MRC) configurations. Deviating from these improvements, however, multicarrier systems such as orthogonal frequency division multiplexing (OFDM) show inferior sensing performances due to the noise multiplicity generated and combined from all subcarrier channels. By means of the quadrature matrix form, the probabilities for such integrated settings of SE have been derived to reach at their approximate asymptotes. Numerical simulations revealed specific better performances stemmed from coupling the fashionable MTSE and MIMO technologies.
This is a preview of subscription content, log in to check access.
Access options
Buy single article
Instant access to the full article PDF.
US$ 39.95
Price includes VAT for USA
Subscribe to journal
Immediate online access to all issues from 2019. Subscription will auto renew annually.
US$ 99
This is the net price. Taxes to be calculated in checkout.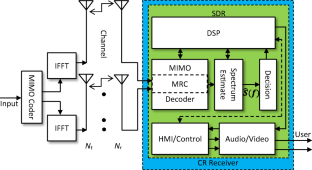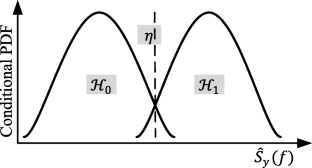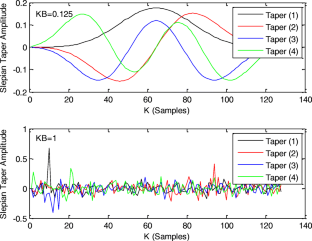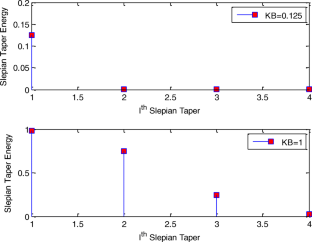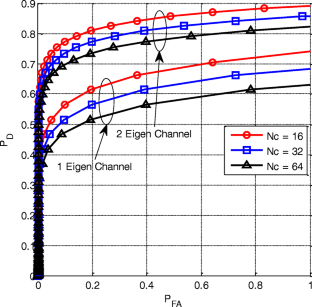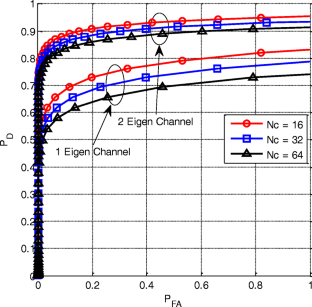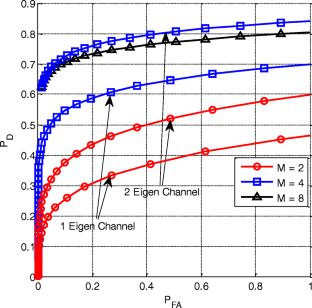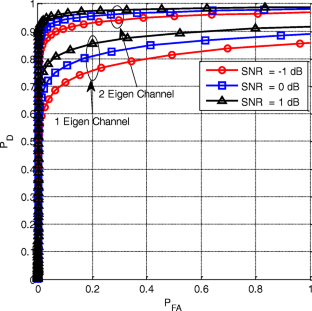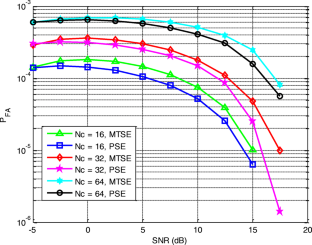 References
1.

Ali A, Hamouda W (2017) Advances on spectrum sensing for cognitive radio networks: theory and applications. IEEE Communications Surveys and Tutorials 19(2):1277–1303

2.

Wang B, Liu K (2011) Advances in cognitive radio networks: a survey. IEEE J Select Topics Signal Process 5(1):5–23

3.

Yucek T, Arslan H (2009) A survey of spectrum sensing algorithms for cognitive radio applications. IEEE Commun Surv Tutorials 11(1):116–130

4.

Axell E, Leus G, Larsson EG, Poor HV (2012) Spectrum sensing for cognitive radio: state-of-the-art and recent advances. IEEE Signal Process Mag 29:101–116

5.

Haykin S, Thomson DJ, Reed JH (2009) Spectrum sensing for cognitive radio. Proc IEEE 97(5):849–877

6.

Haykin S (2005) Cognitive radio: brain-empowered wireless communications. IEEE Trans Select Areas Commun 23(2):201–220

7.

Ma J, Li GY, Juang BH (2009) Signal processing in cognitive radio. Proc IEEE 97(5):805–823

8.

Wang J, Zhang QT (2009) A multitaper spectrum based detector for cognitive radio. Proc Conf Wireless Communications and Networks, Budapest, Hungary, pp 1–5

9.

Zhang Q (2011) Multitaper based spectrum sensing for cognitive radio: design and performance. Proc Conf Vehicular Technology, Yokohama, Japan, pp 1–5

10.

Jataprolu MK, Koilpillai RD, Bhashyam S (2012) Optimal MTM spectral estimation based detection for cognitive radio in HDTV. Proc Nat Conf Communications, Kharagpur, India, pp 1–5

11.

Yu T, Parera S, Markovic D, Cabric D (2010) Cognitive radio wideband spectrum sensing using multitap windowing and power detection with threshold adaptation. Proc Int Conf Communications, Cape Town, South Africa, pp 1–6

12.

Gismalla EH, Alsusa E (2012) New and accurate results on the performance of the multitaper-based detector. Proc Int Conf Communications, Ottawa, Canada, pp 1609–1613

13.

Yousif EHG, Ratnarajah T, Sellathurai M (2015) Modelling and performance analysis of multitaper detection using phase-type distributions over MIMO fading channels. IEEE Trans on Signal Processing 63(22):5882–5896

14.

Alghamdi OA, Abu-Rgheff MA (2010) Local MTM-SVD based spectrum sensing in SIMO OFDM cognitive radio under bandwidth constraint. Proc Int Conf Cognitive Radio Oriented Wireless Networks and Communications, Cannes, France, pp 1–6

15.

Stuber GL, Barry JR, McLaughlin SW, LI Y, Ingram MA, Pratt TG (2004) Broadband MIMO-OFDM wireless communications. Proc of the IEEE 92(2):271–294

16.

Hwang T, Yang C, Wu G, Li S, Li GY (2009) OFDM and its wireless applications: a survey. IEEE Trans Veh Technol 58(4):1673–1694

17.

Mahmoud HA, Yucek T, Arslan H (2009) OFDM for cognitive radio: merits and challenges. IEEE Wirel Commun 16:6–14

18.

Gupta A, Jha RK (2015) A survey of 5G network: architecture and emerging technologies. IEEE Access 3:1206–1232

19.

Brennan D (2003) Linear diversity combining techniques. Proc of the IEEE 91(2):331–356

20.

Clerckx B, Oestges C (2013). MIMO wireless networks: channels, techniques and standards for multi-antenna, multi-user and multi-cell systems. Academic Press, 2013

21.

Goldsmith A (2005). Wireless communications. Cambridge University Press

22.

Al-Juboori S, Fernando X (2015) Unified approach for performance analysis of cognitive radio spectrum sensing over correlated multipath fading channels. Proc IEEE Int Sym World of Wireless, Mobile and Multimedia Networks, Boston, USA, pp 1–6

23.

Kuppusamy V, Mahapatra R (2008) Primary user detection in OFDM based MIMO cognitive radio. Proc Int Conf Cognitive Radio Oriented Wireless Networks and Communications, Singapore, pp 1–5

24.

Nafkha A, Aziz B (2014) Closed-form approximation for the performance of finite sample-based energy detection using correlated receiving antennas. IEEE Wireless Communications Letters 3(6):577–580

25.

Wang N, Gao Y (2013) Optimal threshold of Welch's periodogram for sensing OFDM signals at low SNR levels. Proc Conf European Wireless, Guildford, UK, pp 1–5

26.

Joshi DR, Popescu DC, Dobre OA (2010) Dynamic threshold adaptation for spectrum sensing in cognitive radio systems. Proc IEEE Radio and Wireless Symposium, New Orleans, USA, pp 468–471

27.

Kay SM (1998). Fundamentals of statistical signal processing: detection theory Prentice-Hall PTR

28.

Quan Z, Cui S, Sayed AH, Poor HV (2009) Optimal multiband joint detection for spectrum sensing in cognitive radio networks. IEEE Trans Signal Process 57(3):1128–1140

29.

Bogale TE, Vandendorpe L, Le LB (2015) Wideband sensing and optimization for cognitive radio networks with noise variance uncertainty. IEEE Trans Commun 63(4):1091–1105

30.

Taherpour A, Gazor S, Kenari MN (2008) Wideband spectrum sensing in unknown white Gaussian noise. IET Commun 2(6):763–771

31.

Qing H, Liu Y, Xie G, Gao J (2015) Wideband spectrum sensing for cognitive radios: a multistage Wiener filter perspective. IEEE Signal Processing Letters 22(3):332–335

32.

Betlehem T, Coulson AJ, Reid AB (2010) Wide-band spectrum sensing for cognitive radio by combining antenna signals. Proc Australian Communications Theory Workshop, Canberra, Australia, pp 111–116
Additional information
Publisher's note
Springer Nature remains neutral with regard to jurisdictional claims in published maps and institutional affiliations.
About this article
Cite this article
Abdul Salam, A.O., Sheriff, R.E., Al-Araji, S.R. et al. Spectrum sensing in cognitive radio using multitaper method based on MIMO-OFDM techniques. Ann. Telecommun. 74, 727–736 (2019). https://doi.org/10.1007/s12243-019-00710-0
Received:

Accepted:

Published:

Issue Date:
Keywords
Cognitive radio

Spectrum estimation

Multi-taper

Multiple-input multiple-output

Orthogonal frequency division multiplexing

Singular value decomposition