Abstract
While cellular communications operating at higher frequencies (i.e., above 6 GHz) have been attracting significant research interest, their potentially harmful impacts on human health are not studied as significantly. Few existing studies discussing the human health impacts above 6 GHz paid attention to uplink only, due to close contact of a transmitter to a human body. This paper claims the necessity of thorough investigation in downlink on human exposure to electromagnetic fields (EMFs). Our simulation results suggest the downlink of a Fifth Generation Cellular Mobile Communications (5G) system can generate significantly higher power density (PD) and specific absorption rate (SAR) than the previous generations of wireless systems. Our study also highlights the significance of considering SAR as a metric in evaluation of the EMF exposure at high frequencies. Moreover, this paper proposes a downlink protocol that guarantees the EMF exposure level under a threshold while keeping the data rate above the 5G requirements.
Access options
Buy single article
Instant access to the full article PDF.
USD 39.95
Price excludes VAT (USA)
Tax calculation will be finalised during checkout.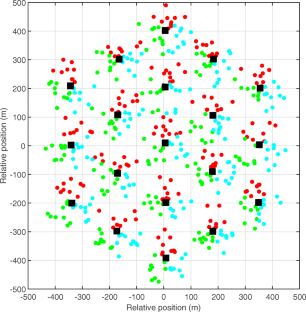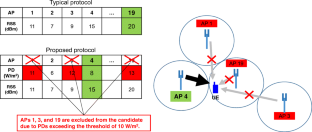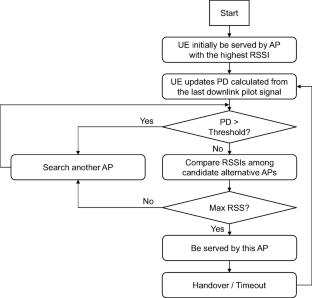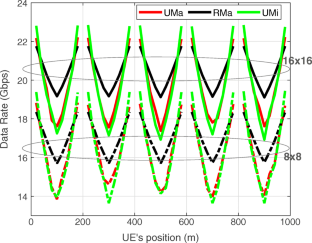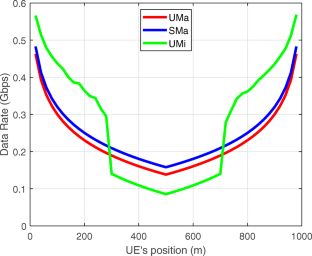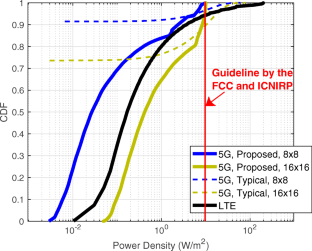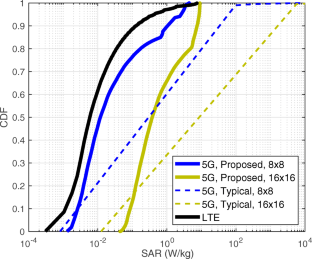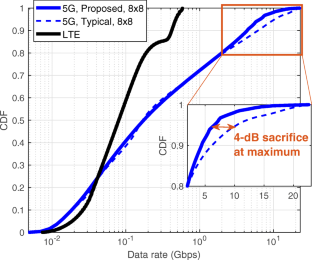 References
Agiwal M, Roy A, Saxena N (2016) Next generation 5G wireless networks: a comprehensive survey. IEEE Commun Surv Tutorials 18(3):1617–1655

Zhang J, Ge X, Li Q, Guizani M, Zhang Y. 5G millimeter-wave antenna array: design and challenges. IEEE Wirel Commun 24(2):106–112

Shakib S, Park H, Dunworth J, Aparin V, Entesari K (2016) A highly efficient and linear power amplifier for 28-GHz 5G phased array radios in 28-nm CMOS. IEEE J Solid-State Circ 12:51

Al-Saadeh O, Sung K (2017) A performance comparison of in-band full duplex and dynamic TDD for 5G indoor wireless networks. EURASIP J Wirel Commun Netw 2017(1):50

Rappaport T, Sun S, Mayzus R, Zhao H, Azar Y, Wang K, Wong G, Schulz J, Samimi M, Gutierrez F (2013) Millimeter wave mobile communications for 5G cellular: it will work! IEEE Access 1 (1):335–349

3GPP TR 38.901. Channel model for frequencies from 0.5 to 100 GHz (Release 14) v14.3.0, 2017

3rd generation partnership project; technical specification group radio access network; spatial channel model for multiple input multi output (MIMO) simulations (Release 9), 3GPP TR 25.996, v9.0.0 Dec. 2009

Evaluating compliance with FCC guidelines for human exposure to radiofrequency electromagnetic fields. Washington, D.C.: Federal Communications Commission, Tech. Rep. Suppl. C to OET Bulletin 65, 2001

International Commission on Non-Ionizing Radiation Protection (1998) ICNIRP guidelines: for limiting exposure to time-varying electric, magnetic and electromagnetic fields (up to 300 GHz). Health Phys 74(4):494–522

Colombi D, Thors B, Tornevik C (2015) Implications of EMF exposure limits on output power levels for 5G devices above 6 GHz. IEEE Antennas Wirel Propag Lett 14:1247–1249

Thors B, Fusruskar A, Colombi D, Tornevik C (2017) Time-averaged realistic maximum power levels for the assessment of radio frequency exposure for 5G radio base stations using massive MIMO. IEEE Access 5

Colombi D, Thors B, Tornevik C, Balzano Q (2018) RF energy absorption by biological tissues in close proximity to millimeter-wave 5G wireless equipment. IEEE Access 6:4974–4981

United States Government Accountability Office (2012) Telecommunications: exposure and testing requirements for mobile phones should be reassessed. GAO-12-771

Wu T, Rappaport T, Collins C (2015) Safe for generations to come: Considerations of safety for millimeter waves in wireless communications. IEEE Microw Mag 16(2):65–84

World Health Organization–International Agency for Research on Cancer (IARC) IARC classifes radiofrequency electromagnetic fields as posssibly carcinogenic to humans, press release, May 31, 2011

IEEE standard for safety levels with respect to human exposure to the radio frequency electromagnetic fields, 3 kHz to 300 GHz, IEEE Standard C95.1, 2005

Shrivastava P, Rao TR (2017) Specific absorption rate distributions of a tapered slot antenna at 60 GHz in personal wireless devices. IEEE Antennas Propag Mag 59:140–146

Rappaport T, Collins C (2015) The human body and millimeter-wave wireless communication systems: interactions and implications. In: Proceedings of the IEEE international conference on communications (ICC), pp 2423–2429

Castellanos M, Love D, Hochwald B (2016) Hybrid precoding for millimeter wave systems with a constraint on user electromagnetic radiation exposure. In: Proceedings of Asilomar conference on signals, systems and computers

Sambo YA, Heliot F, Imran M (2015) Electromagnetic emission-aware scheduling for the uplink of coordinated OFDM wireless systems. In: Proceedings of the IEEE online conference on green communications (OnlineGreenComm), pp 42–46

Chahat N, Zhadobov M, Le Coq L, Alekseev S, Sauleau R (2012) Characterization of the interactions between a 60-GHz antenna and the human body in an off-body scenario. IEEE Trans Antennas Prop 60(12):5958–5965

Ghosh A (2018) 5G New Radio (NR): physical layer overview and performance. In: IEEE communication theory workshop
About this article
Cite this article
Nasim, I., Kim, S. Mitigation of human EMF exposure in downlink of 5G. Ann. Telecommun. 74, 45–52 (2019). https://doi.org/10.1007/s12243-018-0696-6
Received:

Accepted:

Published:

Issue Date:

DOI: https://doi.org/10.1007/s12243-018-0696-6
Keywords
5G

Above 6 GHz

Downlink

Human EMF exposure

Specific absorption rate (SAR)