Abstract
In the past few years, internet of things has been explored in medical area to achieve high efficiency and accuracy in the medical treatment and management. One of the most powerful technologies called the medical Internet of Things (mIoT), is underpinned by the considerable computational ability of cloud and the efficient data collection of medical sensors. As the data is transmitted over open network, security remains a paramount concern in mIoT. Encryption techniques may help to protect patient privacy, but they limit the future retrieval of the encrypted data. To uplift this limitation, public key encryption with keyword search (PEKS) has been introduced. However, most of the existing PEKS schemes are based on public key infrastructure or identity-based cryptography, which suffers from the certificate management issue and key escrow problem in system deployment, respectively. Moreover, inside keyword guessing attack seems to become a severe issue to violate privacy in data search. To address these issues, we present a certificateless searchable public key authenticated encryption scheme with designated tester (CL-dPAEKS), which, we believe, is suitable for cloud-assisted mIoT. We prove that our scheme can resist various types of attacks, and it is more secure than other schemes that built on certificateless cryptography, without significant loss in efficiency.
This is a preview of subscription content, log in to check access.
Access options
Buy single article
Instant access to the full article PDF.
US$ 39.95
Tax calculation will be finalised during checkout.
Subscribe to journal
Immediate online access to all issues from 2019. Subscription will auto renew annually.
US$ 99
Tax calculation will be finalised during checkout.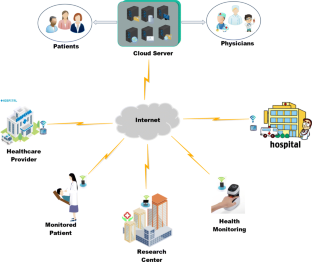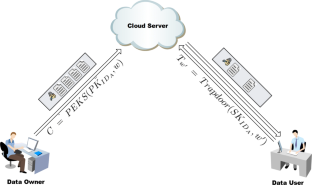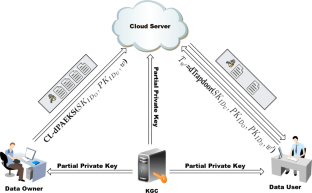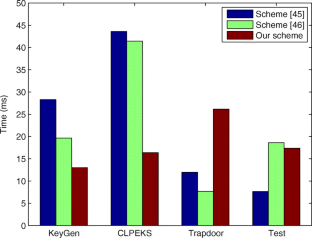 Notes
1.

2.

A certificate authority (CA) issues all users' digital certificates

3.

All users' private keys are managed by a key generation center (KGC)
References
1.

Hossain M, Muhammad G (2016) Cloud-assisted industrial internet of things (iiot)–enabled framework for health monitoring. Comput Net 101:192–202

2.

Dimitrov DV (2016) Medical internet of things and big data in healthcare. Healthcare Informatics Research 22(3):156– 163

3.

Wang C, Shen J, Liu Q, Ren Y, Li Y (2018) A novel security scheme based on instant encrypted transmission for internet of things. Security and Communication Networks, https://doi.org/10.1155/2018/3680851, 2018

4.

Jhaveri RH, Patel NM, Zhong Y, Sangaiah AK (2018) Sensitivity analysis of an attack-pattern discovery based trusted routing scheme for mobile ad-hoc networks in industrial IoT. IEEE Access 6:20085–20103

5.

Atzori L, Iera A, Morabito G (2010) The internet of things: a survey. Comput Net 54(15):2787–2805

6.

Want R, Schilit BN, Jenson S (2015) Enabling the internet of things. Computer 48(1):28–35

7.

Li Y, Huang X, Li J, Chen X, Xiang X (2014) Securely outsourcing attribute-based encryption with checkability. IEEE Trans Parallel Distrib. Syst 25(8):2201–2210

8.

Zhang Y, Chen X, Li J, Wong DS, Li H, You I (2017) Ensuring attribute privacy protection and fast decryption for outsourced data security in mobile cloud computing. Inf Sci 379:42–61

9.

Shen J, Gui Z, Ji S, Shen J, Tan H, Tang Y Cloud-aided lightweight certificateless authentication protocol with anonymity for wireless body area networks. J Netw Comput Appl

10.

Xiang C, Tang C, Cai Y, Qiuxia X (2016) Privacy-preserving face recognition with outsourced computation. Soft Comput 20(9):3735–3744

11.

Anagnostopoulos I, Zeadally S, EXposito E (2016) Handling big data: research challenges and future directions. J Supercomput 72(4):1494–1516

12.

Liu Z, Weng J, Li J, Yang J, Chuan F, Jia C (2016) Cloud-based electronic health record system supporting fuzzy keyword search. Soft Comput 20(8):3243–3255

13.

Botta A, DeDonato W, Persico V, Pescapé A (2014) On the integration of cloud computing and internet of things. In: 2014 international conference on future internet of things and cloud (FiCloud). IEEE, pp 23–30

14.

Xia Z, Wang X, Zhang L, Qin Z, Sun X, Ren K (2016) A privacy-preserving and copy-deterrence content-based image retrieval scheme in cloud computing. IEEE Trans Inf Forensics Secur 11(11):2594–2608

15.

Fu Z, Huang Z, Sun X, Vasilakos A, Yang C-N (2016) Enabling semantic search based on conceptual graphs over encrypted outsourced data. IEEE Trans Serv Comput, https://doi.org/10.1109/TSC.2016.2622697

16.

Gao C-Z, Cheng Q, He P, Susilo W, Li J (2018) Privacy-preserving Naive Bayes classifiers secure against the substitution-then-comparison attack. Inf Sci 444:72–88

17.

Huang Z, Liu S, Mao X, Chen K, Li J (2017) Insight of the protection for data security under selective opening attacks. Inf Sci 412:223–241

18.

Zhang X, Tan Y, Liang C, Li Y, Li J A covert channel over volte via adjusting silence periods. IEEE Access

19.

QiJiang JM, Wei F (2016) On the security of a privacy-aware authentication scheme for distributed mobile cloud computing services. IEEE Systems Journal

20.

Esposito C, Castiglione A, Martini B, Choo K-K (2016) Cloud manufacturing: security, privacy, and forensic concerns. IEEE Cloud Comput 3:16–22

21.

Song X, Wagner D, Perrig A (2000) Practical techniques for searches on encrypted data. In: IEEE symposium on security and privacy, 2000. S&P 2000. Proceedings. IEEE, p 2000

22.

Curtmola R, Garay J, Kamara S, Ostrovsky R (2011) Searchable symmetric encryption: improved definitions and efficient constructions. J Comput Secur 19(5):895–934

23.

Cong Z, Macindoe J, Yang S, Steinfeld R, Liu JK (2016) Trusted boolean search on cloud using searchable symmetric encryption. In: 2016 IEEE Trustcom/BigDataSE/I? SPA. IEEE, pp 113–120

24.

Gao C, Lv S, YuWei ZW, Liu Z, Cheng X (2018) M-SSE: an effective searchable symmetric encryption with enhanced security for mobile devices. IEEE Access 6:38860–38869

25.

Boneh D, Crescenzo G, Ostrovsky R, Persiano G (2004) Public key encryption with keyword search. In: International conference on the theory and applications of cryptographic techniques. Springer, pp 506–522

26.

Chen R, Mu Y, Yang G, Guo F, Wang X (2016) Dual-server public-key encryption with keyword search for secure cloud storage. IEEE Trans Inf Forensics Secur 11(4):789–798

27.

Xia Z, Wang X, Sun X, Wang Q (2016) A secure and dynamic multi-keyword ranked search scheme over encrypted cloud data. IEEE Trans Parallel Distrib Syst 27(2):340–352

28.

Li J, Lin X, Zhang Y, Han J (2017) KSF-OABE: outsourced attribute-based encryption with keyword search function for cloud storage. IEEE Trans Serv Comput 10(5):715–725

29.

Al-Riyami SS, Paterso KG (2003) Certificateless public key cryptography. In: International conference on the theory and application of cryptology and information security. Springer, pp 452–473

30.

Kuchta V, Sharma G, Sahu RA, Bhatia T, Markowitch O (2017) Secure certificateless proxy re-encryption without pairing. In: International workshop on security. Springer, pp 85–101

31.

Ali M, Dhamotharan R, Khan E, Khan SU, Vasilakos AV, Li K, Zomaya AY (2017) SeDaSC: secure data sharing in clouds. IEEE Syst J 11(2):395–404

32.

Qi Y, Tang C, Lou Y, Guo B (2013) Certificateless proxy identity-based signcryption scheme without bilinear pairings. China Commun 10(11):37–41

33.

Islam SKH, Biswas GP (2014) Certificateless short sequential and broadcast multisignature schemes using elliptic curve bilinear pairings. In: Journal of King Saud University-Computer and Information Sciences, vol 26, pp 89–97

34.

Baek J, Safavi-Naini R, Susilo W (2008) Public key encryption with keyword search revisited. In: International conference on computational science and its applications. Springer, pp 1249–1259

35.

Crescenzo GD, Saraswat V (2007) Public key encryption with searchable keywords based on Jacobi symbols. In: International conference on cryptology in India. Springer, pp 282–296

36.

Tang Q, Chen L (2009) Public-key encryption with registered keyword search. In: European public key infrastructure workshop. Springer, pp 163–178

37.

Golle P, Staddon J, Waters B (2004) Secure conjunctive keyword search over encrypted data. In: International conference on applied cryptography and network security. Springer, pp 31–45

38.

Park DJ, Kim K, Lee PJ (2004) Public key encryption with conjunctive field keyword search. In: WISA, vol 4. Springer, pp 73–86

39.

Hwang YH, Lee PJ (2007) Public key encryption with conjunctive keyword search and its extension to multi-user system. In: International conference on pairing-based cryptography. Springer, pp 2–22

40.

Peng X, Jin H, et al. (2013) Public-key encryption with fuzzy keyword search: a provably secure scheme under keyword guessing attack. IEEE Trans Comput 62(11):2266–2277

41.

Sun W, Shucheng Y, Lou W, Hou YT, Li H (2016) Protecting your right: verifiable attribute-based keyword search with fine-grained owner-enforced search authorization in the cloud. IEEE Trans Parallel Distrib Syst 27(4):1187–1198

42.

Ma S, Huang Q, Zhang M, Yang B (2015) Efficient public key encryption with equality test supporting flexible authorization. IEEE Trans Inf Forensics Secur 10(3):458–470

43.

Huang Q, Li H (2017) An efficient public-key searchable encryption scheme secure against inside keyword guessing attacks. Inf Sci 403:1–14

44.

Li J, Liu Z, Chen X, Xhafa F, Tan X, Wong DS (2015) L-encdb: a lightweight framework for privacy-preserving data queries in cloud computing. Knowl-Based Syst 79:18–26

45.

Li J, Chen X, Xhafa F, Barolli L (2015) Secure deduplication storage systems supporting keyword search. J Comput Syst Sci 81(8):1532–1541

46.

Wang X, Zhang Y, Zhu H, Jiang L (2018) An identity-based signcryption on lattice without trapdoor. In: Journal of universal computer science

47.

Li T, Chen W, Tang Y, Yan H (2018) A homomorphic network coding signature scheme for multiple sources and its application in IoT. Security and Communication Networks, 2018

48.

Zhu Y, Zhang Y, Li X, Yan H, Li J Improved collusion-resisting secure nearest neighbor query over encrypted data in cloud. Concurrency and Computation: Practice and Experience :e4681

49.

Peng Y, Cui J, Ying Z (2014) Certificateless public key encryption with keyword search. China Commun 11(11):100–113

50.

Ma M, He D, Kumar N, Choo K-KR, Chen J (2018) Certificateless searchable public key encryption scheme for industrial internet of things. IEEE Trans Ind Inf 14(2):759–767

51.

MIRACL Cryptographic library: multiprecision integer and rational arithmetic C/C++ library
Additional information
The work was supported in part by the National Natural Science Foundation of China under Grant 61472287, Grant 61772377, Grant 61572379, Grant 61501333, Grant 61402339, and Grant U1536204, in part by the National High-Tech Research and Development Program of China (863 Program) under Grant 2015AA016004, in part by the open fund of State Key Laboratory of Cryptology and in part by the Natural Science Foundation of Hubei Province of China under Grant 2015CFB257, Grant 2015CFA068, Grant 2017CFA007.
About this article
Cite this article
Wu, L., Zhang, Y., Ma, M. et al. Certificateless searchable public key authenticated encryption with designated tester for cloud-assisted medical Internet of Things. Ann. Telecommun. 74, 423–434 (2019). https://doi.org/10.1007/s12243-018-00701-7
Received:

Accepted:

Published:

Issue Date:
Keywords
Certificateless

Cloud-assisted

Medical internet of things

Privacy

Security