Abstract
In this paper, we propose a new Quality Link Metric (QLM), "Inverse Expected Transmission Count (InvETX)," in Optimized Link State Routing (OLSR) protocol. Then, we compare performance of three existing QLMs which are based on loss probability measurements: Expected Transmission Count (ETX), Minimum Delay (MD), and Minimum Loss (ML) in Static Wireless Multi-hop Networks (SWMhNs). A novel contribution of this paper is enhancement in conventional OLSR to achieve high efficiency in terms of optimized routing load and routing latency. For this purpose, first we present a mathematical framework, and then to validate this frame work, we select three performance parameters to simulate default and enhanced versions of OLSR. The three chosen performance parameters are throughput, Normalized Routing Load, and End-to-End Delay. From the simulation results, we conclude that adjusting the frequencies of topological information exchange results in high efficiency.
This is a preview of subscription content, log in to check access.
Access options
Buy single article
Instant access to the full article PDF.
US$ 39.95
Price includes VAT for USA
Subscribe to journal
Immediate online access to all issues from 2019. Subscription will auto renew annually.
US$ 99
This is the net price. Taxes to be calculated in checkout.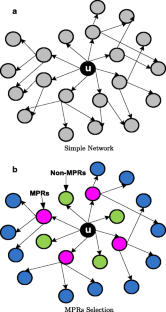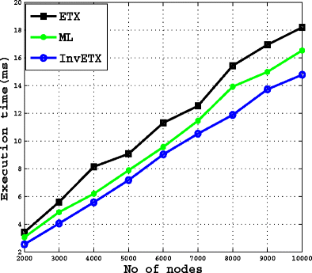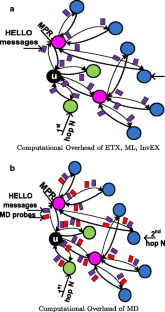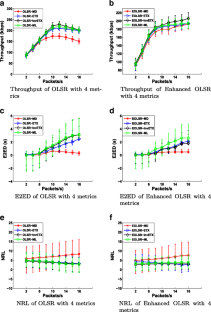 References
1.

Javaid N, Ullah M, Djouani K (2011) Identifying design requirements for wireless routing link metrics. In: Global telecommunications conference (GLOBECOM 2011), IEEE, Houston, 5–9 Dec 2011, pp 1–5

2.

De Couto DSJ (2004) High-throughput routing for multi-hop wireless networks. Ph.D. dissertation, MIT

3.

Moreira W, Aguiar E, Abelm A, Stanton M (2008) Using multiple metrics with the optimized link state routing protocol for wireless mesh networks. Simpsio Brasileiro de Redes de Computadorese Sistemas Distribudos, Maio

4.

Passos D, Teixeira DV, Muchaluat-Saade DC, Magalhaes LCS, Albuquerque C (2006) Mesh network performance measurements. In: International information and telecommunications technologies symposium (I2TS), pp 48–55

5.

Clausen T, Jacquet P, Adjih C, Laouiti A, Minet P, Muhlethaler P, Qayyum A, Viennot L (eds) (2003) Optimized link state routing protocol (OLSR)

6.

Yang Y, Wang J, Kravets R (2005) Designing routing metrics for mesh networks. In: IEEE workshop on wireless mesh networks (WiMesh)

7.

Perkins CE, Bhagwat P (1994) Highly dynamic Destination-Sequenced Distance-Vector routing (DSDV) for mobile computers. SIGCOMM Comput Commun Rev 24:234–244

8.

Das SM,Wu Y, Chandra R, Hu YC (2008) Context-based routing: technique, applications, and experience. In: NSDI, vol 8, pp 379–392

9.

De Couto DSJ, Aguayo D, Bicket J, Morris R (2004) A high-throughput path metric for multi-hop wireless routing. Wireless

10.

Draves R, Zill B (2004) Routing in multi-radio, multi-hop wireless mesh networks. In: ACM international conference on mobile computing and networking (MobiCom), pp 114–128

11.

Draves R, Padhye J, Zill B (2004) Comparison of routing metrics for static multi-hop wireless networks. Comput Comm Rev 34(4):133–144

12.

Yang Y, Wang J, Kravets R (2005) Interference-aware load balancing for multihop wireless networks. Tech. rep. UIUCDCS-R-2005-2526, Department of Computer Science, University of Illinois at Urbana-Champaign

13.

Javaid N et al (2011) Modeling routing overhead generated by wireless proactive routing protocols. In: 54th IEEE Globecom2011 (SaCoNAS workshop)

14.

Javaid N, Javaid A, Khan IA, Djouani K (2009) Performance study of ETX based wireless routing metrics. In: 2nd international conference on computer, control and communication, pp 1–7

15.

Zhai H, Fang Y (2006) Impact of routing metrics on path capacity in multirate and multihop wireless ad hoc networks. Proceedings of the IEEE international conference on network protocols

16.

Faheem Y, Rougier JL (2009) Loop avoidance for fish-eye OLSR in sparse wireless mesh networks. In: 6th international conference on wireless on-demand network systems and services, WONS 2009. IEEE, pp 231–234

17.

Kyasanur P, Vaidya NH (2006) Routing and link-layer protocols for multi-channel multi-interface ad hoc wireless networks. Mob Comput Commun Rev 10(1):31–43

18.

Tsai J, Moors T (2006) A review of multipath routing protocols: from wireless ad hoc to mesh networks. In: ACoRN early career researcher workshop on wireless multihop networking

19.

Chipara O, He Z, Xing G, Chen Q, Wang X, Lu C, Stankovic J, Abdelzaher T (2006) Real-time power-aware routing in sensor networks. In: Proceedings of the 14th IEEE international workshop on quality of service

20.

Boughanmi N, Song YQ (2008) A new routing metric for satisfying both energy and delay constraints in wireless sensor networks. J Signal Process Syst 51:137–143

21.

Yoo Y, Ahn S (2004) A simple load-balancing approach in secure ad hoc networks. In: ICOIN, Busan, Korea, 18–20 Feb 2004

22.

Paul AB, Nandi S (2008) Modified Optimized Link State Routing (M-OLSR) for wireless mesh networks. In: International conference on information technology 2008 (ICIT'08)

23.

Pei G, Gerla M, Chen TW (2000) Fisheye state routing: a routing scheme for ad hoc wireless networks. In: 2000 IEEE international conference on communications, ICC 2000, vol 1. IEEE, pp 70–74
About this article
Cite this article
Javaid, N., Bibi, A., Javaid, A. et al. Investigating quality routing link metrics in Wireless Multi-hop Networks. Ann. Telecommun. 69, 209–217 (2014). https://doi.org/10.1007/s12243-013-0409-0
Received:

Accepted:

Published:

Issue Date:
Keywords
Routing link metric

ETX

Inverse ETX

Minimum Delay

Minimum Loss

Wireless Multi-hop Networks