Abstract
In the present paper, we propose a new structure of chipless and low-cost tag for data encoding in the terahertz frequency range. The device is based on a multilayer structure in which the thicknesses of the different layers are of the order of the wavelength, i.e., in the submillimeter range. In this device, the information is encoded in the volume of the tag thanks to the adjustable refractive index and low-cost materials, leading to a high level of security. The two main advantages compared to classical radiofrequency identification tags are the absence of metal and the encoding of the information in the volume of the structure, thus limiting the risk of damage during handling and preventing from reverse engineering, for example.
Access options
Buy single article
Instant access to the full article PDF.
US$ 39.95
Tax calculation will be finalised during checkout.
Subscribe to journal
Immediate online access to all issues from 2019. Subscription will auto renew annually.
US$ 79
Tax calculation will be finalised during checkout.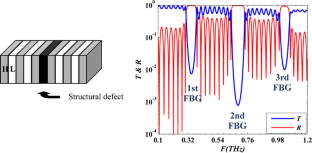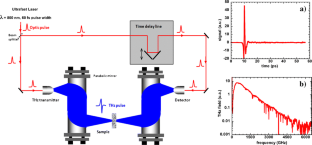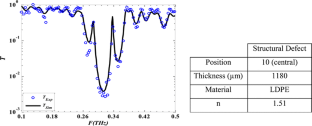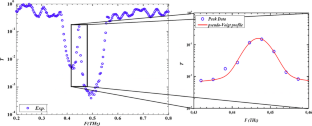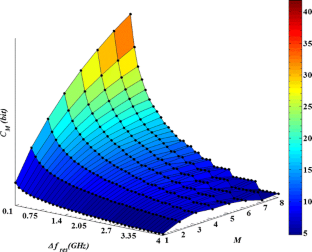 References
1.

Woodland NJ, Ventnor NJ, Silver B (1952) Classifying apparatus and method. US Patent 2-612-994

2.

Bilgutay I (1974) Bar code font. US Patent 3-832-686

3.

Stockman H (1948) Communication by means of reflected power. Proc IRE 36:1196–1204

4.

Hara M, Watabe M, Nojiri T, Nagaya T, Uchiyama Y (1998) Classifying apparatus and method. US Patent 5-726-435

5.

Das R, Harrop P (2010) Printed and chipless RFID forecast, technology & players 2009–2019. IDTechEx

6.

Numai T (2004) Fundamentals of semiconductor laser, chapter 4.2. Springer, New York

7.

Nemec H, Duvillaret L, Quemeneur F, Kuzel P (2004) Defects modes caused by twinning in one dimensional photonic crystal. J Opt Soc Am B21:548–553

8.

Scheller M, Wietzke S, Jansen C, Koch M (2009) Modelling heterogeneous dielectric mixtures in the terahertz regime: a quasi-static effective medium theory. J Phys Appl Phys 42:065415–065419

9.

van Exter M, Grischkowsky D (1990) Characterization of an optoelectronic terahertz beam system. IEEE Trans Microw Theor Tech 38:16884–1691

10.

Duvillaret L, Garet F, Coutaz J-L (1996) A reliable method for extraction of material parameters in terahertz time-domain spectroscopy. IEEE J Sel Top Quant Electron 2:739–746

11.

Maxwell Garnett JC (1904) Colours in metal glasses and in metallic films. Phil Trans Roy Soc Lond 203:385–420

12.

Bruggeman DAG (1935) Berechnung verschiedener physikalischer Konstanten von heterogenen Substanzen. Ann Phys 24:636–679

13.

Buchner A (1939) Das Mischkorperproblem in der Kondensatorentechnik. Wissenschoftliche Veroffentlichungen Aus Der Siemens-Werken 18:84–96

14.

Kiessig H (1931) Untersuchungen zur totalreflexion von röntgenstrahlen. Ann Phys 10:715–768

15.

Zaghdoudi J, Hamdi M, Kanzari M (2011) Improvement of the performances of 1D photonic crystal by the reduction of the Kiessig fringes. Progress In Electromagnetics Research M 17:267–282

16.

Bernier M, Garet F, Perret E, Duvillaret L, Tedjini S (2011) Terahertz approach for secured chipless radio frequency identification. Appl Optics 50:4648–4655

17.

Limandri SP, Bonetto RD, Rocco HOD, Trincavelli JC (2008) Fast and accurate expression for the Voigt function. Application to the determination of uranium M linewidths. Spectrochim Acta Part B 63:962–967

18.

Chung KL, AitSahlia F (2003) Elementary probability theory with stochastic processes and an introduction to mathematical finance, 4th edn. Springer, New York

19.

Perret E, Hamdi M, Vena A, Garet F, Bernier M, Duvillaret L, Tedjini S (2011) RF and THz identification using a new generation of chipless RFID tags. Radioengineering 20:380–386
Acknowledgments
This work is supported by the French National Research Agency—ANR—under grant ANR-09-VERS-013 THID.
About this article
Cite this article
Hamdi, M., Garet, F., Duvillaret, L. et al. Identification tag in the terahertz frequency domain using low-cost and tunable refractive index materials. Ann. Telecommun. 68, 415–424 (2013). https://doi.org/10.1007/s12243-013-0374-7
Received:

Accepted:

Published:

Issue Date:
Keywords
Chipless tag

Low cost

Multilayer structure

Tunable refractive index

Effective medium theory