Abstract
In 2005, Germany launched its ambitious D-Grid initiative to establish a national Grid infrastructure. Although the initiative is open to all groups interested in Grid computing, the current focus is on four target groups: academic computing centers, academic and commercial service providers, academic research communities, and private–public partnership communities. More than 30 projects within the initiative cooperate to solve technical problems, to generate appropriate organizational structures, and to define interfaces between the target groups. In this paper, we explain the general concept, report on the progress of these projects, and describe the key issues that have been identified in hindsight. Furthermore, we discuss the development of the initiative with respect to new trends like the various forms of cloud computing.
Access options
Buy single article
Instant access to the full article PDF.
US$ 39.95
Tax calculation will be finalised during checkout.
Subscribe to journal
Immediate online access to all issues from 2019. Subscription will auto renew annually.
US$ 79
Tax calculation will be finalised during checkout.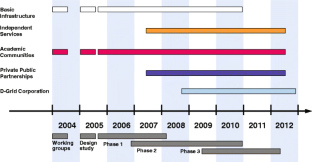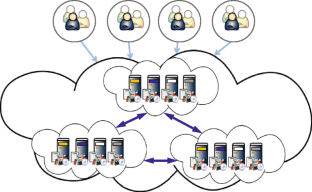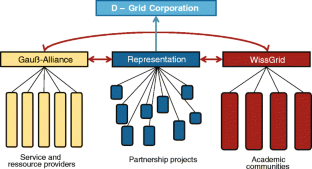 References
1.

Schwiegelshohn U, Badia RM, Bubak M, Danelutto M, Dustdar S, Gagliardi F, Geiger A, Hluchy L, Kranzlmüller D, Laure E, Priol T, Reinefeld A, Resch M, Reuter A, Rienhoff O, Rüter T, Sloot P, Talia D, Ullmann K, Yahyapour R, von Voigt G (2010) Perspectives on grid computing. Future Gener Comput Syst 26:1104–1115

2.

Foster I (2006) Globus toolkit version 4: software for service-oriented systems. In: Proceedings of the IFIP international conference on network and parallel computing, LNCS, vol. 3779. Springer, pp 2–13

3.

Streit A, Erwin D, Lippert Th, Mallmann D, Menday R, Rambadt M, Riedel M, Romberg M, Schuller B, Wieder Ph (2005) UNICORE - from project results to production grids. In: Grandinetti L (ed) Grid computing: the new frontiers of high performance processing, advances in parallel computing 14. Elsevier, pp 357–376

4.

Laure E, Fisher SM, Frohner A, Grandi C, Kunszt P, Krenek A, Mulmo O, Pacini F, Prelz F, White J, Barroso M, Buncic P, Hemmer F, Di Meglio A, Edlund A (2006) Programming the Grid with gLite. Comput Methods Sci Technol 12(1):33–45

5.

Fuhrmann P, Gülzow V (2006) dCache, storage system for the future. In: Nagel W, Walter W, Lehner W (eds) Proceedings of Euro-Par 2006. Lecture notes in computer science 4128. Springer, pp 1106–1113

6.

Karasavvas K, Antonioletti M, Atkinson M, Hong NC, Sugden T, Hume A, Jackson M, Krause A, Palansuriya C (2005) Introduction to OGSA-DAI services. In: Herrero P, Pérez MS, Robles V (eds) Scientific applications of Grid computing. Lecture notes in computer science 3458. Springer, pp 1–12

7.

Rajasekar A, Wan M, Moore R, Schroeder W (2006) A prototype rule-based distributed data management system. In: Proceedings of HPDC workshop on next generation distributed data management. Paris, France, pp 1–7
Acknowledgements
The author is particularly thankful for the funding of the BMBF and for the cooperation of the numerous individuals that help in the formation of D-Grid.
Additional information
D-Grid is sponsored by the German Federal Ministry of Education and Research.
About this article
Cite this article
Schwiegelshohn, U. D-Grid: a national grid infrastructure in Germany. Ann. Telecommun. 65, 763–769 (2010). https://doi.org/10.1007/s12243-010-0201-3
Received:

Accepted:

Published:

Issue Date:
Keywords
National grid infrastructure

Grid communities