Abstract
Densities of Orthoptera typically vary greatly over space and time. The most important salt marsh orthopteran on the East Coast of the US is Orchelimum fidicinium, an omnivore that feeds on cordgrass (Spartina alterniflora) and arthropods. We examined spatial (34 sites) and temporal (5 sites, 17 years) variation in O. fidicinium density in coastal Georgia. Sites with considerable adjacent upland habitat had higher densities of O. fidicinium than sites with little adjacent upland. Grasshoppers fed S. alterniflora from both types of sites did not differ in growth rates, ruling out food quality as an explanation. We speculate instead that O. fidicinium require terrestrial habitat for reproduction or escape from predators during extreme high tides. At five sites where O. fidicinium was common, densities varied greatly among years. Regression models indicated that current year plant biomass (three sites) or previous year plant biomass (one site) was the best predictor of O. fidicinium density. Relationships between O. fidicinium and current year plant biomass were typically negative (more grasshoppers in years with lower plant biomass). A possible explanation for this pattern is that plant nutrients may be diluted in years with high plant biomass. We found little evidence that density of animal prey (Prokelisia spp.) or abiotic factors affected O. fidicinium densities. Our study illustrates the value of examining population densities across multiple sites and years, because results from any one site or year would likely have mischaracterized the spatial and temporal distribution of this common salt marsh consumer.
Access options
Buy single article
Instant access to the full article PDF.
USD 39.95
Price excludes VAT (USA)
Tax calculation will be finalised during checkout.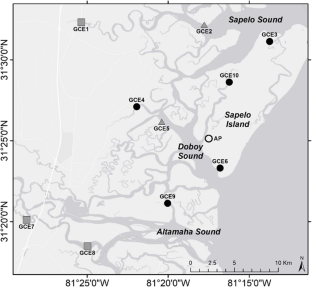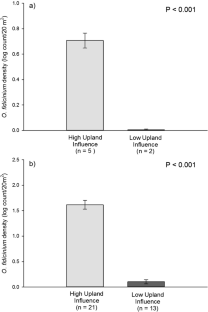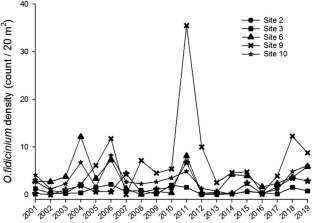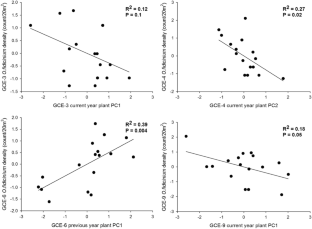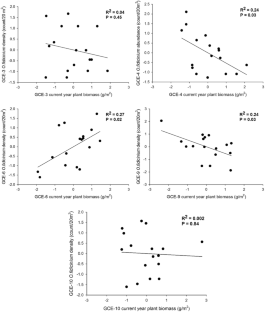 References
Bertness, M.D., C. Wise, and A.M. Ellison. 1987. Consumer pressure and seed set in a salt marsh perennial plant community. Oecologia 71 (2): 190–200.

Bortolus, A., P. Adam, J.B. Adams, M.L. Ainouche, D. Ayres, M.D. Bertness, T.J. Bouma, J.F. Bruno, I. Caçador, J.T. Carlton, J.M. Castillo, C.S.B. Costa, A.J. Davy, L. Deegan, B. Duarte, E. Figueroa, J. Gerwein, A.J. Gray, E.D. Grosholz, S.D. Hacker, A.R. Hughes, E. Mateos-Naranjo, I.A. Mendelssohn, J.T. Morris, A.F. Muñoz-Rodríguez, F.J.J. Nieva, L.A. Levin, B. Li, W. Liu, S.C. Pennings, A. Pickart, S. Redondo-Gómez, D.M. Richardson, A. Salmon, E. Schwindt, B.R. Silliman, E.E. Sotka, C. Stace, M. Sytsma, S. Temmerman, R.E. Turner, I. Valiela, M.P. Weinstein, and J.S. Weis. 2019. Supporting Spartina: Interdisciplinary perspective shows Spartina as a distinct solid genus. Ecology 100: 1–6.

Branson, D.H. 2011. Relationships between plant diversity and grasshopper diversity and abundance in the Little Missouri National Grassland. Psyche 2011: 1–7.

Cisse, S., S. Ghaout, A. Mazih, M.A.O. Babah Ebbe, A.S. Benahi, and C. Piou. 2013. Effect of vegetation on density thresholds of adult desert locust gregarization from survey data in Mauritania. Entomologia Experimentalis et Applicata 149 (2): 159–165.

Denno, R.F. 1977. Comparison of the assemblages of sap-feeding insects (Homoptera-Hemiptera) inhabiting two structurally different salt marsh grasses in the genus Spartina. Environ Entomol 6 (3): 359–372.

Despland, E., M. Collett, and S.J. Simpson. 2000. Small-scale processes in desert locust swarm formation: How vegetation patterns influence gregarization. Oikos 88 (3): 652–662.

Dirzo, R., H.S. Young, M. Galetti, G. Ceballos, N.J.B. Isaac, and B. Collen. 2014. Defaunation in the Anthropocene. Science 345 (6195): 401–406.

Evans, E.W. 1984. Fire as a natural disturbance to grasshopper assemblages of tallgrass prairie. Oikos 43 (1): 9–16.

Francuski, L., and L.W. Beukeboom. 2020. Insects in production – an introduction. Entomologia Experimentalis et Applicata 168 (6-7): 422–431.

Goranson, C.E., C.K. Ho, and S.C. Pennings. 2004. Environmental gradients and herbivore feeding preferences in coastal salt marshes. Oecologia 140 (4): 591–600.

Gouhier, T.C., and F. Guichard. 2014. Synchrony: Quantifying variability in space and time. Methods Ecol Evol 5 (6): 524–533.

Hallmann, C.A., M. Sorg, E. Jongejans, H. Siepel, N. Hofland, H. Sumser, T. Ho, H. Schwan, W. Stenmans, A. Mu, D. Goulson, and H. De Kroon. 2017. More than 75 percent decline over 27 years in total flying insect biomass in protected areas. PLoS One 12 (10): e0185809.

Hao, S., S. Wang, A. Cease, and L. Kang. 2015. Landscape level patterns of grasshopper communities in Inner Mongolia: interactive effects of livestock grazing and a precipitation gradient. Landsc Ecol 30 (9): 1657–1668.

Hunter, D.M., P.W. Walker, and R.J. Elder. 2001. Adaptations of locusts and grasshoppers to the low and variable rainfall of Australia. J Orthop Res 10 (2): 347–351.

Jiménez, J.M., K. Wieski, L.B. Marczak, C.K. Ho, and S.C. Pennings. 2012. Effects of an omnivorous katydid, salinity, and nutrients on a planthopper-Spartina food web. Estuar Coasts 35 (2): 475–485.

Joern, A. 2005. Disturbance by fire frequency and bison grazing modulate grasshopper assemblages in tallgrass prairie. Ecology 86 (4): 861–873.

Joern, A., T. Provin, and S.T. Behmer. 2012. Not just the usual suspects: insect herbivore populations and communities are associated with multiple plant nutrients. Ecology 93 (5): 1002–1015.

Johnson, D.S., and B.J. Jessen. 2008. Do spur-throated grasshoppers, Melanoplus spp . (Orthoptera: Acrididae), exert top-down control on smooth cordgrass Spartina Alterniflora in northern New England? Estuar Coasts 31: 912–919.

Kemp, W.P., and B. Dennis. 1993. Density dependence in rangeland grasshoppers (Orthoptera: Acrididae). Oecologia 96 (1): 1–8.

Kennish, M.J. 2001. Coastal salt marsh systems in the U.S. : a review of anthropogenic impacts. J Coast Res 17: 731–748.

Klink, R., D. Van, E. Bowler, K.B. Gongalsky, and A.B. Swengel. 2020. Meta-analysis reveals declines in terrestrial but increases in freshwater insect abundances. Science 420: 417–420.

Latchininsky, A.V. 2013. Locusts and remote sensing: a review. J Appl Remote Sens 7 (1): 075099.

Laws, A.N., and G.E. Belovsky. 2010. How will species respond to climate change? examining the effects of temperature and population density on an herbivorous insect. Environ Entomol 39 (2): 312–319.

Le Gall, M., R. Overson, and A. Cease. 2019. A global review on locusts (Orthoptera: Acrididae) and their interactions with livestock grazing practices. Front Ecol Evol 7: 1–24.

Li, S., and S.C. Pennings. 2017. Timing of disturbance affects biomass and flowering of a saltmarsh plant and attack by stem-boring herbivores. Ecosphere 8: 1–9.

Lockwood, D.R., and J.A. Lockwood. 2008. Grasshopper population ecology: catastrophe, criticality, and critique. Ecol Soc 13: 1512–1513.

Macgregor, C.J., J.H. Williams, J.R. Bell, and C.D. Thomas. 2019. Moth biomass increases and decreases over 50 years in Britain. Nature Ecology and Evolution 3 (12): 1645–1649.

Marples, T.G. 1966. A radionuclide tracer study of arthropod food chains in a Spartina salt marsh ecosystem. Ecology 47 (2): 270–277.

Miller, J., and T. Gardiner. 2018. The effects of grazing and mowing on large marsh grasshopper, Stethophyma grossum (Orthoptera: Acrididae), populations in Western Europe: a review. J Orthop Res 27 (1): 91–96.

Pfeiffer, W. I., and R. G. Wiegert. 1981. Grazers on Spartina and their predators. Page (L. R. Pomeroy and R. G. Wiegert, Eds.). Springer-Verlag New York, New York.

Rominger, A.J., T.E.X. Miller, and S.L. Collins. 2009. Relative contributions of neutral and niche-based processes to the structure of a desert grassland grasshopper community. Oecologia 161 (4): 791–800.

Rong, J., L. Dian-mo, X. Bao-yu, and L. Zhe. 2006. Spatial distribution of oriental migratory locust (Orthoptera: Acrididae ) egg pod populations: implications for site-specific pest management. Environ Entomol 35 (5): 1244–1248.

Rosetti, N., and M.I. Remis. 2018. Spatial variation in body size and wing dimorphism correlates with environmental conditions in the grasshopper Dichroplus vittatus (Orthoptera: Acrididae). Environ Entomol: 1–8.

Schmitz, O.J. 2008. Effects of predator hunting mode on grassland ecosystem function. Science 319 (5865): 952–955.

Sei, M., and A.H. Porter. 2003. Microhabitat-specific early-larval survival of the maritime ringlet (Coenonympha tullia nipisiquit). Anim Conserv 6 (1): 55–61.

Smalley, A. 1960. Energy flow of a salt marsh grasshopper population. Ecology 41 (4): 672–677.

Squitier, A.J.M., and J.L. Capinera. 2002. Habitat associations of Florida grasshoppers (Orthoptera : acrididae ). Fla Entomol 85 (1): 235–244.

Steck, C.E., and M. Pautasso. 2008. Human population, grasshopper and plant species richness in European countries. Acta Oecol 34 (3): 303–310.

Stiling, P., and D.R. Strong. 1982. Egg parasitism in the grasshopper Orchelimum fidicinium (Orthoptera: Tettigoniidae). Fla Entomol 65 (2): 285–286.

Stiling, P., B.V. Brodbeck, and D.R. Strong. 1991. Population increases of planthoppers on fertilized salt-marsh cord grass may be prevented by grasshopper feeding. The Florida Entomologist 74 (1): 88–97.

Taylor, L.R. 1984. Assessing and interpreting the spatial distributions of insect populations. Annu Rev Entomol 29 (1): 321–357.

Van Der Werf, W., G. Woldewahid, A. Van Huis, M. Butrous, and K. Sykora. 2005. Plant communities can predict the distribution of solitarious desert locust Schistocerca gregaria. J Appl Ecol 42 (5): 989–997.

Wallner, W.E. 1987. Factors affecting insect population dynamics: differences between outbreak and non-outbreak species. Annual Review of Entomology Vol 32 (1): 317–340.

Wason, E.L., and S.C. Pennings. 2008. Grasshopper (Orthoptera: Tettigoniidae) species composition and size across latitude in Atlantic coast salt marshes. Estuar Coasts 31 (2): 335–343.

Welti, E.A.R., A. Joern, F. Qiu, H.M. Tetreault, M. Ungerer, and J. Blair. 2019. Fire , grazing and climate shape plant – grasshopper interactions in a tallgrass prairie. Funct Ecol: 1–11.

Welti, E.A.R., K.A. Roeder, K.M. De Beurs, A. Joern, and M. Kaspari. 2020. Nutrient dilution and climate cycles underlie declines in a dominant insect herbivore. Proc Natl Acad Sci 117 (13): 7271–7275.

Wieski, K., and S.C. Pennings. 2013. Climate drivers of Spartina alterniflora saltmarsh production in georgia, USA. Ecosystems 17: 473–484.

Zhu, H., H. Li, Z. Yang, A.B. Ahungu, S. Fei, W. Luo, and D. Wang. 2020. Intensive grazing enhances grasshopper fitness and abundance in a meadow steppe. Agric Ecosyst Environ 300: 107012.
Acknowledgements
This material is based upon work supported by the National Science Foundation through the Georgia Coastal Ecosystems Long-Term Ecological Research program under grant numbers OCE-9982133, OCE-0620959, OCE-1237140, and OCE-1832178. We thank everyone who helped collect grasshopper density data, and especially J. Shalack for assistance in the field. This is contribution number 1094 from the University of Georgia Marine Institute.
Ethics declarations
Conflict of Interest
The authors declare no competing interests.
Additional information
Communicated by Mark S. Peterson
Supplementary Information
About this article
Cite this article
Adams, T., Vu, H.D. & Pennings, S.C. Variation in Densities of the Salt Marsh Katydid Orchelimum fidicinium over Space and Time. Estuaries and Coasts 45, 260–271 (2022). https://doi.org/10.1007/s12237-021-00953-y
Received:

Revised:

Accepted:

Published:

Issue Date:

DOI: https://doi.org/10.1007/s12237-021-00953-y
Keywords