Abstract
Coastal salt marshes are distributed widely across the globe and are considered essential habitat for many fish and crustacean species. Yet, the literature on fishery support by salt marshes has largely been based on a few geographically distinct model systems, and as a result, inadequately captures the hierarchical nature of salt marsh pattern, process, and variation across space and time. A better understanding of geographic variation and drivers of commonalities and differences across salt marsh systems is essential to informing future management practices. Here, we address the key drivers of geographic variation in salt marshes: hydroperiod, seascape configuration, geomorphology, climatic region, sediment supply and riverine input, salinity, vegetation composition, and human activities. Future efforts to manage, conserve, and restore these habitats will require consideration of how environmental drivers within marshes affect the overall structure and subsequent function for fisheries species. We propose a future research agenda that provides both the consistent collection and reporting of sources of variation in small-scale studies and collaborative networks running parallel studies across large scales and geographically distinct locations to provide analogous information for data poor locations. These comparisons are needed to identify and prioritize restoration or conservation efforts, identify sources of variation among regions, and best manage fisheries and food resources across the globe.
Access options
Buy single article
Instant access to the full article PDF.
USD 39.95
Price excludes VAT (USA)
Tax calculation will be finalised during checkout.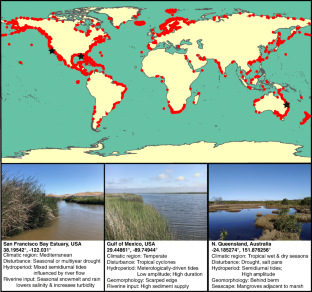 References
Able K. W. This issue. From cedar cemeteries to marsh lakes: a case history of sea level rise and habitat change in the Mullica Valley. Estuaries and Coasts.

Allen, D.M., S.S. Haertel-Borer, B.J. Milan, D. Bushnek, and R.F. Dame. 2007. Geomorphological determinants of nekton use in intertidal salt marsh creeks. Marine Ecology Progress Series 329: 57–71.

Allison, M.A., C.R. Demas, B.A. Ebersole, B.A. Kleiss, C.D. Little, E.A. Meselhe, N.J. Powell, T.C. Pratt, and B.M. Vosburg. 2012. A water and sediment budget for the lower Mississippi–Atchafalaya River in flood years 2008–2010: implications for sediment discharge to the oceans and coastal restoration in Louisiana. Journal of Hydrology 432–433: 84–97.

Angelini, C., J.N. Griffin, J. van de Koppel, L.P.M. Lamers, A.J.P. Smolders, M. Derksen-Hooijberg, T. van der Heide, and B.R. Silliman. 2016. A keystone mutualism underpins resilience of a coastal ecosystem to drought. Nature Communications 7: 12473.

Baillie, C.J., J.M. Fear, and F.J. Fodrie. 2015. Ecotone effects on seagrass and saltmarsh habitat use by juvenile nekton in a temperate estuary. Estuaries and Coasts 38: 1414–1430.

Baker, R., B. Fry, L.P. Rozas, and T.J. Minello. 2013. Hydrodynamic regulation of salt marsh contributions to aquatic food webs. Marine Ecology Progress Series 490: 37–52.

Beck, M.W., K.L. Heck, K.W. Able, D.L. Childers, D.B. Eggleston, B.M. Gillanders, B. Halpern, C.G. Hays, K. Hoshino, T.J. Minello, R.J. Orth, P.F. Sheridan, and M.P. Weinstein. 2001. The identification, conservation, and management of estuarine and marine nurseries for fish and invertebrates. BioScience 51: 633–641.

Bernhardt, E.S., J.B. Heffernan, N.B. Grimm, E.H. Stanley, J.W. Harvey, M. Arroita, A.P. Appling, M.J. Cohen, W.H. McDowell, R.O. Hall Jr. , J.S. Read, B.J. Roberts, E.G. Stets and C. B. Yackulic. 2018. The metabolic regimes of flowing waters. Limnology and Oceanography 63: S99–S118.

Boesch, D.F., and R.E. Turner. 1984. Dependence of fishery species on salt marshes: the role of food and refuge. Estuaries 7: 460–468.

Boström, C., S. Pittman, C. Simenstad, and R. Kneib. 2011. Seascape ecology of coastal biogenic habitats: advances, gaps, and challenges. Marine Ecology Progress Series 427: 191–217.

Bradley, M., R. Baker, I. Nagelkerken, and M. Sheaves. 2019. Context is more important than habitat type in determining use by juvenile fish. Landscape Ecology 34: 427–442.

Bradley, M., I. Nagelkerken, R. Baker, and M. Sheaves. 2020. Context dependence: a conceptual approach for understanding habitat relationships of coastal marine fauna. BioScience biaa100.

Cahoon, D.R. 2006. A review of major storm impacts on coastal wetland elevations. Estuaries and Coasts 29: 889–898.

Christian, R.R., and D.M. Allen. 2014. Linking hydrogeomorphology and food webs in intertidal creeks. Estuaries and Coasts 37: S74–S90.

Cloern, J.E., A.D. Jassby, T.S. Schraga, E. Nejad, and C. Martin. 2017. Ecosystem variability along the estuarine salinity gradient: examples from long-term study of San Francisco Bay. Limnology and Oceanography 62: S272–S291.

Colombano, D.D., A.D. Manfree, T.A. O'Rear, J.R. Durand, and P.B. Moyle. 2020. Estuarine-terrestrial habitat gradients enhance nursery function for resident and transient fishes in the San Francisco Estuary. Marine Ecology Progress Series 637: 141–157.

Colombano, D.D., S.Y. Litvin, S.L. Ziegler, S.B. Alford, R. Baker, M.A. Barbeau, J. Cebrian, R.M. Connolly, L.A. Deegan, J.S. Lesser, C.L. Martin, A.E. McDonald, C. McLuckie, B. Morrison, J.W. Pahl, L.M. Risse, J.A.M. Smith, L.W. Staver, R.E. Turner, and N.J. Waltham. This issue. Climate change implications for tidal marshes and food web linkages to estuarine and coastal nekton. Estuaries and Coasts.

Connolly, R.M. 1999. Saltmarsh as habitat for fish and nektonic crustaceans: Challenges in sampling designs and methods. Australian Journal of Ecology 24: 422–430.

Crosby, S.C., A. Angermeyer, J.M. Adler, M.D. Bertness, L.A. Deegan, N. Sibinga, and H.M. Leslie. 2017. Spartina alterniflora biomass allocation and temperature: Implications for salt marsh persistence with sea-level rise. Estuaries and Coasts 40: 213–223.

Davis, B., R. Johnston, R. Baker, and M. Sheaves. 2012. Fish utilisation of wetland nurseries with complex hydrological connectivity. PLoS One 7 (11): e49107.

Duffy, J.E. 2006. Biodiversity and the functioning of seagrass ecosystems. Marine Ecology Progress Series 311: 233–250.

Duffy, J.E., S.L. Ziegler, J. Campbell, P. Bippus, and J.S. Lefcheck. 2015a. Squidpops: A simple tool to crowdsource a global map of marine predation intensity. PLoS One 10: e0142994.

Duffy, J.E., P.L. Reynolds, C. Boström, J.A. Coyer, M. Cusson, S. Donadi, J.G. Douglass, J.S. Eklöf, A.H. Engelen, B.K. Eriksson, S. Fredriksen, L. Gamfeldt, C. Gustafsson, G. Hoarau, M. Hori, K. Hovel, K. Iken, J.S. Lefcheck, P.-O. Moksnes, M. Nakaoka, M.I. O'Connor, J.L. Olsen, J.P. Richardson, J.L. Ruesink, E.E. Sotka, J. Thormar, M.A. Whalen, and J.J. Stachowicz. 2015b. Biodiversity mediates top–down control in eelgrass ecosystems: a global comparative-experimental approach. Ecology Letters 18: 696–705.

Edgar, G.J., T.J. Alexander, J.S. Lefcheck, A.E. Bates, S.J. Kininmonth, R.J. Thomson, J.E. Duffy, M.J. Costello, et al. 2017. Abundance and local-scale processes contribute to multi-phyla gradients in global marine diversity. Science Advances 3: e1700419.

Elliott, M., A.K. Whitfield, I.C. Potter, S.J. Blaber, D.P. Cyrus, F.G. Nordlie, and T.D. Harrison. 2007. The guild approach to categorizing estuarine fish assemblages: a global review. Fish and Fisheries 8: 241–268.

Feher, L.C., M.J. Osland, K.T. Griffith, J.B. Grace, R.J. Howard, C.L. Stagg, N.M. Enwright, K.W. Krauss, C.A. Gabler, R.H. Day, and K. Rogers. 2017. Linear and nonlinear effects of temperature and precipitation on ecosystem properties in tidal saline wetlands. Ecosphere 8: e01956.

Gabler, C.A., M.J. Osland, J.B. Grace, C.L. Stagg, R.H. Day, S.B. Hartley, N.M. Enwright, A.S. From, M.L. McCoy, and J.L. McLeod. 2017. Macroclimatic change expected to transform coastal wetland ecosystems this century. Nature Climate Change 7: 142–147.

Gilby, B.L., A.D. Olds, R.M. Connolly, P.S. Maxwell, C.J. Henderson, and T.A. Schlacher. 2018. Seagrass meadows shape fish assemblages across estuarine seascapes. Marine Ecology Progress Series 588: 179–189.

Gilby, B., M. P. Weinstein, S. B. Alford, R. Baker, J. Cebrián, A. Chelsky, D. D. Colombano, R. M. Connolly, C. A. Currin, I. C. Feller, A. Frank, J. Goeke, L. A. G. Gaines, F. E. Hardcastle, C. J. Henderson, C. Martin, B. Morrison, A. D. Olds, J. Rehage, N. J. Waltham, and S. L. Ziegler. This issue. Human impacts drive structural changes at multiple spatial scales across salt marsh seascapes that impinge upon ecosystem services. Estuaries and Coasts.

Hagan, S.M., S.A. Brown, and K.W. Able. 2007. Production of mummichog (Fundulus heteroclitus): response in marshes treated for common reed (Phragmites australis) removal. Wetlands 27: 54–67.

Hammock, B.G., R. Hartman, S.B. Slater, A. Hennessy, and S.J. Teh. 2019. Tidal wetlands associated with foraging success of Delta Smelt. Estuaries and Coasts 42: 857–867.

Hardwick-Witman, M.N. 1985. Biological consequences of ice rafting in a New England salt marsh community. Journal of Experimental Marine Biology and Ecology 87: 283–298.

Hardwick-Witman, M.N. 1986. Aerial survey of a salt marsh: ice rafting to the lower intertidal zone. Estuarine, Coastal and Shelf Science 22: 379–383.

Hollingsworth, A., and R.M. Connolly. 2006. Feeding by fish visiting inundated subtropical saltmarsh. Journal of Experimental Marine Biology and Ecology 336: 88–98.

Igulu, M.M., I. Nagelkerken, M. Dorenbosch, M.G.G. Grol, A.R. Harborne, I.A. Kimirei, P.J. Mumby, A.D. Olds, and Y.D. Mgaya. 2014. Mangrove habitat use by juvenile reef fish: meta-analysis reveals that tidal regime matters more than biogeographic region. PLoS One 9: e114715.

James W. R., Z. M. Topor, and R. O. Santos. This issue. Seascape structure influences the community structure of marsh nekton. Estuaries and Coasts.

Jin, B., C. Fu, J. Zhong, B. Li, J. Chen, and J. Wu. 2007. Fish utilization of a salt marsh intertidal creek in the Yangtze River estuary, China. Estuarine, Coastal and Shelf Science 73: 844–852.

Jobbágy, E.G., and R.B. Jackson. 2000. The vertical distribution of soil organic carbon and its relation to climate and vegetation. Ecological Applications 10: 423–436.

Kennedy, C.G., M.E. Mather, J.M. Smith, J.T. Finn, and L.A. Deegan. 2016. Discontinuities concentrate mobile predators: quantifying organism–environment interactions at a seascape scale. Ecosphere 7: e01226.

Kimball, M., R. M. Connolly, Alford, S.B., Colombano, D.D., James, W.R., Kenworthy, M.D., Norris, G.S., Ollerhead, J., Ramsden, S., Rehage, J.S., Sparks, E.L., Waltham, N.J., Worthington, T.A., Taylor, M.D. This issue. Novel and emerging applications of technology for advancing tidal marsh ecology. Estuaries and Coasts.

Kneib, R.T. 1984. Patterns in the utilization of the intertidal salt marsh by larvae and juveniles of Fundulus heteroclitus (Linnaeus) and Fundulus luciae (Baird). Journal of Experimental Marine Biology and Ecology 83: 41–51.

Kneib, R.T. 1997. Early life stages of resident nekton in intertidal marshes. Estuaries 20: 214–230.

Kneib, R. T. 2000. Salt marsh ecoscapes and production transfers by estuarine nekton in the southeastern United States. Pages 267–291 in M. P. Weinstein and D. A. Kreeger, editors. Concepts and controversies in tidal marsh ecology. Springer Netherlands.

Lefcheck, J.S., B.B. Hughes, A.J. Johnson, B.W. Pfirrmann, D.B. Rasher, A.R. Smyth, B.L. Williams, M.W. Beck, and R.J. Orth. 2019. Are coastal habitats important nurseries? A meta-analysis. Conservation Letters 12: e12645.

Lewis, D.B., and L.A. Eby. 2002. Spatially heterogeneous refugia and predation risk in intertidal salt marshes. Oikos 96: 119–129.

Mace, M.M., and L.P. Rozas. 2017. Population dynamics and secondary production of juvenile white shrimp (Litopenaeus setiferus) along an estuarine salinity gradient. Fishery Bulletin 115: 74–88.

Meyer, D.L., and M.H. Posey. 2014. Influence of salt marsh size and landscape setting on salt marsh nekton populations. Estuaries and Coasts 37: 548–560.

Minello, T.J., K.W. Able, M.P. Weinstein, and C.G. Hays. 2003. Salt marshes as nurseries for nekton: testing hypotheses on density, growth and survival through meta-analysis. Marine Ecology Progress Series 246: 39–59.

Minello, T.J., G.A. Matthews, P.A. Caldwell, and L.P. Rozas. 2008. Population and production estimates for decapod crustaceans in wetlands of Galveston Bay, Texas. Transactions of the American Fisheries Society 137: 129–146.

Minello, T.J., L.P. Rozas, and R. Baker. 2012. Geographic variability in salt marsh flooding patterns may affect nursery value for fishery species. Estuaries and Coasts 35: 501–514.

Mitsch, W. J., and J. G. Gosselink. 1986. Wetlands. Van Nostrand Reinhold Company.

Nelson, J.A., L.A. Deegan, and R. Garritt. 2015. Drivers of spatial and temporal variability in estuarine food webs. Marine Ecology Progress Series 533: 67–77.

Nelson, J.A., D.S. Johnson, L.A. Deegan, A.C. Spivak, and N.R. Sommer. 2019a. Feedbacks between nutrient enrichment and geomorphology alter bottom-up control on food webs. Ecosystems 22: 229–242.

Nelson, J.A., J. Lesser, W.R. James, D.P. Behringer, V. Furka, and J.C. Doerr. 2019b. Food web response to foundation species change in a coastal ecosystem. Food Webs 21: e00125.

Oakley, J.W., and G.J. Guillen. 2020. Impact of Hurricane Harvey on Galveston Bay saltmarsh nekton communities. Estuaries and Coasts 43: 984–992.

Osland, M.J., N. Enwright, and C.L. Stagg. 2014. Freshwater availability and coastal wetland foundation species: ecological transitions along a rainfall gradient. Ecology 95: 2789–2802.

Pennings, S.C., E.L. Siska, and M.D. Bertness. 2001. Latitudinal differences in plant palatability in Atlantic coast salt marshes. Ecology 82: 1344–1359.

Poole, G.C. 2002. Fluvial landscape ecology: addressing uniqueness within the river discontinuum. Freshwater Biology 47: 641–660.

Power, M.E., M.S. Parker, and J.T. Wootton. 1996. Disturbance and food chain length in rivers. In Food Webs: Integration of Patterns & Dynamics, ed. G.A. Polis and K.O. Winemiller, 286–297. Boston: Springer US.

Rakocinski, C.F., D.M. Baltz, and J.W. Fleeger. 1992. Correspondence between environmental gradients and the community structure in Mississippi Sound as revealed by canonical correspondence analysis. Marine Ecology Progress Series 80: 135–257.

Rogers, L.J., L.J. Moore, E.B. Goldstein, C.J. Hein, J. Lorenzo-Trueba, and A.D. Ashton. 2015. Anthropogenic controls on overwash deposition: evidence and consequences. Journal of Geophysical Research - Earth Surface 120: 2609–2624.

Rozas, L.P. 1995. Hydroperiod and its influence on nekton use of the salt marsh: a pulsing ecosystem. Estuaries 18: 579–590.

Sagarin, R.D., and S.D. Gaines. 2002. The "abundant centre" distribution: to what extent is it a biogeographical rule? Ecology Letters 5: 137–147.

Saintilan, N., N.C. Wilson, K. Rogers, A. Rajkaran, and K.W. Krauss. 2014. Mangrove expansion and salt marsh decline at mangrove poleward limits. Global Change Biology 20: 147–157.

Schemske, D.W., G.G. Mittelbach, H.V. Cornell, J.M. Sobel, and K. Roy. 2009. Is there a latitudinal gradient in the importance of biotic interactions? Annual Review of Ecology, Evolution, and Systematics 40: 245–269.

Sheaves, M. 2009. Consequences of ecological connectivity: the coastal ecosystem mosaic. Marine Ecology Progress Series 391: 107–115.

Sheaves, M., and R. Johnston. 2009. Ecological drivers of spatial variability among fish fauna of 21 tropical Australian estuaries. Marine Ecology Progress Series 385: 245–260.

Sheaves, M., R. Baker, I. Nagelkerken, and R.M. Connolly. 2015. True value of estuarine and coastal nurseries for fish: Incorporating complexity and dynamics. Estuaries and Coasts 38: 401–414.

Turner, R.E. 1976. Geographic variations in salt marsh macrophyte production: a review. Contributions in Marine Science 20: 47–68.

Tweedley, J. R., R. M. Warwick, and I. C. Potter. 2016. The contrasting ecology of temperate macrotidal and microtidal estuaries. In Oceanography and Marine Biology: An Annual Review, ed. R. N. Hughes, D. J. Hughes, I. P. Smith, and A. C. Dale, 73–171. CRC Press.

Virgin, S.D.S., A.D. Beck, L.K. Boone, A.K. Dykstra, J. Ollerhead, M.A. Barbeau, and N.R. McLellan. 2020. A managed realignment in the upper Bay of Fundy: community dynamics during salt marsh restoration over 8 years in a megatidal, ice-influenced environment. Ecological Engineering 149: 105713.

Waltham, N. J., C. Alcott, M. Barbeau, J. Cebrian, R. Connolly, L. Deegan, K. Dodds, L. Gaines, B. Gilby, C. Henderson, C. McLuckie, T. Minello, G. Norris, J. Ollerhead, J. Pahl, J. Reinhardt, R. Rezek, C. A. Simenstad, J. Smith, E. Sparks, L. Staver, M. P. Weinstein, and S. L. Ziegler. This issue. Tidal wetland restoration optimism in rapidly changing climate and seascape. Estuaries and Coasts.

Wang, X., W. Wang, and C. Tong. 2016. A review on impact of typhoons and hurricanes on coastal wetland ecosystems. Acta Ecologica Sinica 36: 23–29.

Ward, G.H. 1980. Hydrography and circulation processes of gulf sstuaries. In Estuarine and wetland processes: with emphasis on modeling, ed. P. Hamilton and K.B. Macdonald, 183–215. Boston: Springer US.

Warren, R.S., P.E. Fell, J.L. Grimsby, E.L. Buck, G.C. Rilling, and R.A. Fertik. 2001. Rates, patterns, and impacts of Phragmites australis expansion and effects of experimental Phragmites control on vegetation, macroinvertebrates, and fish within tidelands of the lower Connecticut River. Estuaries 24: 90–107.

Weinstein, M.P., S.Y. Litvin, and J.M. Krebs. 2014. Restoration ecology: ecological fidelity, restoration metrics, and a systems perspective. Ecological Engineering 65: 71–87.

Whalen, M.A., R.D.B. Whippo, J.J. Stachowicz, P.H. York, E. Aiello, T. Alcoverro, A.H. Altieri, C. Bertolini, L. Benedetti-Cehcci, M. Bresch, F. Bulleri, P.E. Carnell, S. Cimon, R.M. Connolly, M. Cusson, M.S. Diskin, E. D'Souza, A.A.V. Flores, F.J. Fodrie, A.W.E. Galloway, L.C. Gaskins, O.J. Graham, T.C. Hanley, C.J. Henderson, C.M. Hereu, M. Hessing-Lewis, K.A. Hovel, B.B. Hughes, A.R. Hughes, K.M. Hultgrin, H. Jänes, D.S. Janiak, L.N. Johnston, P. Jorgensen, B.P. Kelaher, C. Kruschel, B.S. Lanham, K. Lee, J.S. Lefcheck, E. Lozano-Álvarez, P.I. Macreadie, Z.L. Monteith, N.E. O'Connor, A.D. Olds, J.K. O'Leary, C.J. Patrick, O. Pino, G. Alistair, P. Poore, M.A. Rasheed, W.W. Raymond, K. Reiss, O.K. Rhoades, M.T. Robinson, P.G. Ross, F. Rossi, T.A. Schlacher, J. Seemann, B.R. Silliman, D.L. Smee, M. Thiel, R.K.F. Unsworth, B.I. van Tussenbroek, A. Vergés, M.E. Yeager, B.K. Yednock, S.L. Ziegler, and J.E. Duffy. 2020. Climate drives the geography of marine consumption by changing predator communities. Proceedings of the Natural Academy of Sciences. 117: 28160–28166.

Wilcove, D.S., and M. Wikelski. 2008. Going, going, gone: is animal migration disappearing. PLoS Biology 6: e188.

Ziegler, S.L., K.W. Able, and F.J. Fodrie. 2019. Dietary shifts across biogeographic scales alter spatial subsidy dynamics. Ecosphere 10: e02980.

Ziegler, S.L., M.D. Miller, C.S. Smith, and F.J. Fodrie. 2020. Abiotic cycles mediate the strength of cross-boundary consumption within coastal food webs. Estuaries and Coasts.
Acknowledgements
This perspective arose from a meeting held at the Dauphin Island Sea Lab (DISL) 1–3 November 2019 as part of the Coastal and Estuarine Research Federation (CERF) 2019 Conference Workshop Program. The findings and conclusions in this manuscript are those of the authors and do not necessarily represent the view of NOAA or of any other natural resource Trustee for the BP/Deepwater Horizon NRDA.
Funding
The meeting was funded by grants to R. Baker from the University of South Alabama and DISL, and sponsorship from Mississippi-Alabama-, Georgia-, and Washington-Sea Grants, the Grand Bay National Estuarine Research Reserve, the DISL Foundation, and CERF. Funding for travel was provided to SLZ by a UNC Chapel Hill Graduate School Travel Grant and JFR by the Deepwater Horizon Natural Resources Damage Assessment. NW is funded by the Australian Government National Environmental Science Program (Tropical Water Quality Hub) and TW was supported by an anonymous gift to The Nature Conservancy. RMC is supported by the Global Wetlands Project, through a charitable organization which neither seeks nor permits publicity for its efforts. DDC is supported by a Delta Science Fellowship administered by California Sea Grant.
Additional information
Communicated by John C. Callaway
About this article
Cite this article
Ziegler, S.L., Baker, R., Crosby, S.C. et al. Geographic Variation in Salt Marsh Structure and Function for Nekton: a Guide to Finding Commonality Across Multiple Scales. Estuaries and Coasts 44, 1497–1507 (2021). https://doi.org/10.1007/s12237-020-00894-y
Received:

Revised:

Accepted:

Published:

Issue Date:

DOI: https://doi.org/10.1007/s12237-020-00894-y
Keywords
Salt marshes

Spatial scales

Environmental drivers

Global networks

Open science