Abstract
The ecological paradigm that biological interactions are more intense in the tropics than in temperate or polar regions has existed since the mid-twentieth century, but several recent meta-analyses have provided scant evidence for latitudinal gradients in the intensity of herbivory. This contradictory evidence led us to carefully review the data and results of several of those papers that failed to find latitudinal gradients in rates of seagrass herbivory. To re-evaluate the arguments around the presence or absence of latitudinal gradients in herbivory in seagrass, we began by expanding the selection criteria to include more studies to compare the published latitudinal range of seagrass occurrences with the latitudes in which seagrass herbivory has been studied. We also compared the latitudinal range of known seagrass herbivores with the distribution of studies on seagrass herbivory. Finally, we investigated studies that provided seasonal data on net primary production and standing stock of seagrasses, which allowed an assessment of the relative amounts of production that could enter the seagrass grazing food web among latitudes and climatic regimes. Consistent with recent meta-analyses, we found little latitudinal effect on grazing rates. However, we argue that the following factors are likely to confound these findings and potentially mask latitudinal trends in seagrass herbivory: (1) the paucity of data available to test latitudinal trends in grazing rates at high latitudes; (2) the mismatch between the geographic distribution of important grazers and studies on seagrass herbivory; (3) the paucity of experimental studies from areas with little or no herbivory because few researchers would initiate a study on something not observed to be occurring; (4) the high level of seasonality in seagrass production in high latitudes, where seagrass production is very low or nonexistent in winter months; (5) the fact that temperate areas with Mediterranean climates behave very differently than temperate areas at similar latitudes with much greater seasonality, thereby making latitude a much less informative independent variable than annual range in temperature; and (6) anthropogenic disturbances, including the overharvesting to functional extinction of large seagrass herbivores in both temperate and tropical regions. Thus, while we currently cannot discount the lack of a latitudinal gradient in grazing intensity, we argue that the intensity of grazing is likely to be greater in the tropics than high-latitude regions where the carrying capacity of seagrass meadows is far less stable. Either way, there are clear gaps in our knowledge and ability to evaluate the role of grazing in seagrass ecosystems and inform future efforts to conserve and restore these extraordinarily valuable ecosystems.
This is a preview of subscription content, log in to check access.
Access options
Buy single article
Instant access to the full article PDF.
US$ 39.95
Tax calculation will be finalised during checkout.
Subscribe to journal
Immediate online access to all issues from 2019. Subscription will auto renew annually.
US$ 99
Tax calculation will be finalised during checkout.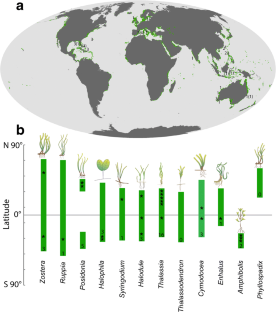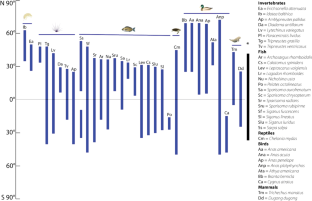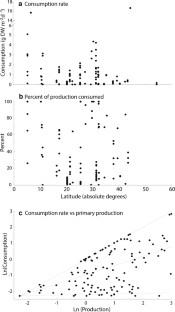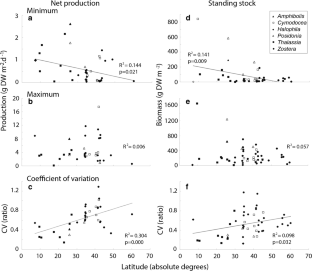 References
Bakker, E.S., K.A. Wood, J.F. Pages, G.F. Veen, M.J.A. Christianen, L. Santamarina, B.A. Nolet, and S. Hilt. 2016. Herbivory on freshwater and marine macrophytes: a review and perspective. Aquatic Botany 135: 18–36.

Bates, D., M. Maechler, B. Bolker, and S. Walker. 2015. Fitting linear mixed-effects models using lme4. Journal of Statistical Software 67 (1): 1–48.

Baum, J.O., R.A. Myers, D.G. Kehler, B. Worm, S.J. Harley, and P.A. Doherty. 2003. Collapse and conservation of shark populations in the Northwest Atlantic. Science 299 (5605): 389–391.

Beca-Carretero, P., C.S. Stanschewski, M. Julia-Miralles, A. Sanchez-Gallego, and D.B. Stengel. 2019. Temporal and depth-associated changes in the structure, morphometry and production of near-pristine Zostera marina meadows in western Ireland. Aquatic Botany 155: 5–17.

Bennett, S., and D.R. Bellwood. 2011. Latitudinal variation in macroalgal consumption by fishes on the Great Barrier Reef. Marine Ecology Progress Series 426: 241–252.

Bertness, M.W., S.D. Gaines, and S.C. Levings. 1981. Predation pressure and gastropod foraging: a tropical-temperate comparison. Evolution 35 (5): 995–1007.

Cheng, B.S., G.M. Ruiz, A.H. Altieri, and M.E. Torchin. 2019. The biogeography of invasion in tropical and temperate seagrass beds: interactive effects of predation and propagule pressure. Diversity and Distribution 2019: 285–297.

Colloca, F., M. Cardinale, F. Maynou, M. Giannoulaki, G. Scarcella, K. Jenko, J.M. Bellido, and F. Fiorentino. 2013. Rebuilding Mediterranean fisheries: a new paradigm for ecological sustainability in single species population models. Fish and Fisheries 14 (1): 89–109.

Dobzhansky, T. 1950. Evolution in the tropics. American Scientist 38: 209–221.

Domning, D.P. 2001. Sirenians, seagrasses, and Cenozoic ecological change in the Caribbean. Paleogeography, Paleoclimatology and Paleoecology 166 (1-2): 27–50.

Eklof, J.S., M. de la Torre-Castro, M. Gullstrom, J. Uke, N. Muthiga, T. Lyimos, and O. Bandeira. 2008. Sea urchin overgrazing of seagrasses: A review of current knowledge on causes, consequences, and management. Estuarine Coastal and Shelf Science 79 (4): 569–580.

Estes, J.A., J. Terborgh, J.S. Brashares, M.E. Power, J. Berger, W.J. Bond, S.R. Carpenter, T.E. Essington, R.D. Holt, J.B.C. Jackson, R.J. Marquis, L. Oksanen, T. Oksanen, R.T. Paine, E.K. Pikitch, W.J. Ripple, S.A. Sandin, M. Scheffer, T.W. Schoener, J.B. Shurin, A.R.E. Sinclair, M.E. Soulé, R. Virtanen, and D.A. Wardle. 2011. Trophic downgrading of planet earth. Science 333 (6040): 301–306.

Farina, S., F. Tomas, P. Prado, J. Romero, and T. Alcoverro. 2009. Seagrass meadow structure alters interactions between the sea urchin Paracentrotus lividus and its predators. Marine Ecology Progress Series 377: 131–137.

Floeter, S.R., M.D. Behrens, C.E.L. Ferreira, M.J. Paddack, and M.H. Horn. 2005. Geographical gradients of marine herbivorous fishes: patterns and processes. Marine Biology 147 (6): 1435–1447.

Fox, A.D., Ebbinge, B.S., Mitchell, C., Heinicke, T., Aarvark, T., Colhoun, K., Clausen,P., Dereliev, S., Farago, S., Koffijberg, K., Kruckenberg, H., Loonen, M.J.J.E., Madsen, J., Mooij, J., Musil, P., Nilsson, L., Pihl, S., & van der Jeugd, H. (2010). Current estimates of goose population sizes in western Europe, a gap analysis and an assessment of trends. OrnisSvec 20: 115–127.

Freestone, A.L., R.W. Osman, G. Ruiz, and M.E. Torchin. 2011. Stronger predation in the tropics shapes species richness patterns in marine communities. Ecology 92 (4): 983–993.

Froese, R., and D. Pauly (eds.) 2019. Fish base. World Wide Web Electronic Publication. http://www.fishbase.de.

Green, E.P., and F.T. Short. 2003. World atlas of seagrasses, 298 pp. Berkeley, AA: University of California Press.

Heck, K.L., Jr., and T.A. Thoman. 1981. Experiments on predator prey interactions in vegetated aquatic habitats. Journal of Experimental Marine Biology and Ecology 53: 124–134.

Heck, K.L., Jr., and J.F. Valentine. 2006. Plant-herbivore interactions in seagrass meadows. Journal of Experimental Marine Biology and Ecology 330: 420–436.

Hyndes, G.A., K.L. Heck, A. Verges, E.S. Harvey, G.A. Kendrick, P.S. Lavery, et al. 2016. Accelerating tropicalization and the transformation of temperate seagrass meadows. Bioscience 66 (11): 938–948.

Jackson, J. (1997). Reefs since Columbus Coral Reefs 16, Supplement: S23-S32.

Jackson, J.B.C., M.X. Kirby, W.H. Berger, K.A. Bjorndal, L.W. Botsford, B.J. Bourque, et al. 2001. Historical overfishing and the recent collapse of coastal ecosystems. Science 293 (5530): 629–637.

Longo, G.O., M.E. Hay, C.E.L. Ferreirra, and S.R. Floeter. 2018. Trophic interactions across 61 degrees of latitude in the Western Atlantic. Global Ecology and Biogeography 2018: 1–11.

MacArthur, R.H. 1972. Geographical ecology. NY: Harper and Row.

MacArthur, L.D., and G.A. Hyndes. 2007. Varying foraging strategies of Labridae in seagrass habitats: Herbivory in temperate seagrass meadows? Journal of Experimental Marine Biology and Ecology 340 (2): 247–258.

Madsen, L. 1998. Experimental refuges for migratory waterfowl in Danish wetlands. I. Baseline assessment of the disturbance effects of recreational activities. Journal of Applied Ecology 35: 386–397.

Marco-Méndez, C., L.M. Ferrero-Vicente, P. Prado, K.L. Heck, J. Cebrián, and J.L. Sánchez-Lizaso. 2015. Epiphyte presence and seagrass species identity influence rates of herbivory in Mediterranean seagrass meadows. Estuarine, Coastal and Shelf Science 154: 94–101.

Marsh, H., T. O'Shea, and J.E.I. Reynolds (eds.). 2011. Ecology and conservation of the sirenia: dugongs and manatees. Cambridge, UK: Cambridge University Press.

Moles, A.T., S.P. Bonser, A.G.B. Poore, I.R. Wallis, and W.J. Foley. 2011. Assessing the evidence for latitudinal gradients in plant defence and herbivory. Functional Ecology 25 (2): 380–388.

Nacken, M., and K. Reise. 2000. Effects of herbivorous birds on intertidal seagrass beds in the northern Waddeen Sea. Helgoland Marine Research 54: 87–94.

Olesen, B., D. Krause-Jensen, N. Marba, and P.B. Christensen. 2015. Eelgrass Zostera marina in subarctic Greenland: Dense meadows with slow biomass turnover in cold waters. Marine Ecology Progress Series 518: 107–121.

Pennings, S.C., E.L. Siska, and M.D. Bertness. 2001. Latitudinal differences in plant palatability in Atlantic coast salt marshes. Ecology 82: 1344–1359.

Pennings, S.C., C.K. Ho, C.S. Salgado, K. Wieski, N. Dave, A.E. Kunza, and E.L. Wason. 2009. Latitudinal variation in herbivore pressure in Atlantic Coast salt marshes. Ecology 90 (1): 183–195.

Pinna, S., A. Pais, L. Chessa, N. Sechi, and G. Ceccherelli. 2009. Leaf partitioning of the seagrass Posidonia oceanica between two herbivores: is Sarpa salpa herbivory underestimated because of Paracentrotus lividus grazing? Estuarine, Coastal and Shelf Science 84 (1): 21–27.

Poore, A.G.B., A.H. Campbell, R.A. Coleman, G.J. Edgar, V. Jormalainen, P.A. Reynolds, et al. 2012. Global patterns in the impact of marine herbivores on benthic primary producers. Ecology Letters 15 (8): 912–922.

Portig, A.A., R.G. Mathers, W.I. Montgomery, and R.N. Govier. 1994. The distribution and utilisation of Zostera species in Strangford Lough, Northern Ireland. Aquatic Botany 47 (3-4): 317–328.

Prado, P., F. Tomas, T. Alcoverro, and J. Romero. 2007. Extensive direct measurements of Posidonia oceania defoliation confirm the importance of herbivory in temperate seagrass meadows. Marine Ecology Progress Series 340: 63–71.

Prado, P., J. Romero, and T. Alcoverro. 2010. Nutrient status: plant availability and seasonal forcing mediate fish herbivory in temperate seagrass beds. Marine Ecology Progress Series 409: 229–239.

Robertson, A.I., and K.H. Mann. 1984. Disturbance by ice and life-history adaptations of the seagrass Zostera marina. Marine Biology 80 (2): 131–141.

Tomas, F., X. Turon, and J. Romero. 2005. Seasonal and small-scale spatial variability of herbivory pressure on the temperate seagrass Posidonia oceanica. Marine Ecology Progress Series 301: 95–107.

UNEP-WCMC, Short, F.T. (2017). Global distribution of seagrasses (version 6.0). Sixth update to the data layer used in Green and Short (2003). Cambridge (UK): UN Environment World Conservation Monitoring Centre. URL: http://data.unepwcmc.org/datasets/7.

Valentine, J.F., and K.L. Heck Jr. 1999. Seagrass herbivory: evidence for the continued grazing of marine grasses. Marine Ecology Progress Series 176: 291–302.

Valentine, J.F., and J.E. Duffy. 2006. The central role of grazing in seagrass ecology. In Seagrasses: Biology, ed. A.W.D. Larkum, R.J. Orth, and C.M. Duarte, 463–501. NY: Ecology and Conservation. Springer.

Vasilakopoulos, P., C.D. Maravelias, and G. Tserpes. 2014. The alarming decline of Mediterranean fish stocks. Current Biology 24: 14.

Velez-Juarbe, J. D.P. Domning & A.D. Pyenson. (2013). Iterative evolution of sympatric seacow (Dugongidae, Sirenia) assemblages during the past ,26 Million years. PLoS One 7: e31294.

Vergés, A., M.A. Becerro, T. Alcoverro, and J. Romero. 2007. Variation in multiple traits of vegetative and reproductive seagrass tissues influences plant-herbivore interactions. Oecologia 151 (4): 675–686.

Verges, A., P.D. Steinberg, N.E. Hay, A.G.B. Poore, A.H. Campbell, E. Ballesteros, et al. 2014. The tropicalizationof temperate marine ecosystems: climate-mediated changes in herbivory and community phase shifts. Proceedings of the Royal Society B. 281 (1789): 20140846.

Verges, A., C. Doroupoulos, R. Czarnik, K. McMahon, N. Llonch, and A.G.B. Poore. 2018. Latitudinal variation in seagrass herbivory: global pattern and explanatory mechanisms. Global Ecology and Biogeography 27 (9): 1068–1079.

Vermeij, G.J. 1987. Evolution and escalation: an ecological history of life. Princeton, NJ: Princeton University Press (527 pp).

Wernberg, T., D.A. Smale, F. Tuya, M.S. Thomsen, T.J. Langlois, T. de Bettignies, S. Bennett, and C.S. Rousseaux. 2013. An extreme climatic event alters marine ecosystem structure in a global biodiversity hotspot. Nature Climate Change 3 (1): 78–82.

Wernberg, T., S. Bennett, R.C. Babcock, T. de Bettignies, K. Cure, M. Depczynski, et al. 2016. Climate driven regime shift of a temperate marine ecosystem. Science 353: 68–72.

White, K.S., M.B. Westera, and G.A. Kendrick. 2011. Spatial patterns in fish herbivory in a temperate Australian seagrass meadow. Estuarine, Coastal and Shelf Science 93 (4): 366–374.

Waycott, M., C.M. Duarte, T.J.B. Carruthers, R.J. Orth, W.C. Dennison, S. Olyarnik, A. Calladine, J.W. Fourqurean, K.L. Heck, A.R. Hughes, G.A. Kendrick, W.J. Kenworthy, F.T. Short, and S.L. Williams. 2009. Accelerating loss of seagrasses across the globe threatens coastal ecosystems. Proceedings of the National Academy of Sciences 106 (30): 12377–12381.

Wood, K.A., M.T. O'Hare, C. McDonald, K.R. Searle, F. Daunt, and R.T. Stillman. 2016. Herbivore regulation of plant abundance in aquatic ecosystems. Biological Reviews 92: 1128–1141.

Wressnig, A., and D.J. Booth. 2007. Feeding preferences of two seagrass grazing monacanthid fishes. Journal of Fish Biology 7: 272–278.
Acknowledgments
We thank Adriana Verges for the early discussions and provision of a subset of the data. We also thank Edith Cowan University for providing the funds for KH to visit Edith Cowan University to initiate and develop the paper and Casper Avenant for the final edits on the manuscript.
Additional information
Communicated by Just Cebrian
Electronic Supplementary Material
About this article
Cite this article
Heck, K.L., Samsonova, M., Poore, A.G.B. et al. Global Patterns in Seagrass Herbivory: Why, Despite Existing Evidence, There Are Solid Arguments in Favor of Latitudinal Gradients in Seagrass Herbivory. Estuaries and Coasts (2020). https://doi.org/10.1007/s12237-020-00833-x
Received:

Revised:

Accepted:

Published:
Keywords
Seagrass

Herbivory

Latitudinal gradients