Abstract
Predicting the responses of animals to environmental changes is a fundamental goal of ecology and is necessary for conservation and management of species. While most studies focus on relatively gradual changes, extreme events may have lasting impacts on populations. Animals respond to major disturbances such as hurricanes by seeking shelter, migrating, or they may fail to respond appropriately. We assessed the effects of Hurricane Irma in 2017 on the behavior and survival of juvenile bull sharks (Carcharhinus leucas) within a nursery of the Florida coastal Everglades using long-term acoustic telemetry monitoring. Most of our tagged sharks (n = 14) attempted to leave the shallow waters of the Shark River Estuary before the hurricane strike, but individuals varied in the timing and success of their movements. Eight bull sharks left within hours or days before the hurricane, but three left more than a week in advance. Nine of 11 bull sharks (~ 82%) eventually returned to the array within weeks or months of the storm. Six of these returning individuals were detected in a different coastal array in nearshore waters ca. 80 km away from the mouth of the estuary during their absence. The remaining three bull sharks moved downstream relatively late (after the hurricane) and may have died. We used binomial generalized linear mixed models to estimate the probability of presence within the array as a function of several environmental variables. Departure from the array was predicted by declining barometric pressure, increasing rate of change in pressure, and potentially fluctuations in river stage. Juvenile bull sharks may weigh multiple environmental cues, perceived predation risk, their own physical size, and shifting prey resources when making decisions during and after hurricanes.
Access options
Buy single article
Instant access to the full article PDF.
US$ 39.95
Tax calculation will be finalised during checkout.
Subscribe to journal
Immediate online access to all issues from 2019. Subscription will auto renew annually.
US$ 79
Tax calculation will be finalised during checkout.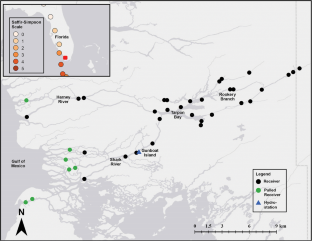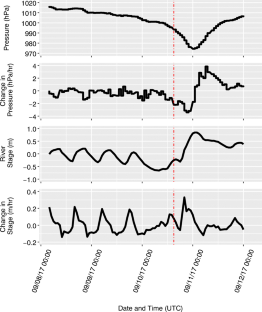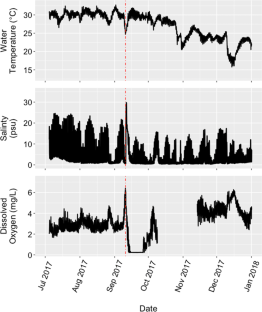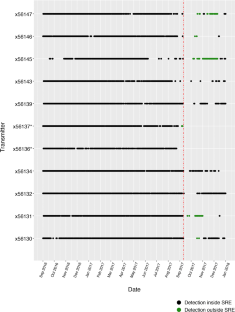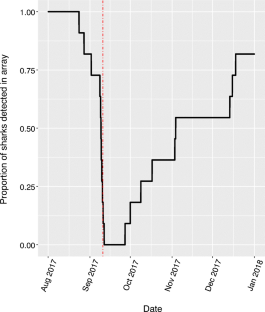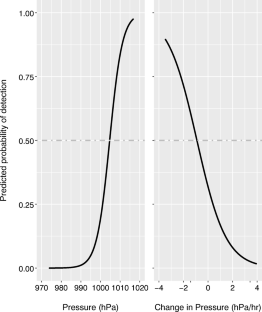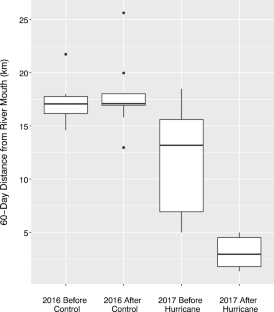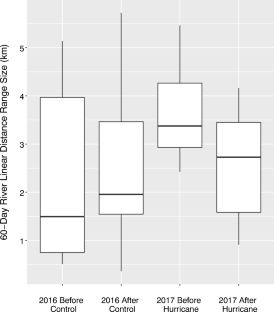 References
Bailey, H., and D.H. Secor. 2016. Coastal evacuations by fish during extreme weather events. Nature 6: 30280.

Breuner, C.W., R.S. Sprague, S.H. Patterson, and H.A. Woods. 1982. Environment, behavior, and physiology: do birds use barometric pressure to predict storms? The Journal of Experimental Biology 216: 1982–1990.

Brown, B.R. 2003. Sensing temperature without ion channels. Nature 421: 492.

Burnham, K.P., and D.R. Anderson. 2002. Model Selection and Multimodel Inference: A Practical Information-theoretic Approach. 2nd ed. New York: Springer-Verlag.

Cangialosi, J. P., A. S. Latto, R. J. Berg. 2018. Hurricane Irma (AL112017). Tropical Cyclone Report: National Hurricane Center. https://www.nhc.noaa.gov/data/tcr/AL112017_Irma.pdf. Accessed 13 September 2018.

Castro, J.I. 2011. The sharks of North America. New York: Oxford University Press.

Childers, D.L. 2006. A synthesis of long-term research by the Florida Coastal Everglades LTER Program. Hydrobiologia 569 (1): 531–544.

Donihue, C.M., A. Herrel, A.C. Fabre, A. Kamath, A.J. Geneva, T.W. Schoener, J.J. Kolbe, and J.B. Losos. 2018. Hurricane-induced selection on the morphology of an island lizard. Nature 560 (7716): 88–91. https://doi.org/10.1038/s41586-018-0352-3.

Flannery, M.S., E.B. Peebles, and R.T. Montgomery. 2002. A percent- of-flow approach for managing reductions of freshwater inflows from unimpounded rivers to southwest Florida estuaries. Estuaries 25 (6): 1318–1332. https://doi.org/10.1007/BF02692227.

Fraser, P.J., and R.L. Shelmerdine. 2002. Dogfish hair cells sense hydrostatic pressure. Nature 415 (6871): 495–496.

Grammer, P.O., P.F. Mickle, M.S. Peterson, J.M. Havrylkoff, W.T. Slack, and R.T. Leaf. 2015. Activity patterns of Gulf Sturgeon (Acipenser oxyrinchus desotoi) in the staging area of the Pascagoula River during fall outmigration. Ecology of Freshwater Fish 24 (4): 553–561.

Gwinner, E. 1996. Circannual clocks in avian reproduction and migration. Ibis 138: 47–63.

Hegerl, G.C., H. Hanlon, and C. Beierkuhnlein. 2011. Climate science: elusive extremes. Nature Geoscience 4: 142–143.

Heithaus, M.R., B.K. Delius, A.J. Wirsing, and M.M. Dunphy-Daly. 2009. Physical factors influencing the distribution of a top predator in a subtropical oligotrophic estuary. Limnology and Oceanography 54 (2): 472–482. https://doi.org/10.4319/lo.2009.54.2.0472.

Heupel, M.R., J.K. Carlson, and C.A. Simpfendorfer. 2007. Shark nursery areas: concepts, definition, characterization and assumptions. Marine Ecology Progress Series 337: 287–297.

Heupel, M.R., and C.A. Simpfendorfer. 2008. Movement and distribution of young bull sharks Carcharhinus leucas in a variable estuarine environment. Aquatic Biology 1: 277–289.

Heupel, M.R., C.A. Simpfendorfer, and R.E. Hueter. 2003. Running before the storm: Blacktip sharks respond to falling barometric pressure associated with tropical storm Gabrielle. Journal of Fish Biology 63 (5): 1357–1363.

Jury, S.H., W.H. Howell, and W.H. Watson. 1995. Lobster movements in response to a hurricane. Marine Ecology Progress Series 119: 305–310.

Kelble, C.R., E.M. Johns, W.K. Nuttle, T.N. Lee, R.H. Smith, and P.B. Ortner. 2007. Salinity patterns of Florida Bay. Estuarine, Coastal, and Shelf Science 71 (1-2): 318–334.

Knip, D.M., M.R. Heupel, and C.A. Simpfendorfer. 2012. Mortality rates for two shark species occupying a shared coastal environment. Fisheries Research 125–126: 184–189.

Lowe, C.G. 1996. Kinematics and critical swimming speed of juvenile scalloped hammerhead sharks. The Journal of Experimental Biology 199 (Pt 12): 2605–2610.

Liu, Y.L., H.B. Lillywhite, and M.C. Tu. 2010. Sea snakes anticipate tropical cyclone. Marine Biology 157 (11): 2369–2373.

Luschi, P., G.C. Hays, and F. Papi. 2003. A review of long-distance movements by marine turtles, and the possible role of ocean currents. Oikos 103: 293–302.

Lytle, D.A., and N. LeRoy Poff. 2004. Adaptation to natural flow regimes. Trends in Ecology and Evolution 19 (2): 94–100.

Matich, P., and M.R. Heithaus. 2012. Effects of an extreme temperature event on the behavior and age structure of an estuarine top predator (Carcharhinus leucas). Marine Ecology Progress Series 447: 165–178. https://doi.org/10.3354/meps09497.

Matich, P., and M.R. Heithaus. 2014. Multi-tissue stable isotope analysis and acoustic telemetry reveal seasonal variability in the trophic interactions of juvenile bull sharks in a coastal estuary. Journal of Animal Ecology 83 (1): 199–213. https://doi.org/10.1111/1365-2656.12106.

Matich, P., and M.R. Heithaus. 2015. Individual variation in ontogenetic niche shifts in habitat use and movement patterns of a large estuarine predator (Carcharhinus leucas). Oecologia 178 (2): 347–359. https://doi.org/10.1007/s00442-015-3253-2.

Michener, W.K., E.R. Blood, K.L. Bildstein, M.M. Brinson, and L.R. Gardner. 1997. Climate change, hurricanes, and tropical storms, and rising sea level in coastal wetlands. Ecological Applications 7 (3): 770–801.

National Oceanic and Atmospheric Administration. 2018. Automated Surface Observing System: Miami International Airport Station Data. https://www.ncdc.noaa.gov/data-access/land-based-station-data/land-based-datasets/automated-surface-observing-system-asos. Accessed 13 September 2018.

Ortega, L.A., M.R. Heupel, P.V. Beynen, and P.J. Motta. 2009. Movement patterns and water quality preferences of juvenile bull sharks (Carcharhinus leucas) in a Florida estuary. Environmental Biology of Fishes 84 (4): 361–373.

Oseen, K.L., and R.J. Wassersug. 2002. Environmental factors influencing calling in sympatric anurans. Oecologia 133 (4): 616–625.

Paige, K.N. 1995. Bats and barometric pressure – conserving limited energy and tracking insects from the roost. Functional Ecology 9 (3): 463–467.

Pavelka, M.S.M., K. McGoogan, and T.S. Steffens. 2007. Population size and characteristics of Alouatta pigra before and after a major hurricane. International Journal of Primatology 28 (4): 919–929.

Romigh, M.M., S.E. Davis, V.H. Rivera-Monroy, and R.R. Twilley. 2006. Flux of organic carbon in a riverine mangrove wetland in the Florida coastal Everglades. Hydrobiologia 569 (1): 505–516.

Rosenblatt, A.E., and M.R. Heithaus. 2011. Does variation in movement tactics and trophic interactions among American alligators create habitat linkages? The Journal of Animal Ecology 80 (4): 786–798.

Rudnick, D.T., Z. Chen, D.L. Childers, and T.D. Fontaine. 1999. Phosphorus and nitrogen inputs to Florida Bay: The importance of the Everglades watershed. Estuaries 22 (2): 398–416.

Southeast Regional Climate Center. 2019. Royal Palm Ranger Station Data, Florida (1949–2012). https://sercc.com/cgi-bin/sercc/cliMAIN.pl?fl7760. Accessed 13 June 2019.

Streby, H.M., G.R. Kramer, S.M. Peterson, J.A. Lehman, D.A. Buehler, and D.E. Andersen. 2015. Tornadic storm avoidance behavior in breeding songbirds. Current Biology 25 (1): 98–102.

Tabb, D.C., and A.C. Jones. 1962. Effect of Hurricane Donna on the aquatic fauna of north Florida Bay. Transactions of the American Fisheries Society 91 (4): 375–378.

Udyawer, V., A. Chin, D.M. Knip, C.A. Simpfendorfer, and M.R. Heupel. 2013. Variable response of coastal sharks to severe tropical storms: environmental cues and changes in space use. Marine Ecology Progress Series 480: 171–183.

United States Geological Survey. 2018. Everglades Depth Estimation Network database. https://sofia.usgs.gov/eden/. Accessed 13 September 2018.

Van de Pol, M.S. Jenouvrier, J.H.C. Cornelissen, and M.E. Visser. 2017. Behavioral, ecological, and evolutionary responses to extreme climactic events: challenges and directions. Philosophical Transactions of the Royal Society B 372 (1723).

Wiley, T.R., and C.A. Simpfendorfer. 2007. The ecology of elasmobranches occurring in the Everglades National Park, Florida: implications for conservation and management. Bulletin of Marine Science 80: 171–189.

Wiley, J.W., and J.M. Wunderle. 1993. The effects of hurricanes on birds, with special reference to Caribbean islands. Bird Conservation International 3 (4): 319–349.

Wulff, J.L. 1995. Effects of a hurricane on survival and orientation of large erect coral reef sponges. Coral Reefs 14 (1): 55–61.

Zurr, A.F., E.N. Ieno, N. Walker, A.A. Saveliev, and G.M. Smith. 2009. Mixed Effects Models and Extensions in Ecology with R. 1st ed. New York: Springer.
Acknowledgments
We are grateful to many field and lab volunteers that assisted with capture and sample processing. This is a contribution from the Center for Coastal Oceans Research in the Institute for Water and Environment at Florida International University. B. Strickland was supported by University Graduate School and Department of Biological Sciences assistantships at Florida International University as well as an Everglades Foundation fellowship. We would like to thank Yannis Papastamatiou and two anonymous reviewers for their comments and suggestions to improve the manuscript. In addition, we would like to acknowledge Javiera Hernandez, Hugh Willoughby, and Robert Burgman for their insights on hurricanes.
Funding
This work was supported by the National Science Foundation through the Florida Coastal Everglades Long-Term Ecological Research program under Grant DEB-1237517 and in collaboration with the RECOVER program of the Comprehensive Everglades Restoration Plan. Dissolved oxygen measurements were made as part of a project supported by the National Science Foundation through the Water Sustainability and Climate solicitation (EAR 1204572) and the National Aeronautics and Space Administration (NNX14AJ92G) under the Carbon Cycle Science Program.
Research and animal procedures were conducted under the auspices of protocol no. IACUC-16-022 from the Institutional Animal Care and Use Committee of Florida International University and in accordance with sampling permit no. EVER-2017-SCI-0031 granted by Everglades National Park.
Additional information
Communicated by Mark S. Peterson
Electronic Supplementary Material
Tracks of two acoustically tagged juvenile bull sharks (Carcharhinus leucas) that evacuated a telemetry array in the Shark River Estuary (SRE), Florida, USA. Each dot represents a daily detection. Red dotted line denotes the estimated time Hurricane Irma was reported to be at its closest (ca. 60 km) to the Shark River mainstem at 15:00 UTC 10 September 2017. (EPS 37 kb)
Tracks of two acoustically tagged juvenile bull sharks (Carcharhinus leucas) showing potential mortality within telemetry array in the Shark River Estuary (SRE), Florida, USA. Each dot represents a daily detection. Red dotted line denotes the estimated time Hurricane Irma was reported to be at its closest (ca. 60 km) to the Shark River mainstem at 15:00 UTC 10 September 2017. (EPS 38 kb)
About this article
Cite this article
Strickland, B.A., Massie, J.A., Viadero, N. et al. Movements of Juvenile Bull Sharks in Response to a Major Hurricane Within a Tropical Estuarine Nursery Area. Estuaries and Coasts 43, 1144–1157 (2020). https://doi.org/10.1007/s12237-019-00600-7
Received:

Revised:

Accepted:

Published:

Issue Date:
Keywords
Animal movement

Estuaries

Extreme events

Hurricane

Juvenile bull sharks

Nursery habitat

Carcharhinus leucas