Abstract
Freshwater and marine harmful algal blooms are expanding on a global scale. Recent reports of toxic events have sparked a growing awareness of the importance of cyanobacteria and cyanotoxins at the land-sea interface and estuaries in general. A recent survey in the Southern California Bight documented a wealth of cyanobacteria-dominated communities at a variety of locations. To gain further insight into these assemblages, we repeatedly sampled several sites with different proximity and degrees of connectivity to the Pacific Ocean in four coastal watersheds along the coast of southern California. Our findings revealed temporal and spatial heterogeneity in the occurrence of potential toxin-producing cyanobacteria and associated toxins. Multiple toxins were measured in 45% of all samples (and 25% of shellfish examined), including samples testing positive for anatoxin-a, cylindrospermopsin, three congeners of microcystins, or the eukaryotic toxin domoic acid. The ecosystems are hydrologically connected to the Pacific Ocean and provide a source of cyanotoxins to marine and estuarine environments. Collectively, potential toxin-producing cyanobacteria were prevalent at all study sites and appeared to persist throughout the year in some locations. These findings indicate a need for implementation of coordinated monitoring programs across the land-sea interface.
Access options
Buy single article
Instant access to the full article PDF.
USD 39.95
Price excludes VAT (USA)
Tax calculation will be finalised during checkout.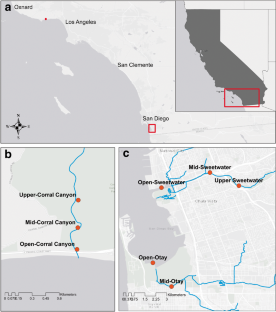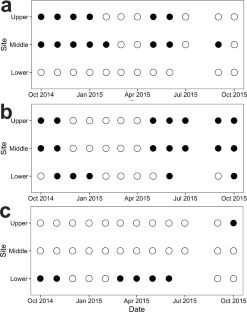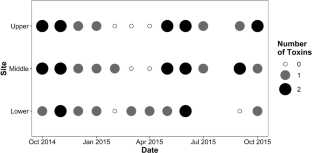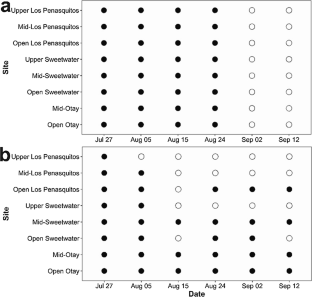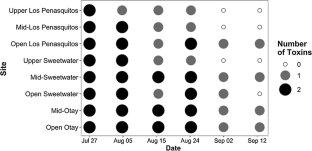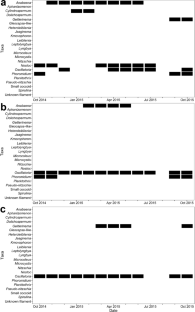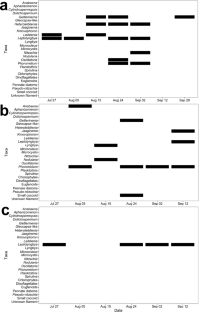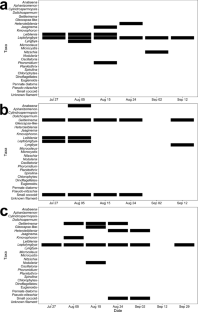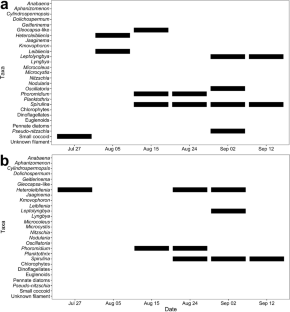 Similar content being viewed by others
References
Anagnostidis, K., and J. Komárek. 1988. Modern approach to the classification system of cyanophytes, 3- Oscillatoriales. Archiv für Hydrobiologie, Analogical Studies 50-53 (Suppl. 80): 327–472.

Anderson, D.M., T.J. Alpermann, A.D. Cembella, Y. Collos, E. Masseret, and M. Montresor. 2012. The globally distributed genus Alexandrium: multifaceted roles in marine ecosystems and impacts on humanZ health. Harmful Algae 14: 10–35.

Borges, H.L.F., L.H.Z. Branco, M.D. Martins, C.S. Lima, P.T. Barbosa, M.C. Bittencourt-Oliveira, G.A.S.T. Lira, and R.J.R. Molica. 2015. Cyanotoxin production and phylogeny of benthic cyanobacterial strains isolated from the northeast of Brazil. Harmful Algae 43: 46–57.

Briand, J.F., C. Leboulanger, J.F. Humbert, C. Bernard, and P. Dufour. 2004. Cylindrospermopsis raciborskii (Cyanobacteria) invasion at mid-latitudes: selection, wide physiological tolerance, or global warming. Journal of Phycology 40 (2): 231–238.

Buckaveckas, P.A., R. Franklin, S. Tassone, B. Trache, and T. Egerton. 2018. Cyanobacteria and cyanotoxins at the river-estuarine transition. Harmful Algae 76: 11–21.

Bui, T., T.S. Dao, T.G. Vo, and M. Lurling. 2018. Warming affects growth rates and microcystin production in tropical bloom-forming Microcystis strains. Toxins 10 (3): 123. https://doi.org/10.3390/toxins10030123.

Carmichael, W.W. 1992. Cyanobacteria secondary metabolites—the cyanotoxins. Journal of Applied Bateriology 72 (6): 445–459.

Carmichael, W.W. 2001. Health Effects of Toxin-Producing Cyanobacteria: "The CyanoHABs". Human and Ecological Risk Assessment: An International Journal. 7 (5): 1393–1407. https://doi.org/10.1080/20018091095087.

Carmichael, W.W., and P.R. Gorham. 1981. The mosaic nature of toxicity in cyanobacteria blooms. In The water environment: algal toxins and health, ed. W.W. Carmichael, 161–172. New York: Plenum Press.

Cerasino, L., and N. Salmaso. 2012. Diversity and distribution of cyanobacterial toxins in the Italian subalpine lacustrine district. Oceanological and Hydrobiological Studies 41: 54–63.

Chia, M.A., J.G. Jankowski, B.J. Kramer, J.A. Goleski, I.S. Huang, P.S. Zimba, M. Bittencourt-Oliveira, and C.J. Gobler. 2018. Succesion and toxicity of Microcystis and Anabaena (Dolichospermum) blooms are controlled by nutrient dependent allelopathic interactions. Harmful Algae 74: 67–77.

Currin, C.A., L.A. Levin, T.S. Talley, R. Michener, and D. Talley. 2011. The role of cyanobacteria in Southern California marsh food webs. Marine Ecology 32 (3): 346–363.

Davis, T.W., D.L. Berry, G.L. Boyer, and C.J. Gobler. 2009. The effects of temperature and nutrients on the growth and dynamics of toxic and non-toxic strains of Microcystis during cyanobacteria blooms. Harmful Algae 8 (5): 715–725.

Dörr, F.A., E. Pinto, R.M. Soares, and S.M.F.O. Azevedo. 2010. Microcystins in South American aquatic ecosystems: occurrence, toxicity and toxicological assays. Toxicon 56 (7): 1247–1256.

Dwight, R.H., M.V. Brinks, G. SharavanaKumar, and J.C. Semenza. 2007. Beach attendance and bathing rates for Southern California beaches. Ocean and Coastal Management 50 (10): 847–858.

Falconer, I.R., and A.R. Humpage. 2005. Health risk assessment of cyanobacterial (blue-green algal) toxins in drinking water. International Journal of Environmental Research and Public Health 2 (1): 43–50.

Ferrão-Filho, A.S., and B. Kozlowsky-Suzuki. 2011. Cyanotoxins: bioaccumulation and effects on aquatic animals. Marine Drugs 9 (12): 2729–2772.

Ferriss, B.E., D.J. Marcinek, D. Ayres, J. Borchert, and K.A. Lefebvre. 2017. Acute and chronic dietary exposure to domoic acid in recreational harvesters: a survey of shellfish consumption behavior. Environment International 101: 70–79.

Fetscher, A.E., M.D.A. Howard, R. Stancheva, R.M. Kudela, E.D. Stein, M.A. Sutula, L.B. Busse, and R.G. Sheath. 2015. Wadeable streams as widespread sources of benthic cyanotoxins in California, USA. Harmful Algae 49: 105–116.

Fire, S., Z. Wang, M. Byrd, H. Whitehead, and J. Paternoster. 2011. Co-occurrence of multiple classes of harmful algal toxins in bottlenose dolphins (Tursiops truncatus) stranding during an unusual mortality event in Texas, USA. Harmful Algae 10 (3): 330–336.

Gantar, M., R. Sekar, and L.L. Richardson. 2009. Cyanotoxins from black band disease of corals and from other coral reef environments. Microbial Ecology 58 (4): 856–864.

Gibble, C.M., and R.M. Kudela. 2014. Detection of persistent microcystin toxins at the land-sea interface in Monterey Bay, California. Harmful Algae 39: 146–153.

Gibble, C.M., M.B. Peacock, and R.M. Kudela. 2016. Evidence of freshwater algal toxins in marine shellfish: implications for human and aquatic health. Harmful Algae 59: 59–66.

Graham, J.L., A.C. Ziegler, B.L. Loving, and K.A. Loftin. 2012. Fate and transport of cyanobacteria and associated toxins and taste-and-odor compounds from upstream reservoir releases in the Kansas River, Kansas, September and October, 2011. Scientific Investigations Report 2012–5129. Reston: U.S. Geological Survey.

Hallegraeff, G. 1993. A review of harmful algal blooms and their apparent global increase. Phycologia 32 (2): 79–99.

Harada, K.I., I. Ohtani, K. Iwamoto, M. Suzuki, M.F. Watanabe, M. Watanabe, and K. Terao. 1994. Isolation of cylindrospermopsin from a cyanobacterium Umezakia natans and its screening method. Toxicon 1994 32 (1): 73–84.

Hawkins, P.R., M.T.C. Runnegar, A.R.B. Jackson, and I.R. Falconer. 1985. Severe hepatotoxicity caused by the tropical cyanobacterium (blue-green alga) Cylindrospermopsis raciborskii (Woloszynska) Seenaya and Subba Raju isolated from a domestic water supply reservoir. Applied Environmental Microbiology 50 (5): 1292–1295.

Howard, M.D.A., M. Sutula, D.A. Caron, Y. Chao, J.D. Farrara, H. Frenzel, B. Jones, G. Robertson, McLaughlin, and K.A. Sengupta. 2014. Anthropogenic nutrient sources rival natural sources on small scales in the coastal waters of the Southern California Bight. Limnology and Oceanography 59 (1): 285–297.

Howard, M.D.A., C. Nagoda, R.M. Kudela, K. Hayashi, A.O. Tatters, D.A. Caron, L. Busse, J. Brown, M. Sutula, and E. Stein. 2017. Microcystin prevalence throughout lentic waterbodies in coastal Southern California. Toxins 9: 231.

Hudnell, H.K. 2008. Cyanobacterial harmful algal blooms: state of the science and research needs. Vol. 619. New York: Springer Press.

Imanishi, S., H. Kato, M. Mizuno, K. Tsuji, and K. Harada. 2005. Bacterial degradation of microcystins and nodularin. Chemical Research in Toxciology 18 (3): 591–598.

James, K.J., I.R. Sherlock, and M.A. Stack. 1997. Anatoxin-a in Irish freshwater and cyanobacteria, determined using a new fluorimetric liquid chromatographic method. Toxicon 35 (6): 963–971.

James, K.J., A. Furey, I.R. Sherlock, M.A. Stack, M. Twohig, F.B. Caudwell, and O.M. Skulberg. 1998. Sensitive determination of anatoxin-a, homoanatoxin-a and their degradation products by liquid chromatography with fluorimetric detection. Journal of Chromatography A 798 (1-2): 147–157.

Kardinaal, W.E.A., I. Janse, M. Kamst-van Agtervel, M. Meima, J. Snoek, L.R. Mur, J. Huisman, G. Zwart, and P.M. Visser. 2007. Microcystis genotype succession in relation to microcystin concentrations in freshwater lakes. Aquatic Microbial Ecology 48: 1–12.

Karlsson, K.M., H. Kankaanpää, M. Huttunen, and J. Meriluoto. 2005. First observation of microcystin LR in pelagic cyanobacterial blooms in the northern Baltic Sea. Harmful Algae 4 (1): 163–166.

Komárek, J., and J. Komárková. 2002. Review of the European Microcystis-morphospecies (Cyanoprokaryotes) from nature. Czech Phycology 2: 1–24.

Komárek, J., and J. Komárková. 2003. Phenotype diversity of the cyanoprokaryotic genus Cylindrospermopsis (Nostocales); review 2002. Czech Phycology 3: 1–30.

Komárek, J., and J. Komárková. 2004. Taxonomic review of the cyanoprokaryotic genera Planktothrix and Planktothricoides. Czech Phycology 4: 1–18.

Komárek, J., and E. Zapomĕlová. 2007. Planktic morphospecies of the cyanobacterial genus Anabaena = subg. Dolichospermum—1. Part: coiled types. Fottea 7 (1): 1–31.

Komárek, J., J. Jerzerová, O. Komárek, and E. Zapomĕlová. 2010. Variability of Chroococcus (Cyanobacteria) morphospecies with regard to phylogenetic relationships. Hydrobiologia 639 (1): 69–83.

Kudela, R. 2011. Characterization and deployment of solid phase adsorption toxin tracking (SPATT) resin for monitoring of microcystins in fresh and saltwater. Harmful Algae 11: 117–125.

Kudela, R.M., J.Q. Lane, and W.P. Cochlan. 2008. The potential role of anthropogenically derived nitrogen in the growth of harmful algae in California, USA. Harmful Algae 8 (1): 103–110.

Laamanen, M.J., L. Forsstrom, and K. Sivonen. 2002. Diversity of Aphanizomenon flos-aquae (cyanobacterium) populations along a Baltic Sea salinity gradient. Applied Environmental Microbiology. 68 (11): 5296–5303.

Lane, J.Q., C.M. Roddam, G.W. Langlois, and R.M. Kudela. 2010. Application of solid phase adsorption toxin tracking (SPATT) for field detection of the hydrophilic phycotoxins domoic acid and saxitoxin in coastal California. Limnology and Oceanography: Methods 8 (11): 645–660.

Lehman, P.W., G. Boyer, C. Hall, S. Waller, and K. Gehrts. 2005. Distribution and toxicity of a new colonial Microcystis aeruginosa bloom in the San Francisco Bay Estuary, California. Hydrobiologia 541 (1): 87–99.

Lehman, P.W., S.J. The, G.L. Boyer, M.L. Nobriga, E. Bass, and C. Hogle. 2010. Initial impacts of Microcystis aeruginosa blooms on the aquatic food web in the San Francisco Estuary. Hydrobiologia 637 (1): 229–248.

Lehman, P.W., T. Kurobe, S. Lesmeister, D. Baxa, A. Tung, and S.J. Teh. 2017. Impacts of the 2014 severe drought on the Microcystis bloom in San Francisco Estuary. Harmful Algae 63: 94–108.

Lemes, G.A.F., R. Kersanach, L.S. Pinto, O.A. Dellagostin, J.S. Yunes, and A. Matthiensen. 2008. Biodegradation of microcystins by aquatic Burkholderia sp from a south Brazilian coastal lagoon. Ecotoxicology and Environmental Safety 69 (3): 358–365.

Loftin, K.A., J.L. Graham, E.D. Hiborn, S.C. Lehmann, M.T. Meyer, J.E. Dietze, and C.B. Griffith. 2016. Cyanotoxins of inland lakes of the United States—occurrence and potential recreational health risks in the EPA National Lakes Assessment 2007. Harmful Algae 56. https://doi.org/10.1016/j.hal.2016.04.001.222.

Lopes, V.R., and V.M. Vasconcelos. 2011. Planktonic and benthic cyanobacteria of European brackish waters: a perspective on estuaries and brackish seas. European Journal of Phycology 46 (3): 92–304.

Lurling, M., F. van Oosterhout, and E. Faassen. 2017. Eutrophication and warming boost cyanobacterial biomass and microcystins. Toxins. 9 (2): 64. https://doi.org/10.3390/toxins9020064.

MacKenzie, L., V. Beuzenberg, P. Holland, P. McNabb, and A. Selwood. 2004. Solid phase adsorption toxin tracking (SPATT): A new monitoring tool that simulates the biotoxin contamination of filter feeding bivalves. Toxicon 44 (8): 901–918.

Magalhães, V.F., R.M. Soares, and S.M.F.O. Azevedo. 2001. Microcystin contamination in fish from the Jacarepaguá lagoon (Rio de Janeiro, Brazil): ecological Implication and human health risk. Toxicon 39 (7): 1077–1085.

Malazarte, M., H. Lee, H. Kim, and Y. Sin. 2017. Spatial and temporal dynamics of potentially toxic cyanobacteria in the riverine region of a temperature estuary system altered by weirs. Water 9 (11): 819.

Mann, M.E., and P.H. Gleick. 2015. Climate change and California drought in the 21st century. Proceedings of the National Academy of Sciences 112 (13): 3858–3859.

Matthiensen, A., J.S. Yunes, and G.A. Codd. 1999. Occrrence, distribution and toxicity of cyanobacteria from the Patos Lagoon estuary, Southern Brazil. Brazilian Journal of Biology 59 (3): 361–376.

McLaughlin, K., N.P. Nezlin, M.D.A. Howard, C.D.A. Beck, R.M. Kudela, M.J. Mengel, and G.L. Robertson. 2017. Rapid nitrification of wastewater ammonium near coastal ocean outfalls, Southern California, USA. Estuarine, Coastal and Shelf Science 186: 263–275.

Mekebri, A., G.J. Blondina, and D.B. Crane. 2009. Method validation of microcystins in water and tissue by enhanced liquid chromatography tandem mass spectrometry. Journal of Chromatography A 1216 (15): 3147–3155.

Metcalf, J.S., S.A. Banack, J. Lindsay, L.F. Morrison, P.A. Cox, and G.A. Codd. 2008. Co-occurrence of β-N-methylamino-L-alanine, a neurotoxic amino acid with other cyanobacterial toxins in British waterbodies, 1990–2004. Environmental Microbiology 10 (3): 702–708.

Miller, M.A., R.M. Kudela, A. Mekebri, D. Crane, S.C. Oates, M.T. Tinker, W.A. Staedler, M. Miller, W.A. Toy-Choutka, S. Dominik, C. Hardin, D. Langlois, G. Murray, M.K. Ward, and D.A. Jessup. 2010. Evidence for a novel marine harmful algal bloom:cyanotoxins (microcystin) transfer from land to sea otters. PLoS One 5 (9): 1–11. https://doi.org/10.1371/journal.pone.0012576.

Moisander, P.H., E. McClinton III, and H.W. Paerl. 2002. Salinity effects on growth, photosynthetic parameters, and nitrogenase activity in estuarine planktonic cyanobacteria. Microbial Ecology 43 (4): 432–442.

Mulvenna, V., K. Dale, B. Priestly, U. Mueller, A. Humpage, G. Shaw, G. Allinoson, and I.R. Falconer. 2012. Health risk assessment for cyanobacterial toxins in seafood. International Journal of Environmental Research and Public Health 9 (3): 807–820.

Nikulina, V.N. 2003. Seasonal dynamics of phytoplankton in the inner Neva Estuary in the 1980 and 1990. Oceanologia 45 (1): 25–39.

Nubel, N.U., F. Garcia-Pichel, E. Clavero, and G. Muyzer. 2000. Matching molecular diversity and ecophysiology of benthic cyanobacteria and diatoms in communities along a salinity gradient. Environmental Microbiology 2 (2): 217–226.

O'Neil, J.M., T.W. Davis, M.A. Burford, and C.J. Gobler. 2012. The rise of harmful cyanobacteria blooms: the potential roles of eutrophication and climate change. Harmful Algae 14: 313–334. https://doi.org/10.1016/j.hal.2011.10.027.

Orr, P.T., G.J. Jones, and G.B. Douglas. 2004. Response of cultured Microcystis aeruginosa from the Swan River, Australia, to elevated salt concentration and consequences for bloom and toxin management in estuaries. Marine and Freshwater Research 55 (3): 277–283.

Paerl, H.W., and J.J. Huisman. 2008. Blooms like it hot. Science 320 (5872): 57–58.

Paerl, H.W., and J.J. Huisman. 2009. Climate change: a catalyst for global expansion of harmful cyanobacterial blooms. Environmental Microbiology Reports 1 (1): 27–37.

Paerl, H.W., and V.J. Paul. 2012. Climate change: links to global expression of harmful cyanobacteria. Water Research 46 (5): 1349–1363. https://doi.org/10.1016/j.watres.2011.08.002.

Peacock, M.B., C.M. Gibble, D.B. Senn, J.E. Cloern, and R.M. Kudela. 2018. Blurred lines: multiple freshwater and marine algal toxins at the land-sea interface of San Francisco Bay, California. Harmful Algae 73: 138–147.

Pekar, H., E. Westerberg, O. Bruno, A. Laane, K.M. Persson, L.F. Sundstrom, and A.M. Thim. 2016. Fast, rugged and sensitive ultra high-pressure liquid chromatography tandem mass spectrometry method for analysis of cyanotoxins in raw water and drinking water-first findings of anatoxins, cylindrospermopsins and microcystin variants in Swedish source waters and infiltration ponds. Journal of Chromatography A 1429: 265–276.

Potts, M. 1999. Mechanisms of desiccation tolerance in cyanobacteria. European Journal of Phycology 34 (4): 319–328.

Preece, E.P., B.C. Moore, and F.J. Hardy. 2015. Transfer of microcystin from freshwater lakes to Puget Sound, WA and toxin accumulation in marine mussels (Mytilus trossulus). Ecotoxicology and Environmental Safety 122: 98–105.

Preece, E.P., F.J. Hardy, B.C. Moore, and M. Bryan. 2017. A review of microcystin detections in estuarine and marine waters: environmental implications and human health risk. Harmful Algae 61: 31–45.

Rajaniemi, P., P. Hrouzek, K. Kaštovská, R. Willame, A. Rantala, L. Hoffmann, J. Komárek, and K. Sivonen. 2005. Phylogenetic and morphological evaluation of the genera Anabaena, Aphanizomenon, Trichormus and Nostoc (Nostocales, Cyanobacteria). International Journal of Systematic and Evolutionary Microbiology 55 (1): 11–26.

Rejmankova, E., J. Komarek, and D. Komarkova. 2004. Cyanobacteria: a neglected component of biodiversity: patterns of species diversity in inland marshes of Northern Belize (Central America). Diversity and Distributions 10 (3): 189–199.

Ross, C., L. Santiago-Vázquez, and V. Paul. 2006. Toxin release in response to oxidative stress and programmed cell death in the cyanobacterium Microcystis aeruginosa. Aquatic Toxicology 78 (1): 66–73.

Sabart, M., K. Crenn, F. Perriere, A. Abila, M. Leremboure, J. Colombet, C. Jousse, and D. Latour. 2015. Co-occurrence of microcystin and anatoxin-a in the freshwater lake Aydat (France). Analytical and molecular approaches during a three-year survey. Harmful Algae 48: 11–20.

Sathicq, M.B., N. Gómez, D. Andrinolo, D. Sedán, and J.L. Donadelli. 2014. Temporal distribution of cyanobacteria in the coast of a shallow temperate estuary (Róo de la Plata): some implications for monitoring. Environmental Monitoring and Assessment 186 (11): 7115–7125.

Sengupta, A., Sutula, M.A., McLaughlin, K., Howard, M.D.A., Tiefenthaler, L., and T. Von Bitner. 2013 Terrestrial nutrient loads and fluxes to the Southern California Bight, USA. SCCWRP Annual Report.

Siegel, A., B. Cotti-Rausch, D.I. Greenfield, and J. Pinckney. 2011. Nutrient controls of planktonic Cyanobacteria abundance in coastal stormwater detention ponds. Marine Ecology Progress Series 434: 15–27. https://doi.org/10.3354/meps09195.

Sivonen, K. and G. Jones. 1999. Cyanobacterial Toxins. In Toxic Cyanobacteria in Water: A Guide to Their Public Health Consequences, Monitoring, and Management, eds. Chorus, I. and Bartram, J., 41–111. London: E & FN Spon.

Sivonen, K., K. Kononen, W.W. Carmichael, A.M. Dahlem, K.L. Rinehart, J. Kiviranta, and S.I. Niemela. 1989. Occurrence of the hepatotoxic cyanobacterium Nodularia spumigena in the Baltic Sea and the structure of the toxin. Applied and Environmental Microbiology 55 (8): 1990–1995.

Spoof, L., M.R. Neffling, and J. Meriluoto. 2010. Fast separation of microcystins and nodularins on narrow-bore reversed-phase columns coupled to a conventional HPLC system. Toxicon 55 (5): 954–964.

Swain, D., M. Tsaing, M. Haugen, D. Singh, A. Charland, B. Rajaratnam, and N.S. Diffenbaugh. 2014. The extraordinary California drought of 2013/14: character, context, and the role of climate change. Bulletin of the American Meteorological Society 95 (9): S3–S7.

Takahashi, T., A. Umehara, and H. Tsutsumi. 2014. Diffusion of microcystins (cyanobacteria hepatotoxins) from the reservoir of Isahaya Bay, Japan, into the marine and surrounding ecosystems as a result of large-scale drainage. Marine Pollution Bulletin 89 (1–2): 250–258.

Tanner, R., K. Kangur, L. Spoof, and J. Meriluoto. 2005. Hepatotoxic cyanobacterial peptides in Estonian freshwater bodies and inshore marine water. Proceedings of the Estonian Academy of Sciences, Biology, Ecology 54 (1): 40–52.

Taş, S., E. Okus, and A. Aslan-Yilmaz. 2006. The blooms of a cyanobacterium, Microcystis cf. aeruginosa in a severely polluted estuary, the Golden Horn, Turkey. Estuarine, Coastal and Shelf Science 68 (3-4): 593–599.

Tatters, A.O., M.D.A. Howard, C. Nagoda, L. Busse, A.G. Gellene, and D.A. Caron. 2017. Multiple stressors at the land-sea interface: cyanotoxins at the land-sea interface in the Southern California Bight. Toxins 9 (3). https://doi.org/10.3390/toxins9030095.

Tonk, L., K. Bosch, P.M. Visser, and J. Huisman. 2007. Salt tolerance of the harmful cyanobacterium Microcystis aeruginosa. Aquatic Microbial Ecology 46: 117–123.

Vareli, K., W. Jaeger, A. Touka, S. Frillingos, E. Briasoulis, and I. Sainis. 2013. Hepatotoxic seafood poisoning (HSP) due to microcystins: a threat from the ocean. Marine Drugs 11: 2751–2768. https://doi.org/10.3390/md11082751.

Vasconcelos, V. M. 1999. Cyanobacterial toxins in Portugal: effects on aquatic animals and risk for human health. Brazilian Journal of Medical and Biological Research 32 (3): 249–254.

Whitton, B. A., and M. Potts. (eds.) 2011. The Ecology of Cyanobacteria, Their Diversity in Time and Space, 1–669. Dordrecht, The Netherlands: Kluwer Academic.

Wood, S.A. and R. Young. 2011. Benthic cyanobacteria and toxin production in the Manawatu-Wanganui region. Report 1959, June 2011.

Wood, S.A., F.M. Smith, M.W. Heath, T. Palfrov, S. Gaw, R.G. Young, and K.G. Ryan. 2012. Within-mat variability in anatoxin-a and homoanatoxin-a production among benthic Phormidium (cyanobacteria) strains. Toxins 10: 900–912.

Wood, J.D., R.B. Franklin, G. Garman, S. McIninch, A.J. Porter, and P.A. Bukaveckas. 2014. Exposure to the cyanotoxin microcystin arising from interspecific differences in feeding habits among fish and shellfish in the James River Estuary, Virginia. Environmental Science and Technology 48 (9): 5194–5202.

Wormer, L., S. Cires, and A. Quesada. 2011. Importance of natural sedimentation in the fate of microcystins. Chemosphere 82 (8): 1141–1146.
Acknowledgments
We thank Miranda Roethler at SCCWRP for the assistance with figure preparation and the San Diego Regional Waterboard for the sample collection in San Diego County. This is MERHAB publication #213.
Funding
This research was supported by USC Sea Grant NA14OAR4170089 awarded to David A. Caron and Avery O. Tatters and NCCOS Monitoring and Event Response for Harmful Algal Blooms (MERHAB) grant award to Meredith D.A. Howard, David A. Caron, Avery O. Tatters, and Raphael M. Kudela, and Surface Water Ambient Monitoring Program (SWAMP) funds from the San Diego Regional Water Quality Control Board.
Additional information
Communicated by James L. Pinckney
About this article
Cite this article
Tatters, A.O., Howard, M.D.A., Nagoda, C. et al. Heterogeneity of Toxin-Producing Cyanobacteria and Cyanotoxins in Coastal Watersheds of Southern California. Estuaries and Coasts 42, 958–975 (2019). https://doi.org/10.1007/s12237-019-00546-w
Received:

Revised:

Accepted:

Published:

Issue Date:

DOI: https://doi.org/10.1007/s12237-019-00546-w
Keywords