Abstract
Once viewed as an inexhaustible fishery resource, eastern oyster reefs (Crassostrea virginica) have been dramatically depleted. In North Carolina alone, eastern oyster harvests have declined by 90% since the early 1900s. However, eastern oyster restoration and management efforts have substantially increased since the 1970s. Oyster reefs provide habitat and refuge for organisms, improve water quality, and decrease erosion. Oyster restoration projects aim to construct reefs that function similarly to their natural counterparts. Therefore, post-creation monitoring of these reefs is crucial in determining restoration success. However, monitoring is often lacking or focused only on oyster density and size rather than ecosystem functions such as nekton utilization. This study examines nekton utilization among created reefs compared to natural reefs in an estuary in Wilmington, North Carolina. The objective was to determine whether the created reefs function similarly to the natural reefs in abundance, species richness, and fish size. Using seine nets and Breder traps, reefs were sampled over a 5-month period. No significant difference was detected among reefs for nekton abundance, species richness, and standard length. This is a promising result for future management, indicating that created and natural reefs can support similar communities of fishes and shrimp.
This is a preview of subscription content, log in to check access.
Access options
Buy single article
Instant access to the full article PDF.
US$ 39.95
Price includes VAT for USA
Subscribe to journal
Immediate online access to all issues from 2019. Subscription will auto renew annually.
US$ 99
This is the net price. Taxes to be calculated in checkout.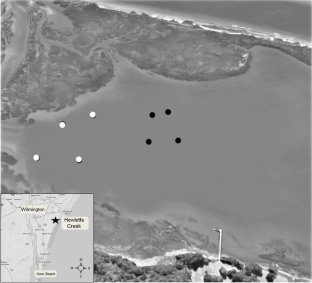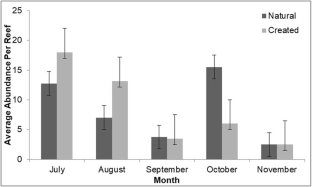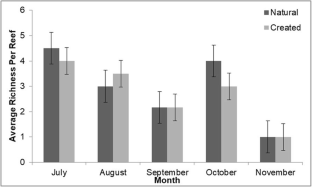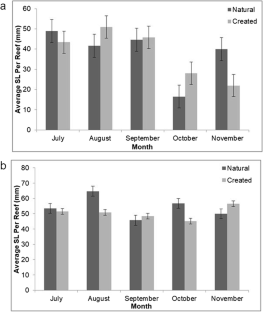 References
Alphin, T.D., and M.H. Posey. 2000. Long term trends in vegetation dominance and infaunal community composition in created marshes. Wetlands Ecology and Management 8 (5): 317–325.

Bates, D., M. Maechler, B. Bolker, and S. Walker. 2015. Fitting linear mixed-effects models using lme4. Journal of Statistical Software 67: 1–48.

Beck, M.W., R.D. Brumbaugh, L. Airoldi, A. Carranza, L.D. Coen, C. Crawford, O. Defeo, G.J. Edgar, B. Hancock, M.C. Kay, H.S. Lenihan, M.W. Luckenbach, C.L. Toropova, G. Zhang, and X. Guo. 2011. Oyster reefs at risk and recommendations for conservation, restoration, and management. BioScience 61 (2): 107–116.

Blair, S., C. Adams, T. Ankerson, M. Mcguire, and D. Kaplan. 2015. Ecosystem services valuation for estuarine and coastal restoration in Florida. Gainesville: Florida Sea Grant/University of Florida Institute of Food and Agricultural Sciences Electronic Data Information Source.

Bolker, B.M., M.E. Brooks, C.J. Clark, S.W. Geange, J.R. Poulsen, M.H. Stevens, and J.S. White. 2009. Generalized linear mixed models: a practical guide for ecology and evolution. Trends in Ecology & Evolution 24 (3): 127–135.

Breder, C.M. 1960. Design a fry trap. Zoologica 45: 155–160.

Breitburg, D.L., L.D. Coen, M.W. Luckenbach, R. Mann, M. Posey, and J. Wesson. 2000. Oyster reef restoration: convergence of harvest and conservation strategies. Journal of Shellfish Research 19: 371–378.

Brumbaugh, R.D., and L.D. Coen. 2009. Contemporary approaches for small scale oyster reef restoration to address substrate versus recruitment limitation: a review and comments relevant for the Olympia oyster, Ostrea lurida Carpenter 1864. Journal of Shellfish Research 28: 147–161.

Byers, J.E., J.H. Grabowski, M.F. Piehler, A.R. Hughes, H.W. Weiskel, J.C. Malek, and D.L. Kimbro. 2015. Geographic variation in intertidal oyster reef properties and the influence of tidal prism. Limnology and Oceanography 60: 1051–1063.

Coen, L.D., and M.W. Luckenbach. 2000. Developing success criteria and goals for evaluating oyster reef restoration: ecological function or resource exploitation? Ecological Engineering 15 (3-4): 323–343.

Coen, L.D., M.W. Luckenbach, and D.L. Breitburg. 1999. The role of oyster reefs as essential fish habitat: a review of current knowledge and some new perspectives. American Fisheries Society Symposium 22: 438–454.

Dewberry and Davis, INC. 2002. Hewletts Creek Restoration Plan for recreational and shellfish waters. Storm Water Master Plan for the 1998 Annexation Area of the City of Wilmington Volume II Appendix C. https://www.wilmingtonnc.gov/home/showdocument?id=2152.

Fan, C., Clark, K. 2015. Phase II evaluation of waste concrete road materials for use in oyster aquaculture field test final report, SHA Maryland Department of Transportation, 2015. MD-15-SHA-MSU-3-12.

FAO 1980. Catalogue Shrimps and Prawns of the World. An Annotated Catalogue of Species of Interest to Fisheries.L.B. Holthuis. FAO fisheries synopsis no. 125, Volume 1.

Fear, J. and C. Currin. 2012. Sustainable estuarine shoreline stabilization: research, education and public policy in North Carolina. NOAA/UNH Cooperative Institute for Coastal and Estuarine Environmental Technology, Report. http://www.nccoastalreserve.net/c/document_library/get_file?uuid=74b7e822-1dc5-42d0-a004-1cd65b203ba4&groupId=61572.

Finelli, C.M, A.E. Wilbur, M.H. Posey, and T. D. Alphin. 2013. To seed or not to seed: the value of seeding restored oyster reefs for ecosystem services. North Carolina Sea Grant. Rpt # R/10SSS-4. Raleigh, NC.

Griffitt, J.M., M. Posey, and T. Alphin. 1999. Effects of edge fragmentation on oyster reef utilization by transient nekton. The Journal of Elisha Mitchell Scientific Society 115: 98–103.

Jackson, J.B., M.X. Kirby, W.H. Berger, K.A. Bjorndal, L.W. Botsford, B.J. Bourque, R.H. Bradbury, R. Cooke, J. Erlandson, J.A. Estes, T.P. Hughes, S. Kidwell, C.B. Lange, H.S. Lenihan, J.M. Pandolfi, C.H. Peterson, R.S. Steneck, M.J. Tegner, and R.R. Warner. 2001. Historical overfishing and the recent collapse of coastal ecosystems. Science 293 (5530): 629–637.

Kennish, M.J. 2002. Environmental threats and environmental future of estuaries. Environmental Conservation 29: 78–107.

Mann, R., and E.N. Powell. 2007. Why oyster restoration goals in the Chesapeake Bay are not and probably cannot be achieved. Journal of Shellfish Research 26 (4): 905–917.

Meyer, D.L., E.C. Townsend and P.L. Murphy, 1996. The evaluation of restored wetlands and enhancement methods for existing restorations. Final Report, Office of Habitat Conservation, NOAA, Silver Spring, MD.

Meyer, D.L., E.C. Townsend, and G.W. Thayer. 1997. Stabilization and erosion control value of oyster cultch for intertidal marsh. Restoration Ecology 5 (1): 93–99.

Micheli, F., and C.H. Peterson. 1999. Estuarine vegetated habitats as corridors for predator movements. Conservation Biology 13 (4): 869–881.

Nelson, K.A., L.A. Leonard, M.H. Posey, T.D. Alphin, and M.A. Mallin. 2004. Transplanted oyster (Crassostrea virginica) beds as a self-sustaining mechanism for water quality improvement in small tidal creeks. Journal of Experimental Marine Biology and Ecology. 298 (2): 347–368.

Nicholls, R.J., F.J. Hoozemans, and M. Marchand. 1999. Increasing flood risk and wetland losses due to global sea-level rise: regional and global analyses. Global Environmental Change-Human and Policy Dimensions 9: S69–S87.

O'beirn, F.X., M.W. Luckenbach, J.A. Nestlerode, and G.M. Coates. 2000. Toward design criteria in constructed oyster reefs: oyster recruitment as a function of substrate type and tidal height. Journal of Shellfish Research 19: 387–395.

Peterson, C.H. 1979. Predation, competition, exclusion and diversity in the soft-sediment benthic communities of estuaries and lagoons. In Ecological processes in coastal and marine systems, ed. R.J. Livingston, 233–264. New York: Plenum Press.

Peterson, C.H., J.H. Grabowski, and S.P. Powers. 2003. Estimated enhancement of fish production resulting from restoring oyster reef habitat: quantitative valuation. Marine Ecology Progress Series 264: 249–264.

Piazza, B.P., and P.D. Banks. 2005. The potential for created oyster shell reefs as a sustainable shoreline protection strategy in Louisiana. Restoration Ecology 13 (3): 499–506.

Posey, M.H., T.D. Alphin, and C.M. Powell. 1997. Plant and infaunal communities associated with a created marsh. Estuaries 20 (1): 42–47.

Posey, M.H., T.D. Alphin, C.M. Powell, and E. Townsend. 1999. Use of oyster reefs as habitat for epibenthic fish and decapods. In Oyster reef habitat restoration: A synopsis and synthesis of approaches, ed. M.W. Luckenbach, R. Mann, and J.A. Wesson, 229–237. Virginia: Virginia Institute of Marine Science Press. https://doi.org/10.21220/V5NK51.

Powers, S.P., C.H. Peterson, J.H. Grabowski, and H.S. Lenihan. 2009. Success of constructed oyster reefs in no-harvest sanctuaries: implications for restoration. Marine Ecology Progress Series 389: 159–170.

R CORE TEAM. 2017. R: a language and environment for statistical computing. R Foundation for Statistical Computing, Vienna, Austria. URL http://www.R-project.org/.

Scyphers, S.B., S.P. Powers, K.L. Heck, and D. Byron. 2011. Oyster reefs as natural breakwaters mitigate shoreline loss and facilitate fisheries. PLoS One 6 (8): e22396.
Acknowledgments
I would like to thank my mentors and committee members, Troy Alphin and Martin Posey, for their support over the past 4 years and guidance over this project. I would also like to thank Donald Buth for his editorial assistance and Noa Pinter-Wollman for her statistical insight. I am also grateful to the many undergraduate field assistants who aided in field sampling and Thomas Lankford for confirming fish identifications. I would also like to thank two anonymous reviewers and the editor for providing detailed notes and necessary improvements to this manuscript. Lastly, I would like to thank my family: Tamara Rutledge, Glenn Rutledge, Hollie Rutledge, and Derek Kirkbride for supporting me throughout my scientific career.
Additional information
Communicated by Nathan Waltham
About this article
Cite this article
Rutledge, K.M., Alphin, T. & Posey, M. Fish Utilization of Created vs. Natural Oyster Reefs (Crassostrea virginica). Estuaries and Coasts 41, 2426–2432 (2018). https://doi.org/10.1007/s12237-018-0433-4
Received:

Revised:

Accepted:

Published:

Issue Date:
Keywords
Restoration

Intertidal

Management

Estuary

Ecosystem services