Abstract
Biotic interactions can structure ecological communities and influence ecosystem functioning. As ecosystem engineers and filter feeders, bivalves often have disproportionately large effects on ecosystem functioning. They also utilize numerous morphological and behavioral responses to reduce predation, which can include changes in their filtration rates. To test the response of Crassostrea virginica filtration rates to the presence of predators, juvenile and adult oysters were separately exposed to varying types of predation risk from Callinectes sapidus and Panopeus herbstii in outdoor mesocosms. Water column chlorophyll a concentrations and crab behavior were measured over the duration of the experiment. Predation risk had no effect on oyster reef drawdown of chlorophyll a, which suggests that this important ecosystem function of oyster reefs is not mediated by behaviorally induced predator effects. Therefore, efforts to model how oyster predators influence filtration rates and associated ecosystem services should focus primarily on the factors that influence oyster mortality rather than predator effects on oyster behavior.
Access options
Buy single article
Instant access to the full article PDF.
US$ 39.95
Tax calculation will be finalised during checkout.
Subscribe to journal
Immediate online access to all issues from 2019. Subscription will auto renew annually.
US$ 79
Tax calculation will be finalised during checkout.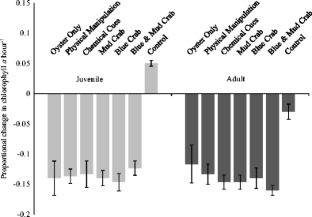 References
Breitburg, D.L., L.D. Coen, M.W. Luckenbach, R. Mann, M. Posey, and J.A. Wesson. 2000. Oyster reef restoration: convergence of harvest and conservation strategies. Journal of Shellfish Research 19: 371–377.

Chapin, F.S., III, B.H. Walker, R.J. Hobbs, D.U. Hooper, J.H. Lawton, O.E. Sala, and D. Tilman. 1997. Biotic control over the functioning of ecosystems. Science 277: 500–504.

Coen, L.D., and M.W. Luckenbach. 2000. Developing success criteria and goals for evaluating oyster reef restoration: ecological function or resource exploitation? Ecological Engineering 15: 323–343.

Copeland, B.J., and H.D. Hoese. 1966. Growth and mortality of the American oyster, Crassostrea virginica, in high salinity shallow bays in Central Texas. Publications of the Institute of Marine Science 11: 149–158.

Côté, I.M. 1995. Effects of predatory crab effluent on byssus production in mussels. Journal of Experimental Marine Biology and Ecology 188: 233–241.

Côté, I.M., and E. Jelnikar. 1999. Predator-induced clumping behaviour in mussels (Mytilus edulis Linnaeus). Journal of Experimental Marine Biology and Ecology 235: 201–211.

Dame, R.F. 1993. The role of bivalve filter feeder material fluxes in estuarine ecosystems. In Bivalve Filter Feeder in Estuarine and Coastal Ecosystem Processes, ed. R.F. Dame, 254–269. Berlin, Heidelberg: Springer-Verlang.

Dame, R.F., R.G. Zingmark, and E. Haskin. 1984. Oyster reefs as processors of estuarine materials. Journal of Experimental Marine Biology and Ecology 83: 239–247.

Elner, R.W., and R.N. Hughes. 1978. Energy maximization in the diet of the shore crab, Carcinus maenas. Journal of Animal Ecology 47: 103–116.

Fernández-Juricic, E., M.D. Jimenez, and E. Lucas. 2002. Factors affecting intra- and inter-specific variations in the difference between alert distances and flight distances for birds in forested habitats. Canadian Journal of Zoology 80: 1212–1220.

Gerdes, D. 1983. The Pacific oyster Crassostrea gigas: part I. Feeding behaviour of larvae and adults. Aquaculture 31: 195–219.

Grabowski, J.H. 2004. Habitat complexity disrupts predator-prey interactions but not the trophic cascade on oyster reefs. Ecology 85: 995–1004.

Grabowski, J.H., and D.L. Kimbro. 2005. Predator-avoidance behavior extends trophic cascades to refuge habitats. Ecology 86: 1312–1319.

Grabowski J., and C. Peterson. 2007. Restoring oyster reefs to recover ecosystem services. Theoretical Ecology Series, 4(C):281–298.

Grabowski, J.H., R.D. Brumbaugh, R.F. Conrad, A.G. Keeler, J.J. Opaluch, C.H. Peterson, M.F. Piehler, S.P. Powers, and A.R. Smyth. 2012. Economic valuation of ecosystem services provided by oyster reefs. Bioscience 62: 900–909.

Griffiths, R.J. 1980. Filtration, respiration and assimilation in the black mussel Choromytilus meridionalis. Marine Ecology Progress Series 3: 63–70.

Griffiths, C.L., and C.A. Richardson. 2006. Chemically induced predator avoidance behaviour in the burrowing bivalve Macoma balthica. Journal of Experimental Marine Biology and Ecology 331: 91–98.

Hairston, N.G., F.E. Smith, and L.B. Slobodkin. 1960. Community structure, population control, and competition. American Naturalist 94: 421–425.

Hughes, R.N., and R. Seed. 1995. Behavioural mechanisms of prey selection in crabs. Journal of Experimental Marine Biology and Ecology 193: 225–238.

Johnson, K.D., and D.L. Smee. 2012. Size matters for risk assessment and resource allocation in bivalves. Marine Ecology Progress Series 462: 103–110.

Jones, C.G., J.H. Lawton, and M. Shachak. 1994. Organisms as ecosystem engineers. Oikos 69: 373–386.

Krantz, G.E., and J.V. Chamberlin. 1978. Blue crab predation on cultchless oyster spat. Proceedings of the National Shellfisheries Association 68: 38–41.

Kremen, C. 2005. Managing ecosystem services: what do we need to know about their ecology? Ecology Letters 8: 468–479.

Kulakovskii, E.E., and P.A. Lezin. 2002. Filtration activity of the blue mussel, Mytilus edulis (Mytilda, Mytilidae), under influence of the starfish, Asterias rubens (Forcipulata, Asteriidae). Zoologichesky Zhurnal 81: 292–297.

Levin, S.A. 1992. The problem of pattern and scale in ecology: the Robert H. MacArthur Award Lecture. Ecology 73: 1943–1967.

Mann, R. 2000. Restoring the oyster reef communities in the Chesapeake Bay: a commentary. Journal of Shellfish Research 19: 335–339.

Mcdonald, J. 1982. Divergent life history patterns in the co-occurring intertidal crabs Panopeus herbstii and Eurypanopeus depressus (Crustacea: Brachyura: Xanthidae). Marine Ecology Progress Series 8: 173–180.

Menge, B.A. 1995. Indirect effects in marine rocky intertidal interaction webs: patterns and importance. Ecological Monographs 65: 21–74.

Menzel, R.W., and F.E. Nichy. 1958. Studies of the distribution and feeding habits of some oyster predators in Alligator Harbor, Florida. Bulletin of Marine Science 8: 125–145.

Naddafi, R., P. Eklöv, and K. Pettersson. 2007. Non-lethal predator effects on the feeding rate and prey selection of the exotic zebra mussel Dreissena polymorpha. Oikos 116: 1289–1298.

Neo, M.L., and P.A. Todd. 2011. Predator-induced changes in fluted giant clam (Tridacna squamosa) shell morphology. Journal of Experimental Marine Biology and Ecology 397: 21–26.

Newell, R.I.E., and C. Langdon. 1996. Mechanisms and physiology of larval and adult feeding. In The eastern oyster Crassostrea virginica, ed. V. Kennedy and R. Newell, 185–230. College Park: Maryland Sea Grant College, University of Maryland System.

Newell, R.I.E., J.C. Cornwell, and M.S. Owens. 2002. Influence of simulated bivalve biodeposition and microphytobenthos on sediment nitrogen dynamics: a laboratory study. Limnology and Oceanography 47: 1367–1379.

Newell, R.I.E., W.M. Kemp, J.D. Hagy III, C.F. Cerco, J.M. Testa, and W.R. Boynton. 2007a. Top-down control of phytoplankton by oysters in Chesapeake Bay, USA: comment on Pomeroy et al. (2006). Marine Ecology Progress Series 341: 293–298.

Newell, R.I.E., V.S. Kennedy, and K.S. Shaw. 2007b. Comparative vulnerability to predators, and induced defense responses, of eastern oysters Crassostrea virginica and non-native Crassostrea ariakensis oysters in Chesapeake Bay. Marine Biology 152: 449–460.

O'Connor, N.E., J.H. Grabowski, L.M. Ladwig, and J.F. Bruno. 2008. Simulated predator extinctions: predator identity affects survival and recruitment of oysters. Ecology 89: 428–438.

Paine, R.T. 1966. Food web complexity and species diversity. The American Naturalist 100: 65–75.

Palmer, R.E. 1980. Behavioral and rhythmic aspects of filtration in the bay scallop, Argopecten irradians concentricus (Say), and the oyster, Crassostrea virginica (Gmelin). Journal of Experimental Marine Biology and Ecology 45: 273–295.

Peterson, C.H., J.H. Grabowski, and S.P. Powers. 2003. Estimated enhancement of fish production resulting from restoring oyster reef habitat: quantitative valuation. Marine Ecology Progress Series 264: 249–264.

Piehler, M.F., and A.R. Smyth. 2011. Habitat-specific distinctions in estuarine denitrification affect both ecosystem function and services. Ecosphere 2: art12.

Powell, E.N., J.M. Klinck, E.E. Hofmann, E.A. Wilson-Ormond, and M.S. Ellis. 1995. Modeling oyster populations. V. Declining phytoplankton stocks and the population dynamics of American oyster (Crassostrea virginica) populations. Fisheries Research 24: 199–222.

Reimer, O., and S. Harms-Ringdahl. 2001. Predator-inducible changes in blue mussels from the predator-free Baltic Sea. Marine Biology 139: 959–965.

Riisgård, H.U. 1988. Efficiency of particle retention and filtration rate in 6 species of Northeast American bivalves. Marine Ecology Progress Series 45: 217–223.

Rindone, R.R., and D.B. Eggleston. 2011. Predator-prey dynamics between recently established stone crabs (Menippe spp.) and oyster prey (Crassostrea virginica). Journal of Experimental Marine Biology and Ecology 407: 216–225.

Schmitz, O.J. 2008. Effects of predator hunting mode on grassland ecosystem function. Science 319: 952–954.

Schmitz, O.J., J.H. Grabowski, B.L. Peckarsky, E.L. Preisser, G.C. Trussell, and J.R. Vonesh. 2008. From individuals to ecosystem function: toward an integration of evolutionary and ecosystem ecology. Ecology 89: 2436–2445.

Shin, P.K.S., C.C. Liu, Z.X. Liu, and S.G. Cheung. 2008. Marine mussels Brachidontes variabilis selected smaller places of refuge and enhanced byssus production upon exposure to conspecific and heterospecific cues. Journal of Experimental Marine Biology and Ecology 361: 16–20.

Smee, D.L., and M.J. Weissburg. 2006. Hard clams (Mercenaria mercenaria) evaluate predation risk using chemical signals from predators and injured conspecifics. Journal of Chemical Ecology 32: 605–619.

Sokal R.R., and F.J. Rohlf. 2012. Biometry: the principles and practice of statistics in biological research. San Francisco, W. H. Freeman and Company.

Trussell, G.C., P.J. Ewanchuk, and C.M. Matassa. 2006. The fear of being eaten reduces energy transfer in a simple food chain. Ecology 87: 2979–2984.

Uryu, Y., K. Iwasaki, and M. Hinoue. 1996. Laboratory experiments on behavior and movement of a freshwater mussel, Limnoperna fortunei (Dunker). Journal of Molluscan Studies 62: 327–341.

Weissburg, M., D.L. Smee, and M.C. Ferner. 2014. The sensory ecology of nonconsumptive predator effects. The American Naturalist 184: 141–157.

Welschmeyer, N.A. 1994. Fluorometric analysis of chlorophyll a in the presence of chlorophyll b and pheopigments. Limnology and Oceanography 39: 1985–1992.

White, M.E., E.N. Powell, and S.M. Ray. 1988. Effect of parasitism by the pyramidellid gastropod Boonea impressa on the net productivity of oysters (Crassostrea virginica). Estuarine, Coastal and Shelf Science 26: 359–377.
Acknowledgements
We thank our reviewer and editors for their helpful comments that improved the manuscript. Funding for this experiment was provided by National Science Foundation grant nos. OCE-1203859 (JHG) and OCE-0961929 (MFP).
Additional information
Communicated by Alf Norkko
Electronic Supplementary Material
About this article
Cite this article
Dodd, L.F., Caracappa, J.C., Fegley, S.R. et al. Threat of Predation Does Not Affect Crassostrea virginica Filtration. Estuaries and Coasts 41, 293–298 (2018). https://doi.org/10.1007/s12237-017-0269-3
Received:

Revised:

Accepted:

Published:

Issue Date:
Keywords
Crassostrea virginica

Filtration

Non-consumptive effects

Predation