Abstract
Estuarine tapertail anchovy (Coilia nasus) is a highly commercial and valuable anadromous fish species in China. Due to the complex anadromous life cycle, it remains difficult to assess the degree of connectivity among groups of C. nasus in the Yangtze River, its connecting lakes, and adjacent seas. In this study, laser ablation inductively coupled plasma mass spectrometry (LA-ICPMS) was used to analyze the element composition in the otolith nucleus region of C. nasus specimens from the Yangtze River Estuary, Poyang Lake, and Nantong coastal waters in the estuary adjacent to the Yellow Sea. The content ratios of seven elements (Na, Mn, Fe, Ni, Cu, Sr, and Ba) to Ca in the nucleus indicated a close relationship among C. nasus specimens collected from the Yangtze River Estuary (Spring group), Poyang Lake, and Yellow Sea, suggesting a possible connectivity mechanism for anchovies in the three water bodies. Poyang Lake, Yangtze River, and Yellow Sea seem to be the natal lake, migration pathway, and feeding ground, respectively.
Access options
Buy single article
Instant access to the full article PDF.
USD 39.95
Price excludes VAT (USA)
Tax calculation will be finalised during checkout.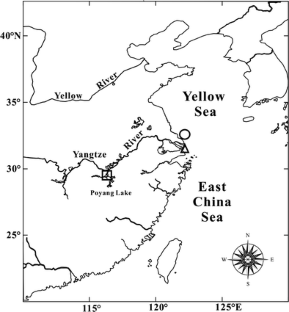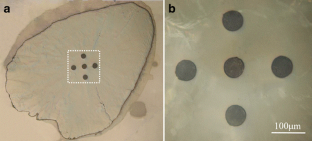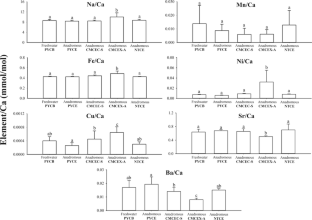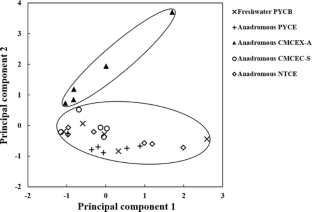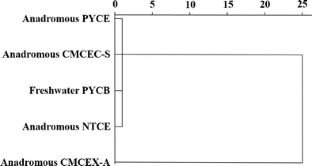 References
Amano, Yosuke, Masayuki Kuwahara, Toshiro Takahashi, Kotaro Shirai, Kodai Yamane, Hiroshi Amakawa, and Tsuguo Otake. 2013. Otolith elemental and Sr isotopic composition as a natal tag for Biwa salmon Oncorhynchus masou subsp. in Lake Biwa, Japan. Aquatic Biology 19: 85–95.

Arai, Takaomi, and Takafumi Hirata. 2006. Determination of trace elements in otoliths of chum salmon Oncorhynchus keta by laser ablation-ICP-mass spectrometry. Fisheries Science 72: 977–984.

Arai, Takaomi, Takafumi Hirata, and Yasuaki Takagi. 2007. Application of laser ablation ICPMS to trace the environmental history of chum salmon Oncorhynchus keta. Marine Environmental Research 63: 55–66.

Barnes, Thomas C., and Bronwyn M. Gillanders. 2013. Combined effects of extrinsic and intrinsic factors on otolith chemistry: implications for environmental reconstructions. Canadian Journal of Fisheries and Aquatic Sciences 70: 1159–1166.

Beer, Nicola A., Stephen R. Wing, and Stephen E. Swearer. 2011. Otolith elemental evidence for spatial structuring in a temperate reef fish population. Marine Ecology Progress Series 442: 217–227.

Bergenius, Mikaela A.J., Bruce D. Mapstone, Gavin A. Begg, and Cameron D. Murchie. 2005. The use of otolith chemistry to determine stock structure of three epinepheline serranid coral reef fishes on the great barrier reef, Australia. Fisheries Research 72: 253–270.

Campana, Steven E. 2005. Otolith science entering the 21st century. Marine and Freshwater Research 56: 485–495.

Chang, Mei-Yu, Audrey J. Geffen, Jan Kosler, Siv Hjorth Dundas, FishPopTrace Consortium, and Gregory E. Maes. 2012. The effect of ablation pattern on LA-ICPMS analysis of otolith element composition in hake, Merluccius merluccius. Environmental Biology of Fishes 95: 509–520.

Chatterjee, Mousumi, Prosenjit Ghosh, Leena Ramdas, and Ramananda Chakrabarti. 2015. Isotopic and geochemical characterization of invader tilapia fishes from water bodies of West Bengal and Karnataka, India. Environmental Monitoring and Assessment 187: 712. doi:10.1007/s10661-015-4929-0.

Daverat, Françoise, Laurent Lanceleur, Christophe Pécheyran, Mélissa Eon, Julien Dublon, Maud Pierre, Jörg Schäfer, Magalie Baudrimont, and Sophie Renault. 2012. Accumulation of Mn, Co, Zn, Rb, Cd, Sn, Ba, Sr, and Pb in the otoliths and tissues of eel (Anguilla anguilla) following long-term exposure in an estuarine environment. Science of the Total Environment 437: 323–330.

Davoren, Gail K., and Norman M. Halden. 2014. Connectivity of capelin (Mallotus villosus) between regions and spawning habitats in Newfoundland inferred from otolith chemistry. Fisheries Research 159: 95–104.

Dou, Shuo-Zeng, Yosuke Amano, Xin Yu, Cao Liang, Kotaro Shirai, Tsuguo Otake, and Katsumi Tsukamoto. 2012. Elemental signature in otolith nuclei for stock discrimination of anadromous tapertail anchovy (Coilia nasus) using laser ablation ICPMS. Environmental Biology of Fishes 95: 431–443.

Fairclough, David V., John S. Edmonds, Rod C.J. Lenanton, Gary Jackson, Ian S. Keay, Brett M. Crisafulli, and Stephen J. Newman. 2011. Rapid and cost-effective assessment of connectivity among assemblages of Choerodon rubescens (Labridae), using laser ablation ICP-MS of sagittal otoliths. Journal of Experimental Marine Biology and Ecology 403: 46–53.

Fan, Haixia, Zhiqiang Wu, and Hu. Maoling. 2011. Variation in body composition and energy content during different growth period in short jaw tapertail anchovy Coilia brachygnathus in Poyang Lake. Fisheries Science 30: 91–93 (in Chinese with English abstract).

Ferguson, Greg J., Tim M. Ward, and Bronwyn M. Gillanders. 2011. Otolith shape and elemental composition: complementary tools for stock discrimination of mulloway (Argyrosomus japonicus) in southern Australia. Fisheries Research 110: 75–83.

Gillanders, Bronwyn M. 2005. Using elemental chemistry of fish otoliths to determine connectivity between estuarine and coastal habitats. Estuarine, Coastal and Shelf Science 64: 47–57.

Heidemann, Franziska, Lasse Marohn, Hans H. Hinrichsen, Bastian Huwer, Karin Hussy, Andreas Klügel, Uwe Böttcher, and Reinhold Hanel. 2012. Suitability of otolith microchemistry for stock separation of Baltic cod. Marine Ecology Progress Series 465: 217–226.

Jiang, Tao, Jian Yang, Hongbo Liu, and Xinqiang Shen. 2012. Life history of Coilia nasus from the Yellow Sea inferred from otolith Sr:Ca ratios. Environmental Biology of Fishes 95: 503–508.

Jiang, Tao, Xinqi Zhou, Hongbo Liu, Huanzhang Liu, and Jian Yang. 2013. Two microchemistry patterns in otoliths of Coilia nasus from Poyang Lake, China. Journal of Fisheries of China 37: 239–244 (in Chinese with English abstract).

Li, Jiao. 2009. Scientists line up against dam that would alter protected wetlands. Science 326: 508–509.

Li, Yuxuan, Songguang Xie, Zhongjie Li, Wangbao Gong, and Wenping He. 2007. Gonad development of an anadromous fish Coilia ectenes (Engraulidae) in lower reach of Yangtze River, China. Fisheries Science 73: 1224–1230.

Liu, Kai, Jinrong Duan, Dongpo Xu, Minying Zhang, Dian Fang, and Weigang Shi. 2012. Present situation of Coilia nasus population features and yield in Yangtze River estuary waters in fishing season. Chinese Journal of Ecology 31: 3138–3143 (in Chinese with English abstract).

Macdonald, Jed I., Jessica H. Farley, Naomi P. Clear, Ashley J. Williams, Thor I. Carter, Campbell R. Davies, and Simon J. Nicol. 2013. Insights into mixing and movement of South Pacific albacore Thunnus alalunga derived from trace elements in otoliths. Fisheries Research 148: 56–63.

McDowall, Robert M. 2001. Diadromy, diversity and divergence: implications for speciation processes in fishes. Fish and Fisheries 2: 78–85.

Nishimoto, Mary M., Libe Washburn, Robert R. Warnet, Milton S. Love, and Georges L. Paradis. 2010. Otolith elemental signatures reflect residency in coastal water masses. Environmental Biology of Fishes 89: 341–356.

Pracheil, Brenda M., Derek Hogan, John Lyons, and Peter B. McIntyre. 2014. Using hard-part microchemistry to advance conservation and management of north American freshwater fishes. Fisheries 39: 451–465.

Rooker, Jay R., David H. Secor, Gregorio De Metrio, Ryan Schloesser, Barbara A. Block, and John D. Neilson. 2008. Natal homing and connectivity in Atlantic bluefin tuna populations. Science 322: 742–744.

Swan, Sarah C., Audrey J. Geffen, Beatriz Morales-Nin, John D.M. Gordon, Tracy Shimmield, Terrie Sawyer, and Enric Massuti. 2006. Otolith chemistry: an aid to stock separation of Helicolenus dactylopterus (bluemouth) and Merluccius merluccius (European hake) in the Northeast Atlantic and Mediterranean. ICES Journal of Marine Science 63: 504–513.

Tanner, Susanne E., Rita P. Vasconcelos, Henrique N. Cabral, and Simon R. Thorrold. 2012. Testing an otolith geochemistry approach to determine population structure and movements of European hake in the Northeast Atlantic Ocean and Mediterranean Sea. Fisheries Research 125-126: 198–205.

Thorrold, Simon R., Christopher Latkoczy, Peter K. Swart, and Cynthia M. Jones. 2001. Natal homing in a marine fish metapopulation. Science 291: 297–299.

Volpedo, Alejandra V., and Alicia Fernández Cirelli. 2006. Otolith chemical composition as a useful tool for sciaenid stock discrimination in the South-Western Atlantic. Scientia Marina 70: 325–334.

Walther, Benjamin D., and Simon R. Thorrold. 2009. Inter-annual variability in isotope and elemental ratios recorded in otoliths of an anadromous fish. Journal of Geochemical Exploration 102: 181–186.

Wang, Hongzhu, Qiaoqing Xu, Yongde Cui, and Yanling Liang. 2007. Microzoobenthic community of Poyang Lake, the largest freshwater lake, in the Yangtze flood plain. Limnology 8: 65–71.

Wang, Chia-hui, Chih-chieh Hsu, Chih-wei Chang, Chen-feng You, and Wann-nian Tzeng. 2010. The migratory environmental history of freshwater resident flathead mullet Mugil cephalus L. In the Tanshui River, northern Taiwan. Zoological Studies 49: 504–514.

Yang, Jian, Takaomi Arai, Hongbo Liu, Nobuyuki Miyazaki, and Katsumi Tsukamoto. 2006. Reconstructing habitat use of Coilia mystus, Coilia ectenes of the Changjiang River estuary and Taihu Coilia ectenes of the Taihu Lake based on otolith environmental strontium and calcium signature. Journal of Fish Biology 69: 1120–1135.
Acknowledgments
This study was supported by the National Natural Science Foundation of China (31372533), Natural Science Foundation of Jiangsu Province (BK20131089), and "948" Program of the Ministry of Agriculture (2014-S6). The authors would like to thank Dr. Karin Limburg, Mr. Davison Daniel Khumbanyiwa, and anonymous reviewers for their critical reading and comments that improved the manuscript.
Additional information
Communicated by Karin E. Limburg
About this article
Cite this article
Jiang, T., Liu, H., Lu, M. et al. A Possible Connectivity among Estuarine Tapertail Anchovy (Coilia nasus) Populations in the Yangtze River, Yellow Sea, and Poyang Lake. Estuaries and Coasts 39, 1762–1768 (2016). https://doi.org/10.1007/s12237-016-0107-z
Received:

Revised:

Accepted:

Published:

Issue Date:

DOI: https://doi.org/10.1007/s12237-016-0107-z
Keywords
Connectivity

Coilia nasus

LA-ICPMS

Otolith nucleus

Element composition

Otolith microchemistry