Abstract
Changes in waterbird populations in relation to changes in their habitat are of great concern in the Chongming Dongtan wetlands, one of the most important stopovers for migrating waterbirds in the East Asian–Australasian Flyway. We analyzed the relationship between the changes in the dominant waterbird populations (Charadriidae, Anatidae, Ardeidae, and Laridae) and the changes in their corresponding habitats from 2000 to 2012. In natural wetlands, the species number of Anatidae was significantly positively correlated with the Scirpus mariqueter (hereafter Scirpus) habitat but significantly negatively correlated with the Phragmites australis (hereafter Phragmites) habitat. The densities of Charadriidae and Laridae were both significantly positively correlated with the deep water habitat but significantly negatively correlated with the Spartina alterniflora (hereafter Spartina) habitat. The density of Charadriidae, however, also exhibited significantly positive correlation with the Scirpus habitat. In the aquaculture ponds, the changes in the density of Anatidae in the winter were significantly negatively correlated with the changes in aquaculture ponds. Other waterbirds only exhibited positive or negative correlation trends with their habitats, which did not reach the statistically significant levels. Consequently, changes in waterbird populations are significantly correlated with changes in natural wetlands and aquaculture ponds in the Chongming Dongtan wetlands. Natural wetlands and aquaculture ponds are important to migratory waterbirds during the peak of migration and wintering. Our results promote the development of wetland management strategies for protecting migratory waterbirds in the coastal area of the Yangtze River.
Access options
Buy single article
Instant access to the full article PDF.
US$ 39.95
Tax calculation will be finalised during checkout.
Subscribe to journal
Immediate online access to all issues from 2019. Subscription will auto renew annually.
US$ 79
Tax calculation will be finalised during checkout.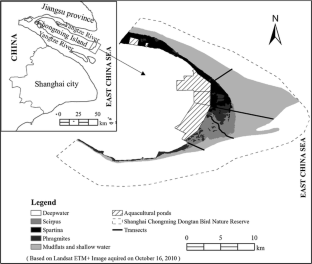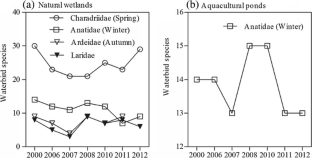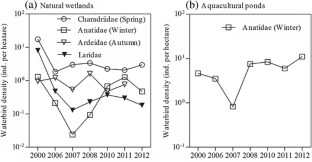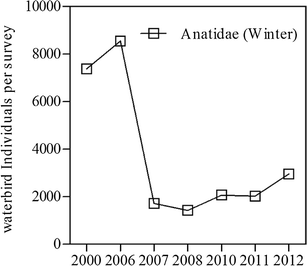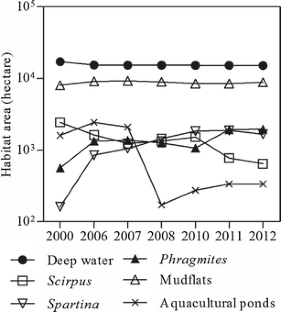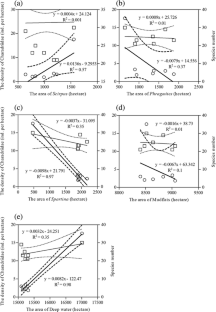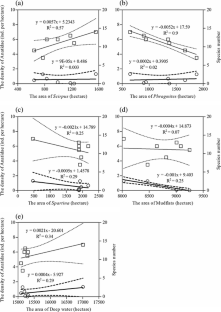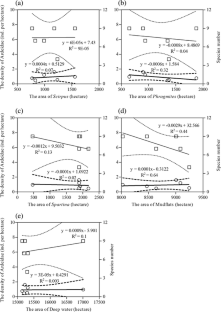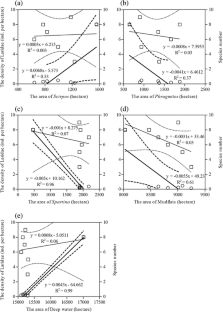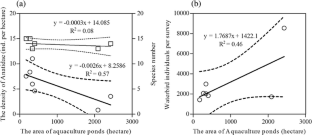 References
Barter, M., and T.H. Wang. 1990. Can waders fly non-stop from Australia to China? The Stilt 17: 36–39.

Bellio, M.G., R.T. Kingsford, and S.W. Kotagama. 2009. Natural versus artificial- wetlands and their waterbirds in Sri Lanka. Biological Conservation 142: 3076–3085.

Bortels, L., J.C.W. Chan, R. Merken, and N. Koedam. 2011. Long-term monitoring of wetlands along the Western-Greek Bird Migration Route using Landsat and ASTER satellite images: Amvrakikos Gulf (Greece). Journal for Nature Conservation 19: 215–223. doi:10.1016/j.jnc.2011.01.004.

Dadaser-Celik, F., M. Bauer, P. Brezonik, and H. Stefan. 2008. Changes in the sultan marshes ecosystem (Turkey) in satellite images 1980–2003. Wetlands 28: 852–865. doi:10.1672/07-182.1.

Duncan P., A.J.M. Hewison, S. Houte, R. Rosoux, T. Tournebize, and F. Dubs. 1999. Long-term changes in agricultural practices and wildfowling in an internationally important wetland, and their effects on the guild of wintering ducks. Journal of Applied Ecology 36: 11–23.

Elphick, C.S. 2000. Functional equivalency between rice fields and seminatural wetland habitats. Conservation Biology 14: 181–191. doi:10.1046/j.1523-1739.2000.98314.x.

Fan, X.Z., and L.Q. Zhang. 2012. Spatiotemporal dynamics of ecological variation of waterbird habitats in Dongtan area of Chongming Island. Chinese Journal of Oceanology and Limnology 30: 485–496. doi:10.1007/s00343-012-1149-0.

Gan, X.J., Y.T. Cai, C. Choi, Z.J. Ma, J.K. Chen, and B. Li. 2009. Potential impacts of invasive Spartina alterniflora on spring bird communities at Chongming Dongtan, a Chinese wetland of international importance. Estuarine, Coastal and Shelf Science 83: 211–218. doi:10.1016/j.ecss.2009.03.026.

Gan, X.J., C. Choi, Y. Wang, Z.J. Ma, J.K. Chen, and B. Li. 2010. Alteration of habitat structure and food resources by invasive smooth cordgrass affects habitat use by wintering saltmarsh birds at Chongming Dongtan, East China. The Auk 127: 317–327. doi:10.1525/auk.2009.09147.

Ge, Z.M., T.H. Wang, X. Yuan, X. Zhou, and W.Y. Shi. 2006. Use of wetlands at the mouth of the Yangtze River by shorebirds during spring and fall migration. Journal of Field Ornithology 77: 347–356. doi:10.1111/j.1557-9263.2006.00059.x.

Guntenspergen, G.R., and J.C. Nordby. 2006. The impact of invasive plants on tidal-marsh vertebrate species: common reed (Phragmites australis) and smooth cordgrass (Spartina alterniflora) as case studies. Studies in Avian Biology 32: 229–237.

Holmes, R.T., and T.W. Sherry. 2001. Thirty-year bird population trends in an unfragmented temperate deciduous forest: importance of habitat change. The Auk 118: 589–609. doi:10.1642/0004-8038(2001)118[0589:tybpti]2.0.co;2.

Huang, Z.Y., Z.H. Sun, K. Yu, M.Z. Zhou, R.Q. Zhao, and J. Gao. 1993. Bird resources and habitats in Shanghai. Shanghai, China: Fudan University Press.

Iwamura, T., H.P. Possingham, I. Chades, C. Minton, N.J. Murray, D.I. Rogers, E.A. Treml, and R.A. Fuller. 2013. Migratory Connectivity Magnifies the Consequences of Habitat Loss from Sea-Level Rise for Shorebird Populations. Proceedings Biological sciences/The Royal Society 280: 20130325. doi:10.1098/rspb.2013.0325.

Jing, K., Z.J. Ma, B. Li, J.H. Li, and J.K. Chen. 2007. Foraging strategies involved in habitat use of shorebirds at the intertidal area of Chongming Dongtan, China. Ecological Research 22: 559–570.

Keller, G.S., and R.H. Yahner. 2006. Declines of migratory songbirds: evidence for wintering-ground causes. Northeastern Naturalist 13: 83–92. doi:10.1656/1092-6194(2006)13[83:domsef]2.0.co;2.

Li, P. 2006. Accretion-erosion in the Changjiang subaqueous delta: prior to and post the impoundment of the Three Gorges Reservoir. Shanghai: East China Normal University.

Ma, Z.J., X.J. Gan, Y.T. Cai, J.K. Chen, and B. Li. 2011. Effects of exotic Spartina alterniflora on the habitat patch associations of breeding saltmarsh birds at Chongming Dongtan in the Yangtze River estuary, China. Biological Invasions 13: 1673–1686. doi:10.1007/s10530-010-9924-3.

Ma, Z.J., K. Jing, S.M. Tang, and J.K. Chen. 2002a. Shorebirds in the eastern intertidal areas of Chongming Island during the 2001 northward migration. The Stilt 41: 6–10.

Ma, Z.J., B. Li, B. Zhao, K. Jing, S.M. Tang, and J.K. Chen. 2004. Are artificial wetlands good alternatives to natural wetlands for waterbirds? A case study on Chongming Island, China. Biodiversity and Conservation 13: 333–350. doi:10.1023/b:bioc.0000006502.96131.59.

Ma, Z.J., S.M. Tang, F. Lu, and J.K. Chen. 2002b. Chongming Island: a less important shorebird stopover site during southward migration? The Stilt 41: 35–37.

Ma, Z.J., Y. Wang, X.J. Gan, B. Li, Y.T. Cai, and J.K. Chen. 2009. Waterbird population changes in the wetlands at Chongming Dongtan in the Yangtze River Estuary, China. Environmental Management 43: 1187–1200. doi:10.1007/s00267-008-9247-7.

Maffi, L., G. Oviedo, and P.B. Larsen. 2000. Indigenous and traditional peoples of the world and eco-region conservation: an integrated approach to conserving the world's biological and cultural diversity, vol. 145. Switzerland: WWF.

Moore F.R., M.S. Woodrey, J.J. Buler, S. Woltmann, and T.R. Simons. 2005. Understanding the stopover of migratory birds: a scale dependent approach. p. 684-699. In: C. J. Ralph and T. D. Rich (eds.), Bird conservation implementation and integration in the Americas: Proceedings of the Third International Partners in Flight Conference. USDA Forest Service, Pacific Southwest Research Station, USDA Forest Service General Technical Report PSW-191, Albany, California, USA.

Phinn, S.R., C. Menges, G.J.E. Hill, and M. Stanford. 2000. Optimizing remotely sensed solutions for monitoring, modeling, and managing coastal environments. Remote Sensing of Environment 73: 117–132. doi:10.1016/s0034-4257(00)00087-0.

Schekkerman, H., P.L. Meininger, and P.M. Meire. 1994. Changes in the waterbird populations of the Oosterschelde (SW Netherlands) as a result of large-scale coastal engineering works. Hydrobiologia 283: 509–524. doi:10.1007/bf00024652.

Schmidt, K.A. 2003. Nest predation and population declines in Illinois songbirds: a case for mesopredator effects. Conservation Biology 17: 1141–1150. doi:10.1046/j.1523-1739.2003.02316.x.

Tian, B., Y.X. Zhou, L.Q. Zhang, and L. Yuan. 2008. Analyzing the habitat suitability for migratory birds at the Chongming Dongtan Nature Reserve in Shanghai, China. Estuarine, Coastal and Shelf Science 80: 296–302. doi:10.1016/j.ecss.2008.08.014.

Tourenq, C., R.E. Bennetts, H. Kowalski, E. Vialet, J.-L. Lucchesi, Y. Kayser, and P. Isenmann. 2001. Are rice fields a good alternative to natural marshes for waterbird communities in the Camargue, southern France? Biological Conservation 100: 335–343. doi:10.1016/s0006-3207(01)00037-4.

Valiela, I., and J.L. Bowen. 2003. Shifts in winter distribution in birds: effects of global warming and local habitat change. AMBIO: A Journal of the Human Environment 32: 476–480. doi:10.1579/0044-7447-32.7.476.

Wang, Q., S.Q. An, Z.J. Ma, B. Zhao, J.K. Chen, and B. Li. 2006. Invasive Spartina alterniflora: biology, ecology and management. Acta Phytotaxonomica Sinica 44: 559–588.

Wang, T.H., and G.Z. Qian. 1998. Shorebirds in the estuary of the Yangtze River and Hang zhou Bay. Shanghai: East China Normal University Press.

Xu, H.F., and Y.L. Zhao. 2005. A scientific survey on the Chongming Dongtan Migratory Birds Nature Reserve in Shanghai. Beijing: Chinese Forestry Publishing House.

Yu, K., S.H. Tang, and H.Z. Wang. 1995. A study of feeding habits of wintering ducks on the eastern beach of Chongming Island, Shanghai. Journal of Shanghai Normal University (Natural Science) 24: 69–74.

Yuan, L., L.Q. Zhang, D.R. Xiao, and H.M. Huang. 2011. The application of cutting plus waterlogging to control Spartina alterniflora on saltmarshes in the Yangtze Estuary, China. Estuarine Coastal and Shelf Science 92: 103–110. doi:10.1016/j.ecss.2010.12.019.

Zhao, B., Y. Yan, H.Q. Guo, M.M. He, Y.J. Gu, and B. Li. 2009. Monitoring rapid vegetation succession in estuarine wetland using time series MODIS-based indicators: an application in the Yangtze River Delta area. Ecological Indicators 9(2): 346–356. doi:10.1016/j.ecolind.2008.05.009.

Zhang, B., X. Yuan, E.L. Pei, J.Y. Niu, N.N. Heng, and T.H. Wang. 2011. Change of waterbird community structure after the intertidal mudflat reclamation in the Yangtze River mouth: a case study of Nan Hui Dongtan area. Acta Ecologica Sinica 31: 4599–4608.

Zhao, J.X., H. Liu, and L.Q. Zhang. 2008. Spatial patterns for the distribution of winter waterbirds in the aquaculture ponds of Chongming Dongtan, Shanghai. Zoological Research 29: 212–218.

Zhao, P., X. Yuan, S.X. Tang, and T.H. Wang. 2003. Species and habitat preference of waterbirds at the eastern end of Chongming Island (Shanghai) in winter. Zoological Research 24: 387–391.

Zou, Y.A., J. Liu, X.T. Yang, M. Zhang, C.D. Tang, and T.H. Wang. 2014. Impact of coastal wetland restoration strategies in the Chongming Dongtan wetlands, China: waterbird community composition as an indicator. Acta Zoologica Academiae Scientiarum Hungaricae 60: 185–198.
Acknowledgments
This study was financially sponsored by the Science and Technology Commission of Shanghai Municipality (Project nos. 10dz1200703 and 12231204703), the Science and Technology Ministry of China (2010BAK69B14) and the Open Foundation of Key Laboratory of Agro-ecological Processes in Subtropical Region, Institute of Subtropical Agriculture, Chinese Academy of Sciences (ISA2015304). We would like to thank the management office of the Shanghai Chongming Dongtan Bird Nature Reserve for providing waterbird population data and facilitating our fieldwork. We also thank Bin Zhang, Mei Zhang, Xiaoting Yang, Jing Liu, and Shan Lu for helping with data collection and field surveys. We are grateful to Professor Xiaoping Xie at Qufu Normal University for providing suggestions and directions of habitat classification using ENVI and GIS.
Additional information
Communicated by Edwin DeHaven Grosholz
About this article
Cite this article
Zou, YA., Tang, CD., Niu, JY. et al. Migratory Waterbirds Response to Coastal Habitat Changes: Conservation Implications from Long-term Detection in the Chongming Dongtan Wetlands, China. Estuaries and Coasts 39, 273–286 (2016). https://doi.org/10.1007/s12237-015-9991-x
Received:

Revised:

Accepted:

Published:

Issue Date:
Keywords
Intertidal flats

Habitat selection

Migratory species

Remote sensing

Yangtze River Estuary