Abstract
Sea level rise is causing shoreline erosion, increased coastal flooding, and marsh vulnerability to the impact of storms. Coastal marshes provide flood abatement, carbon and nutrient sequestration, water quality maintenance, and habitat for fish, shellfish, and wildlife, including species of concern, such as the saltmarsh sparrow (Ammodramus caudacutus). We present a climate change adaptation strategy (CCAS) adopted by scientific, management, and policy stakeholders for managing coastal marshes and enhancing system resiliency. A common adaptive management approach previously used for restoration projects was modified to identify climate-related vulnerabilities and plan climate change adaptive actions. As an example of implementation of the CCAS, we describe the stakeholder plans and management actions the US Fish and Wildlife Service and partners developed to build coastal resiliency in the Narrow River Estuary, RI, in the aftermath of Superstorm Sandy. When possible, an experimental BACI (before-after, control-impact) design, described as pre- and post-sampling at the impact site and one or more control sites, was incorporated into the climate change adaptation and implementation plans. Specific climate change adaptive actions and monitoring plans are described and include shoreline stabilization, restoring marsh drainage, increasing marsh elevation, and enabling upland marsh migration. The CCAS provides a framework and methodology for successfully managing coastal systems faced with deteriorating habitat, accelerated sea level rise, and changes in precipitation and storm patterns.
Access options
Buy single article
Instant access to the full article PDF.
USD 39.95
Price includes VAT (USA)
Tax calculation will be finalised during checkout.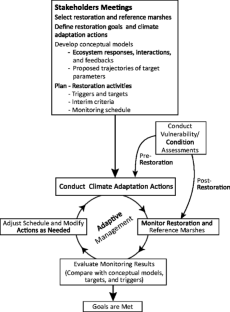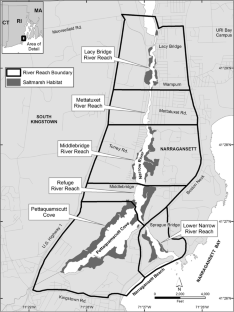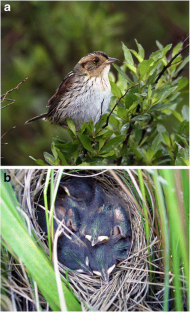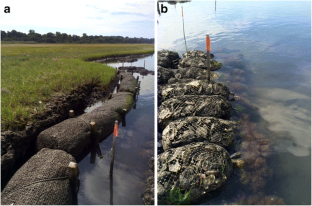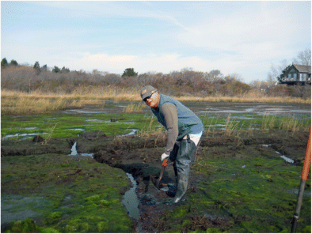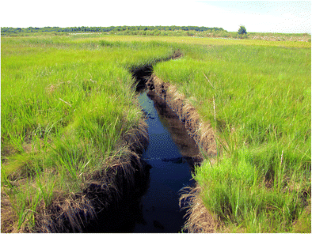 References
Allen J.R.L. 1990. The formation of coastal peat marshes under an upward tendency of relative sea-level. Journal of the Geological Society of London 147: 743–745.

Ashton A.D., J.P. Donnelly, and R.L. Evans. 2007. A discussion of the potential impacts of climate change on the shorelines of the Northeastern USA. Mitigation and Adaptation Strategies for Global Change. doi:10.1007/s11027-007-9124-3.

Bierbaum, R., J.B. Smith. A. Lee, M. Blair, L. Carter, S.F. Chapin III, P. Fleming, S. Ruffo, M. Stults, S. McNeeley, E. Wasley, and L. Verduzco. 2013. A comprehensive review of climate adaptation in the United States: more than before, but less than needed. Mitigation and Adaptation Strategies for Global Change doi:10.1007/s11027-012-9423-1.

Bayard T.S., and C.S. Elphick. 2011. Planning for sea-level rise: quantifying patterns of saltmarsh sparrow (Ammodramus caudacutus) nest flooding under current sea-level conditions. The Auk 128: 393–403.

Buchsbaum R.N., and C. Wigand. 2012. Adaptive management and monitoring as fundamental tools to effective salt marsh restoration (chapter 14). In Restoring tidal flows to salt marshes: A synthesis of science and management, eds. C.T. Roman, andD.M. Burdick, 213–231. Washington: Island Press.

Cahoon D.R., D.J. Reed, and J.W. Day Jr. 1995. Estimating shallow subsidence in microtidal salt marshes of the southeastern U.S.: Kaye and Barghoorn revisited. Marine Geology 128: 1–9.

Cahoon D.R., J.C. Lynch, B.C. Perez, B. Segura, R.D. Holland, C. Stelly, G. Stephenson, and P. Hensel. 2002. High precision measurements of wetland sediment elevation: II. The rod surface elevation table. Journal of Sedimentary Research 72: 734–739.

Cahoon D.R., J.C. Lynch, and P.F. Hensel. 2006. Monitoring salt marsh elevation: a protocol for the long-term coastal ecosystem monitoring program at Cape Cod national seashore. Final protocol to the long-term coastal ecosystem monitoring program, 104. Wellfleet: Cape Cod national seashore.

Carey, J.C., S.B. Moran, R.P. Kelly, A.S. Kolker, and R.W. Fulweiler. This issue. The declining role of organic matter in peaty New England salt marshes. Estuaries and Coasts.

Cole D.N., and L. Yung, eds. 2010. Beyond naturalness: rethinking park and wilderness stewardship in an era of rapid change. Washington: Island Press.

Cole Ekberg, M.L., K.B. Raposa, and W. Ferguson. This issue. Assessing marsh condition with an eye toward sea level rise. Estuaries and Coasts.

Coverdale T.C., A.H. Altieri, and M.D. Bertness. 2012. Belowground herbivory increases vulnerability of New England salt marshes to die-off. Ecology 93: 2085–2094. doi:10.1890/12-0010.1.

Deegan L.A., D.S. Johnson, R.S. Warren, B. Peterson, J.W. Fleeger, S. Fagherazzi, and W. Wollheim. 2012. Coastal eutrophication as a driver of marsh loss. Nature 490: 388–392.

DeLaune R.D., R. Baumann, and J.G. Gosselink. 1983. Relationships among vertical accretion, coastal submergence, and erosion in a Louisiana Gulf Coast marsh. Journal of Sedimentary Petrology 53: 147–157.

Donnelly J.P. 1998. Evidence of late Holocene post-glacial isostatic adjustment in coastal wetland deposits of eastern North America. Georesearch Forum 3–4: 393–400.

Duhring, K. 2006. Overview of living shoreline design options. In: S.Y. Erdle, J.L.D. Davis, K.G. Sellner, (eds.). Management, policy, science, and engineering of nonstructural erosion control in the Chesapeake Bay. CRC Publication No. 08-164, Gloucester Point, VA, pp. 13–18.

Fagherazzi S., M.L. Kirwan, S.M. Mudd, G.R. Guntenspergen, S. Temmerman, A. D'Alpaos, J. van de Koppel, J. Rybczyk, E. Reyes, C. Craft, and J. Clough. 2012. Numerical models of salt marsh evolution: ecological, geomorphic, and climatic factors. Reviews of Geophysics 50: RG1002. doi:10.1029/2011RG000359.

Feagin R.A., J. Figlus, J.C. Zinnert, J. Sigren, M.L. Martinez, R. Silva, W.K. Smith, D. Cox, D.R. Young, and G. Carter. 2015. Going with the flow or against the grain? The promise of vegetation for protecting beaches, dunes, and barrier islands from erosion. Frontiers in Ecology and the Environment 13: 203–210.

Feurt, C. 2008. Collaborative learning: guide for ecosystem management. Cooperative Institution for Coastal and Estuarine Environmental Technology (CICEET), 19 pp.

Ford M.A., D.R. Cahoon, and J.C. Lynch. 1999. Restoring marsh elevation in a rapidly subsiding salt marsh by thin-layer deposition of dredged material. Ecological Engineering 12: 189–205.

Frumhoff, P.C., J.J. McCarthy, J.M. Melillo, S.C. Moser, and D.J. Wuebbles. 2007. Confronting climate change in the northeast: science, impacts, and solutions. Union of concerned scientists, Cambridge, http://www.climatechoices.org/assets/documents/climatechoices/confronting-climatechange-in-the-u-s-northeast.pdf.

Frame G.W., M.K. Mellander, and D.A. Adamo. 2006. Big egg marsh experimental restoration in Jamaica Bay, New York. In People, places and parks: proceedings of the 2005 George Wright Society conference on parks, protected areas, and cultural sites, ed. D. Harmon, 123–130. Hancock: The George Wright Society.

Gaines, A.G., Jr. 1975. Papers on the geomorphology, hydrography and geochemistry of the Pettaquamscutt River Estuary. University of Rhode Island Ph.D. Physical Oceanography, 296 pages. UMI Dissertations Publishing, 7604970.

Gedan K.B., M.L. Kirwan, E. Wolanski, E.B. Barbier, and B.R. Silliman. 2011. The present and future role of coastal wetland vegetation in protecting shorelines: answering recent challenges to the paradigm. Climatic Change 106: 7–29.

Glick, P., B.A. Stein, and N. Edelson (eds.). 2011a. Scanning the conservation horizon: a guide to climate change vulnerability assessment. Washington, DC: National Wildlife Federation. www.nwf.org/vulnerabilityguide. Viewed 5 Sept 2014.

Glick P., H. Chmura, and B.A. Stein. 2011b. Moving the conservation goalposts: a review of climate change adaptation literature. Washington: National Wildlife Federation.

Greene C.H., J.A. Francis, and B.C. Monger. 2013. Superstorm Sandy: a series of unfortunate events?. Oceanography 26: 8–9. doi:10.5670/oceanog.2013.11.

Hartig E.K., V. Gornitz, A. Kolker, F. Mushacke, and D. Fallon. 2002. Anthropogenic and climate change impacts on salt marshes of Jamaica Bay, New York City. Wetlands 22: 71–89.

Hartnett T. 2010. Consensus-oriented decision making: the CODM for facilitating groups to widespread agreement. Gabriola Island: New Society Publishers.

Hobbs R.J., S. Arico, J.R. Aronson, J.S. Baron, P. Bridgewater, V.A. Cramer, P.R. Epstein, J.J. Ewel, S.A. Klink, A.E. Lugo, D. Norton, D. Ojima, D.M. Richardson, E.W. Sanderson, F. Valladares, V. Montserrat, R. Zamora, and M. Zobe. 2006. Novel ecosystems: theoretical and management aspects of the new ecological world order. Global Ecology and Biogeography 15: 1–7.

Higgs E., D.A. Falk, A. Guerrini, M. Hall, J. Harris, R.J. Hobbs, S.T. Jackson, J.M. Rhemtulla, and W. Throop. 2014. The changing role of history in restoration ecology. Frontiers in Ecology and the Environment 12: 499–506.

IPCC (Intergovernmental Panel on Climate Change). 2013. Climate change 2013: the physical science basis. Contribution of working group 1 to the fifth assessment report of the inter-governmental panel on climate change (Stocker, T.F., D. Qin, G.K. Plattner, M. Tignor, S.K. Allen, J. Boschung, A. Nauels, Y. Xia, V. Bex, and P.M. Midgley [Eds.]). Cambridge, United Kingdom and New York, NY, USA, 1535pp.

IUCN. 2014. The International Union for conservation nature Red List of Threatened Species version 2014.3. www.iucnredlist.org. Accessed January 30, 2015.

King G.M., M.J. Klug, R.G. Wiegert, and A.G. Chalmers. 1982. Relation of soil-water movement and sulfide concentration to Spartina alterniflora production in a Georgia salt-marsh. Science 218(4567): 61–63.

Kirwan M.L., G.R. Guntenspergen, A. D'Alpaos, J.T. Morris, S.M. Mudd, and S. Temmerman. 2010. Limits on the adaptability of coastal marshes to rising sea level. Geophysical Research Letters 37: L23401.

Kirwan M.L., A.B... Murray, J.P. Donnelly, and D.R. Corbett. 2011. Rapid wetland expansion during European settlement and its implication for marsh survival under modern sediment delivery rates. Geology 39: 507–510.

Kolker, A.S. 2005. The impacts of climate variability and anthropogenic activities on salt marsh accretion and loss on Long Island. Ph.D. thesis, Mar. Sci. Res. Ctr., Stony Brook Univ., Stony Brook, NY. 256 pages.

Leonard L.A., and M.E. Luther. 1995. Flow hydrodynamics in tidal marsh canopies. Limnology and Oceanography 40: 1474–1484.

Luk Y.C., and R.N. Zajac. 2013. Spatial ecology of fiddler crabs, Uca pugnax, in southern New England salt marsh landscapes: potential habitat expansion in relation to salt marsh change. Northeastern Naturalist 20: 255–274.

Mendelssohn I.A., and N.L. Kuhn. 2003. Sediment subsidy: effects on soil-plant responses in a rapidly submerging coastal salt marsh. Ecological Engineering 21: 115–128.

Millar C.I., N.L. Stephenson, and S.L. Stephens. 2007. Climate change and forests of the future: managing in the face of uncertainty. Ecological Applications 17: 2145–2151.

Neckles, H.A., G.R. Guntenspergen, W.G. Shriver, N.P. Danz, W.A. Wiest, J.L. Nagel, and J.H. Olker. 2013. Identification of metrics to monitor salt marsh integrity on national wildlife refuges in relation to conservation and management objectives. Final report to U.S. Fish and Wildlife Service, northeast region. USGS Patuxent Wildlife Research Center, Laurel, MD. 226 pp.

NOAA. 2013a. National coastal population report: population trends from 1970 to 2020. http://stateofthecoast.noaa.gov/features/coastal-population-report.pdf.

NOAA. 2013b. Tropical cyclone report hurricane Sandy (AL182012) 22-29 October 2012. Accessed January 26, 2015. http://www.nhc.noaa.gov/data/tcr/AL182012_Sandy.pdf.

NRC (National Research Council). 2010. Adapting to the impacts of climate change. Washington: National Academies Press.

Pressey R.L., and M.C. Bottrill. 2009. Approaches to landscape- and seascape-scale conservation planning: convergence, contrasts and challenges. Oryx 43: 464–475.

Raposa, K.B., R.L. Weber, M. Cole Ekberg, and W. Ferguson. This issue. Dieback events accelerate ongoing Spartina patens decline in Rhode Island salt marshes. Estuaries and Coasts.

RICRMP, 1983. Rhode Island Coastal Resources Management Program, as amended. Prepared by S. Olsen and G. Seavey. University of Rhode Island's publication office, P96412/835M.

Ray G.L.. 2007. Thin layer disposal of dredged material on marshes: a review of the technical and scientific literature. In ERDC/EL technical notes collection (ERDC/EL TN-07-01). Vicksburg: US Army Engineer Research and Development Center.

Rich, T.D., C.J. Beardmore, H. Berlanga, P.J. Blancher, M.S.W. Bradstreet, G.S. Butcher, D.W. Demarest, E.H. Dunn, W.C. Hunter, E.E. Iñigo-Elias, J.A. Kennedy, A.M. Martell, A.O. Panjabi, D.N. Pashley, K.V. Rosenberg, C.M. Rustay, J.S. Wendt, T.C. Will. 2004. Partners in flight North American land bird conservation plan. Cornell Lab of Ornithology. Ithaca, NY. Partners in flight website. http://www.partnersinflight.org/cont_plan/ (version: March 2005).

Rochlin I., M.J. James-Pirri, S.C. Adamowicz, R.J. Wolfe, P. Capotosto, M.E. Dempsey, T. Iwanejko, and D.V. Ninivaggi. 2012a. Integrated marsh management (IMM): a new perspective on mosquito control and best management practices for salt marsh restoration. Wetlands Ecology and Management 20: 219–232.

Rochlin I., M.J. James-Pirri, S.C. Adamowicz, M.E. Dempsey, T. Iwanejko, and D.V. Ninivaggi. 2012b. The effects of integrated marsh management (IMM) on salt marsh vegetation, nekton, and birds. Estuaries and Coasts 35: 727–742.

Roman C.T., N. Jaworski, F.T. Short, S. Findlay, and S. Warren. 2000. Estuaries of the northeastern U.S.: habitat and land use signatures. Estuaries 23: 743–764.

Rosenberg, K.V., D. Pashley, B. Andres, P.J. Blancher, G.S. Butcher, W.C. Hunter, D. Mehlman, A.O. Panjabi, M. Parr, G. Wallace, and D. Wiedenfield. 2014. The state of the birds 2014 watch list. North American bird conservation initiative, U.S. Commerce. Washington, DC. 4 pages. Stateofthebirds.org. Accessed January 30, 2015.

Sallenger A.H. Jr., K.S. Doran, and P.A. Howd. 2012. Hotspot of accelerated sea-level rise on the Atlantic coast of North America. Nature Climate Change 2: 884–888.

SLAMM, version 6. 2009. Sea level affecting marshes model. Warren Pinnacle Consulting, Inc. P.O. Box 315, Waitsfield, VT, 05673. warrenpinnacle.com.

Smith S.M. 2009. Multi-decadal changes in salt marshes of Cape Cod, MA: photographic analyses of vegetation loss, species shifts, and geomorphic change. Northeastern Naturalist 16: 183–208.

Smith S.M. 2014. Vegetation change in salt marshes of Cape Cod national seashore (Massachusetts, USA) between 1984 and 2013. Wetlands 35: 127–136.

Stein B.A., A. Staudt, M.S. Cross, N.A. Dubois, C. Enquist, R. Griffis, L.J. Hansen, J.J. Hellmann, J.L. Lawler, E.J. Nelson, and A. Pairis. 2013. Preparing for and managing change: climate adaptation for biodiversity and ecosystems. Frontiers in Ecology and the Environment 11: 502–510.

Stewart-Oaten A., W.W. Murdoch, and K.R. Parker. 1986. Environmental impact assessment: "Pseudoreplication" in time?. Ecology 67: 929–940.

Stewart-Oaten A., J.R. Bence, and C.W. Osenberg. 1992. Assessing effects of unreplicated perturbations: no simple solutions. Ecology 73: 1396–1404.

Stewart-Oaten A. 2003. On rejection rates of paired intervention analysis: comment. Ecology 84: 2795–2799.

Teal J.M., and L. Weishar. 2005. Ecological engineering, adaptive management, and restoration management in Delaware Bay salt marsh restoration. Ecological Engineering 25: 304–314.

Temmerman S., P. Meire, T.J. Bouma, P.M. Herman, T. Ysebaert, and H.J. De Vriend. 2013. Ecosystem-based coastal defense in the face of global change. Nature 504: 79–83.

Turner R.E. 2011. Beneath the salt marsh canopy: loss of soil strength with increasing nutrient loads. Estuaries and Coasts 34: 1084–1093.

Turner R.E., B.L. Howes, J.M. Teal, C.S. Milan, E.M. Swenson, and D. Goehringer-Toner. 2009. Salt marshes and eutrophication: an unsustainable outcome. Limnology and Oceanography 54: 1634–1642.

Underwood A.J. 1992. Beyond BACI: the detection of environmental impacts on populations in the real, but variable, world. Journal of Experimental Marine Biology and Ecology 161: 145–178.

USFWS. 2008. Atlantic Coast Joint Venture, New England/Mid Atlantic Coast Bird Conservation Region (BCR30) Implementation Plan. www.acjv.org/BCR_30/BCR30_June_23_2008_final.pdf

Warren R.S., and W.A. Niering. 1993. Vegetation change on a northeast tidal marsh: interaction of sea-level rise and marsh accretion. Ecology 74: 96–103.

Watson, E.B., C. Wigand, and H. Andrews. This issue. Wetland loss patterns and inundation-productivity relations prognosticate widespread salt marsh loss for southern New England. Estuaries and Coasts.

Watson E.B., A.J. Oczkowski, C. Wigand, A.R. Hanson, E.W. Davey, S.C. Crosby, R.L. Johnson, and H.M. Andrews. 2014a. Nutrient enrichment and precipitation do not enhance resiliency of salt marshes to sea level rise in the northeastern U.S. Climatic Change 125: 501–509. doi:10.1007/s10584-014-1189-x.

Watson E.B., C. Wigand, H. Andrews, and S.B. Moran. 2014b. Pettaquamscutt cove salt marsh: environmental conditions and historical ecological change. EPA/600/R-14/065, 2014. Washington: U.S. Environmental Protection Agency.

Wehner M.F. 2004. Predicted twenty-first-century changes in seasonal extreme precipitation events in the parallel climate model. Journal of Climate 17: 4281–4290.

West J.M., S.H. Julius, P. Kareiva, C. Enquist, J.J. Lawler, B. Petersen, A.E. Johnson, and M.R. Shaw. 2009. U.S. natural resources and climate change: concepts and approaches for management adaptation. Environmental Management 44: 1001–1021.

Weston N.B. 2014. Declining sediments and rising seas: an unfortunate convergence for tidal wetlands. Estuaries and Coasts 37: 1–23.

Wigand C., C.T. Roman, E.W. Davey, M.H. Stolt, R.L. Johnson, A. Hanson, E.B. Watson, S.B. Moran, D.R. Cahoon, J.C. Lynch, and P. Rafferty. 2014. Below the disappearing marshes of an urban estuary: historic nitrogen trends and soil structure. Ecological Applications 24: 633–649. doi:10.1890/13-0594.1.

Williams J.W., and S.T. Jackson. 2007. Novel climates, no-analog communities, and ecological surprises. Frontiers in Ecology and the Environment 5: 475–482.

Williams B.K., and E.D. Brown. 2012. Adaptive Management. The U.S. Department of the Interior Applications Guide. Adaptive management working group. Washington: U.S. Department of the Interior.
Acknowledgments
Coauthors are listed alphabetically after the lead author. In addition to the organizations represented by the authors, we are grateful for the cooperation and active participation of RI Department of Environmental Management, US Army Corp of Engineers, TNC, University of Rhode Island, Audubon Society of RI, NOAA, Ducks Unlimited, town officials, and community members. Thanks to Kevin Ruddock, who created map outputs from SLAMM and presented the model results for the Narrow River Estuary to the stakeholders. We are grateful for constructive reviews and helpful suggestions provided by Anne Kuhn, Alana Hanson, Autumn Oczkowski, Marty Chintala, and Wayne Munns. Mention of trade names or commercial products does not constitute endorsement or recommendation for use by the US EPA or USFWS. This report, ORD Tracking Number ORD-010685, has been reviewed technically by the US EPA's Office of Research and Development, National Health and Environmental Effects Research Laboratory, Atlantic Ecology Division, Narragansett, RI, and approved for publication. Approval does not signify that the contents necessarily reflect the views and policies of the US EPA or USFWS.
Additional information
Communicated by Lawrence P. Rozas
About this article
Cite this article
Wigand, C., Ardito, T., Chaffee, C. et al. A Climate Change Adaptation Strategy for Management of Coastal Marsh Systems. Estuaries and Coasts 40, 682–693 (2017). https://doi.org/10.1007/s12237-015-0003-y
Received:

Revised:

Accepted:

Published:

Issue Date:
Keywords
Salt marsh

Resiliency

Sea level rise

Storms

Adaptive management

Restoration

Climate change

Living shoreline

Thin-layer sediment application