Abstract
"Blue Carbon" initiatives have highlighted the significant role of seagrasses in organic carbon (C org) burial and sequestration. However, global databases on the extent of C org stocks in seagrass ecosystems are largely comprised of studies conducted in monospecific beds from a limited number of regions, thus potentially biasing global estimates. To better characterize carbon stocks in seagrass beds of varying structure and composition, and to further expand the current "Blue Carbon" database to under-represented regions, we evaluate the extent of C org stocks in the relatively undocumented seagrass meadows of the Arabian Gulf. Surveys were conducted along the coast of Abu Dhabi (UAE) and encompassed sites ranging from sheltered embayments to offshore islands. Seagrass beds consisted of Halodule uninervis, Halophila ovalis and Halophila stipulacea. While seagrasses were widely distributed along the coast, both living and soil C org stores were relatively modest on an areal basis. Total seagrass biomass ranged from 0.03 to 1.13 Mg C ha−1, with a mean of 0.4 ± 0.1 (±SEM), and soil C org stocks (as estimated over the top meter) ranged from 1.9 to 109 Mg C ha−1, with a mean of 49.1 ± 7.0 (±SEM). However, owing to the expansive distribution of seagrasses in the Arabian Gulf, seagrass "Blue Carbon" stocks were large, with 400 Gg C stored in living seagrass biomass and 49.1 Tg C stored in soils. Thus, despite low C org stores for any given location, the overall contribution of seagrass beds to carbon storage are relatively large given their extensive coverage. This research adds to a growing global dataset on carbon stocks and further demonstrates that even seagrass beds dominated by small-bodied species function to store carbon in coastal environments.
Access options
Buy single article
Instant access to the full article PDF.
USD 39.95
Price excludes VAT (USA)
Tax calculation will be finalised during checkout.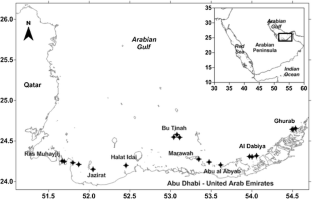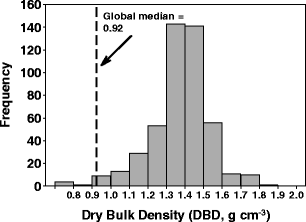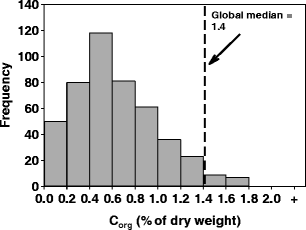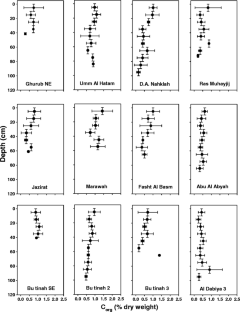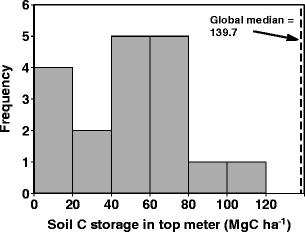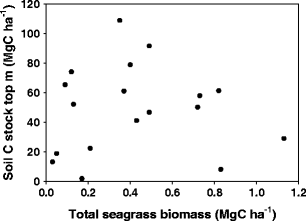 References
Agawin, N.S.R., and G.M. Duarte. 2002. Evidence of direct particle trapping by a tropical seagrass meadow. Estuaries 25: 1205–1209.

AlFarra, H.J., and B. Abu-Hijleh. 2012. The potential role of nuclear energy in mitigating CO2 emissions in the United Arab Emirates. Energy Policy 42: 272–285.

Burdige, D.J. 2007. Preservation of organic matter in marine sediments: controls, mechanisms, and an imbalance in sediment organic carbon budgets? Chemical Reviews 107: 467–485.

Christianen, M.J.A., J. van Belzen, P.M.J. Herman, M.M. van Katwijk, L.P.M. Lamers, P.J.M. van Leent, and T.J. Bouma. 2013. Low canopy seagrass beds still provide important coastal protection services. Plos One 8(5): 1–8.

Duarte, C.M., J.J. Middelburg, and N. Caraco. 2005. Major role of marine vegetation on the oceanic carbon cycle. Biogeosciences 2: 1–8.

Erftemeijer, P.L.A., and D.A. Shuail. 2012. Seagrass habitats in the Arabian Gulf: distribution, tolerance thresholds and threats. Aquatic Ecosystem Health & Management 15: 73–83.

Fonseca, M.S., and J.A. Cahalan. 1992. A preliminary evaluation of wave attenuation by 4 species of seagrass. Estuarine, Coastal and Shelf Science 35: 565–576.

Fourqurean, J.W., C.M. Duarte, H. Kennedy, N. Marba, M. Holmer, M.A. Mateo, E.T. Apostolaki, G.A. Kendrick, D. Krause-Jensen, K.J. McGlathery, and O. Serrano. 2012a. Seagrass ecosystems as a globally significant carbon stock. Nature Geoscience 5: 505–509.

Fourqurean, J.W., G.A. Kendrick, L.S. Collins, R.M. Chambers, and M.A. Vanderklift. 2012b. Carbon, nitrogen and phosphorus storage in subtropical seagrass meadows: examples from Florida Bay and Shark Bay. Marine and Freshwater Research 63: 967–983.

Fourqurean, J.W., A. Willsie, C.D. Rose, and L.M. Rutten. 2001. Spatial and temporal pattern in seagrass community composition and productivity in south Florida. Marine Biology 138: 341–354.

Gacia, E., and C.M. Duarte. 2001. Sediment retention by a Mediterranean Posidonia oceanica meadow: the balance between deposition and resuspension. Estuarine, Coastal and Shelf Science 52: 505–514.

Hedges, J.I., and R.G. Keil. 1995. Sedimentary organic matter preservation—an assessment and speculative synthesis. Marine Chemistry 49: 81–115.

Hendriks, I.E., T. Sintes, T.J. Bouma, and C.M. Duarte. 2008. Experimental assessment and modeling evaluation of the effects of the seagrass Posidonia oceanica on flow and particle trapping. Marine Ecology Progress Series 356: 163–173.

Kenig, F., A.Y. Huc, B.H. Purser, and J.L. Oudin. 1990. Sedimentation, distribution and diagenesis of organic matter in a recent carbonate environment, Abu Dhabi, UAE. Organic Geochemistry 16: 735–747.

Kennedy, H., J. Beggins, C.M. Duarte, J.W. Fourqurean, M. Holmer, N. Marba, and J.J. Middelburg. 2010. Seagrass sediments as a global carbon sink: isotopic constraints. Global Biogeochemical Cycles 24.

Krause-Jensen, D., J. Carstensen, S.L. Nielsen, T. Dalsgaard, P.B. Christensen, H. Fossing, and M.B. Rasmussen. 2011. Sea bottom characteristics affect depth limits of eelgrass Zostera marina. Marine Ecology Progress Series 425: 91–102.

Lavery, P.S., M.-Á. Mateo, O. Serrano, and M. Rozaimi. 2013. Variability in the carbon storage of seagrass habitats and its implications for global estimates of blue carbon ecosystem service. Plos One 8: e73748.

Manca, E., I. Caceres, J.M. Alsina, V. Stratigaki, I. Townend, and C.L. Amos. 2012. Wave energy and wave-induced flow reduction by full-scale model Posidonia oceanica seagrass. Continental Shelf Research 50–51: 100–116.

Mateo, M.A., J. Cebrian, K.H. Dunton, and T. Mutchler. 2006. Carbon flux in seagrass ecosystems. In Seagrasses: biology, ecology and conservation, ed. A. Larkum, R. Orth, and C. Duarte, 159–192. Dordrecht: Springer-Verlag.

Mateo, M.A., J. Romero, M. Perez, M.M. Littler, and D.S. Littler. 1997. Dynamics of millenary organic deposits resulting from the growth of the Mediterranean seagrass Posidonia oceanica. Estuarine, Coastal and Shelf Science 44: 103–110.

McLeod, E., G.L. Chmura, S. Bouillon, R. Salm, M. Bjork, C.M. Duarte, C.E. Lovelock, W.H. Schlesinger, and B.R. Silliman. 2011. A blueprint for blue carbon: toward an improved understanding of the role of vegetated coastal habitats in sequestering CO2. Frontiers in Ecology and the Environment 9: 552–560.

Paul, M., T.J. Bouma, and C.L. Amos. 2012. Wave attenuation by submerged vegetation: combining the effect of organism traits and tidal current. Marine Ecology Progress Series 444: 31–41.

Pedersen, M.O., O. Serrano, M.A. Mateo, and M. Holmer. 2011. Temperature effects on decomposition of a Posidonia oceanica mat. Aquatic Microbial Ecology 65: 169–182.

Pendleton, L., D.C. Donato, B.C. Murray, S. Crooks, W.A. Jenkins, S. Sifleet, C. Craft, J.W. Fourqurean, J.B. Kauffman, N. Marba, P. Megonigal, E. Pidgeon, D. Herr, D. Gordon, and A. Baldera. 2012. Estimating global "Blue Carbon" emissions from conversion and degradation of vegetated coastal ecosystems. Plos One 7(9): 1–7.

Phillips, R.C. 2003. The seagrasses of the Arabian Gulf and Arabian region. Berkeley: University of California Press.

Price, A.R.G., and S.L. Coles. 1992. Aspects of seagrass ecology along the western Arabian Gulf coast. Hydrobiologia 234: 129–141.

Romero, J., M. Perez, M.A. Mateo, and E. Sala. 1994. The belowground organs of the Mediterranean seagrass Posidonia oceanica as a biogeochemical sink. Aquatic Botany 47: 13–19.

Serrano, O., M.A. Mateo, P. Renom, and R. Julia. 2012. Characterization of soils beneath a Posidonia oceanica meadow. Geoderma 185: 26–36.

Sheppard, C., M. Al-Husiani, F. Al-Jamali, F. Al-Yamani, R. Baldwin, J. Bishop, F. Benzoni, E. Dutrieux, N.K. Dulvy, S.R.V. Durvasula, D.A. Jones, R. Loughland, D. Medio, M. Nithyanandan, G.M. Pilling, I. Polikarpov, A.R.G. Price, S. Purkis, B. Riegl, M. Saburova, K. Samimi-Namin, O. Taylor, S. Wilson, and K. Zainal. 2010. The Gulf: a young sea in decline. Marine Pollution Bulletin 60: 13–38.

Smith, S.V. 1981. Marine macrophytes as a global carbon sink. Science 211: 838–840.

Townsend, E.C., and M.S. Fonseca. 1998. Bioturbation as a potential mechanism influencing spatial heterogeneity of North Carolina seagrass beds. Marine Ecology Progress Series 169: 123–132.

van Katwijk, M.M., A.R. Bos, D.C.R. Hermus, and W. Suykerbuyk. 2010. Sediment modification by seagrass beds: muddification and sandification induced by plant cover and environmental conditions. Estuarine, Coastal and Shelf Science 89: 175–181.
Acknowledgments
This research was funded by the Blue Carbon Demonstration Project of the Abu Dhabi Global Environmental Data Initiative (AGEDI). We wish to thank and acknowledge H.E. Razan Khalifa Al Mubarak, Secretary General of Environment Agency—Abu Dhabi (EAD) and Dr. Fred Launay, Senior Advisor to the Secretary General and AGEDI Acting Director. Planning support, local knowledge, and field participation were provided by the EAD's Terrestrial and Marine Biodiversity Sector Marine Division, in particular Edwin Grandcourt, Himansu Das, Ibrahim Bulga, Ahmed Alanzi, Maitha Al Hameli, Hada Al Mahairbi and Mohammed Al Ali, and AGEDI's Ms. Jane Glavan, Ms. Huda Petra Shamayleh, and Ms. Larissa Owen. We acknowledge contributions of GRID-Arendal's Christian Neumann and Emma Corbett, and Steven Lutz and members of Blue Carbon science team, Patrick Megonigal, Boone Kauffman, and Lisa Schile. This is contribution number 659 from the Southeast Environmental Research Center at Florida International University.
Additional information
Communicated by Nuria Marba
About this article
Cite this article
Campbell, J.E., Lacey, E.A., Decker, R.A. et al. Carbon Storage in Seagrass Beds of Abu Dhabi, United Arab Emirates. Estuaries and Coasts 38, 242–251 (2015). https://doi.org/10.1007/s12237-014-9802-9
Received:

Revised:

Accepted:

Published:

Issue Date:

DOI: https://doi.org/10.1007/s12237-014-9802-9
Keywords