Abstract
The asymmetries between hemispheres in stratospheric ozone concentration and atmospheric aerosols, leading to differences in incident ultraviolet B (UV-B) radiation, were examined in order to resolve the differential forcing of adaptation and selection of marine organisms under elevated UV-B radiation. This analysis was based on a meta-analysis including 2,060 experimental assessments of responses of marine organisms from the Northern and Southern Hemispheres to UV-B. Stratospheric ozone concentration in spring and summer decreased by 11.0 % in the Southern and 2.7 % in the Northern between 1970 and 2012, indicating higher UV-B incidence on the Southern Hemisphere. The ratio of studies on UV-B radiation impacts performed in the Southern against the Northern Hemisphere was 0.34 indicating higher research effort in the Northern Hemisphere. Responses of marine biota to UV-B indicated significantly more resistance of marine organisms tested from the Southern Hemisphere (P < 0.01) to UV-B radiation. Marine plants (angiosperm, macroalgae and microalgae) showed no significant differences in UV-B sensitivity between hemispheres, but the family Ulvaceae, showed significantly more resistance to UV-B for organisms tested from the Southern Hemisphere (P < 0.005). Echinodermata tested from the Southern Hemisphere were more resistant to UV-B (P < 0.005), as well as early stages of marine organisms (P < 0.001). Responses at the molecular and cellular level and demographic levels showed lower UV-B effects in the organisms tested from the Southern Hemisphere. The results obtained suggest that marine organisms from the Southern Hemisphere tend to be more resistant to UV-B radiation than those in the Northern Hemisphere.
Access options
Buy single article
Instant access to the full article PDF.
US$ 39.95
Tax calculation will be finalised during checkout.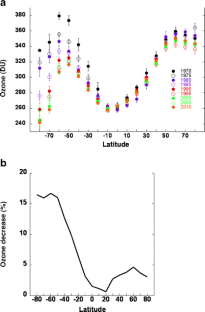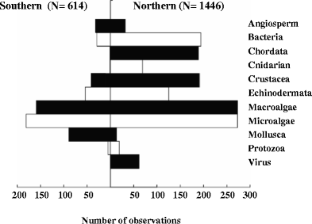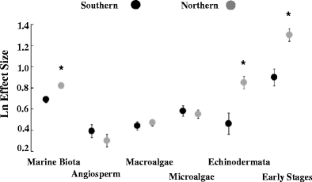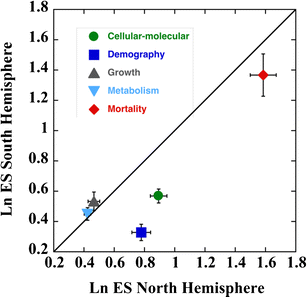 References
Bancroft, B., N.J. Baker, and A.R. Blaustein. 2007. Effects of UVB radiation on marine and freshwater organisms: a synthesis through meta-analysis. Ecology Letters 10: 332–345.

Blumthaler, M., and A.R. Webb. 2003. UVR climatology. In UV effects in aquatic organisms and ecosystems, ed. E.R. Helbling and H. Zagarese, 21–58. Cambridge: The Royal Society of Chemistry.

Chown, S.L., B.J. Sinclair, H.P. Leinaas, and K.J. Gaston. 2004. Hemispheric asymmetries in biodiversity–a serious matter for ecology. PLoS Biology 2: e406.

Eguchi, N., and T. Yokota. 2008. Investigation of clear-sky occurrence rate estimated from CALIOP and MODIS observations. Geophysical Research Letters 35, L23816.

Gaston, K.J. 2000. Global patterns in biodiversity. Nature 405: 220–227.

Häder, D.P. 2001. Adaptation to UV stress in algae. In Algal adaptation to environmental stresses, ed. L.C. Rai and J.P. Gaur, 173–202. Berlin: Springer.

Häder, D.P., M. Lebert, L. Schuster, L. Del Ciampo, E.W. Helbling, and R. McKenzie. 2007. ELDONET–a decade of monitoring solar radiation on five continents. Photochemistry and Photobiology 83: 1348–1357.

Häder, D.P., E.W. Helbling, C.E. Williamson, and R.C. Worrest. 2011. Effects of UV radiation on aquatic ecosystems and interactions with climate change. Photochemical and Photobiological Sciences 10: 242–260.

Helbling, E.W., C.F. Menchi, and V.E. Villafañe. 2002. Bioaccumulation and role of UV-absorbing compounds in two marine crustacean species from Patagonia, Argentina. Photochemical and Photobiological Sciences 1: 820–825.

Herman, J.R. 2010. Global increase in UV irradiance during the past 30 years (1979–2008) estimated from satellite data. Journal of Geophysical Research 115, D04203.

Herman, J.R., P.K. Bhartia, O. Torres, C. Hsu, C. Seftor, and E. Celarier. 1997. Global distribution of UV-absorbing aerosols from Nimbus 7/TOMS data. Journal of Geophysical Research 102: 16911.

Hurrell, J.W. 1995. Decadal trends in the north Atlantic oscillation: regional temperatures and precipitation. Science 269: 676–679.

Iribarne, O and P. Martinetto. 2014. A view from the South on the changing coastal and estuarine environment. Estuaries and Coasts, This Issue

Liepert, B.G., and G.J. Kukla. 1997. Decline in global solar radiation with increased horizontal visibility in Germany between 1964 and 1990. Journal of Climate 10: 2391–2401.

Llabrés, M., S. Agustí, M. Fernández, A. Canepa, F. Maurin, F. Vidal, and C.M. Duarte. 2013. Impact of elevated UVB radiation on marine biota: a meta-analysis. Global Ecology and Biogeography 22: 131–144.

Mangel, M., J. Brodziak, and G. DiNardo. 2010. Reproductive ecology and scientific inference of steepness: a fundamental metric of population dynamics and strategic fisheries management. Fish and Fisheries 11: 89–104.

Manney, G.L., M.L. Santee, M. Rex, N.J. Livesey, M.C. Pitts, P. Veefkind, E.R. Nash, I. Wohltmann, R. Lehmann, L. Froidevaux, L.R. Poole, M.R. Scholeberl, D.P. Haffner, J. Davies, V. Dorokhov, H. Gernandt, B. Johnson, R. Kivi, E. Kyrö, E. Larsen, P.F. Levelt, A. Makshtass, C.T. McElroy, H. Nakajima, M.C. Parrondo, D.W. von der Tarasick Gathen, K.A. Waller, and N.S. Zinoviev. 2011. Unprecedented arctic ozone loss in 2011. Nature 478: 469–475.

McKenzie, R. 1999. Increased summertime UV radiation in New Zealand in response to ozone loss. Science 285: 1709–1711.

McKenzie, R.L., P.J. Aucamp, A.F. Bais, L.O. Björn, M. Ilyas, and S. Madronich. 2011a. Ozone depletion and climate change: impacts on UV radiation. Photochemical and Photobiological Sciences 10: 182–198.

Mckenzie, R.L., P.J. Aucamp, A.F. Bais, M. Ilyas, and S. Madronich. 2011b. Ozone depletion and climate change: impacts on UV radiation. Photochemical and Photobiological Sciences 10: 182–198.

Molina, F.S., and M. Rowland. 1974. Stratospheric sink for chlorofluoromethanes: chlorine atomic-catalysed destruction of ozone. Nature 249: 810–812.

Munakata, N., S. Kazadzis, D. Bolseé, N. Schucht, T. Koskela, A. Karpetchko, C. Meleti, C. Casiccia, M.B. Rosa, T. Saida, C. Nishigori, K. Ogata, K. Imafuku, C.M. Liu, S. Lestari, M. Kanoko, S. Cornain, K. Mulyadi, and K. Hieda. 2009. Variations and trends of biologically effective doses of solar ultraviolet radiation in Asia, Europe and South America from 1999 to 2007. Photochemical and Photobiological Sciences 8: 1117–1124.

NASA. 2009. Ozone hole watch, annual record since 1979. http://ozonewatch.gsfc.nasa.gov/index.html.

Paul, N.D., and D. Gwynn-Jones. 2003. Ecological roles of solar UV radiation: towards an integrated approach. Trends in Ecology & Evolution 18: 48–55.

Pichrtová, M., D. Remias, L.A. Lewis, and A. Holzinger. 2013. Changes in phenolic compounds and cellular ultrastructure of arctic and antarctic strains of Zygnema (Zygnematophyceae, Streptophyta) after exposure to experimentally enhanced UV to PAR ratio. Microbial Ecology 65: 68–83.

Ray, G.C. 1991. Coastal-zone biodiversity patterns. BioScience 41: 490–498.

Regoli, F., M. Nigro, M. Chiantore, S. Gorby, and G. Winston. 2000. Total oxidant scavenging capacity of Antarctic, Arctic, and Mediterranean scallops. The Italian Journal of Zoology 67: 85–94.

Rothschild, L.J. 1999. The influence of UV radiation on protistan evolution. The Journal of Eukaryotic Microbiology 46: 548–555.

Rozema, J., J. van de Staaij, L.O. Björn, and M. Caldwell. 1997. UV-B as an environmental factor in plant life: stress and regulation. Trends in Ecology & Evolution 12: 22–28.

Rozema, J., L.O. Björn, J.F. Bornman, A. Gaberšcik, D.P. Häder, T. Trošt, M. Germ, M. Klische, A. Groniger, P.P. Sinha, M. Lebert, Y.Y. He, R. Buffoni-Hall, N.V.J. de Bakker, J. van de Staaij, and B.B. Meijkamp. 2002. The role of UV-B radiation in aquatic and terrestrial ecosystems—an experimental and functional analysis of the evolution of UV-absorbing compounds. Journal of Photochemistry and Photobiology Biology 66: 2–12.

Rozema, J., P. Boehen, and P. Blokker. 2005. Depletion of stratospheric ozone over the Antarctic and Arctic: responses of plants of polar terrestrial ecosystems to enhanced UV-B, an overview. Environmental Pollution 137: 428–442.

Seckmeyer, G., M. Glandorf, C. Wichers, R. McKenzie, D. Henriques, F. Carvalho, A. Webb, A. Siani, A. Bais, B. Kjeldstad, C. Brogniez, P. Werle, T. Koskela, K. Lakkala, J. Gröbner, H. Slaper, P. denOuterl, and U. Feisterm. 2008. Europe's darker atmosphere in the UV-B. Photochemical and Photobiological Sciences 7: 925–930.

Setlow, R.B. 1974. The wavelengths in sunlight effective in producing skin cancer: a theoretical analysis. Proceedings of the National Academy of Sciences of the United States of America) 71: 3363–3366.

Stanhill, G., and S. Cohen. 2001. Global dimming: a review of the evidence for a widespread and significant reduction in global radiation with discussion of its probable causes and possible agricultural consequences. Agricultural and Forest Meteorology 107: 255–278.

Stenseth, N.C., G. Ottersen, J.W. Hurrell, A. Mysterud, M. Lima, K.S. Chan, N.G. Yoccoz, and B. Adlandsvik. 2003. Studying climate effects on ecology through the use of climate indices: the North Atlantic Oscillation, El Niño Southern Oscillation and beyond. Proceedings of the Royal Society of London Series B: Biological Sciences 270: 2087–2096.

Tittensor, D.P., C. Mora, W. Jetz, H.K. Lotze, D. Ricard, E.V. Berghe, and B. Worm. 2010. Global patterns and predictors of marine biodiversity across taxa. Nature 466: 1098–1101.

Weatherhead, E.C., and S.B. Andersen. 2006. The search for signs of recovery of the ozone layer. Nature 441: 39–45.

Willig, M.R., D.M. Kaufman, and D.R. Stevens. 2003. Latitudinal gradients of biodiversity: pattern, process, scale, and synthesis. Annual Review of Ecology, Evolution, and Systematics 34: 273–309.

World Meteorological Organization (WMO). 2007. Scientific assessment of ozone depletion: 2006, Global Ozone Res. and Monit. Proj. Rep. 50, Geneva.

Wulff, A., K. Iken, M.L. Quartino, A. Al-Handal, C. Wiencke, and M.N. Clayton. 2009. Biodiversity, biogeography and zonation of marine benthic micro- and macroalgae in the Arctic and Antarctic. Botanica Marina 52: 491–507.

Zacher, K., R. Rautenberger, D. Hanelt, A. Wulff, and C. Wiencke. 2009. The abiotic environment of polar marine benthic algae. Botanica Marina 52: 483–490.

Zhang, Y., J.M. Wallace, and D.S. Battisti. 1997. ENSO-like interdecadal variability: 1900–93. Journal of Climate 10: 1004–1020.
Acknowledgments
This research is a contribution to the LINCGlobal programme (CSIC-PUC) and was partially funded by the Malaspina-2010 project of the CONSOLIDER programme (ref. CSD2008-00077) and the project Stress-X (ref. CTM2012-32603) of the Spanish Ministry of Economy and Competitiveness.
Additional information
Communicated by Wayne S. Gardner
About this article
Cite this article
Agustí, S., Llabrés, M., Carreja, B. et al. Contrasting Sensitivity of Marine Biota to UV-B Radiation Between Southern and Northern Hemispheres. Estuaries and Coasts 38, 1126–1133 (2015). https://doi.org/10.1007/s12237-014-9790-9
Received:

Revised:

Accepted:

Published:

Issue Date:
Keywords
North

South

UV-B

Marine biota

Ozone

Global change