Abstract
West Falmouth Harbor, a shallow lagoon on Cape Cod, has experienced a threefold increase in nitrogen load since the mid- to late 1990s due to input from a groundwater plume contaminated by a municipal wastewater treatment plant. We measured the exchange of nitrogen and phosphorus between the harbor and the coastal waters of Buzzards Bay over several years when the harbor was experiencing this elevated nitrogen load. During summer months, the harbor not only retained the entire watershed nitrogen load but also had a net import of nitrogen from Buzzards Bay. During the spring and fall, the harbor had a net export of nitrogen to Buzzards Bay. We did not measure the export in winter, but assuming the winter net export was less than 112 % of the load, the harbor exported less than half of the watershed nitrogen load on an annual basis. For phosphorus, the harbor had a net import from coastal waters in the spring and summer months and a net export in the fall. Despite the large increase in nitrogen load to the harbor, the summertime import of phosphorus from Buzzards Bay was sufficient to maintain nitrogen limitation of primary productivity during the summer. Our findings illustrate that shallow systems dominated by benthic producers have the potential to retain large terrestrial nitrogen loads when there is sufficient supply of phosphorus from exchange with coastal waters.
Access options
Buy single article
Instant access to the full article PDF.
US$ 39.95
Tax calculation will be finalised during checkout.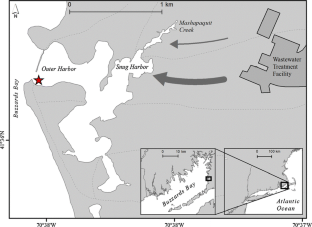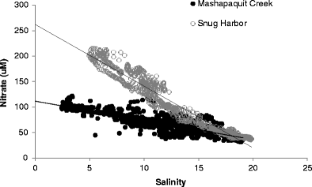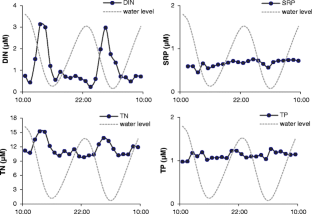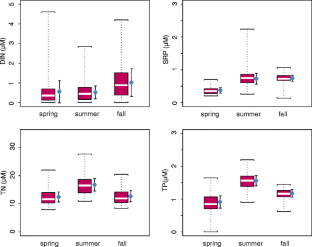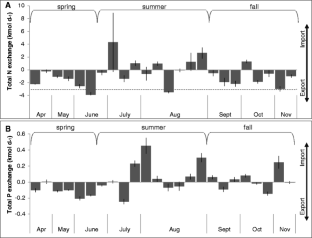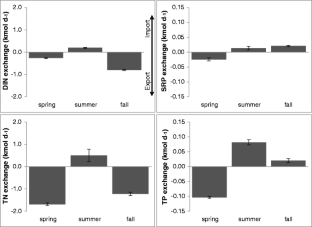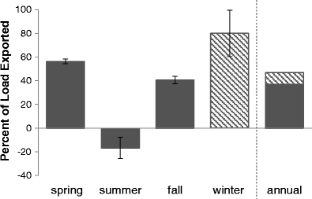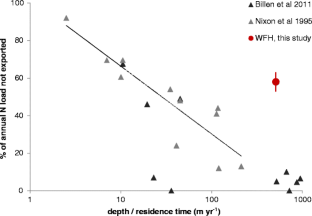 References
Atkinson, M.J., and S.V. Smith. 1983. C:N:P ratios of benthic marine plants. Limnology and Oceanography 28: 568–574.

Billen, G., M. Silvestre, B. Grizzetti, A. Leip, J. Garnier, M. Voss, R. Howarth, F. Bouraoui, H. Behrendt, A. Lepisto, P. Kortelainen, P. Johnes, C. Curtis, C. Humborg, E. Smedberg, O. Kaste, R. Ganeshram, A. Beusen, and C. Lancelot. 2011. Nitrogen flows from European regional watersheds to coastal marine waters. Chapter 13, European Nitrogen Assessment. Cambridge: Cambridge University Press.

Bowen, J.L., and I. Valiela. 2001. Historical changes in atmospheric nitrogen deposition to Cape Cod, Massachusetts, USA. Atmospheric Environment 35: 1039–1051.

Boynton, W.R., J.H. Garber, R. Summers, and W.M. Kemp. 1995. Inputs, transformations and transport of nitrogen and phosphorus in Chesapeake Bay and selected tributaries. Estuaries 18: 285–314.

Bricker, S., B. Longstaff, W. Dennison, A. Jones, K. Boicourt, C. Wicks, and J. Woerner. 2007. Effects of nutrient enrichment in the nation's estuaries: a decade of change. NOAA Coastal Ocean Program Decision Analysis Series No. 26. Silver Spring: National Centers for Coastal Ocean Science.

Conley, D.J., H.W. Paerl, R.W. Howarth, D.F. Boesch, S.P. Seitzinger, K.E. Havens, C. Lancelot, and G.E. Likens. 2009. Controlling eutrophication: Nitrogen and phosphorus. Science 323: 1014–1015.

Duarte, C.M. 1995. Submerged aquatic vegetation in relation to different nutrient regimes. Ophelia 41: 87–112.

Duarte, C.M., and J. Cebrián. 1996. The fate of marine autotrophic production. Limnology and Oceanography 41: 1758–1766.

EPA Science Advisory Board. 2008. Hypoxia in the northern gulf of Mexico: An update by the EPA Science Advisory Board. EPA-SAB-08-003. Washington, D.C: US Environmental Protection Agency, Science Advisory Board.

Ganju, N.K. 2011. A novel approach for direct estimation of fresh groundwater discharge to an estuary. Geophysical Research Letters 38, L11402.

Ganju, N.K., M. Hayn, S. Chen, R.W. Howarth, P.J. Dickhudt, A.L. Aretxabaleta, and R. Marino. 2012. Tidal and groundwater fluxes to a shallow, microtidal estuary: constraining inputs through field observations and hydrodynamic modeling. Estuaries and Coasts 35(5): 1285–1298.

Hayn, M. 2012. Exchange of nitrogen and phosphorus between a shallow estuary and coastal waters. M.S. dissertation. Cornell University.

Howarth, R.W. 2008. Coastal nitrogen pollution: A review of sources and trends globally and regionally. Harmful Algae 8: 14–20.

Howarth, R.W., and R. Marino. 2006. Nitrogen as the limiting nutrient for eutrophication in coastal marine ecosystems: Evolving views over three decades. Limnology and Oceanography 51: 364–376.

Howarth, R.W., F. Chan, D.J. Conley, J. Garnier, S.C. Doney, R. Marino, and G. Billen. 2011. Coupled biogeochemical cycles: Eutrophication and hypoxia in temperate estuaries and coastal marine ecosystems. Frontiers in Ecology and the Environment 9: 18–26.

Howarth, R.W., M. Hayn, R.M. Marino, K. Foreman, P. Berg, A.E. Giblin, K. McGlathery, and D. Walker. 2013. Metabolism of a nitrogen-enriched coastal marine lagoon during the summertime. Biogeochemistry (in press).

Howes, B., S.W. Kelley, J.S. Ramsey, R. Samimy, D. Schlezinger, and E. Eichner. 2006. Linked watershed-embayment model to determine critical nitrogen loading thresholds for West Falmouth Harbor, Falmouth, Massachusetts. Boston: Massachusetts Estuaries Project, Massachusetts Department of Environmental Protection.

Johnson, K.S., and L.J. Coletti. 2002. In situ ultraviolet spectrophotometry for high resolution and long-term monitoring of nitrate, bromide, and bisulfide in the ocean. Deep-Sea Research I 49: 1291–1305.

Koroleff, F. 1983. Simultaneous oxidation of nitrogen and phosphorus compounds by persulfate. In Methods of seawater analysis, 2nd ed, ed. K. Grasshoff, M. Eberhardt, and K. Kremling, 168–169. Weinheimer: Verlag Chemie.

Kroeger, K.D., M.L. Cole, J.K. York, and I. Valiela. 2006. N transport to estuaries in wastewater plumes: Modeling and isotopic approaches. Ground Water 44: 188–200.

Li, X., Z. Yu, X. Song, X. Cao, and Y. Yuan. 2011. Nitrogen and phosphorus budgets of the Changjiang River estuary. Chinese Journal of Oceanology and Limnology 29(4): 762–774.

Marino, R. 2001. An experimental study of the role of phosphorus, molybdenum, and grazing as interacting controls on planktonic nitrogen fixation in estuaries. Ph.D. dissertation. Cornell University.

McGlathery, K.J., K. Sundback, and I.C. Anderson. 2004. The importance of primary producers for benthic N and P cycling. In The influence of primary producers on estuarine nutrient cycling, ed. S.L. Nielsen, G.M. Banta, and M.F. Pedersen. Dordrecht: Kluwer Academic Publishers.

McGlathery, K.J., K. Sundback, and I.C. Anderson. 2007. Eutrophication in shallow coastal bays and lagoons: The role of plants in the coastal filter. Marine Ecological Progress Series 348: 1–18.

Nixon, S.W. 1995. Coastal marine eutrophication: A definition, social causes, and future concerns. Ophelia 41: 199–219.

Nixon, S.W., J.W. Ammerman, L.P. Atkinson, V.M. Berounsky, G. Billen, W.C. Boicourt, W.R. Boynton, T.M. Church, D.M. DiToro, R. Elmgren, J.H. Garber, A.E. Giblin, R.A. Jahnke, N.J.P. Owens, M.E.Q. Pilson, and S.P. Seitzinger. 1996. The fate of nitrogen and phosphorus at the land-sea margin of the North Atlantic Ocean. Biogeochemistry 35: 141–180.

Nixon, S.W., B. Buckley, S. Granger, and J. Bintz. 2001. Responses of very shallow marine ecosystems to nutrient enrichment. Human and Ecological Risk Assessment 7: 1457–1481.

NRC (National Research Council). 1993. Managing wastewater in coastal urban areas. Washington, D.C.: National Academy Press.

NRC (National Research Council). 2000. Clean coastal waters: understanding and reducing the effects of nutrient pollution. Committee on the Causes and Management of Coastal Eutrophication. Washington, D.C.: National Academy Press.

Rabalais, N.N. 2002. Nitrogen in aquatic ecosystems. Ambio 31: 102–112.

Ruhl, C.A., and M.R. Simpson. 2005. Computation of discharge using the index velocity method in tidally affected areas: U.S. Geological Survey Scientific Investigations Report 2005–5004, 31p.

Solorzano, L. 1969. Determination of ammonia in natural waters by the phenol hypochlorite method. Limnology and Oceanography 14: 799–801.

Souchu, P., B. Bec, V.H. Smith, T. Laugier, A. Fiandrino, L. Benau, V. Orsoni, Y. Collos, and A. Vaquer. 2010. Patterns in nutrient limitation and chlorophyll a along an anthropogenic eutrophication gradient in French Mediterranean coastal lagoons. Canadian Journal of Fisheries and Aquatic Science 67: 743–753.

Town of Falmouth. 2011. Wastewater department website: 2. Current wastewater management in Falmouth. http://www.falmouthmass.us/depart.php?depkey=wastewater. Accessed 1 Dec 2011.

Valiela, I., J. McClelland, J. Hauxwell, P.J. Behr, D. Hersh, and K. Foreman. 1997. Macroalgae blooms in shallow estuaries: Controls and ecophysiological and ecosystem consequences. Limnology and Oceanography 42: 1105–1118.

Vitousek, P.M., and R.W. Howarth. 1991. Nitrogen limitation on land and in the sea. How can it occur? Biogeochemistry 13: 87–115.

Weiskel, P.K., and B.L. Howes. 1992. Differential transport of sewage derived nitrogen and phosphorous through a coastal watershed. Environmental Science and Technology 26: 352–360.
Acknowledgments
Primary funding was provided by the Biocomplexity Program of the National Science Foundation. Additional support came from the Woods Hole SeaGrant Program and from an endowment given by David R. Atkinson to Cornell University. We thank Pat Sullivan and Chris Sherwood for helpful discussions and advice. Thanks to Eli Perrone for assistance with bathymetric mapping and CR Environmental, Inc. for their expertise and use of their surveying equipment and software. We appreciate the assistance provided in the lab and field by Jane Tucker, Clara Funk, Laura Keeling, Sam Kelsey, Jeff Walker, Marina Molodovskaya, and Neil Bettez.
Additional information
Communicated by: Wayne S. Gardner
About this article
Cite this article
Hayn, M., Howarth, R., Marino, R. et al. Exchange of Nitrogen and Phosphorus Between a Shallow Lagoon and Coastal Waters. Estuaries and Coasts 37, 63–73 (2014). https://doi.org/10.1007/s12237-013-9699-8
Received:

Revised:

Accepted:

Published:

Issue Date:
Keywords
Nitrogen limitation

Nutrient limitation

Eutrophication

Coastal eutrophication

Nitrogen budget

Phosphorus budget

Nutrient budget