Abstract
Community-level responses of soft sediment macrobenthos to two relatively large-scale disturbance events associated with dredged material (DM) disposal are examined for subtidal (>10 m) lower Chesapeake Bay. Disturbance severity (DM thickness on initial sampling date following disposal) and date of sampling were important factors explaining the patterns and rates of recovery for species richness, abundance, biomass, and community composition, but sediment disposal had minimal effects when DM thickness was ≤15 cm. It took 1.5 years or less following the cessation of disposal activities for richness, abundance, biomass and community composition at high disposal severity (DM > 15 cm) to attain levels measured at reference stations representing the ambient community of the region. Positive correlations of community structure metrics between the disposal area and reference stations provide evidence that non-local processes influenced patterns of recovery in this estuarine setting. Species interactions and food limitation may also have been important at local scales.
Access options
Buy single article
Instant access to the full article PDF.
US$ 39.95
Tax calculation will be finalised during checkout.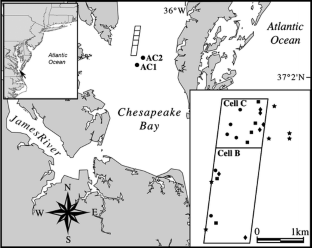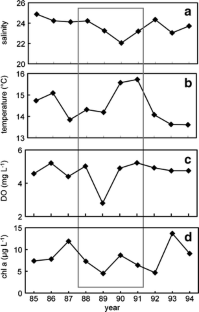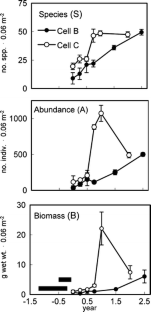 References
Austin, H.M. 2002. Decadal oscillations and regime shifts, a characterization of the Chesapeake Bay marine climate. American Fisheries Society Symposium 32: 155–170.

Boesch, D.F. 1977. A new look at the zonation of benthos along the estuarine gradient. In Ecology of marine benthos, ed. B.C. Coull, 245–266. Columbia: University of South Carolina Press.

Bolam, S.G., and H.L. Rees. 2003. Minimizing impacts of maintenance dredged material disposal in the coastal environment: a habitat approach. Environmental Management 32: 171–188.

Bolam, S.G., H.L. Rees, P. Somerfield, R. Smith, K.R. Clarke, R.M. Warwick, M. Atkins, and E. Garnacho. 2006. Ecological consequences of dredged material disposal in the marine environment: A holistic assessment of activities around the England and Wales coastline. Marine Pollution Bulletin 52: 415–426.

Borja, A., and D.M. Dauer. 2008. Assessing the environmental quality status in estuarine and coastal systems: comparing methodologies and indices. Ecological Indicators 8: 331–337.

Clarke, K.R., and R.N. Gorley. 2006. Primer v6: User Manual/Tutorial. Plymouth: Primer-E, Ltd.

Connell, J.H., and R.O. Slatyer. 1977. Mechanisms of succession in natural communities and their role in community stability and organization. The American Naturalist 111: 1119–1144.

Dauer, D.M., T.L. Stokes Jr., H.R. Barker Jr., R.M. Ewing, and J.W. Sourbeer. 1984. Macrobenthic communities of the lower Chesapeake Bay. IV. Bay-wide transects and the inner continental shelf. International Revue ges. Hydrobiologia 69: 1–22.

Dauer, D.M., M.W. Luckenbach, and A.J. Rodi Jr. 1993. Abundance biomass comparison (ABC method): Effects of an estuarine gradient, anoxic/hypoxic events and contaminated sediments. Marine Biology 116: 507–518.

Dernie, K.M., M.J. Kaiser, E.A. Richardson, and R.M. Warwick. 2003. Recovery of soft sediment communities and habitats following disturbance. Journal of Experimental Marine Biology and Ecology 285–286: 415–434.

Diaz, R.J. 1984. Short term dynamics of the dominant annelids in a polyhaline temperate estuary. Hydrobiologia 115: 153–158.

Elliott, M., D. Burdon, K.L. Hemingway, and S.E. Apitz. 2007. Estuarine, coastal and marine ecosystem restoration: Confusing management and science—A revision of concepts. Estuarine, Coastal and Shelf Science 74: 349–366.

Hall, S.J. 1994. Physical disturbance and marine benthic communities: Life in unconsolidated sediments. Oceanography and Marine Biology. Annual Review 32: 179–239.

Hedges, J.I., and J.H. Stern. 1984. Carbon and nitrogen determination of carbonate-containing solids. Limnology and Oceanography 29: 657–663.

Hinchey, E.K., L.C. Schaffner, L. Batte, C. Hoar, and B. Vogt. 2006. Responses of estuarine benthic invertebrates to sediment burial: the importance of mobility and lifestyle. Hydrobiologia 556: 85–98.

Holland, A.F., A.T. Shaughnessy, and M.H. Hiegel. 1987. Long-term variation in mesohaline Chesapeake Bay macrobenthos: Spatial and temporal patterns. Estuaries 10: 227–245.

Kimmel, D.G. 2006. Regional scale climate forcing of mesozooplankton dynamics in Chesapeake Bay. Estuaries and Coasts 29: 375–387.

Kukert, H., and C.R. Smith. 1992. Disturbance, colonization and succession in a deep-sea sediment community: Artificial-mound experiments. Deep-Sea Research 39: 1349–1371.

Levinton, J., and B. Kelaher. 2004. Opposing organizing forces of deposit-feeding marine communities. Journal of Experimental Marine Biology and Ecology 300: 65–82.

Littell, R.C., R.J. Freund, and P.C. Spector. 1991. SAS system for linear models, 3rd ed. Cary: SAS Institute, Inc.

Marsh, A.G., and K.R. Tenore. 1990. The role of nutrition in regulating the population dynamics of opportunistic, surface deposit feeders in a mesohaline community. Limnology and Oceanography 35: 710–724.

McCall, P.L. 1977. Community patterns and adaptive strategies of the infaunal benthos of Long Island Sound. Journal of Marine Research 35: 221–266.

Newell, R.C., L.J. Siederer, and D.R. Hitchcock. 1998. The impact of dredging works in coastal waters: A review of the sensitivity to disturbance and subsequent recovery of biological resources on the sea bed. Oceanography and Marine Biology. Annual Review 36: 127–178.

Najjar, R.G., C.R. Pyke, M.B. Adams, D. Breitburg, C. Hershner, M. Kemp, R. Howarth, M.R. Mulholland, M. Paolisso, D. Secor, K. Sellner, D. Wardrop, and R. Wood. 2010. Potential climate-change impacts on the Chesapeake Bay. Estuarine, Coastal and Shelf Science 86: 1–20.

Nichols, F.H., and J.K. Thompson. 1985. Persistence of an introduced mudflat community in south San Francisco Bay, California. Marine Ecology Progress Series 24: 83–97.

Palermo, M. R., P. A. Zappi, T. M. Dillon, V. A. McFarland, F. J. Reilly Jr., D. W. Moore and T. E. Myers. 1993. Long-term management strategy for dredged material disposal for Naval Weapons Station, Yorktown, Yorktown, Virginia; Naval Supply Center, Cheatham Annex, Williamsburg, Virginia; and Naval Amphibious Base, Little Creek, Norfolk, Virginia. Miscellaneous Paper EL-93-1. Vicksburg, Mississippi: US Army Engineer Waterways Experiment Station

Quintino, V., M. Elliott, and A.M. Rodrigues. 2006. The derivation, performance and role of univariate and multivariate indicators of benthic change: Case studies at differing spatial scales. Journal of Experimental Marine Biology and Ecology 330: 368–382.

Rakocinski, C.F., S.S. Brown, G.R. Gaston, R.W. Heard, W.W. Walker, and J.K. Summers. 2000. Species-abundance-biomass responses by estuarine macrobenthos to sediment chemical contamination. Journal of Aquatic Ecosystem Stress and Recovery 7: 201–214.

Schaffner, L.C. 1990. Small-scale organism distributions and patterns of species diversity: evidence for positive interactions in an estuarine benthic community. Marine Ecology Progress Series 61: 107–117.

Schaffner, L. C. 1993. Baltimore Harbor and channels aquatic benthos investigations at the Wolf Trap Alternate Disposal Area in lower Chesapeake Bay. Final Report to the US Army Corps of Engineers, Baltimore District by the Virginia Institute of Marine Science

Schaffner, L.C., T.M. Dellapenna, E.K. Hinchey, C.T. Friedrichs, M. Thompson Neubauer, M.E. Smith, and S.A. Kuehl. 2001. Physical energy regimes, seabed dynamics and organism–sediment interactions along an estuarine gradient. In Organism– sediment interactions, ed. J.Y. Aller, S.A. Woodin, and R.C. Aller, 161–182. Columbia: University of South Carolina Press.

Sousa, W.P. 2000. Natural disturbance and the dynamics of marine benthic communities. In Marine community ecology, ed. M.D. Bertness, S.D. Gaines, and M.E. Hay. New York: Sinauer.

Straile, D., and N.C. Stenseth. 2007. The North Atlantic Oscillation and ecology: Links between historical time-series and lessons regarding future climate warming. Climate Research 34: 259–262.

Thompson, M.L., and L.C. Schaffner. 2001. Population biology and secondary production of the suspension feeding polychaete Chaetopterus cf. variopedatus: Implications for benthic-pelagic coupling in lower Chesapeake Bay. Limnology and Oceanography 46: 1899–1907.

USEPA and USACE. 2004. Evaluating Environmental Effects Of Dredged Material Management Alternatives—A Technical Framework. EPA842-B-92-008 Revised.

Ware, S.J., H.L. Rees, S.E. Boyd, and S.N. Birchenhough. 2009. Performance of selected indicators in evaluating the consequences of dredged material relocation and marine aggregate extraction. Ecological Indicators 9: 704–718.

Weisberg, S.B., J.A. Ranasinghe, D.M. Dauer, L.C. Schaffner, R.J. Diaz, and J.B. Frithsen. 1997. An estuarine benthic index of biotic integrity (B-IBI) for Chesapeake Bay. Estuaries 20: 149–158.

Wilbur, D.H., D.G. Clarke, and S.I. Rees. 2007. Responses of benthic macroinvertebrates to thin-layer disposal of dredged material in Mississippi Sound, USA. Marine Pollution Bulletin 54: 42–52.

Wood, R.J., and H.M. Austin. 2009. Synchronous multidecadal fish recruitment patterns in Chesapeake Bay, USA. Canadian Journal of Fisheries and Aquatic Sciences 66: 496–508.

Wright, L.D., D.B. Prior, C.H. Hobbs, R.J. Byrne, J.D. Boon, L.C. Schaffner, and M.O. Green. 1987. Spatial variability of bed roughness in the lower Chesapeake Bay, adjoining estuaries and inner shelf. Estuarine, Coastal and Shelf Science 24: 765–784.

Wright, L.D., L.C. Schaffner, and J.P.-Y. Maa. 1997. Biological mediation of bottom boundary layer processes and sediment suspension in the lower Chesapeake Bay. Marine Geology 141: 27–50.

Zajac, R.N., and R.B. Whitlatch. 1982. Responses of estuarine infauna to disturbance. 1. Spatial and temporal variation of initial recolonization. Marine Ecology Progress Series 10: 1–14.
Sources of unpublished materials
Chesapeake Bay Program Water Quality Database

McKee, Jeffrey, U. S. Army Corps of Engineers, Baltimore District
Acknowledgments
This is contribution number 3094 of the Virginia Institute of Marine Science. Former graduate students and staff of the Virginia Institute of Marine Science (VIMS) contributed to the success of this project. Robert Diaz and Robert Byrne of VIMS, Robert Blama of the Baltimore District of the US Army Corps of Engineers, and John Lunz and Douglas Clarke of the US Army Corps of Engineers, Waterways Experiment Station were involved in the initial stages of planning for the study. Robert Diaz did the initial mapping of the dredged material overburdens for the study area. David Gillett (VIMS) assisted with the SAS statistical analyses and also provided a review of an earlier draft of the manuscript. Alice Brylawski (VIMS) edited an earlier draft. The US Army Corps of Engineers, Baltimore District and the Virginia Institute of Marine Science supported this work.
About this article
Cite this article
Schaffner, L.C. Patterns and Rates of Recovery of Macrobenthic Communities in a Polyhaline Temperate Estuary Following Sediment Disturbance: Effects of Disturbance Severity and Potential Importance of Non-local Processes. Estuaries and Coasts 33, 1300–1313 (2010). https://doi.org/10.1007/s12237-010-9301-6
Received:

Revised:

Accepted:

Published:

Issue Date:
Keywords
Macrobenthos

Chesapeake Bay

Disturbance

Dredged material disposal

Resistance

Resilience