Abstract
This paper examines the effect of drug-related homicide rates on mental well-being among adults in Mexico, amid a conflict known as the "Mexican Drug War," during the period 2006–2012. The empirical strategy consists, on the one hand, of a multilevel analysis for mental well-being outcomes at the individual level and, on the other hand, of a difference-in-difference approach for aggregate mental well-being variables at the municipality level. Results suggest no effect of violence on clinical and non-clinical mental well-being for men and on clinical mental well-being for women. Yet, findings indicate a statistically significant effect between 3.5 and 4.9 percentage points of drug-related violence on non-clinical mental well-being of women in Mexico. These results are robust to a variety of specifications, falsification tests and data sources of drug-related homicide rates.
Access options
Buy single article
Instant access to the full article PDF.
USD 39.95
Price excludes VAT (USA)
Tax calculation will be finalised during checkout.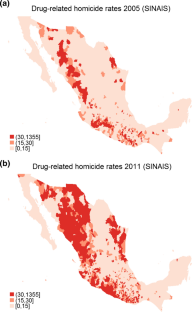 Notes
A working paper by Michaelsen (2012) analyzes the effect of mental health on labor outcomes between 2002 and 2005, using variation in state-level homicide rates as an instrumental variable. Although Michaelsen's approach is novel, the first-stage in her analysis misses the spike in drug-related violence (2007–2012). In this paper, I focus exclusively on the effect of drug-related violence on mental well-being during the Mexican Drug War, while accounting for potential endogeneity between drug-related violence and mental well-being.

In Mexico, the percentage of depressed women without a medical diagnosis is 72.8%, while the proportion of non-diagnosed depressed males amounts to 81.0% (Belló et al. 2005).

Based on a set of questions, CES-D computes a depression score that runs from zero to 21, in which higher values indicate more severe depression.
References
Areceo-Gomez EO (2013) Drug-related violence, forced migration and the changing face of Mexican migrants in the United States. In: Genna G, Mayer D (eds) The North American institutional void: the dilemmas of migration, security, and development. Routledge, Thousand Oaks

Belló M, Puentes-Rosas E, Medina-Mora ME, Lozano R (2005) Prevalencía y diagnóstico de depresión en población adulta en México. Salud Pública De México 47:4–11

Bunker PL, Campbell LJ, Bunker RJ (2010) Torture, beheadings, and narcocultos. Small Wars Insurg 21(1):145–178

Calderón G, Diaz-Ceyros A, Magaloni B, Robles G, Olarte J (2012) "The temporal and spatial dynamics of violence in Mexico," unpublished mimeo. Department of Political Science, Stanford

Carrasco CA, Durán-Bustamante M (2018) War on drugs, violence, and the share of low-income workers in Mexico. Econ Bull 38(2):696–702

Castillo JC, Mejía D, Restrepo P (2014) Scarcity without Leviathan: the violent effects of cocaine supply shortages in the Mexican Drug War. CGD Working Paper, 356. Washington, DC: Center for Global Development

Chicoine L (2011) Exporting the second amendment: U.S. assault weapons and the homicide rate in Mexico. Unpublished mimeo. Notre Dame, Department of Economics

Coupe T, Obrizan M (2016) The impact of war on happiness: the case of Ukraine. J Econ Behav Organ 132:228–242

de Jong JT, Komproe Ivan H, Mark Van Ommeren (2003) Common mental disorders in postconflict settings. Lancet 361(9375):2128–2130

de la Miyar B, Jose R (2016) The economic consequences of the Mexican drug war. Peace Econ Peace Sci Public Policy 22(3):213–246

Dell M (2015) Trafficking networks and the Mexican drug war. Am Econ Rev 105(6):1738–1779

Domingues P, Barre T (2013) The health consequences of the Mozambican civil war: an anthropometric approach. Econ Dev Cult Change 61(4):755–788

Dube A, Dube O, García-Ponce O (2013) Cross-border spillover: U.S. gun laws and violence in Mexico. Am Polit Sci Rev 107(3):397–417

Enamorado T, López-Calva LF, Rodríguez-Castelán C (2014) Crime and growth convergence: evidence from Mexico. Econ Lett 125(1):9–13

Guerrero E (2011) Security, drugs, and violence in Mexico: a survey. 7th North American Forum, Washington D.C

Instituto Nacional de Estadística, Geografía e Informática (2010) Censo de Población y Vivienda. Aguascalientes, México

Instituto Nacional de Salud Pública (2006) Encuesta Nacional de Salud y Nutrición (ENSANUT). Cuernavaca, México

Instituto Nacional de Salud Pública (2012) Encuesta Nacional de Salud y Nutrición (ENSANUT). Cuernavaca, México

Jayasuriya D, Jayasuriya R, Tay AK, Silove D (2016) Associations of mental distress with residency in conflict zones, ethnic minority status, and potentially modifiable social factors following conflict in Sri Lanka: a nationwide cross-sectional study. Lancet Psychiatry 3(2):145–153

Luxton DD, Skopp NA, Maguen S (2010) Gender differences in depression and PTSD symptoms following combat exposure. Depress Anxiety 27(11):1027–1033

Merino J (2011) Los operativos conjuntos y la tasa de homicidios: Una medición. Nexos, June,1

Mexican Intelligence Agencies (2011) Base de Fallecimientos. Distrito Federal, México

Michaelsen MM (2012) Mental health and labour supply: Evidence from Mexico's ongoing violent conflicts. Ruhr Economic Papers, 378

Osorio J (2012) "Democratization and drug violence in Mexico", unpublished mimeo. Department of Polical Science, Notre Dame

Piccinelli M, Wilkinson G (2000) Gender differences in depression: critical review. Br J Psychiatry 177:486–492

Priebe S, Bogic M, Ajdukovic D, Franciskovic T, Galeazzi GM, Kucukalic A, Lecic-Tosevski D et al (2010) Mental disorders following war in the Balkans: a study in 5 countries. Arch Gen Psychiatry 67(5):518–528

Scholte WF, Olff M, Ventevogel P, de Vries GJ, Jansveld E, Cardozo BL, Crawford CA (2004) Mental health symptoms following war and repression in eastern Afghanistan. J Am Med Assoc 292(5):585–593

Secretaría de Salud (2015) Sistema Nacional de Información en Salud (SINAIS). Distrito Federal, México

Shemyakina ON, Plagnol A (2013) Ethnicity, subjective well-being and armed conflict: evidence from Bosnia-Herzegovina. Soc Indic Res 113(3):1129–1152

Skopp NA, Reger MA, Reger GM, Mishkind MC, Raskind M, Gahm GA (2011) The role of intimate relationships, appraisals of military service, and gender on the development of posttraumatic stress symptoms following Iraq deployment. J Trauma Stress 24:277–286

Smith TC, Wingard DL, Ryan MAK, Kritz-Silverstein D, Slymen DJ, Sallis JF (2008) Prior assault and posttraumatic stress disorder after combat deployment. Epidemiology 19(3):505–512

Toro MC (1995) Mexico's" war" on drugs: causes and consequences, vol 3. Lynne Rienner Publishers, Boulder

Van Praag BM, Romanov D, Ferrer-i-Carbonell A (2010) Happiness and financial satisfaction in Israel: effects of religiosity, ethnicity, and war. J Econ Psychol 31(6):1008–1020

Wojcik BE, Akhtar FZ, Harrison Hassell L (2009) Hospital admissions related to mental disorders in US Army soldiers in Iraq and Afghanistan. Mil Med 174(10):1010–1018
Additional information
Publisher's Note
Springer Nature remains neutral with regard to jurisdictional claims in published maps and institutional affiliations.
I wish to thank Sharon Tennyson, Ravi Kanbur, Emily Owens, John Cawley, Tatiana Homonoff, Corbin Miller and the attendees of the Cornell Institute for Health Economics, Health Behaviours and Disparities Seminar for their very helpful comments.
Appendix
Appendix
See Figs. 3 and 4 and Tables 5 and 6.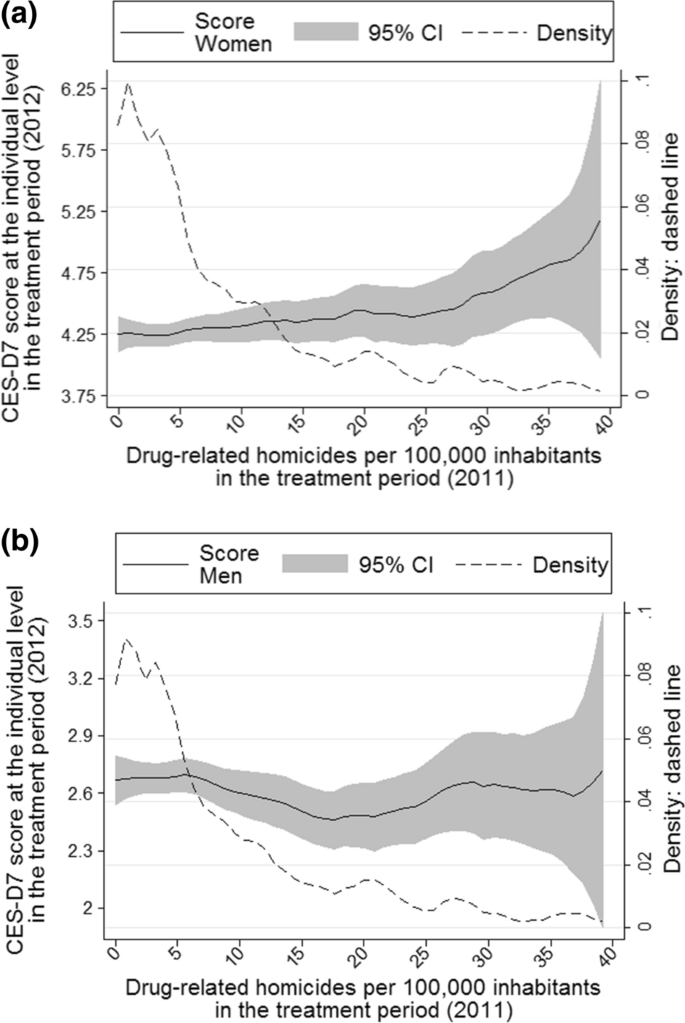 About this article
Cite this article
Balmori de la Miyar, J.R. Breaking sad: drug-related homicides and mental well-being in Mexico. Int Rev Econ 67, 513–531 (2020). https://doi.org/10.1007/s12232-020-00354-w
Received:

Accepted:

Published:

Issue Date:

DOI: https://doi.org/10.1007/s12232-020-00354-w
Keywords
Mexico

Mental health

Depression

Happiness

Organized crime

War
JEL Classification