Abstract
In this article, we explore the much debated nexus between remittances and economic growth in Bangladesh. Drawing on an annual data from 1979 to 2012 and using the augmented Solow framework with the autoregressive distributed lag bounds procedure, we examine the cointegration relationship, the short-run and long-run effects and the causality nexus between remittances per worker, capital per worker and the output per worker. The results show that remittances have a mixed effect in the short-run, however, a momentous positive effect in the long-run (0.11 %), on the output per worker. From the Granger causality assessment, we find inter alia, a bidirectional causality between remittances and output (in per worker terms) and a unidirectional causation from capital to remittances (in per worker terms). Our results therefore support remittance led growth hypothesis in Bangladesh.
Access options
Buy single article
Instant access to the full article PDF.
US$ 39.95
Tax calculation will be finalised during checkout.
Subscribe to journal
Immediate online access to all issues from 2019. Subscription will auto renew annually.
US$ 79
Tax calculation will be finalised during checkout.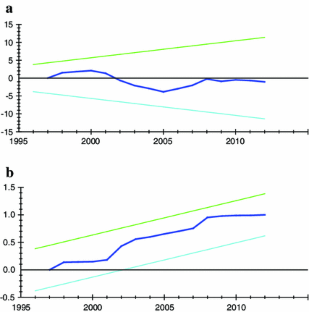 Notes
1.

Note that the World Bank has renamed the Workers' Remittances to Personal Remittances since 2012. We are therefore using the latter definition.

2.

Note that if a Cobb–Douglas function is used, the form of neutrality of technical progress (Harrod`-neutral, Solow-neutral, and Hicks-neutral) does not play a role since the effect remains the same.

3.

Note that the critical bounds are presented for samples of 35 and 30 since the Narayan (2005) bounds are for samples from 30 to 80 with 5-year intervals. The sample size in this study is 34 and the computed F-statistics of Ly as depended variable clearly exceeds both samples of 30 and 35.

4.

Note that the study also considered the role of financial development and information and communications technology (ICT). We find that both have no significant effect on per worker output both in the short-run and long-run, and therefore they are not included in the study.
References
Acosta P (2008) What is the impact of international remittances on poverty and inequality in Latin America? World Dev 36:89–114

Adams RH, Page J (2005) Do international migration and remittances reduce poverty in developing countries? World Dev 33:1645–1669

Ahmed M (2010) Migrant workers remittance and economic growth: evidence from Bangladesh. ASA Univ Rev 4:1–13

Barai MK (2012) Development dynamics of remittances in Bangladesh. Sage Open 2:1–13

Bettin G, Zazzaro A (2012) Remittances and financial development: substitutes or complements in economic growth? Bulletin of Economic Research 64:509–536

Bosworth B, Collins SM (2008) Accounting for growth: comparing China and India. Journal of Economic Perspectives 22:45–66

Buch MC, Kuckulenz A (2010) Worker remittances and capital flows to developing countries. International Migration 48:89–117

Chami R, Fullenkamp C, Jahjah S (2003) Are immigrant remittance flows a source of capital for development? IMF Working Paper 03/189, Washington, DC

Chowdhury R, Hamid F, Chatterjee D (2010) Remittance as a tool of economic development, Bangladesh Perspective. Bangladesh Res Publ J 4:286–296

Coxhead I, Linh VH (2010) The effects of global shocks on poverty in Vietnam institute of social economic research. Osaka University, Japan

Ertur C, Koch W (2007) Growth, technological interdependence and spatial externalities: theory and evidence. J Appl Econom 22:1033–1062

Ghatak S, Siddiki J (2001) The use of ARDL approach in estimating virtual exchange rates in India. J Appl Stat 28:573–583

Giuliano P, Ruiz-Arranz M (2009) Remittances, financial development, and growth. J Dev Econ 90:144–152

Gollin D (2002) Getting income shares right. J Polit Econ 110:458–474

Gupta S, Pattillo CA, Wagh S (2009) Effect of remittances on poverty and financial development in sub-saharan Africa. World Dev 37:104–115

Hasan RA (2006) Harnessing remittances for economic development of Bangladesh. Bangladesh Working Paper 1, INAFI, Philippines. http://www.inafiasia.net/download/new/Microfinance%20&%20Remittance/1.pdf. Accessed 1 Dec 2012

Jayaraman TK, Choong CK, Kumar R (2011a) Financial sector development and remittances in pacific island economies: how do they help the world's two most recipient-dependent countries? Perspect Glob Dev Technol 10:386–405

Jayaraman TK, Choong CK, Kumar R (2011b) Role of remittances in small Pacific Island economies: an empirical study of Fiji. Int J Econ Bus Res 3:526–542

Jayaraman TK, Choong CK, Kumar R (2012) Role of remittances in India's economic growth. Glob Bus Econ Rev 14(3):159–177

Kumar RR (2011a) Nexus between financial and technology inclusion, remittances and trade openness vis-à-vis growth: a study of Nepal. Econ J Nepal 34:13–33

Kumar RR (2011b) Exploring the role of trade, aid, remittances and financial development in Pakistan. J Soc Policy Sci 2:119–158

Kumar RR (2012a) Role of trade openness, remittances, capital inflows, and financial development in Vanuatu. In: Sirkeci I, Cohen JH, Ratha D (eds) Migration and remittances during the global financial crisis and beyond. World Bank, Washington, pp 325–333

Kumar RR (2012b) Exploring the interactive effects of remittances, financial development and ICT in Sub-Saharan Africa: an ARDL bounds approach. Afr J Econ Sustain Dev 1(3):214–242

Kumar RR (2013a) Exploring the nexus between tourism, remittances and growth in Kenya. Qual Quant. doi:10.1007/s11135-013-9853-1

Kumar RR (2013b) Exploring the nexus between capital inflows and growth in Latin America and the Caribbean: a study of clusters led by Brazil and Mexico. Qual Quant. doi:10.1007/s11135-013-9906-5

Kumar RR (2013c) Remittances and economic growth: a study of Guyana. Econ Sys 37:462–472

Kumar RR (2013d) Linking remittances with financial development and ICT: a study of the Philippines. Int J Econ Bus Res 5:379–399

Kumar RR (2013e) Exploring polarization and uniformity in sectoral and capital vis-à-vis growth: a study of Brazil-led and Mexico-led clusters in the region. Manag Decis 51:1579–1595

Kumar RR, Kumar R (2013) Effects of energy consumption on per worker output: a study of Kenya and South Africa. Energy Policy 62:1187–1193

Kumar RR, Naidu V, Kumar R (2011) Exploring the nexus between trade, visitor arrivals, remittances and income in the Pacific: a study of Vanuatu. Economica 7:199–217

Mackinnon JG (1996) Numerical distribution functions for unit root and cointegration tests. J Appl Econom 11:601–618

Mahmud W, Osmani SR (1980) Impact of emigrant workers' remittances on the Bangladesh economy. Bangladesh Dev Stud 8:1–28

Mundaca G (2009) Remittances, financial market development, and economic growth: the case of Latin America and the Caribbean. Rev Dev Econ 13:288–303

Murshid KAS, Iqbal K, Ahmed M (2002) A study on remittance inflows and utilization. IOM, Regional Office for South Asia, Dhaka http://www.un-bd.org/pub/unpubs/IOM-A%20Study%20on%20Remittance%20Inflows%20and%20Utilization.pdf. Accessed 1 Dec 2012

Narayan PK (2005) The saving and investment nexus for China: evidence from cointegration tests. Appl Econ 37:1979–1990

Nyamongo EM, Misati RN, Kipyegon L, Ndirangu L (2012) Remittances, financial development and economic growth in Africa. J Econ Bus 64:240–260

Paul BP, Uddin MGS, Noman AM (2011) Remittances and output in Bangladesh: an ARDL bounds testing approach to cointegration. Int Rev Econ 58:229–242

Perron P (1997) Further evidence on breaking trend functions in macroeconomic variables. J Econom 80:355–385

Pesaran MH, Shin Y, Smith R (2001) Bounds testing approaches to the analysis of level relationships. J Appl Econom 16:289–326

Pradhan G, Upadhyay M, Upadhyaya K (2002) Remittances and economic growth in developing countries. Eur J Dev Res 20:497–506

Rao BB (2007) Estimating short and long-run relationships: a guide for the applied economist. Appl Eco 39(13):1613–1625

Rao BB (2010) Estimates of the steady state growth rates for selected Asian countries with an extended Solow model. Econ Model 27:46–53

Rao BB, Hassan GH (2012) Are the direct and indirect growth effects of remittances significant? World Economy 35:351–372

Rao BB, Takirua T (2010) The effects of exports, aid and remittances on output: the case of Kiribati. Appl Econ 42:1387–1396

Ratha D (2007) Leveraging remittances for development, migration policy institute. World Bank, Washington

Siddique A, Selvanathan EA, Selvanathan S (2012) Remittances and Economic growth: empirical evidence from Bangladesh, India and Sri Lanka. J Dev Stud 48:1045–1062

Siddiqui T, Arbar CR (2003) Migrant worker remittances and micro-finance in Bangladesh. Working Paper No. 38, Social Finance Programme, International Labour Office. http://www.ilo.org/wcmsp5/groups/public/@ed_emp/documents/publication/wcms_117970.pdf. Accessed 1 Dec 2012

Solow RM (1956) A contribution to the theory of economic growth. Quart J Econ 70:65–94

Stahl CW, Habib A (1989) The Impact of workers' remittances on indigenous industries: evidence from Bangladesh. Dev Econ 27:269–285

Toda HY, Yamamoto T (1995) Statistical inferences in vector autoregressions with possibly integrated process. J Econom 66:225–250

World Bank (2013) World development indicators and global development Finance. World Bank
Acknowledgments
The authors thank and appreciate the comments and suggestions from the Editor-in-Chief, Professor Dr. Pierluigi Porta and the anonymous reviewers. Peter J. Stauvermann thanks the financial support from the College of Economics and Business of the Changwon National University, 2013. Finally, the views expressed in the article are those of the authors and does not necessarily reflect the views of their affiliated institutions.
Appendix
Appendix
See Table 8.
About this article
Cite this article
Kumar, R.R., Stauvermann, P.J. Exploring the nexus between remittances and economic growth: a study of Bangladesh. Int Rev Econ 61, 399–415 (2014). https://doi.org/10.1007/s12232-014-0199-3
Received:

Accepted:

Published:

Issue Date:
Keywords
Remittances

ARDL approach

Granger causality

Bangladesh
JEL Classifications