Abstract
In this paper, we have applied a powerful clustering procedure (the two-step cluster analysis or BIRCH algorithm) to a set of non-monetary indicators of well-being and quality of life taken from the first four waves of the European Social Survey. By employing this technique, we have identified nine clusters of people characterized by different forms of well-being and quality of life, while preserving as much as possible the multidimensional information contained in the preselected indicators. We then analyzed the distribution of the clusters among the various European countries, finding significant differences among the groups of Nordic countries, Continental European countries, Mediterranean European countries and Eastern European countries in the chances of belonging to the nine forms of well-being and quality of life previously identified. On average, citizens of the Nordic countries, but also those of Switzerland and Luxembourg, have a higher chance of belonging to cumulative clusters of well-being than countries in Continental Europe and Eastern Europe. In very concise terms, the former appear to be somewhat protected from the risk of incurring the more severe forms of material deprivation, distrust of others and of institutions, poor health and relational isolation. In contrast, Eastern Europeans are characterized by particularly pronounced levels of deprivation across multiple dimensions.
Access options
Buy single article
Instant access to the full article PDF.
USD 39.95
Price excludes VAT (USA)
Tax calculation will be finalised during checkout.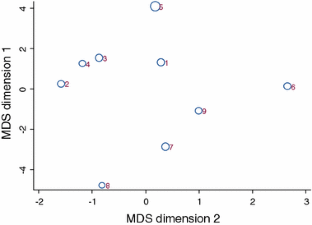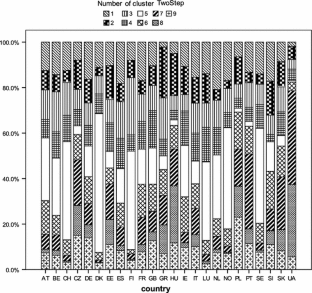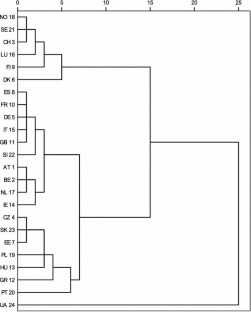 Notes
In the terminology of Sen (1985), functionings are states and activities which have value for the individual.

For further details see the report of the Second European Quality of Life Survey (2009) and Michaelson et al. (2009).

The most often used criteria are the Bayesian Information Criterion (BIC) and the Akaike Information Criterion (AIC).

The initial threshold for changing the distance was set to zero. The maximum ramifications for leaf node have been fixed at 8 value. Finally, the structure has a maximum depth of three levels and the maximum number of possible nodes was set at 585. For the purposes of our analysis we used the Two-Step Clustering procedure implemented in SPSS (Zhang et al. 1996).

The indicators which are presented as scales (health satisfaction, satisfaction with finances and difficulty in making ends meet) have been normalized.
References
Alesina A, Di Tella R, McCulloch R (2002) Inequality and happiness: are Europeans and Americans different?. Mimeo, Harvard

Allardt E (1976) Dimensions of welfare in a comparative Scandinavian study. Acta Sociol 19(3):227–239

Andrews FM, Withey SB (1976) Social indicators of well-being. Americans perceptions of life quality. Plenum Press, New York

Argyle M (1987) The psychology of happiness. Methuen, London

Bartolini S, Bilancini E, Pugno M (2008) Did the decline in social capital depress Americans' happiness?. Quaderni del Dipartimento di Economia Politica, Siena University, Siena, p 540

Berggren N, Jordahl H (2006) Free to trust: economic freedom and social capital. Kyklos 59(2):141–169

Bradburn NM (1969) The structure of psychological well-being. Aldine Publishing, Chicago

Bruni L (2002) Felicità e scienza economica—Storia, problemi aperti e spunti teorici. Working papers 48, Department of Economics, University of Milano-Bicocca

Bruni L (2004) The technology of happiness and the tradition of economic science. J Hist Econ Thought 26(01):19–44

Campbell A, Converse PE, Rodgers WL (1976) The quality of American life. Perceptions, evaluations, and satisfactions. Russell Sage Foundation, New York

Cantril H (1965) The pattern of human concerns. Rutgers University Press, New Brunswick

Diener E, Suh EM (1997) Measuring quality of life: economic, social and subjective indicators. Soc Indic Res 40(1–2):189–216

Diener E, Suh EM, Lucas RE, Smith HE (1999) Subjective well-being: three decades of progress. Psychol Bull 125:276–302

Easterlin RA (1974) Does economic growth improve the human lot? In: Paul AD, Melvin WR (eds) Nations and households in economic growth: essays in honor of Moses Abramovitz. Academic Press Inc, New York

Easterlin RA (2003) Explaining happiness. PNAS 100(19):11176–11183

Ekins P, Max-Neef M (1992) Real life economics. Routledge, London

Ferro-Luzzi G, Flückiger Y, Weber S (2008) A cluster analysis of multidimensional poverty in Switzerland. In: Kakwani N, Silber J (eds) Quantitative approaches to multidimensional poverty measurement. Palgrave MacMillan, London, pp 63–79

Frey B, Stutzer A (2002) Happiness in economics. Princeton University Press, Princeton

Fuentes N, Rojas M (2001) Economic theory and subjective well-being: Mexico. Soc Indic Res 53(3):289–314

Gasper D (2007) What is the capability approach? Its core, rationale, partners and dangers. J Socioecon 36(3):335–359

Haller M, Hadler M (2006) How social relations and structures can produce happiness and unhappiness: an international comparative analysis. Soc Indic Res 75:169–216

Inglehart R, Klingemann HD (2000) Genes, culture, democracy and happiness. In: Diener E, Suh E (eds) Culture and subjective well-being. MIT Press, Cambridge, pp 165–183

Inglehart R, Rabier JR (1986) Aspirations adapt to situations—but why are the Belgians much happier than the French? In: Andrews FM (eds) Research on the quality of life. ISR, Michigan

Kahneman D (2007) Economia della felicità. Il Sole 24 Ore, Milano

Kahneman D, Krueger AB (2006) Developments in the measurement of subjective well-being. J Econ Perspect 20:3–24

Kahneman D, Diener E, Schwarz N (1999) Well-being: the foundations of hedonic psychology. Russell Sage Foundation, New York

Kumlin S, Rothstein B (2005) Making and breaking social capital: the impact of welfare-state institutions. Comp Polit Stud 38:339–365

Lucchini M, Pisati M, Schizzerotto A (2007) Stati di deprivazione e di benessere nell'Italia contemporanea: Un'analisi multidimensionale. In: Brandolini A, Saraceno C (eds) Povertà e benessere: Una geografia delle disuguaglianze in Italia. Il Mulino, Bologna, pp 271–303

Michaelson J, Abdallah S, Steuer N, Thompson S, Marks N (2009) The national accounts of well-being. New Economics Foundation, London

Nisbett RE, Ross L (1980) Human inference: strategies and shortcomings of social judgment. Englewood Cliffs, Pretice-Hall

Nussbaum M (2000) Women and human development: the capabilities approach. Cambridge University Press, Cambridge

Pacek A, Radcliff B (2008) Assessing the welfare state: the politics of happiness. Perspect Polit 6:267–277

Pichler F (2006) Subjective quality of life of young Europeans: feeling happy but who knows why? Soc Indic Res 75(3):419–444

Pisati M, Whelan C, Lucchini M, Maitre B (2010) Mapping patterns of multiple deprivation using self-organising maps: an application to EU-SILC data for Ireland. Soc Sci Res 39:405–418

Scitovsky T (1976) The joyless economy: an inquiry into human satisfaction and consumer dissatisfaction. Oxford University Press, New York

Sen AK (1980) Equality of what? In: Sterling MM (ed) The tanner lectures on human value. University of Utah Press, Salt Lake City, pp 195–220

Sen AK (1985) Commodities and capabilities. North Holland, Amsterdam

Simon HA (1982) Models of bounded rationality, vol 2. MIT Press, Cambridge

Somarriba N, Pena B (2009) Synthetic indicators of quality of life in Europe. Soc Indic Res 96:115–133

Stiglitz JE, Sen A, Fitoussi JP (2009) Report by the commission on the measurement of economic performance and social progress. The commission: Paris http://www.stiglitz-sen-fitoussi.fr/en/index.htm

Torgerson WS (1952) Multidimensional scaling: theory and method. Psychometrika 17:401–419

Uslaner EM (2002) The moral foundations of trust. Cambridge University Press, New York

Veenhoven R (2002) Why social policy needs subjective indicators. Soc Indic Res 58(1–3):33–46

Veenhoven R (2010) Capability and happiness: conceptual difference and reality links. J Socio-Econ 39(3):344–350

Wilkinson R, Pickett K (2009) The spirit level, why equality is better for everyone. Penguin Books, London

Woolcock M, Sweetser AT (2002) Bright ideas: social capital—the bonds that connect. ADB Rev 34(2):1–26

Zhang T, Ramakrishnan R, Livny M (1996) BIRCH: an efficient data clustering method for very large databases. Technical report, Computer Sciences Department, University of Winsconsin-Madison
About this article
Cite this article
Assi, J., Lucchini, M. & Spagnolo, A. Mapping patterns of well-being and quality of life in extended Europe. Int Rev Econ 59, 409–430 (2012). https://doi.org/10.1007/s12232-012-0147-z
Received:

Accepted:

Published:

Issue Date:

DOI: https://doi.org/10.1007/s12232-012-0147-z
Keywords
Well-being

Quality of life

Two-step cluster analysis

European social survey
JEL Classification