Abstract
This study surveys the history, origin, and ethnobotanical evidence of why Myrtus communis L., Ocimum basilicum L., Rosmarinus officinalis L., and Salvia fruticosa Mill. are used as ritual plants in the main monotheistic religions (Judaism, Islam, and Christianity, but also Druze, Mandaeism, and Zoroastrianism). All these aromatic plants are odoriferous, medicinal, and apotropaic. By reviewing about 180 selected references, mainly from the Mediterranean basin, we compiled five tables with 313 citations on these ritual uses in different territories and according to diverse religions. The use of these species in rites of passage is found in all the main monotheistic religions and, in critical stages of the human life cycle, is related to warding off the evil eye/bad spirits/Satan, demons, or witches. These ritual customs have deep roots in ancient pagan cultures. The use of these plants in official religious ceremonies shows that different religious ritual uses of myrtle in Judaism (as a compulsory part of the Sukkoth festival), basil in the Greek Orthodox Church (mainly as a component of the Exaltation of the Cross), and rosemary mainly in the Catholic Church (especially as a decoration in the church). The uses of the three-lobed sage for a ritual by Muslims in the Holy Land are local and are not part of established religious ceremonies. While these plants have many similar ritual aspects in different regions/religions, it seems that they can be used interchangeably, probably as a result of syncretism and cultural migration of customs.
This is a preview of subscription content, log in to check access.
Access options
Buy single article
Instant access to the full article PDF.
US$ 39.95
Tax calculation will be finalised during checkout.
Subscribe to journal
Immediate online access to all issues from 2019. Subscription will auto renew annually.
US$ 99
Tax calculation will be finalised during checkout.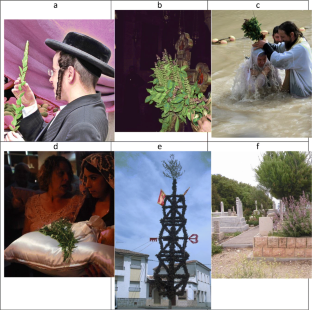 Literature Cited
Addison, C. G. 1838. Damascus and Palmyra: A journey to the East with a sketch of the state and prospects of Syria, under Ibrahim Pasha, Vol. 2. London: R. Bentley.

Adtani, P., N. Malathi, and D. Chamundeeswari. 2014. Pharmacognostic evaluation of leaves of Ocimumbasilicum Linn: The Lamiaceae family. Journal of Chemical and Pharmaceutical Sciences 7:250–253.

Aktseli, A. and E. Manakidou. 1997. Aromatic plants, perfumes and perfume cruets: Their uses in the daily and religious life on the archaic classic times. In: Proceedings of the three–day workshop, Cyprus, Paralimni, March 21–25, 1997, on Medicinal and Aromatic Plants, 83–109. Athens: Cultural Technological Foundation ETBA. (In Greek)

Alcover, A. M. 1975. [Originally published under the pseudonym "Jordi des Recó" in 1897] La Flor Romanial. Rondaies Mallorquines, vol. II. Palma de Mallorca: Editorial Moll. (In Catalan)

Alcover, A. M. and FDB Moll. 1959. Diccionari Català–Valencià–Balear, vol. IX (Q–SOM). Palma de Mallorca: Impr. A.M. Alcover. (In Catalan)

Aldihisi, S. 2008. The story of creation in the Mandaean holy book in the Ginza Rba. Ph.D. thesis, University of London. http://discovery.ucl.ac.uk/1444088/1/U591390.pdf (17 March 2018).

Alexiou, M. 2002. The ritual lament in Greek tradition. Anham, Maryland: Rowman and Littlefield Publishers.

Andrade, J. M., C. Faustino, C. Garcia, D. Ladeiras, C. P. Reis, and P. Rijo. 2018. Rosmarinus officinalis L.: An update review of its phytochemistry and biological activity. Future Science OA, 4(4):FSO283. https://www.future-science.com/doi/pdf/10.4155/fsoa-2017-0124 (17 April 2018).

Aretaeus of Cappadocia. 1898. De curationeacutorummorborum libri duo, AretaiouKappadokou ta sōzomena, The extant works of Aretaeus, the Cappadocian. Translated by Francis Adams 1972. Boston: Milford House.

Argenti, P. P. and H. J. Rose. 1949. The folk–lore of Chios. Cambridge, U.K.: Cambridge University Press.

Astren, F. 2004. Karaite Judaism and historical understanding. Columbia, South Carolina: University of South Carolina Press.

Aubaile, F. 2012. Pathways of diffusion of some plants and animals between Asia and the Mediterranean region. Revue d'ethnoécologie 1:1–32.

Babylonian Talmud. 1860–1880. Vilna: Romm Publishing House. (In Hebrew)

Bahar, Z., B. Ayşe, F. Ersin, A. Kissel, and A. Aydoğdu. 2012. Traditional and religious death practices in western Turkey. Asian Nursing Research 6:107–114.

Baker, M. 2001. Discovering the folklore of plants, Shire Discovering Book #74. London: Shire Publications, an imprint of Bloomsbury.

Barallat, C. 1885. Principios de Botánica Funeraria. Barcelona: Tipo–Litografía de Celestino Verdaguer. (In Spanish)

Bartenura, O. 1991. Mishnayot Shabbat. Bney–Brak: Gershtein J. ed., Feldheim. (In Hebrew)

Batini, G. 2007. Le radicidelle piante. Firenze: Edizioni Polistampa. (In Italian)

Baumann, H. 1993. Greek wild flowers and plant lore in Ancient Greece. London: The Herbert Press.

Beard, M. 2009. The Roman triumph. Cambridge, Massachusetts: Harvard University Press.

Begum, A., S. Sandhya, K. R. Vinod, S. Reddy, and D. Banji. 2013. An in–depth review on the medicinal flora Rosmarinus officinalis (Lamiaceae). Acta Scientiarum Polonorum Technologia Alimentaria 12:61–74.

Ben-Ami, I. 1998. Saint veneration among the Jews in Morocco. Detroit, Michigan: Wayne State University Press.

Benítez, G. 2009. Etnobotánica y etnobiología del poniente granadino. Ph.D. thesis, University of Granada. (In Spanish).

Bilal, A., N. Jahan, A. Ahmed, S. N. Bilal, S. Habib, and S. Hajra. 2012. Phytochemical and pharmacological studies on Ocimumbasilicum Linn—A review. International Journal of Current Research and Review 4:73–83.

Blanco, E. and C. Cuadrado. 2000. Etnobotánica en Extremadura. Estudio de La Calabria y La Siberia extremeñas. Madrid: Emilio Blanco y CEP Alcoba de los Montes. (In Spanish).

Blech, M. 1982. Studienzum Kranz bei den Griechen. Religionsgeschichtliche Versuche und Vorarbeiten 38. Berlin: Walter de Gruyter. (In German)

Blumenthal, M., A. Goldberg, and J. Brinckmann. 2000. Herbal medicine: Expanded commission E monographs. Newton, Massachusetts: Integrative Medicinal Communications 75–77.

Bonet, M. A. 2014. Rosmarinusofficinalis L. In: Inventario español de los conocimientos tradicionales relativos a la biodiversidad, eds., M. Pardo de Santayana, R. Morales, J. Tardío, L. Aceituno-Mata, and L. Molina, 208–216, Madrid: Ministerio de Agricultura y Pesca, Alimentación y Medioambiente. (In Spanish)

Boulos, L. 1983. Medicinal plants of North Africa. Algonac, Michigan: Reference Publications, Inc.

Branca, F. and G. La Malfa. 2008. Traditional vegetables of Sicily. Chronica Horticulturae 48:20–25.

Brand, J. 1842. Observations on popular antiquities, vol. III. London: Charles Knight and Co.

Brandon, G. 1991. The uses of plants in healing in an Afro–Cuban religion, Santeria. Journal of Black Studies 22:55–76.

Bruneton, J. 1995. Pharmacognosy, phytochemistry, medicinal plants. Paris: Lavoisier.

Buckley, J. J. 2002. The Mandaeans: Ancient texts and modern people. Oxford, U.K.: Oxford University Press.

Burder, S. 1822. Oriental customs or an illustration of the sacred scripture, vol. 2. London: Longman.

Burr-Thompson, D. and R. E. Griswold. 1963. Garden lore of ancient Athens. Excavations of the Athenian agora. Athens: American School of Classical Studies at Athens.

Butură, V. 1979. Enciclopedie de etnobotanică Românească. Bucureşti: Editura Ştiinţificăşi Enciclopedică. (In Romanian).

Carrera, M. 2009. L'alfàbrega i les festespopulars. Caramella 20: 86–89. (In Catalan)

Carrió, E. 2013. Contribució al coneixementetnobotànic de Mallorca. La biodiversitat vegetal i la sevagestió en una illa mediterrània. Tesis doctoral, Facultat de Farmàcia, Universitat de Barcelona. (In Catalan)

Cassar-Pullicino, J. 1951. Maltese customs and beliefs in 1575. Folklore 62:398–404.

Caton, S. C. 1993. Icons of the person: Lacan's "Imago" in the Yemeni male's tribal wedding. Asian Folklore Studies 1:359–381.

Cattabiani, A. 1996. Florario: miti, leggende e simboli di fiori e piante. Milano: A. Mondadori. (In Italian)

Chaudhuri, R. H. N. and D. C. Pal. 1997. Plants in folk religion and mythology. In: Contribution to Indian ethnobotany, 3rd edition, ed., S. K. Jain, 17–24. Jodhpur: Scientific Publishers.

Classen, C., D. Howes, and A. Synnott. 2002. Aroma: The cultural history of smell. London: Routledge.

Cobo, M. P. and R. E. Tijera. 2011. Etnobotánica de Doñana. Sevilla, Spain: Mancomunidad de Desarrollo y Fomento del Aljarafe. (In Spanish)

Conca, A. and J. E. Oltra. 2005. Plantes medicinales y comestibles. Valencia, Spain: Caja de Ahorrros y Monte de Piedad de Onteniente. (In Spanish)

Connors, C. 1997. Scents and sensibility in Plautus' Casina. The Classical Quarterly (New Series) 47:305–309.

Conrad, J. L. 1990. Slovene oral incantations: Topics, texts and rituals. Slovene Studies Journal 12:55–66.

Consuegra, V. 2009. La cultura de las plantas en La Mancha. Flora en el entorno de las Tablas de Daimiel. Ciudad Real, Spain: Diputación de Ciudad Real. (In Spanish)

Cornara, L., A. La Rocca, S. Marsili, and M. G. Mariotti. 2009. Traditional uses of plants in the Eastern Riviera (Liguria, Italy). Journal of Ethnopharmacology 125:16–30.

Cressy, D. 1997. Birth, marriage, and death: Ritual, religion, and the life cycle in Tudor and Stuart England. Oxford, U.K.: Oxford University Press.

Criado, J., M. J. Fernández, G. Leocadio, R. M. Núñez, and E. Blanco. 2008. Uso tradicional de las plantas en Toledo. Toledo, Spain: Diputación de Toledo. (In Spanish)

Crump, W. D. 2013. The Christmas Encyclopedia, 3rd edition. Jefferson, N.C.: McFarland & Company.

D'Andrea, M. 1982. Le piante officinali del Parco Nazionale d'Abruzzo e gli usi popolari nell'Alta valle del Sangro. Rivista Abruzzese 35:155–176. (In Italian)

———. 2011. On the present–day veneration of sacred trees in the Holy Land. Folklore–Electronic Journal of Folklore 48:7–30. https://www.folklore.ee/folklore/vol48/dafni.pdf (3 October 2018).

———. 2016. Myrtle (Myrtus communis) as a ritual plant in the Holy Land—A comparative study in relation to ancient traditions. Economic Botany 70:222–234.

Dafni, A. and S. A. Khatib. 2017. Plants, demons and wonders: Plants folklore of the Holy Land. Tel Aviv: Olam Chadash (In Hebrew).

Dafni, A., E. Lev, S. Beckmann, and Ch. Eichberger. 2006. Ritual plants of Muslim graveyards in northern Israel. Journal of Ethnobiology and Ethnomedicine 2:38. https://ethnobiomed.biomedcentral.com/articles/10.1186/1746-4269-2-38 (15 April 2018).

Danforth, L. M. 1982. The death rituals of rural Greece. Princeton, New Jersey: Princeton University Press.

Darrah, H. H. 1972. The basils in folklore and biological science. The Herbarist 38:3–10.

De Cleene, M. and M. C. Lejeune. 2003. Compendium of symbolic and ritual plants in Europe, vols. I and II. Ghent, Belgium: Man and Culture Publishers.

Dioscorides, P. 2003. Peri ilisiatrikis (De Materia Medica). Athens: Georgiadis. (In Greek)

Do Amaral, J. and M. K. da Rocha. 1972. Rosmarinus L. In: Flora Europaea, vol. 3., eds., T. G. Tutin, V. H. Heywood, N. A Burges, D. M Moore, D. H Valentine, S. M Walters, and D. A. Webb, 187. Cambridge, U.K.: Cambridge University Press.

Donaldson, B. A. 2002. The evil eye in Iran. In: The evil eye: A casebook, ed., A. Dundes, 66–77. Madison, Wisconsin: University of Wisconsin Press.

Drake, N. 1843. Shakespeare and his times: Including the biography of the poet. Paris: Baudry's European Library.

Drower, E. S. 1936. The Mandaean new year festival. Man 36:185–188.

———. 1937. The Mandaeans of Iraq and Iran: Their cults, customs, magic and legends. Leiden, Netherlands: Brill Archive.

———. 1956. Water into wine: A study of ritual idiom in the Middle East. London: John Murray.

Drucker, A. 1914. The book of Esther. The Open Court 5:232–243. https://opensiuc.lib.siu.edu/cgi/viewcontent.cgi?referer=https://scholar.google.co.il/&httpsredir=1&article=2840&context=ocj (17 April 2018).

Drury, S. 1994. Funeral plants and flowers in England: Some examples. Folklore 105:101–103.

Eichberger, C., M. Sigl, and H. Rühfel. 2007. Trees and shrubs on classical Greek vases. Bocconea 21: 117–130.

Eitrem, S. 1923. Venus Calva and Venus Cloacina. The Classical Review 37: 14–16.

Elgood, C. 1962. Tibb–ul–Nabbi or medicine of the prophet. Osiris 14:33–192.

EMA (European Medicines Agency). 2010. Assessment report on Rosmarinus officinalis L., aetheroleum and Rosmarinus officinalis L., folium. Committee on Herbal Medicinal Products (HMPC). https://www.ema.europa.eu/en/documents/herbal-report/assessment-report-rosmarinus-officinalis-l-aetheroleum-rosmarinus-officinalis-l-folium_en.pdf (3 October 2018).

Fajardo, J., A. Verde, D. Rivera, and C. Obón. 2007. Etnobotánica en La Serranía de Cuenca. Las plantas y el hombre. Cuenca, Ecuador: Diputación de Cuenca. (In Spanish)

Farooqi, M. I. H., 1992. Plants of the Quran. Lucknow, India: Sidrah Publishers.

Ferber, M. 1999. A dictionary of literary symbols. Cambridge, U.K.: Cambridge University Press.

Flueckiger, J. B. 2015. Everyday Hinduism. Chichester, U.K.: John Wiley & Sons.

Fogg, W. 1941. The wares of a Moroccan folk–doctor. Folklore 52:273–303.

Folkard, R. 1884. Plant–lore, legends and lyrics. London: Sampson Low, Marston, Searle, and Rivington.

Forster, E. 1952. Trees and plants in the Greek tragic writers. Greece and Rome 21: 57–63.

Frank, T. 1920. Vergil's apprenticeship, I. Classical Philology 15: 23–38.

Galán, R. 1993. Patrimonio etnobotánico de la provincia de Córdoba: Pedroches, Sierra Norte y Vega del Guadalquivir. Tesis doctoral, E.T.S.I. Agrónomos y Montes. Córdoba, Spain: Universidad de Córdoba. (In Spanish)

Garland, R. 2001. The Greek way of death. Ithaca, New York: Cornell University Press.

George, A., translator. 1999. The epic of Gilgamesh. New York: Penguin Books.

Germer, R. 1985. Flora des pharaonischen Ägypten. Mainz am Rhein: von Zabern. (In German)

Gerola, M. F., G. Nicolini, F. Trezzi, E. Baldacci, A. Formigoni Frangipane, and M. Ghiglieri. 1962–1963. Nel Mondo della Natura – Botanica. Milano: Federico Motta Editore. (In Italian)

Ghandi, M. and O. Husain. 1994. Complete book of Muslim and Parsi names. New Delhi: South Asia Books.

González, J. A., M. García-Barriuso, and F. Amich. 2011. Evil eye and magic plants in the Arribes del Duero (Salamanca–Zamora, Spain): A review of the literature. Revista de dialectología y tradiciones populares 66:375–386.

González, J. A., M. García-Barriuso, M. Pardo de Santayana, and F. Amich. 2012. Plant remedies against witches and the evil eye in a Spanish "witches' village." Economic Botany 66(1):35–45.

González, J. A., A. J. A. Mena, and F. Amich. 2014. Plant–based rituals for the prevention and cure of the evil eye in a rural community of western Spain. In: Practices ethnic and cultural aspects and role of in emotional healing, ed., A. Parish, 59–113. New York: Nova Publishers.

Goodwin, G. 1988. Gardens of the dead in Ottoman times. Muqarnas 5:61–69.

Granqvist, H. N. 1965. Muslim death and burial: Arab customs and traditions studies in a village in Jordan. Helsinki: Societas Scientiarum Fennica.

Graves, R. 1955. The Greek myths, 2 vols. London: Penguin Books.

Grieve, M. 1931. A modern herbal. New York: Hafner.

Grimal, P. 1984. Les jardins romains, 3rd ed. Paris: Fayard. (In French)

Grimes, R. L. 2000. Deeply into the bone: Re–inventing rites of passage, vol. 1. Oakland: University of California Press.

Guarrera, P. M. 2006. Usi e tradizioni della flora italiana. Roma: Aracne. (In Italian)

Gupta, S. M. 1971. Plant myths and traditions in India. Leiden, Netherlands: Brill Publishers.

Guzmán, M. A. 1997. Aproximación a la etnobotánica de la provincia de Jaén. Tesis Doctoral, University of Granada. (In Spanish)

Haddad, H. S. G. 1969. Cults and saints of the Levant. Numen 16: 21–39.

Hadjikyriakou, G. N. 2007. Aromatic and spicy plants in Cyprus: From antiquity to the present day. Bank of Cyprus Cultural Foundation. Nicosia, Cyprus: Foresters' Association Graduates of the Cyprus Forestry College.

Hale, N. 1833. A history of modern Greece. Boston: Published by the author.

Hamdy, R. 2007. Plant remains from the intact garlands present at the Egyptian museum in Cairo. In: Fields of change: Progress in African archaeobotany, ed., R. Cappers, 115–126. Groningen, Netherlands: Groningen Institute of Archaeology.

Hamilton, W. 1814. Outlines from the figures and compositions upon the Greek, Roman, and Etruscan vases of the late Sir William Hamilton: With engraved borders. London: T. McLean.

Hamish Spoer, H. and A. Goodrich-Freer.1910. Notes on the marriage customs of the Bedu and Fellahin. Folklore 21:270–295.

Harris, J. 2001. The epic of Gilgamesh. Lincoln, Nebraska: Writers Club Press.

Harrison, R. K. 1961. Healing herbs of the Bible. Leiden, Netherlands: Brill Publishers.

Haug, M., E. W. West, and E. P. Evans.1884. Essays on the sacred language, writings and religion of the Parsis, vol. 1. Ludgate Hill, London: Trübner.

Hedge, I. C. 1972. Salvia L. In: Flora Europaea, vol. 3, eds., T. G. Tutin, V. H. Heywood, N. A. Burges, D. M. Moore, D. H. Valentine, S. M. Walters, and D. A. Webb, 188–192. Cambridge, U.K.: Cambridge University Press.

Herodotus. 1922. The Persian wars, vol. III: Books 5–7, translated by A. D. Godley. Cambridge, Massachusetts: Harvard University Press Loeb Classical Library.

Hippocrates. 1993. Apanta (Collected works), vols. 4, 5, 6, 7, 8, 9, 10, 15, 16. Athens: Cactus Editions.

Hornell, J. 1925. Horns in Madeiran superstition. The Journal of the Royal Anthropological Institute of Great Britain and Ireland 55:303–310.

Houghton, L. B. T. 2007. Tibullus' elegiac underworld. The Classical Quarterly (New Series) 57:153–165.

Huxley, A. and W. Taylor. 1984. Flowers of Greece and the Aegean. London: Chatto and Windus.

James, E. O. 1952. Marriage and society. London and New York: Hutchinson's University Library.

Janick, J. 2002. Ancient Egyptian agriculture and the origins of horticulture. In: International symposium on Mediterranean horticulture, issues and prospects eds., S. Sansavini and J. Janick. Acta Horticulturae 582: 23–39.

Kain, H. L. 1992. Time, religion and social experience in rural Crete. London: Rowan and Littlefield.

Kazasova, R. 2017. Bulgarian folklore spell beliefs and rites. Gabrovo, Bulgaria: Niton. (In Bulgarian)

Kearns, E. 2009. Ancient Greek religion: A source book. Oxford, U.K.: Wiley–Blackwell.

Kennedy, H. E. and Z. Uminska.1925. Polish peasant courtship and wedding customs and folk–song. Folklore 36:48–68.

Kirilova, L. 2010. Rastenijata v pogrebalnitepraktikiirituali. Specifiki v IztochniteRodopi. In: Naukaiobshtestvo. SBU – KardzhaliNauchniTrudove 4:258–270. (In Bulgarian)

Kohut, A. 1898. The Talmudic records of Persian and Babylonian festivals critically illustrated. The American Journal of Semitic Languages and Literatures 14:183–194.

Kołodziejska-Degórska, I. 2012. Mental herbals—A context–sensitive way of looking at local ethnobotanical knowledge: Examples from Bukovina (Romania). Trames 16:287–301.

Kurtz, F. D. C. 1975. Athenian white lekythoi—Patterns and painters. Oxford, U.K.: Clarendon Press.

Lanciani, R. 1892. Pagan and Christian Rome. Boston and New York: Houghton, Mifflin and Co.

Lane, E. W. 1836. An account of the manners and customs of the modern Egyptians written in Egypt during the years 1833–34, vol. 1. London: Charles Knight and Co.

Lapucci, C. and A. M. Antoni. 2016. La simbologiadelle piante. Firenze: Polistampa. (In Italian)

Larson, J. L. 2007. Ancient Greek cults: A guide. New York: Routledge.

Lasker, D. J. 2004. The theory of compensation ('Iwad) in Rabbanite and Karaite thought: Animal sacrifices, ritual slaughter and circumcision. Jewish Studies Quarterly 11(1/2):59–72.

Latorre, J. A. 2008. Estudio etnobotánico de la provincia de La Coruña. Tesis doctoral, Facultad de Farmacia, Universidad de Valencia. (In Spanish)

Lauterbach, J. Z. 1940. The origin and development of two Sabbath ceremonies. Hebrew Union College Annual 15:367–424.

Lawson, J. C. 2012. Modern Greek folklore and ancient Greek religion: A study in survivals. Cambridge, U.K.: Cambridge University Press.

Leclerc, L. 1877–1883. Traité des simples par Ibn Beithar. Notices et extraits des Manuscrits de la Bibliothèque nationale. Paris, Imprimerie nationale, 3 tomes. Reprint Institut du Monde Arabe. s.d. (1987).

Legey, F. 1935. The folklore of Morocco. London: G. Allen and Unwin.

Lembke, J. and K. J. Reckford, translators. 1994. Euripides: Electra, Greek Tragedies in New Translations Series. New York and Oxford: Oxford University Press.

Lemnius, L. 1658. The secret miracles of nature. London: Jo Streater.

Leontis, A. 2009. Culture and customs of Greece. Santa Barbara, California: ABC–CLIO/Greenwood.

Lev, E. and Z. Amar. 2008. Practical materia medica of the medieval Eastern Mediterranean according to the Cairo geniza. Leiden, Netherlands: Brill Publishers.

Littell, E. and T. Holden. 1838. The museum of foreign literature, science and art. (Catalog). Philadelphia: Littell and Co.

Litten, J. 1991. The English way of death. London: Robert Hale.

Lodge, O. 1935. Džamutra, or the Bridegroom; Some marriage customs in the villages around Tetovo in Serbian Macedonia or Southern Serbia. (Part Two). Folklore 46:306–330.

Loeb, L. D. D. 2012. Jewish life in southern Iran. London: Routledge.

Lohman, H. 1979. Grabmäler auf unteritalischenVasen. Archäologische Forschung 7:1–336. (In German)

Louw, M. E. 2007. Everyday Islam in post–Soviet central Asia. London: Routledge.

Łuczaj, Ł. 2011. Herbal bouquets blessed on Assumption Day in south–eastern Poland: Free listing versus photographic inventory. Ethnobotany Research and Applications 9:1–25.

Lupton, D., M. M. Khan, R. A. Al-Yahyai, and M. A. Hanif. 2016. Basil. In: Leafy medicinal herbs: Botany, chemistry, postharvest technology and uses, eds., D. C. P. Ambrose, A. Manickavasagan, and R. Naik, 27–41. London: CABI.

Machin, B. 1983. St. George and the Virgin: Cultural codes, religion and attitudes to the body in a Cretan mountain village. Social Analysis: The International Journal of Social and Cultural Practice 14:107–126.

Macioti, M. I. 1990. Miti e magiedelleerbe. Rome: Newton Compton. (In Italian)

Manniche, L. 1989. An ancient Egyptian herbal. Austin, Texas: University of Texas Press.

Marcovic, M. 1981. The wedding hymn of Acta Thomae. Illinois Classical Studies 6:367–385.

Markantonis, E., A. Georgopoulos, and I. Zambelis. 2006. Ta fytastilatreiatisekklisias. (Plants of worship in church). Athens: Office–Youth Foundation of Archbishopric of Athens. (In Greek)

Marwat, S. K., M. A. Khan Fazal-ur-Rehman, A. H. Shoaiband, and M. A. Shah. 2011. Interpretation and medicinal potential of Ar–Rehan (Ocimumbasilicum L.): A review. American–Eurasian Journal of Agricultural and Environmental Science 10:478–484.

Mason, J. 1873. The folklore of British plants (III). The Dublin University Magazine 82:554– 570.

Mason, C. 2006. The nuptial ceremony of ancient Greece and the articulation of male control through ritual. Macalester College, DigitalCommons@Macalester College, Honors Projects Classics Department. http://digitalcommons.macalester.edu/cgi/viewcontent.cgi?article=1005&context=classics_honors (3 October 2018).

Matin, P. 2013. Mardomgiah (Mandragora): Ritual plants in Iranian culture and folklore. Mardom Giyah: Giyahan–e Ayineedar Farhang o Folklor–e. Tehran: Farhameh. (In Farsi)

Maxwell-Stuart, P. G. 1972. Myrtle and the Eleusinian Mysteries. Wiener Studien 6:145–161.

Megas, G. A. 1956. Ellinikaieortai kai ethima tis laikislatreias (Greek feasts and customs of folk reverence), 1st edition. Athens: Bookshop of Estia. (In Greek)

Menevisoglou, P. 1972. To Agion Myron entiOrthodoxoAnatolikiEkklisia (The Holy Oil in the Orthodox Eastern Church). Thessaloniki: Patriarchal Foundation of Patristic Studies. (In Greek)

Merali, Z., C. Cayer, P. Kent, R. Liu, V. Cal, C. S. Harris, and J. T. Arnason. 2018. Sacred Maya incense, copal (Protium copal–Burseraceae), has antianxiety effects in animal models. Journal of Ethnopharmacology 216:63–70.

Mishev, G. 2010. Kulturnapamet v rajonana Trakiiskija cultov center Starosel. Izvestiyana natsionalniyaistoricheskimuzey 22:1–18. (In Bulgarian)

———. 2016. Antichnisledi v magicheskiteobrediotbulgarskitezemi. Sofia, Bulgaria: Shambala.

Moghrani, H. and R. Maachi. 2008. Valorization of Myrtuscommunis essential oil obtained by steam driving distillation. Asian Journal of Scientific Research 1:518–524.

Moldenke, H. N. and A. L. Moldenke. 1952. Plants of the Bible. New York: Ronald Press.

Monger, G. 2013. Marriage customs of the world: An encyclopedia of dating customs and wedding traditions, Expanded 2nd Edition. Santa Barbara, California: ABC–CLIO/Greenwood.

Mulas, M. 2006. Traditional uses of Labiatae in the Mediterranean area. In: International Symposium on the Labiatae: Advances in production, biotechnology and utilization. Acta Horticulturae 723:25–32.

Mulet, L. 1991. Estudio etnobotánico de la provincia de Castellón. Castellón: Diputación de Castellón. (In Spanish)

Muntané, J. 1994. Herbes, remeis I creences de Cerdanya. Puigcerdà: Institut d'Estudis Ceretans. (In Catalan)

Murgoci, A., 1923. The evil eye in Roumania, and its antidotes. Folklore 34:357–362.

Musselman, L. J. 2007. Figs, dates, laurel, and myrrh: Plants of the Bible and the Quran. Portland, Oregon: Timber Press Inc.

Myrvold, K. 2004. Wedding ceremonies in Punjab. Journal of Punjab Studies 11:155–170.

Needel, Y. M. 2008. Rethinking "Sephardic": Rosh Hashanah and Yom Kippur observances among the Jews of Bombay. Shofar: An Interdisciplinary Journal of Jewish Studies 26:59–80.

Nelson, E. C. 2009. Victorian royal wedding flowers: Orange, myrtle, and the apotheosis of white heather. Garden History 37(2):231–236.

Northcote, R. 1903. The Book of Herbs, vol. 12. London: J. Lane.

Obladen, M. 2017. Social birth: Rites of passage for the newborn. Neonatology 112(4):317–323.

Ochs, D. J. 1993. Consolatory rhetoric: Grief, symbol and ritual in the Greco–Roman era. Los Angeles: University of Southern California Press.

Ohtoshi, T. 1993. The manners, customs, and mentality of pilgrims to the Egyptian City of the Dead: 1100–1500 AD. Orient 29:19–44.

Onofrei, V., G. C. Teliban, R. A. Clinciu-Radu, I. V. Teliban, and T. Robu. 2015. Ocimumbasilicum L.: Presence, influence and evolution in human concerns ever. Agronomy Series of Scientific Research/LucrariStiintificeSeriaAgronomie 58:161–166.

Özkan, A. M. and Ç. Gűray. 2009. A Mediterranean: Myrtuscommunis L. (Myrtle). In: Plants and culture: Seeds of the cultural heritage of Europe, 159–168. Bari, Italy: Edipuglia.

Parada, M. 2008. Estudietnobotànic de L'AltEmpordà. Tesis doctoral, Facultatde Farmàcia, Universitat de Barcelona. (In Catalan)

Paradellis, T. 2008. Erotic and fertility magic in the folk culture of modern Greece. In: Greek magic: Ancient, Medieval and modern, ed., J. Petropolous, 125–136. London: Routledge.

Parker, B. 2011. Orissa in the crossfire—Kandhamal Burning. https://www.scribd.com/doc/34732553/ORISSA-in-the-CROSSFIRE-Kandhamal-Burning (3 October 2018).

Parkinson, J. 1629. Paradisi in sole paradisusterrestris. London: Lownes and Young. (In Latin)

Paton, A. J., D. Springate, S. Suddee, D. Otieno, R. J. Grayer, M. M. Harley, F. Willis, M. S. Simmonds, M. P. Powell, and V. Savolainen. 2004. Phylogeny and evolution of basils and allies (Ocimeae, Labiatae) based on three plastid DNA regions. Molecular Phylogenetics and Evolution 31:277–299.

Pausanias. 1898. Description of Greece: Attica and Corinth, vol. 5. Translated by J. G. Frazer. Cambridge, U.K.: Cambridge University Press.

Pellicer, J. 2000–2004. Costumari botànic. Recerques etnobotàniques a les comarques centrals valencianes, 3 volúmenes. Valencia, Spain: Edicions del Bullent. Picanya. (In Catalan)

Peters, E. L. 1990. The Bedouin of Cyrenaica: Studies in personal and corporate power. Cambridge, U.K.: Cambridge University Press.

Philpot, J. H. 1897. The sacred tree. London: Macmillan & Co.

Pieroni, A., C. L. Quave, M. E. Giusti, and N. Papp. 2012. "We are Italians!": The hybrid ethnobotany of a Venetian diaspora in Eastern Romania. Human Ecology 40:435–451.

Plinius. 1938. Natural History, Books 1–19 & 33–35. Translated by W. H. S. Jones. Harvard: The Loeb Classical Library–Cambridge: Harvard University Press. Cambridge. Available online at: https://www.loebclassics.com/view/pliny_elder-natural_history/1938/pb_LCL353.291.xml. https://doi.org/10.4159/DLCL.pliny_elder-natural_history.

Pratt, A. 1840. Flowers and their associations. London: Charles Night and Co.

Puckle, B. S. 1926. Funeral customs, their origin and development. London: Werner Laurie.

Quave, C. L. and A. Pieroni. 2005. Ritual healing in Arbëreshë Albanian and Italian communities of Lucania, southern Italy. Journal of Folklore Research 42:57–97.

Rai, Y. 1992. Holy Basil: Tulsi (an herb): A unique medicinal plant, translated by K. K. Sata. Ahmedabad and Bombay, India: Gala Publishers.

Ramazankhane, S. 2009. Culture of Yazd Zoroastrian. Tehran: SobhaneNoo.

Ramsay, A. M. 1730. The travels of Cyrus, vol. 1. London: James Bellenham.

Rätsch, C. and C. Müller-Ebeling. 2006. Pagan Christmas: The plants, spirits, and rituals at the origins of Yuletide. New York: Simon and Schuster.

Ray, J. F. W. and L. Rauwolff. 1738. Travels through the Low–Countries, Germany, Italy and France, with curious observations, natural, topographical, moral, physiological, also a catalogue of plants, found spontaneously growing in those parts, and their virtues, vol. 2. London: Murray.

Rich, V. A. 1998. Cursing the Basil: And other folklore of the garden. Surrey, British Columbia: TouchWood Editions.

Riggs, C. 2000. Roman period mummy masks from Deir Ei–Bahri. The Journal of Egyptian Archaeology 86:121–144.

Rivera, D., C. Obon, and F. Cano. 1994. The botany, history and traditional uses of three–lobed sage (Salvia fruticosa Miller) (Labiatae). Economic Botany 48:190–195.

Rogić, D., J. A. Grašar, and E. Nikolić. 2012. Wreath—Its use and meaning in ancient visual culture. Religion and Tolerance 18:341–358.

Rohde, E. S. 1922. The old English herbals. London: Longmans Green.

Roman, L., H. Roman, A. Hosu, C. Vasiliu, G. Mihâescu, and I. Czobor. 2015. Rosmarinusofficinalis L. (Rosemary), a legendary herb with many beneficial effects on human body. Oltenia, Studii şi comunicări. Ştiinţele Naturii 31:60–68.

Roxburgh, W. 1874. Flora Indica; or descriptions of Indian plants reprinted literatim from Carey's edition of 1832. Calcutta: Thacker, Spink and Co.

San Miguel, E. 2004. Etnobotánica de Piloña (Asturias). Cultura y saber popular sobre las plantas en un concejo del centro–oriente asturiano. Tesis doctoral, Universidad Autónoma de Madrid. (In Spanish)

Sassoon, D. S. 1949. A history of the Jews in Baghdad. Letchworth, U.K.: Solomon D. Sassoon.

Schaffer, A. 1982. The agricultural and ecological symbolism of the four species of Sukkot. Tradition 20:128–140.

Sessions, F. 1898. Some Syrian folklore notes gathered on Mount Lebanon. Folklore 9:3–19.

Sezgin, F. 1967. Geschichte des Arabischen Schristtums: Quránwissenschaften; Hadit Geschichte; Fiqh; Dogmatik; Mystik; Bis Ca. 430 H., vol. 1. Leiden, Netherlands: Brill Publishers. (In German)

Simms, N. T. 1992. The hunting tree: A study in the history of mentalities. Champaign, Illinois: University of Illinois Press.

Simoons, F. J. 1998. Plants of life, plants of death. Madison, Wisconsin: University of Wisconsin Press.

Sirakova, I. and D. Dimitrova. 2003. Bosilekat v Bulgarskatafolklornakultura. In: Rastitelnijatizhivotinskijatsvjat v tradicionnatakulturanabulgarit, ed., E. Ivanova, 143–150. Sofia, Bulgaria: Institut za etnologiyaifolkloristika s Etnografskimuzeĭpri BAN. (In Bulgarian)

Skaria, B. P. 2007. Aromatic plants, vol. 1. New Delhi: New India Publishing.

Skinner, C. M. 1915. Myths and legends of flowers, trees, fruits and plants. Philadelphia and London: J. Lippincott.

Skoula, M., I. El Hilali, and A. M. Makris. 1999. Evaluation of the genetic diversity of Salvia fruticosa Mill. clones using RAPD markers and comparison with the essential oil profiles. Biochemical Systematics and Ecology 27:559–568.

Sofroniew, A. 2016. Household Gods: Private devotion in ancient Greece and Rome. Los Angeles: Getty Publications.

Spoer, H. H. and A. M. Spoer. 1927. Sickness and death among the Arabs of Palestine. Folklore 38:115–142.

Staples, A. 1998. From Vestal Virgins, sex and category in Roman religion. London: Routledge.

Stareva, L. 2005. Bulgarian customs and rituals: Birth, wedding, goodbye—Rituals, prohibitions, divinations, prophecies, beliefs, rituals, foods and symbols, blessings, songs, prayers. Sofia, Bulgaria: TRUD Publishers. (In Bulgarian)

Stevanović, Z. D., M. Petrović, and S. Aćić. 2014. Ethnobotanical knowledge and traditional use of plants in Serbia in relation to sustainable rural development. In: Ethnobotany and biocultural diversities in the Balkans, eds., A. Pieroni and C. L. Quave, 229–252. New York: Springer.

Strabo. 1857. The geography of Strabo, vol. 3. Translated by Henry G. Bohn. London: Hamilton, H. C. and W. Falconer. (http://www.gutenberg.org/files/44886/44886-h/44886-h.htm) (17 June 2015).

Sumbul, S., M. Aftab-Ahmad., M. Asifi, and M. Akhtar. 2011. Myrtuscommunis Linn. A review. Indian Journal of Natural Products and Resources 2:395–402.

Tanner, J. 2001. Nature, culture and the body in classical Greek religion Art. World Archaeology 33:257–276.

Tardío, J., M. Macía, and R. Morales. 2018. Myrtuscommunis. In: Inventario español de los conocimientos tradicionales relativos a la biodiversidad, fase II (3), eds., M. Pardo de Santayana, R. Morales, J. Tardío, L. Aceituno-Mata, and M. Molina, 267–272. Madrid: Ministerio de Agricultura y Pesca, Alimentación y Medioambiente. (In Spanish)

Tasić, S. 2012. Ethnobotany in SEE–WB countries; traditional uses of indigenous plants. Lekovite Sirovine 32:71–81.

Taylor, B. 1900. Storyology: Essays in Folk–lore, Sea–lore, and Plant–lore. London: E. Stock.

Theophrastus. 1916. Enquiry into plants and minor works on odours and weather signs, vol. 2. Translated by Sir Arthur Hort. London: W. Heinemann.

Thiselton-Dyer, T. F. 1889. The folk–lore of plants. London: D. Appleton.

Tobyn, G., A. Denham, and M. Whitelegg. 2011. Ocimum basilicum, basil. In: The Western Herbal Traditions, 221–229. Amsterdam: Elsevier.

Tododrova-Pirogova, I. 2003. Casting spells. Sofia, Bulgaria: Academic Publishing House "Prof Marin Drinov." (In Bulgarian)

Tradigo, A. 2006. Icons and Saints of the Eastern Orthodox Church. Los Angeles: Getty Publications.

Turner, V. 1969. Liminality and communitas. The ritual process: structure and anti–structure. Ithaca, New York: Cornell University Press.

Vakarelski, H. 2008. Bulgarskipogrebalniobichai. Publ. HauseZahariiStojanov. (In Bulgarian)

van Gennep, A. 1960. The rites of passage. Chicago: University of Chicago Press.

Važanová, J. 2008. Functions of ceremonial wedding tunes, SvadobnéNôty, in the context of traditional culture in Slovakia and in a Cross–Cultural Perspective. Yearbook for Traditional Music 40:21–32.

Velasco, J. M., J. Criado, and E. Blanco. 2010. Usos tradicionales de las plantas en la provincia de Salamanca. Salamanca, Spain: Diputación de Salamanca. (In Spanish).

Verde, A., D. Rivera, and C. Obón. 1998. Etnobotánica en la sierras de Segura y Alcaraz: Las plantas y el hombre. Albacete, Spain: Instituto de Estudios Albacetenses. (In Spanish)

Versnel, H. S. 1992. The festival for Bona Dea and the Thesmophoria. Greece and Rome (Second Series) 39:31–55.

Vickery, R. ed. 1984. Plant-lore Studies: Papers Read at a Joint Conference of the Botanical Society of the British Isles and the Folklore Society, Held at the University of Sussex, April 1983 (No. 18). Folklore Society.

Villar, L., J. M. Palacín, C. Calvo, D. Gómez, and G. Montserrat. 1987. Plantas medicinales del Pirineo Aragonés y demás tierras oscenses. Huesca, Spain: CSIC & Diputación de Huesca. (In Spanish)

Waterman, C. H. 1860. Flora's Lexicon: An interpretation of the language and sentiment of flowers: With an outline of botany and a poetical introduction. Boston: Crosby, Nichols, Lee.

Webber, F. R. and C. Symbolism. 1971. An explanation of the more important symbols of the Old and New Testament, the primitive, the mediaeval and the modern church, 2nd. Detroit: Gale Research Company.

Webber, F. R. 1971. Church symbolism: an explanation of the more important symbols of the Old and New Testament, the primitive, the mediaeval and the modern church, 2nd ed., rev. Detroit: Gale Research Company.

Westermarck, E. 1926. A short history of marriage. London: Macmillan.

———. 1933. Pagan survivals in Mohammedan civilization. London: Macmillan

Wheeler, B. M. 2002. Prophets in the Quran: An introduction to the Quran and Muslim exegesis. London: A. and C. Black.

Whittick, A. 1971. Symbols: Signs and their meaning and uses in design. Newton, Massachusetts: Charles T. Branford Co.

Williams, G. 2012. An historical and psychoanalytic investigation with reference to the bride–in–white. Ph.D. thesis, University of London. https://research.gold.ac.uk/8044/1/PACE_thesis_Williams_2012.pdf (17 June 2015)

Wilson, A. 1809. Letters on ancient history. Glasgow, Scotland: J. Hedderick.

Yaniv, Z., A. Dafni, and D. Palevitch. 1982. Labiatae as medicinal plants in Israel. In: Aromatic plants: Basic and applied aspects, eds., N. Margaris A. Koedam, and D. Vokou, 265–269. The Hague: Martinus Nijhoff Publishers.

Zheleva, H. 1998. Bosilekut v njakoistarinnipraktikiotShumensko, Etar. Gabrovo: Etnolozhki izsledvanija,3:147–149. (In Bulgarian)

Zohary, M. 1962. Plant life of Palestine. New York: Ronald Press Company.

Zubaida, S. 1989. Islam, the people and the state: Essays on political ideas in the Middle East. London: IB Tauris.

Zumwalt, R. 1996. The 1996 Archer Taylor Memorial Lecture. "Let It Go to the Garlic!" Evil eye and the fertility of women among the sephardim. Western Folklore 55:261–280.
Acknowledgments
The authors would like to thank Danchu Arnon, Sakra Jen, and Javier Tardío for the transfer of their photographs and Robin Permut for the language edition.
About this article
Cite this article
Dafni, A., Petanidou, T., Vallianatou, I. et al. Myrtle, Basil, Rosemary, and Three-Lobed Sage as Ritual Plants in the Monotheistic Religions: an Historical–Ethnobotanical Comparison. Econ Bot 74, 330–355 (2020). https://doi.org/10.1007/s12231-019-09477-w
Received:

Accepted:

Published:

Issue Date:
Key Words
Ritual plants, Christianity, Judaism, Islam, ethnobotany, rites of passage