Genetic Diversity of Bangladeshi Jackfruit (Artocarpus heterophyllus) over Time and Across Seedling Sources
Abstract
Crop genetic diversity is important, but may be lost due to intentional or non-intentional selection processes. Jackfruit (Artocarpus heterophyllus) is the national fruit of Bangladesh, where it displays great morphological diversity, but recent work suggests diversity may be declining. This study tests whether genetic diversity is changing over time and investigates a possible cause—a shift from direct seed planting by tree owners to purchasing seed-propagated saplings from nurseries, a method that has increased in popularity since the 1980s. We measure genetic diversity over time (across both reported tree age and tree size classes) using 13 microsatellite loci for 361 jackfruit individuals collected throughout Bangladesh. We find downward trends in diversity over time (regardless of seedling source), and no change in diversity between owner seed-propagated and nursery seed-propagated sapling trees that were planted since the early 1980s. Jackfruit, long an important crop in South and Southeast Asia, is gaining global popularity. Because it is a long-lived, out-crossing crop, changes in genetic diversity may occur gradually, and locally adapted alleles could be lost in transitioning to commercialized uniform cultivars. It is important to measure and conserve diversity baselines before selection bottlenecks occur in underutilized crops, like jackfruit, on the verge of increased industrialization.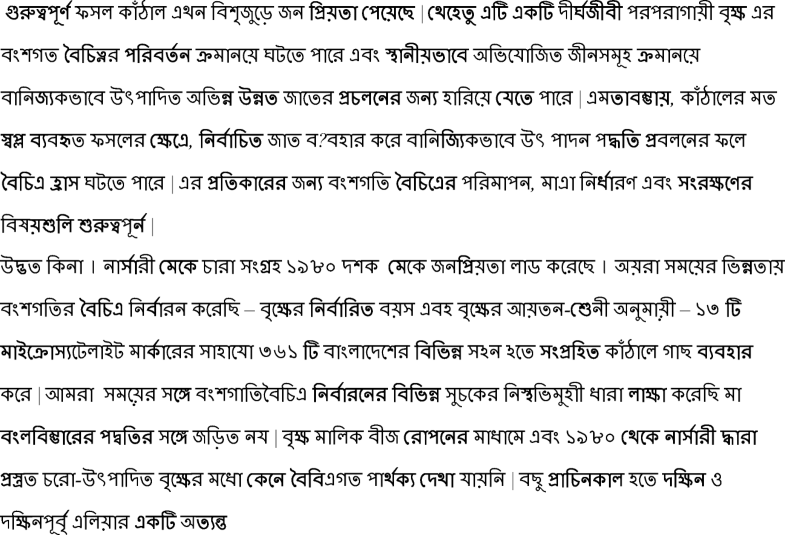 Key Words
Agrobiodiversity 
germplasm conservation management 
Moraceae 
neglected and underutilized crops 
orphan crops 
plant genetic resources 
ethnobotany 
Notes
Acknowledgments
The authors thank the private jackfruit growers of Bangladesh and organizations listed in Table 1 for providing access to study trees and data about tree age and propagation method, Ruby Khan and Abdur Rahim for assistance in the field, Jeremie Fant and Deidre Reitz for assistance in the laboratory, and two anonymous reviewers for insightful comments that improved the manuscript quality.
Funding Information
This study was funded in part by the National Science Foundation (NSF DEB REVSYS 0919119), a Plant Biology and Conservation Award from Northwestern University, and an American Society of Plant Taxonomists Graduate Student Research Grant.
Compliance with Ethical Standards
Conflict of Interest
The authors declare that they have no conflict of interest.
Copyright information
© The New York Botanical Garden 2019