Abstract
Purple or black rice (Oryza sativa L.) is a culturally important germplasm in Asia with a long history of cultivation in northern Thailand. Purple rice is identified by the color of the rice pericarp, which varies from purple to black with the accumulation of phenolic acids, flavonoids, and anthocyanins. In the present study, we assessed molecular variation within and between wetland purple rice landraces germplasm from northern and northeastern Thailand using 12 microsatellite loci. All purple rice varieties surveyed showed high levels of homozygosity within varieties and strong genetic differentiation among varieties, indicating the fixation of genetic differences among them. This pattern is consistent with purple rice farming practices in northern Thailand, where a small portion of harvested seed is selected and replanted based on farmers' preferences. The reduced genetic diversity and high homozygosity observed for purple rice is also consistent with patterns expected for this inbreeding crop. Genetic differentiation among the varieties showed some degree of structuring based on their geographical origin. Taken together, these data highlight that the genetic diversity and structure of wetland purple rice landraces is shaped by farmer utilization and cultivation through local cultural practices, and that conservation should focus on ex situ conservation across its cultivation range, along with on-farm, in situ conservation based on farmers' seed-saving practices. In situ conservation may prove especially valuable for preserving the genetic identity of local varieties and promote adaptation to local environments.
ข้าวก่ำหรือข้าวดำเป็นแหล่งพันธุกรรมที่สำคัญทางวัฒนธรรมในเอเชียด้วยมีประวัติศาสตร์อันยาวนานทางการเพาะปลูกในภาคเหนือของประเทศไทย ข้าวก่ำบ่งบอกได้จากสีของเยื่อหุ้มเมล็ดที่มีสีม่วงไปจนถึงสีดำที่มีการสะสมกรดฟีโนลิค ฟลาโวนอยด์ และแอนโทไซยานิน ในการศึกษานี้ได้ประเมินความแปรปรวนทางโมเลกุลดีเอ็นเอภายในและระหว่างแหล่งพันธุกรรมข้าวก่ำนาพื้นเมืองจากภาคเหนือและภาคตะวันออกเฉียงเหนือของประเทศไทยด้วยเครื่องหมายโมเลกุลไมโครแซทเทิลไลท์จำนวน 12 ตำแหน่ง ข้าวก่ำพื้นเมืองทุกพันธุ์ที่ศึกษามีระดับของความเป็นพันธุ์แท้ภายในพันธุ์สูง และมีความแตกต่างทางพันธุกรรมระหว่างพันธุ์ที่ชัดเจน แสดงให้เห็นถึงการคงที่ของความแตกต่างทางพันธุกรรมในข้าวก่ำ ซึ่งแบบแผนดังกล่าวสอดคล้องกับระบบการเพาะปลูกข้าวก่ำในภาคเหนือของประเทศไทย ที่ว่าเมล็ดเพียงส่วนน้อยจะถูกเก็บไว้หลังจากเก็บเกี่ยวและจะถูกนำไปปลูกในฤดูถัดไปตามความชอบของเกษตรกร การลดลงของความหลากหลายทางพันธุกรรมและระดับความเป็นพันธุ์แท้ที่สูงในข้าวก่ำก็พบว่าสอดคล้องกับแบบแผนของระบบการสืบพันธุ์ที่ข้าวเป็นพืชปลูกแบบผสมตัวเอง ความแตกต่างทางพันธุกรรมระหว่างพันธุ์แสดงให้เห็นโครงสร้างที่แบ่งแยกตามภูมิศาสตร์ที่เก็บรวบรวม เมื่อนำข้อมูลมาเชื่อมโยงกันแล้วจากการศึกษานี้แสดงให้เห็นว่าความหลากหลายทางพันธุกรรมและโืครงสร้างประชากรของข้าวก่ำนาพื้นเมองถูกกำหนดโดยการใช้ประโยชน์ และการเพาะปลูกของเกษตรกรผ่านการเพาะปลูกแบบดั้งเดิม งานอนรักษ์พันธุ์ุควรเน้นที่การอนุรักษ์นอกสภาพท้องถิ่นเดิมครอบคลุมพื้นที่ที่มีการเพาะปลูกข้าวก่ำ พร้อมกับกุารอนุรักษ์ในไร่นาเกษตรกรโดยอาศัยพื้นฐานวิธีการเก็บรักษาพันธุ์ของเกษตรกร การอนุรักษ์ในสภาุพท้องถิ่นเดิมแสดงให้เห็นการเก็บรักษาพันธุกรรมที่เป็นเอกลักษณ์ของข้าวพื้นเมือง อีกทั้งยังเป็นการส่งเสริมการปรับตัวต่อสภาพแวดล้อมในท้องถิ่นอีกด้วย.
Access options
Buy single article
Instant access to the full article PDF.
US$ 39.95
Tax calculation will be finalised during checkout.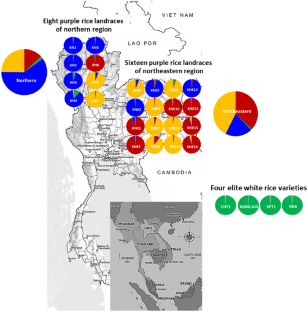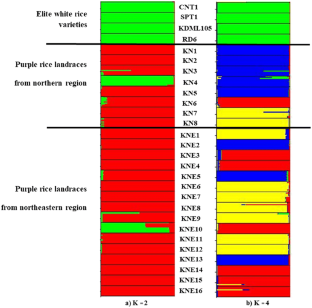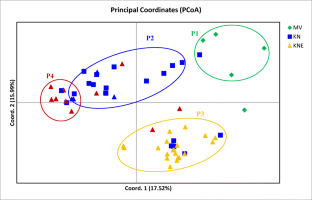 References
Appa, Rao S., Schiller, JM., Bounphanousay, C., Inthapanya, P., and MT. Jackson. 2006. The colored pericarp (black) rice of Laos. In: Schiller JM, Chanphengxay MB, Linquist B, Appa Rao S (eds) Rice in Laos, International Rice Research Institute, Los Baños, Philippines, pp175–186

Doyle, JJ., and JL. Doyle. 1987. A rapid DNA isolation procedure for small quantities of fresh leaf tissue. Focus 12:13–15

Earl, DA., and BM. vonHoldt. 2012. STRUCTURE HARVESTER: a website and program for visualizing STRUCTURE output and implementing the Evanno method. Conservation genetics resources 4(2):359–361

Evanno, G., Regnaut, S., and J. Goudet. 2005. Detecting the number of clusters of individuals using the software STRUCTURE: A simulation study. Molecular Ecology 14(8):2611–2620

Excoffier, L., and HE. Lischer. 2010. Arlequin suite ver 3.5: a new series of programs to perform population genetics analyses under Linux and Windows. Molecular Ecology Resources 10(3):564–567

Finocchiaro, F., Ferrari, B., Gianinetti, A., Dall'Asta, C., Galaverna, G., Scazzina, F., and N. Pellegrini. 2007. Characterization of antioxidant compounds of red and white rice and changes in total antioxidant capacity during processing. Molecular nutrition & food research 51:1006–1019

Goudet, J. 2001. FSTAT, a Program to Estimate and Test Gene Diversities and Fixation Indices Version 2.9.3. http://www.unil.ch/izea/softwares/fstat.html. Accessed 20 October 2016

Huang, X., Wei, X., Sang, T., Zhao, Q., Feng, Q., Zhao, Y., Li, C., Zhu, C., Lu, T., Zhang, Z., and M. Li. 2010. Genome-wide association studies of 14 agronomic traits in rice landraces. Nature Genetics 42(11):961–967

Kaneda, I., Kubo, F., and H. Sakurai, (2006). Antioxidative compounds in the extracts of black rice brans. Journal of health science 52(5):495–511

Kong, L., Wang, Y., and Y. Cao. 2008. Determination of Myo-bran by capillary electrophoresis with electrochemical inositol and D-chiro-inositol in black rice detection. Journal of Food Composition and Analysis 21(6):501–504

Kushwaha, UKS. 2016. Black Rice. In: Kushwaha UKS (ed) Black Rice Research, History and Development, 1st edn, Springer International Publishing, pp.21–47

Leardkamolkarn, V., Thongthep, W., Suttiarporn, P., Kongkachuichai, R., Wongpornchai, S., and A. Wanavijitr. 2011. Chemopreventive properties of the bran extracted from a newly-developed Thai rice: The Riceberry. Food Chemistry 125(3):978–985

Lin, JK., abd MS. Weng. 2006. Flavonoids as nutraceuticals. In: Grotewold E (ed) The science of flavonoids, 1st edn, Springer New York, pp 213–238

Ling, WH., Cheng, QX., Ma, J., and T. Wang. 2001. Red and black rice decrease atherosclerotic plaque formation and increase antioxidant status in rabbits. Journal of Nutrition 131(5):1421–1426

Peakall, R., and PE. Smouse. 2012. GenAlEx 6.5: genetic analysis in Excel. Population genetic software for teaching and research—an update. Bioinformatics 28:2537–2539

Pritchard, JK., Stephens, M.,P, and Donnelly. 2000. Inference of population structure using multilocus genotype data. Genetics 155(2):945–959

Pusadee, T., Jamjod, S., Chiang, Y., Rerkasem, B., and BA. Schaal. 2009. Genetic structure and isolation by distance in a landrace of Thai rice. Proceedings of the National Academy of Sciences of the United States of America 106:13880–13885

———, Oupkaew, P., Rerkasem, B., Jamjod, S., and BA. Schaal. 2014. Natural and human-mediated selection in a landrace of Thai rice (Oryza sativa). Annal of Applied Biology 165:280–292

Rao, NK. 2004. Plant genetic resources: advancing conservation and use through biotechnology. African Journal of Biotechnology 3(2):136–145

Rerkasem, B., Jumrus, S., Yimyam, N., and C. Prom-u-Thai. 2015. Variation of grain nutritional quality among Thai purple rice genotypes grown at two different altitudes. ScienceAsia 41(6):377–385

Rosenberg, NA. 2004. DISTRUCT: a program for the graphical display of population structure. Molecular Ecology 4(1):137–138

Roy, S., Marndi, BC., Mawkhlieng, B., Banerjee, A., Yadav, RM., Misra, AK., and KC. Bansal. 2016. Genetic diversity and structure in hill rice (Oryza sativa L.) landraces from the North-Eastern Himalayas of India. BMC Genetics. https://doi.org/10.1186/s12863-016-0414-1

Sukhonthara, S., Theerakulkait, C., and M. Miyazawa. 2009. Characterization of volatile aroma compounds from red and black rice bran. Journal of oleo science 58(3):155–161

Vigouroux, Y., Glaubitz, J.C., Matsuoka, Y., Goodman, M.M., Sanchez, G.J. and Doebley, J. 2008. Population structure and genetic diversity of new world maize races assessed by DNA microsatellites. American Journal of Botany, 95 (10): 1240–1253. doi: https://doi.org/10.3732/ajb.0800097.

Vilayheuang, K., Machida-Hirano, R., Bounphanousay, C., and KN. Watanabe. 2016. Genetic diversity and population structure of 'Khao Kai Noi', a Lao rice (Oryza sativa L.) landrace, revealed by microsatellite DNA markers. Breeding Science 66(2):204–212

Watanabe, KN., Ohsawa, R., Obara, M., Yanagihara, S., Aung, PP., and Y. Fukuta. 2016. Genetic variation of rice (Oryza sativa L.) germplasm in Myanmar based on genomic compositions of DNA markers. Breeding Science 66(5):762–767

Zhang, MW., Guo, BJ., and ZM. Peng. 2004. Genetic effects on Fe, Zn, Mn and P contents in Indica black pericarp rice and their genetic correlations with grain characteristics. Euphytica 135:315–323

Zhang, MW., Zhang, RF., Guo, BJ., Chi, JW., Wei, ZC. and ZH. Xu. 2006. The protective effects of anthocyanidin extracted from black rice fraction on endothelia cells injured by oxidative stress. Acta Nutrimenta Sinica 28(3):216–220
Funding
We gratefully acknowledge the financial supports and/or in-kind assistance from the Thailand Research Fund (TRG5780091), the Project Funding of National Research University - Chiang Mai University (NRU - CMU), and National Research University - Office of Higher Education Commission (NRU - OHEC), Ministry of Education, Thailand, Chiang Mai University.
Ethics declarations
Conflict of Interest
The authors declare that they have no conflict of interest.
Electronic Supplementary Material
About this article
Cite this article
Pusadee, T., Wongtamee, A., Rerkasem, B. et al. Farmers Drive Genetic Diversity of Thai Purple Rice (Oryza sativa L.) Landraces. Econ Bot 73, 76–85 (2019). https://doi.org/10.1007/s12231-018-9436-0
Received:

Accepted:

Published:

Issue Date:
Key Words
Genetic structure

Homozygosity

Seed saving

Farmers' managements

Utilization