Abstract
Diversity is one of the most important traits of homegardens and contributes to maintaining their functions. Here, we investigated the diversity, characteristics, and functions of 75 Karen homegardens from four villages in Chiang Mai and Tak provinces in northern Thailand. In each homegarden, all used plant species were registered and classified according to their main use. The diversity and richness in each homegarden was estimated and the stratification of plants in horizontal zones was investigated. A total 268 plant species were recorded, ranging from 100 to 146 species in each of the four villages. These plants were mostly kept in the homegarden yard or along their boundaries. The most common species were mango (Mangifera indica L.), jackfruit (Artocarpus heterophyllus Lam.), guava (Psidium guajava L.), and taro Colocasia esculenta (L.) Schott. Besides these species, most plants differed from one village to another. Distance between the homegardens was important; homegardens in the same village were more similar than those in different villages. However, beyond the individual level, the distances alone could not be used to determine similarity. Despite the variation of species found in homegardens, the function and horizontal stratification of the Karen homegardens shared many traits. They satisfied both physical and aesthetic needs to the Karen people as witnessed by the high proportion of food and ornamental species. The reverse effects of urbanization (we used the distance from the nearest urban area as a proxy) on the diversity of ornamental species was also observed. In general, Karen homegardens had high richness and diversity which directly benefited the conservation of plant species. This diversity promotes food security at the household and community levels.
Access options
Buy single article
Instant access to the full article PDF.
US$ 39.95
Tax calculation will be finalised during checkout.
Subscribe to journal
Immediate online access to all issues from 2019. Subscription will auto renew annually.
US$ 79
Tax calculation will be finalised during checkout.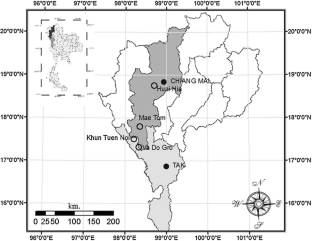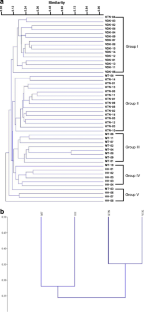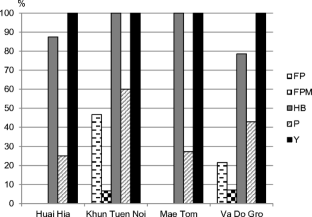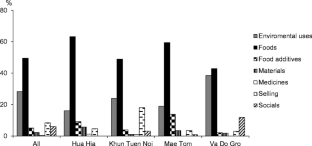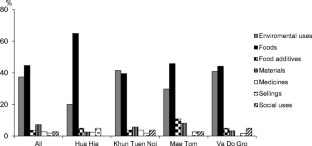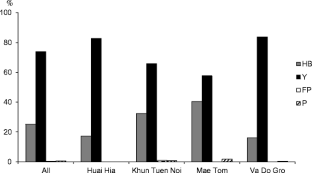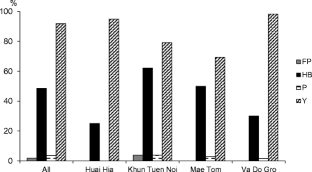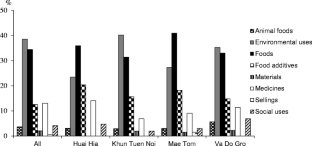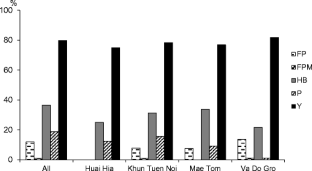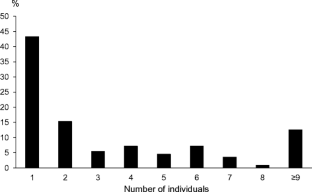 Literature Cited
Abdoellah, O. S. and G. G. Marten. 1986. The complementary roles of homegardens, uplands fields, and ricefields for meeting nutritional needs in West Java. In: Traditional agriculture in Southeast Asia: A human ecology perspective. ed. G. G. Marten, 293–325. Westview Press: Boulder and London.

Abebe, T., K. F. Wiersum and F. Bongers. 2010. Spatial and temporal variation in crop diversity in agroforestry homegardens of southern Ethiopia. Agroforestry Systems 78:309–322.

Alam, M. 2012. Valuation of tangible benefits of a homestead agoforestry system: A case study from Bangladesh. Human Ecology 40:639–645.

Albuquerque, U. P., L. D. H. C. Andrade and J. Caballero. 2005. Structure and floristics of homegardens in northeastern Brazil. Journal of Arid Environments 62:491–506.

Arifin, H. S., K. Sakamoto and K. Chiba. 1998. Effects of urbanization on the performace of the home gardens in West Java, Indonesia. Journal of the Japanese Institute of Landscape Architect 61(4):325–333.

Balooni, K., K. Gangopadhyay, B. M. Kumar. 2014. Governance for private green spaces in a growing Indian city. Landscape and Urban Planning 123:21–29.

Bardhan, S., S. Jose, S. Biswas, K. Kabir and W. Rogers. 2012. Homegarden agroforestry systems: An intermediary for biodiversity conservation in Bangladesh. Agroforestry Systems 85:29–34.

Bassullu, C. and A. Tolunay. 2010. General characteristics of traditional homegardens involving animal practices in areas of Isparta Region of Turkey. Journal of Animal and Veterinary Advances 9(3):455–465.

Bennett-Lartey, S. O., G. S. Ayernor, C. M. Markwei, I. K. Asante, D. K. Abbiw, S. K. Boateng, V. M. Anchirinah and P. Ekpe. 2002. Contribution of home gardens to in situ conservation of plant genetic resources farming systems in Ghana. In: Home gardens and in situ conservation of plant genetic resources in farming systems. Proceedings of the Second International Home Gardens Workshop, Witzenhausen, 17–19 July 2001. eds. J. W. Watson and P. B. Eyzaguirre. 83–96, International Plant Genetic Resources Institute (IPGRI).

Christine, B. 2009. Cuban home gardens and their role in social-ecological resilience. Human Ecology 37:705–721.

Cook, F. 1995. Economic botany data collection standard. Kew: Royal Botanic Gardens.

Corlett, J. L., E. A. Dean and L. E. Grivetti. 2003. Hmong gardens: Botanical diversity in an urban setting. Economic Botany 57:365–379.

Cruz-García, G. S. and P. C. Struik. 2015. Spatial and seasonal diversity of wild food plants in home gardens of northeast Thailand. Economic Botany 69(2):99–113. https://doi.org/10.1007/s12231-015-9309-8.

Das, T. and A. K. Das. 2005. Inventorying plant biodiversity in homegardens: A case study in Barak Valley, Assam, north east India. Current Science 89(1):155–163.

Dash, S. S. and M. K. Misra. 2001. Studies on hill agro-ecosystems of three tribal villages on the Eastern Ghats of Orissa, India. Agriculture, Ecosystems and Environment 86:287–302.

De Clerck, F. A. J. and P. Negreros-Castillo. 2000. Plant species of traditional Mayan homegardens of Mexico as analogs for multistrata agroforests. Agroforestry Systems 48(3):303–317. https://doi.org/10.1023/a:1006322612362.

Fernandes, E. C. M. and P. K. R. Nair. 1986. An evaluation of the structure and function of tropical homegardens. Agricultural Systems 21:279–310.

Fowler, J., L. Cohen and P. Jarvis. 1998. Practical statistics for field biology. 2nd edn. Wiley: Chichester, New York.

Gajaseni, J. and N. Gajaseni. 1999. Ecological rationalities of the traditional homegarden system in the Chao Phraya Basin, Thailand. Agroforestry Systems 46:3–23.

Gruca, M., R. Cámara-Leret, M. J. Macía and H. Balslev. 2014. New categories for traditional medicine in the Economic Botany Data Collection Standard. Journal of Ethnopharmacology 155(2):1388–1392. https://doi.org/10.1016/j.jep.2014.06.047.

Heraty, J.M. and Ellstrand, N.C. 2016. Maize germplasm conservation in Southern California's urban gardens: Introduced diversity beyond ex situ and in situ management. Economic Botany 70(1): 37–48. https://doi.org/10.1007/s12231-016-9333-3.

Hodel, U., M. Gessler, H. H. Cai, V. V. Thoan, N. V. Ha, N. X. Thu and T. Ba. 1999. In situ conservation of plant genetic resoures in home gardens of southern Vietnam. International Plant Genetic Resources Instit (IPGRI), Rome.

Huai, H., G. Xu, G. Wen and W. Bai. 2011. Comparision of the homegardens of eight cultural groups in Jinping County, southwest China. Economic Botany 65(4):345–355.

Inta, A. 2008. Ethnobotany and crop diversity of Tai Lue and Akha communities in the upper northern Thailand and the Xishuangbanna Dai Autonomous Prefecture, China. Chiang Mai University.

Jost, L. 2006. Entropy and diversity. Oikos 113(2):363–375. https://doi.org/10.1111/j.2006.0030-1299.14714.x.

Kabir, M. E. and E. L. Webb. 2008a. Can homegardens conserve biodiversity in Bangladesh? Biotropica 40(1):95–103.

———. 2008b. Floristics and structure of southwestern Bangladesh homegardens. International Journal of Biodiversity and Management 4:54–64.

———. 2009. Household and homegarden characteristics in southwestern Bangladesh. Agroforestry Systems 75(2):129–145. https://doi.org/10.1007/s10457-008-9142-5

Karyono. 1990. Home gardens in Java. In: Tropical home gardens. eds. K. Landauer and M. Barazil. 138–146. The United Nations University, Tokyo.

Kehlenbeck, K. and B. L. Maass. 2004. Crop diversity and classification of homegardens in central Sulawesi, Indonesia. Agroforestry Systems 63:53–62.

Kehlenbeck, K., H. S. Arifin and B. Maass. 2007. Plant diversity in homegardens in a socio-economic and agro-ecological context. In: The stability of tropical rainforest margins, linking ecological, economic and social constraints of land use and conservation. eds. T. Tscharntke, C. Leuschner, M. Zeller, E. Guhardja and A Bidin. 297–319. Springer Verlag, Berlin.

Kortright, R. and S. Wakefield. 2011. Edible backyards: A qualitative study of household food growing and its contributions to food security. Agriculture and Human Values 28:39–53.

Kujawska, M. and M. Pardo-de-Santayana. 2015. Management of medicinally useful plants by European migrants in South America. Journal of Ethnopharmacology 172:347–355. https://doi.org/10.1016/j.jep.2015.06.037.

Kumar, B. M. and P. K. R. Nair. 2004. The enigma of tropical homegardens. Agroforestry Systems 61:135–154.

Lattirasuvan, T., S. Tanaka, K. Nakamoto, D. Hattori and K. Sakurai. 2010. Ecological characteristics of home gardens in northern Thailand. Tropics 18(4):171–184.

Lewis, P. and E. Lewis. 2002. People of the Golden Triangle. River Books: Bangkok.

Mantel, N. and R. S. Valand. 1970. A technique of nonparametric multivariate analysis. Biometrics 26(3):547–558. https://doi.org/10.2307/2529108.

Méndez, V. E., R. Lok and E. Somarriba. 2001. Interdisciplinary analysis of homegardens in Nicaragua: Micro-zonation, plant use and socioeconomic importance. Agroforestry Systems 51:85–96.

Milow, P., S. Malek, N. Mohammad and H. Ong. 2013. Diversity of plants tended or cultivated in Orang Asli homegardens in Negeri Sembilan, Peninsular Malaysia. Human Ecology 41(2):325–331. https://doi.org/10.1007/s10745-012-9555-7.

Moreno-Black, G., P. Somnasang and S. Thamathawan. 1996. Cultivating continuity and creating change: Women's home garden practices in northeastern Thailand. Agriculture and Human Values 13(3):3–11. https://doi.org/10.1007/bf01538222.

Panyadee, P., N. Sutjaritjai and A. Inta. 2012. The effects of distance from the urban center on plant diversity and composition in homegardens of Shan communities in Thailand. Thai Journal of Botany 4(1):83–94.

Panyadee, P., H. Balslev, P. Wangpakapattanawong and A. Inta. 2016. Woody plant diversity in urban homegardens in northern Thailand. Economic Botany 70:285–302. https://doi.org/10.1007/s12231-016-9348-9.

Perrault-Archambault, M. and O. T. Coomes. 2008. Distribution of agrobiodiversity in home gardens along the Corrientes river, Peruvian Amazon. Economic Botany 62(2):109–126.

Peyre, A., A. Guidal, K. F. Wiersum and F. Bongers. 2006. Dynamics of homegarden structure and function in Kerla, India. Agroforestry Systems 66:101–115.

Quiroz, C., M. Gutierrez, D. Rodriguez, D. Pérez, J. Ynfante, J. Gámez, T. Pérez de Fernandez, A. Marques and W. Pacheco. 2001. Home gardens and in situ conservation of agrobiodiversity—Venezuelan component. In: Home gardens and in situ conservation of plant genetic resources in farming systems. Proceedings of the Second International Home Gardens Workshop, Witzenhausen, 17–19 July 2001. eds. J. W. Watson and P. B. Eyzaguirre. 73–82, International Plant Genetic Resources Institute (IPGRI).

Sampanpanish, P. and M. Jamroenprucksa. 1994. Ecological characteristics of homegarden agroforestry system in Amphoe Muang, Changwat Nonthaburi Thai Journal of Forestry 13:114–124.

Schmidt-Vogt, D. 1999. Swidden farming and fallow vegetation in northern Thailand. Geoecological Research Vol. 8. Franz Steiner Verlag, Stuttgart.

Shastri, C. M., D. M. Bhat, B. C. Nagaraja, K. S. Murali and N. H. Ravindranath. 2002. Tree species diversity in a village ecosystem in Uttara Kannada district in Western Ghats, Karnataka. Current Science 82(9):1080–1084.

Social Development Center Unit 13 Chiang Mai Province. 2005. Highland communities within 20 provinces of Thailand, 2005. Chiang Mai.

Soemarwoto, O. 1987. Homegardens: A traditional agroforestry system with a promising future. In: Agroforestry: A decade of development. eds. H. A. Steppler and P. K. R. Nair. 157–172. ICRAF, Nairobi.

Soemarwoto, O. and G. R. Conway. 1992. The Javanese homegarden. Journal for Farming Systems Research-Extension 2(3):95–118.

Srithi, K., C. Trisonthi, P. Wangpakapattanawong, P. Srisanga and H. Balslev. 2012. Plant diversity in Hmong and Mien homegardens in northern Thailand. Economic Botany 66(2):192–206.

Sunwar, S., C.-G. Thornstrom, A. Subedi and M. Bystrom. 2006. Home gardens in western Nepal: Opportunities and challenges for on-farm management of agrobiodiversity. Biodiversity and Conservation 15:4211–4238.

Swift, M. J. and J. M. Anderson. 1994. Biodiversity and ecosystem function in agricultural systems. In: Biodiversity and ecosystem function. eds. E. D. Schulze and H. A. Mooney, 15–41. Springer, Berlin. https://doi.org/10.1007/978-3-642-58001-7_2.

Tesfaye, A. 2005. Diversity in homegarden agroforestry systems of southern Ethiopia. Tropical Resource Management Paper No. 59, Erosion and Soil & Water Conservation Group. Dept. of Environmental Science, Wagingen, Netherlands.

Thompson, J. L., J. Gebauer, K. Hammer and A. Buerkert. 2010. The structure of urban and peri-urban gardens in Khartoum, Sudan. Genetic Resources and Crop Evolution 57:487–500.

Tiyakoat, W., C. Chllachakkawat, G. Dhompongsa and S. Sarobol. 2010. The migration of Tai Yai from Shan State-Myanmar, into Thailand. Paper presented at the the 1st International Conference on Culture, Toruism & Economy in Salween River Basin Reion, Mae Hong Son, Thailand, 10–11 August 2010.

Trinh, L. N., J. W. Watson, N. N. Hue, N. N. De, N. V. Minh, P. Chu, B. R. Sthapit and P. B. Eyzaguirre. 2003. Agrobiodiversity conservation and development in Vietnamese homegardens. Agriculture, Ecosystems and Environment 97:317–344.

Trisonthi, C. and P. Trisonthi. 2009. Ethnobotanical study in Thailand, a case study in Khun Yuam district Maehongson province. Thai Journal of Botany 1(1):1–23.

Vlkova, M., Z. Polesny, V. Verner, J. Banout, M. Dvorak, J. Havlik, B. Lojka, P. Ehl and J. Krausova. 2010. Ethnobotanical knowledge and agrobiodiversity in subsistence farming: Case study of home gardens in Phong My commune, central Vietnam. Genetic Resources and Crop Evolution 58(5):629–644. https://doi.org/10.1007/s10722-010-9603-3.

Vogl, C. and L. Vogl. 2003. Tradition, dynamics and sustainability of plant species composition and management in homegardens on organic and non-organic small scale farms in alpine eastern Tyrol, Austria. Biological Agriculture & Horticulture 21:349–366. https://doi.org/10.1080/01448765.2003.9755278.

Wezel, A. and J. Ohl. 2006. Homegarden plant diversity in relation to remoteness from urban centers: A case study from the Peruvian Amazon region. In: Tropical homegardens: A time-tested example of sustainable agroforestry. eds. B. M. Kumar and P. K. R. Nair, 143–158. Springer, Netherlands.
Acknowledgements
We thank all villagers who contributed to the success of this research. We acknowledge financial support from DPST, National Research Council Thailand, Grants for Development of New Faculty Staff, Chiang Mai University, and Plant Germplasm Conservation Project of H.R.H. Princess Maha Chakri Sirindhorn. We are grateful for facilities provided by Chiang Mai University. Henrik Balslev acknowledges support from the Carlsberg Foundation. We also appreciate valuable comments from two anonymous reviewers and the editor, all of which helped improve the manuscript.
Electronic supplementary material
List of species found in the 75 homegardens in the four Karen villages in northern Thailand and their use categories (HH, Huai Hia village; KTN, Khun Tuen Noi village; MT, Mae Tom village; VDG, Va Dro Gro village) and vouchers deposited in Ethnobotany and Northern Thai Flora Laboratory, Chiang Mai University. (DOCX 48 kb)
About this article
Cite this article
Panyadee, P., Balslev, H., Wangpakapattanawong, P. et al. Karen Homegardens: Characteristics, Functions, and Species Diversity. Econ Bot 72, 1–19 (2018). https://doi.org/10.1007/s12231-018-9404-8
Received:

Accepted:

Published:

Issue Date:
Key Words:
Karen ethnobotany

Thailand agroforestry system

homegarden zonation

Chiang Mai province

Tak province