Abstract
This study reappraised traditional knowledge (TK) about palms (Arecaceae) by the Chachi indigenous group in northwestern Ecuador, 30 years after the first study in 1985 on Chachi palm ethnobotany (Barfod and Balslev 1988). We wished to gain insight about which palm species the Chachi people use today, and how palm TK has changed among the Chachi since 1985. In 2015, using semi-structured interviews and participant observation, we documented nine useful palm species and 457 use reports. The 1985 methods were less formalized, based on open-ended interviews and recorded 14 palm species with 38 use descriptions. Most uses fell into the categories Food (13 use descriptions), Utensils/Tools (10), and Construction (7). In 2015, most of the use descriptions similarly fall into the categories Food (38), Construction (20), and Utensils and tools (19). As in 1985, the most important species harvested today are Iriartea deltoidea and Wettinia quinaria. Four understory palm species reported as useful in 1985 were not recorded in 2015. Still, most of the uses documented among the Chachi in 1985 were also registered in 2015. Knowledge about blowguns, blowgun darts, and marimba keys, however, seems to have vanished. Although palms still provide important ecosystem services for the Chachi, (e.g., food and construction), better management of natural resources and land-use is pivotal to meet the Sustainable Development Goals that Ecuador is committed to through their participation in the United Nation's Sustainable Development Knowledge Platform. This is particularly complicated because of the rapid human population growth in the coastal lowland of Ecuador and the impending threats from climate change.
Resumen
En este estudio reevaluamos el conocimiento tradicional (CT) sobre las palmeras (Arecaceae) del grupo indígena Chachi en el noroeste de Ecuador, 30 años después del primer estudio de 1985 sobre etnobotánica de palmeras Chachi (Barfod and Balslev 1988). Deseamos conocer qué especies de palmeras utiliza el pueblo Chachi hoy en día y cómo ha cambiado el conocimiento tradicional entre los Chachi desde 1985. En 2015, mediante entrevistas semiestructuradas y observación participativa, documentamos nueve especies de palmeras útiles y 457 registros de uso. En 1985 los métodos fueron menos formales, se basaron en entrevistas abiertas y registraron 14 especies de palma con 38 descripciones de uso. La mayoría de los usos fueron en las categorías de Alimentación (13 descripciones de uso), Utensilios y herramientas (10) y Construcción (7). En 2015, la mayor parte de las descripciones de usos también fueron en las categorías de Alimentación (38), Construcción (20) y Utensilios y herramientas (19). Al igual que en 1985, las especies más importantes cosechadas hoy en día son Iriartea deltoidea y Wettinia quinaria. Cuatro especies de palmeras de sotobosque reportadas como útiles en 1985 no se registraron en 2015. No obstante, la mayoría de los usos documentados entre los Chachi en 1985 también se registraron en 2015. El conocimiento sobre cerbatanas, dardos de cerbatana y teclas de marimba, sin embargo, parece haber desaparecido. Aunque las palmeras todavía proporcionan servicios ecosistémicos importantes para los Chachi, (por ejemplo, alimentos y construcción), es fundamental mejorar la gestión de los recursos naturales y uso de la tierra para cumplir los Objetivos de Desarrollo Sostenible que Ecuador se ha comprometido a cumplir a través de su participación en la Plataforma de Conocimiento de Desarrollo Sostenible de las Naciones Estados. Esto es particularmente complicado debido al rápido crecimiento de la población humana en las tierras bajas de la costa del Ecuador y las inminentes amenazas del cambio climático.
This is a preview of subscription content, log in to check access.
Access options
Buy single article
Instant access to the full article PDF.
US$ 39.95
Tax calculation will be finalised during checkout.
Subscribe to journal
Immediate online access to all issues from 2019. Subscription will auto renew annually.
US$ 99
Tax calculation will be finalised during checkout.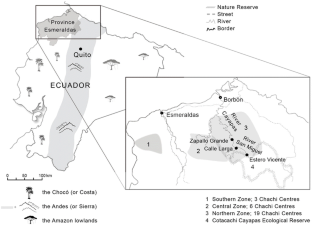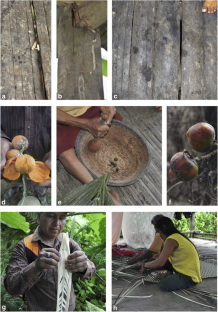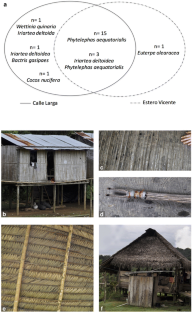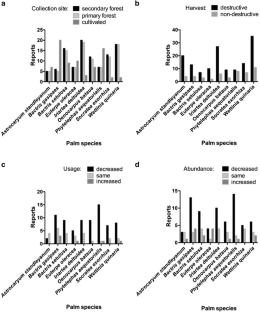 Literature Cited
Anderson, P.J. 2004. The social context for harvesting Iriartea deltoidea (Arecaceae). Economic Botany 58 (3): 410–419.

Balslev, H., F. Kahn, B. Millan, J.C. Svenning, T. Kristiansen, F. Borchsenius, D. Pedersen, and W.L. Eiserhardt. 2011. Species diversity and growth forms in tropical American palm communities. The Botanical Review 77 (4): 381–425.

Barfod, A.S. and H. Balslev. 1988. The use of palms by the Cayapas and Coaiqueres on the coastal plain of Ecuador. Principes 32 (1): 29–42.

———. and L.P. Kvist. 1996. The ethnobotany of three Amerindian groups of coastal Ecuador. Biologiske Skrifter (Det Kongelige Danske Videnskabernes Selskab) 46: 1–166.

Barrett, S.A. 1925. The Cayapa Indians of Ecuador. Indian notes and monographs 40. New York: Heye Foundation.

Barriga-López, F. 1987. Etnología ecuatoriana: Cayapas o Chachis. Quito: Instituto Ecuatoriano de Crédito Educativo y Becas.

Batallas, P. 2012. La deforestación en el norte de Esmeraldas, los actores y sus prácticas. Quito: Editorial Universitaria Abya Yala.

Bernal, R., C. Torres, N. García, C. Isaza, J. Navarro, M.I. Vallejo, G. Galeano, and H. Balslev. 2011. Palm management in South America. The Botanical Review 77 (4): 607–646.

Bjorholm, S., J.C. Svenning, F. Skov, and H. Balslev. 2005. Environmental and spatial controls of palm (Arecaceae) species richness across the Americas. Global Ecology and Biogeography 14 (5): 423–429.

Borchsenius, F., H. Borgtoft-Pedersen, and H. Balslev. 1998. Manual to the palms of Ecuador. AAU Reports 37. Department of Systematic Botany. Aarhus, Denmark: University of Aarhus, Denmark in collaboration with Pontificia Universidad Catalica del Ecuador.

Brokamp, G., N. Valderama, M. Mittelbach, C. A. R. Grandez, A. S. Barfod, and M. Weigend. 2011. Trade in palm products in north-western South America. Botanical Review 77 (4): 571–606.

Byg, A. and H. Balslev. 2001. Diversity and use of palms in Zahamena, eastern Madagascar. Biodiversity and Conservation 10 (6): 951–970.

Byg A. and H. Balslev. 2004. Factors affecting local knowledge of palms in Nangaritza valley, South-eastern Ecuador. Journal of Ethnobiology 24 (2): 255–278.

———, J. Vormisto, and H. Balslev. 2007. Influence of diversity and road access on palm extraction at landscape scale in SE Ecuador. Biodiversity and Conservation 16 (3): 631–642.

Cámara-Leret, R., N. Paniagua-Zambrana, and M.J. Macia. 2012. A standard protocol for gathering palm ethnobotanical data and socioeconomic variables across the tropics. In: Medicinal Plants and the Legacy of Richard Schultes, eds. B.E. Ponman, and R.W. Bussman, 41–71. Missouri: Missouri Botanical Garden Press.

———., ———, H. Balslev, A. Barfod, J.C. Copete, and M.J. Macía. 2014a. Ecological community traits and traditional knowledge shape palm ecosystem services in northwestern South America. Forest Ecology and Management 334: 28–42.

———., ———, J.C. Svenning, H. Balslev, and M.J. Macía. 2014b. Geospatial patterns in traditional knowledge serve in assessing intellectual property rights and benefit-sharing in northwest South America. Journal of Ethnopharmacology 158: 58–65.

———., J.C. Copete, H. Balslev, M.S. Gomez, and M.J. Macía. 2016. Amerindian and Afro-American perceptions of their traditional knowledge in the Chocó Biodiversity Hotspot. Economic Botany 70 (2): 160–175.

Carrasco, E. 1983. El pueblo chachi: el jeengume avanza. Colección Ethnos. Quito: Ediciones Abya-Yala.

Climate-Data.org. 2014. Clima: Esmeraldas. Accessed Dec 2015. http://es.climate-data.org/location/2961/.

Dodson, C.H. and A.H. Gentry. 1991. Biological extinction in Western Ecuador. Annals of the Missouri Botanical Garden 78 (2): 271–295.

Fabre, A. 2005. Diccionario etnolingüístico y guía bibliográfica de los pueblos indígenas Sudamericanos. BARBACOA. Edición electrónica regularmente actualizada 2010: 1–13.

Fadiman, M.G. 2003. Fibers from the forest: Mestizo, Afro-Ecuadorian and Chachi ethnobotany of Piquigua (Heteropsis ecuadorensis, Araceae) and Mocora (Astrocaryum standleyanum, Arecacae) in northwestern Ecuador. Austin: University of Texas Press.

Gobierno Nacional de la República del Ecuador. Una radio une a comunidades Chachi en Esmeraldas. Secretaría Nacional de Gestión de la Política Accessed Dec 2015. http://www.politica.gob.ec/una-radio-une-a-comunidades-chachi-en-esmeraldas/.

Godoy, R., V. Reyes-García, J. Broesch, I.C. Fitzpatrick, P. Giovannini, M.R. Martinez-Rodriguez, T. Huanca, W.R. Leonard, T.W. McDade, S. Tanner, and TAPS Bolivia Study Team. 2009. Long-term (secular) change of ethnobotanical knowledge of useful plants: separating cohort and age effects. Journal of Anthropological Research 65 (1): 51–67.

Gunn, B.F., L. Baudouin, and K.M. Olsen. 2011. Independent origins of cultivated Coconut (Cocos nucifera L.) in the Old World Tropics. PLoS ONE 6 (6): 1–8.

Hazlewood, J.A. 2004. Socio-environmental consequences of market integration among the Chachis of Esmeraldas, Ecuador. PhD thesis, University of Florida.

Kosmus, M., A. Bruner, F. de Koning, W. Diaz, M. Felix, J. Linke, M. Mora, A. Moreno, T. Lozada, J. Olander, C. Teran, L. Suarez, and P. Zurita. 2013. A long-term financial mechanism for conservation agreements in the Ecuadorian Chocó. The Economics of Ecosystems & Biodiversity: 1–4. Accessed 12 Dec 2017. https://www.cbd.int/financial/pes/ecuador-peschoco.pdf.

Macía, M.J., P.J. Armesilla, R. Cámara-Leret, N. Paniagua-Zambrana, S. Villalba, H. Balslev, and M. Pardo-de-Santayana. 2011. Palm uses in northwestern South America: A quantitative review. The Botanical Review 77 (4): 462–570.

Medina, H. 1992. Los Chachi: Supervivencia y ley tradicional. Quito: Abya-Yala.

Murra, J. 1946. The historic tribes of Ecuador. In: Steward, J. H. (ed.), Handboook of South American Indians 4:785–821. Washington D.C.: U.S. Government Prining Office.

O'Brien, C.W. and P.W. Kovarik. 2000. A new genus and new species of weevil infesting fruits of the palm Bactris gasipaes H.B.K. (Coleoptera, Curculionidae). The Coleopterists Bulletin 54 (4): 459–465.

Paniagua-Zambrana, N.Y., R. Camara-Lerét, R.W. Bussmann, and M.J. Macía. 2014. The influence of socioeconomic factors on traditional knowledge: A cross scale comparison of palm use in northwestern South America. Ecology and Society 19 (4): 9.

———, M. Tirado, and W. Palacios. 2003. Forest-cover change from labor- and capital-intensive commercial logging in the southern Chocó rainforests. The Professional Geographer 55 (4): 477–490.

de la Torre, L., L.M. Calvo-Irabién, C. Salazar, H. Balslev, and F. Borchsenius. 2009. Contrasting palm species and use diversity in the Yucatan Peninsula and the Ecuadorian Amazon. Biodiversity and Conservation 18 (11): 2837–2853.

Valencia, R., R. Montúfar, H. Navarrete, and H. Balslev (eds). 2013. Palmas Ecuatorianas: Biologia y uso sostenible. Quito: Herbario QCA de la Pontificia Universidad Católica del Ecuador Quito.

Whitten, N.E. 1974. Black frontiersmen: A South American case. New York: Wiley.

Yépez Montúfar, J. 2013. Chispero: Censo Sociopolítico y de Saberes Ancestrales 2012. Quito: Editorial Instituto De Alto Estudios Nacionales 1: 1–78.
Acknowledgments
We are grateful to all involved Chachi people for hosting us and for sharing their knowledge. We thank Jirdo Añapa (president of the FECCHE), Alfredo Añapa (local interpreter), Emilio Añapa, and Samuel Añapa and especial thank to Frixon Mera for the assistance in the field. We extend our gratitude to Hugo Navarrette, Rommel Montúfar, Lucia de la Torre, Jaime and Elisa Levy, Javier Robayo, Inayat Olmedo, and Olga Carnicer for their precious help during the field study and to the National Herbarium of Ecuador, Marcia Peñafiel, and Efrain Freire.
Funding
This study was funded by Claraz Schenkung.
About this article
Cite this article
Schneider, E., Cámara-Leret, R., Barfod, A. et al. Palm Use by Two Chachi Communities in Ecuador: a 30-Year Reappraisal. Econ Bot 71, 342–360 (2017). https://doi.org/10.1007/s12231-017-9397-8
Received:

Accepted:

Published:

Issue Date:
Key Words:
Chachi

Chocó

Ethnobotany

Palms

Traditional knowledge