Abstract
The Caribbean islands are considered a biodiversity hotspot, with high levels of endemism but also extreme levels of habitat loss. One factor causing local extinction or species scarcity is plant extraction by humans. Very few recent ethnobotanical studies exist for the Dutch Caribbean. We aimed to make a rapid sustainability assessment of wild plant harvesting on the island of St. Eustatius. A quantitative inventory of 11 plots (25 × 25 m) was carried out to obtain abundance data on wild plants, and 31 interviews were conducted to collect information on wild plant uses, extraction methods, and harvesting locations. In total, our respondents mentioned 181 useful plant species of which 66 were harvested exclusively from the wild. Four of these (Melocactus intortus (Mill.) Urb., Nectandra coriacea (Sw.) Griseb., Pilosocereus royenii (L.) Byles & G. D. Rowley, and Chiococca alba (L.) Hitchc.) may encounter sustainability problems in the future or might suffer from overharvesting already, as they do not survive harvesting and occur in low numbers in protected areas only. For the majority of wild species on St. Eustatius, plant extraction does not form an immediate threat to their survival. Several wild species are cultivated in gardens. Further population studies on the four shortlisted species are needed to calculate sustainable harvest levels and design adequate management plans for their survival in the future.
Access options
Buy single article
Instant access to the full article PDF.
USD 39.95
Price excludes VAT (USA)
Tax calculation will be finalised during checkout.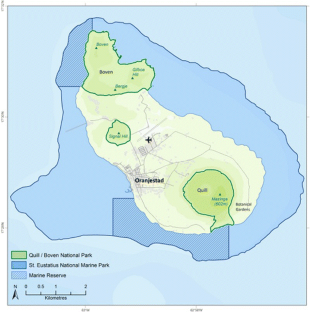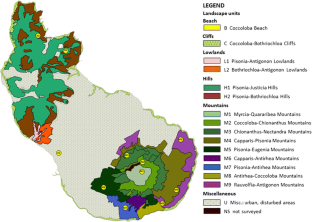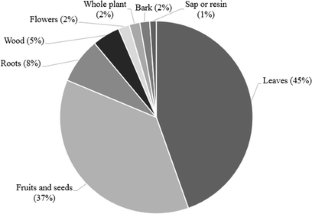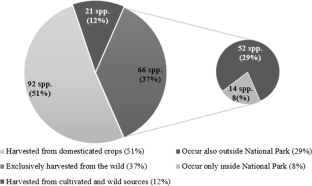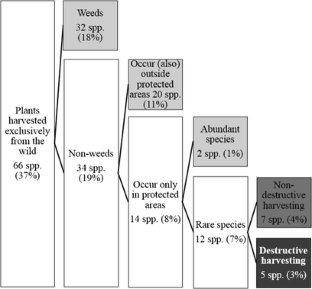 Literature Cited
Abbas, S., J. E. Nichol, and G. A. Fischer. 2016. A 70-year perspective on tropical forest regeneration. Sci. Total Environ. 544:544–552. doi:10.1016/j.scitotenv.2015.11.171.

Arnoldo, M. 1954. Gekweekte en nuttige planten van de Nederlandse Antillen. Natuurwetenschappelijke Werkgroep Nederlandse Antillen Curaçao, Willemstad.

Axelrod, F.S. 2016. A systematic vademecum to the vascular plants of St. Eustatius. Manuscript in preparation.

Boldingh, I. 1907. Lijst van planten, die door de bewoners van de drie Nederlandsche Antillen, St. Eustatius, Saba en St. Martin als geneeskrachtig worden beschouwd. J.H. De Bussy, Amsterdam.

——— 1909. The flora of the Dutch West Indian islands St. Eustatius, Saba and St. Martin. Brill, Leiden.

——— 1913. Flora voor de Nederlandsch West-Indische eilanden. De Bussy and KIT, Amsterdam.

Bramwell, D. and J. Caujapé-Castells. 2011. The biology of island floras. Cambridge University Press, Cambridge.

CBS. 2015. Caribisch Nederland; bevolkingsontwikkeling, geboorte, sterfte, migratie. http://statline.cbs.nl/StatWeb/publication/?VW=T&DM=SLNL&PA=80539NED&D1=a&D2=a&D3=a&HD=131008-1146&HDR=T&STB=G1,G2 (24-2-16).

CITES. 2014. Checklist of CITES species. http://checklist.cites.org/#/en/search/country_ids%5B%5D=33&output_layout=alphabetical&level_of_listing=0&show_synonyms=1&show_author=1&show_english=1&show_spanish=1&show_french=1&scientific_name=&page=1&per_page=20 (24-12-15).

Cunningham, A. B. 1993. African medicinal plants: setting priorities at the interface between conservation and primary health care. People and Plants working paper 1. UNESCO, Paris.

DCNA. 2014. St. Eustatius National Marine Park. http://www.dcnanature.org/st-eustatius-national-marine-park/(18-1-2016).

De Freitas, J. A., A. C. Rojer, B. S. J. Nijhof, and A. O. Debrot. 2012. A landscape ecological vegetation map of Saint Eustatius (Lesser Antilles). IMARES Wageningen UR, Den Helder.

Debrot, A. O. and E. Boman. 2012. The Lesser Antillean Iguana on St. Eustatius: 2012 status update and review of limiting factors. IMARES Wageningen UR, Den Helder.

Food and Travel Arabia. 2015. Kitt & Caboodle. http://www.foodandtravel.me/kitt-caboodle/(7-3-2016).

Gaoue, O. G. and T. Ticktin. 2007. Impacts of bark and foliage harvest on Khaya senegalensis (Meliaceae) reproductive performance in Benin. J. Appl. Ecol. 45:34–40. doi:10.1111/j.1365-2664.2007.01381.x.

Gilmore, J., J. Boulton, L. Kennedy, and M. Brown, eds. 2007. The Statia Cookbook. St. Eustatius Historical Foundation, Oranjestad.

Hammerton, J. L. and J. Fournet. 1991. Weeds of the Lesser Antilles/Mauvaises herbes des petites Antilles. Institut National de la Recherche Agronomique, Paris.

Hawthorne, W. D., D. Jules, and G. Marcelle. 2004. Caribbean Spice Island Plants. Oxford Forestry Institute, Oxford.

Helmer, E. H., T. A. Kennaway, D. H. Pedreros, M. L. Clark, H. Marcano-Vega, L. L. Tieszen, T. R. Ruzycki, S. R. Schill, and C. M. S. Carrington. 2008. Land cover and forest formation distributions for St. Kitts, Nevis, St. Eustatius, Grenada and Barbados from decision tree classification of cloud-cleared satellite imagery. Caribb. J. Sci. 44:175–198. doi:10.18475/cjos.v44i2.a6.

ISE. 2006. International Society of Ethnobiology Code of Ethics (with 2008 additions). http://ethnobiology.net/code-of-ethics/(18-7-15).

IUCN. 2015–4. The International Union for the Conservation of Nature Red List of Threatened Species. http://www.iucnredlist.org/(24-12-15).

Krings, A. and F. S. Axelrod. 2013. Gonolobus aloiensis (Apocynaceae, Asclepiadoideae), a New Species from St. Eustatius. Syst. Bot. 38:1132–1137. doi:10.1600/036364413X674904.

Levis, C., P. F. De Souza, J. Schietti, T. Emilio, J. L. Purri da Veigna Pinto, C. R. Clement, and F. R. C. Costa. 2012. Historical human footprint on modern tree species composition in the Purus-Madeira Interfluve, Central Amazonia. PloS One 7(11):e48559. doi:10.1371/journal.pone.0048559.

Martin, G. J. 2004. Ethnobotany: A methods manual. London: Earthscan.

Myers, N., R. A. Mittermeier, C. G. Mittermeier, G. A. B. Da Fonseca, and J. Kent. 2000. Biodiversity hotspots for conservation priorities. Nature 403:853–858. doi:10.1038/35002501.

Pemberton, R. W. and H. Liu. 2007. Control and persistence of native Opuntia on Nevis and St. Kitts 50 years after the introduction of Cactoblastis cactorum. Biol. Control 41:272–282. doi:10.1016/j.biocontrol.2007.02.002.

Peters, C. 1996. The ecology and management of non-timber resources. World Bank Technical Paper 322, Washington, DC.

Rojer, A. 1997. Biological inventory of St. Eustatius. KNAP project 96–10. Carmabi Foundation, Willemstad.

Schmidt, I. B., L. Mandle, T. Ticktin, and O. G. Gaoue. 2011. What do matrix population models reveal about the sustainability of non-timber forest product harvest? J. Appl. Ecol. 48:815–826. doi:10.1111/j.1365-2664.2011.01999.x.

Silva Matos, D. M. and M. L. A. Bovi. 2002. Understanding the threats to biological diversity in southeastern Brazil. Biodivers. Conserv. 11:1747–1758. doi:10.1023/A:1020344213247.

SNWMF 2006. Body is your temple thread. http://snwmf.com/phorum/read.php?1,81454,107520 (3-7-16).

Stanley, D., R. Voeks, and L. Short. 2012. Is non-timber forest product harvest sustainable in the less developed world? A systematic review of the recent economic and ecological literature. Ethnobiology and Conservation 1:9.

St. Croix Source. 2004. UVI St. Croix Promotes World Food Day. http://stcroixsource.com/content/news/local-news/2004/10/17/uvi-st-croix-promotes-world-food-day (7-3-2016).

STENAPA. 2013. Unpublished list of useful plants on St. Eustatius. STENAPA, Oranjestad.

STENAPA. n.d.a Parks. http://www.statiapark.org/parks/index.html (18-1-2016).

STENAPA. n.d. b Boven Sub-sector. http://www.statiapark.org/parks/boven/index.html (15-2-2016)

Stoffers, A.L. 1962–1984. Flora of the Netherlands Antilles. Natuurhistorische Studiekring Suriname en de Nederlandse Antillen, Utrecht.

The Plant List. 2013. Version 1.1. A working list of all plant species. www.theplantlist.org (23-12-2015).

Ticktin, T. 2004. The ecological implications of harvesting non-timber forest products. J. Appl. Ecol. 41:11–21. doi:10.1111/j.1365-2664.2004.00859.x.

Van Andel, T. and R. Havinga. 2008. Sustainability aspects of commercial medicinal plant harvesting in Suriname. For. Ecol. Manage. 256:1540–1545. doi:10.1016/j.foreco.2008.06.031.

———, S. Mitchell, G. Volpato, I. Vandebroek, J. Swier, S. Ruysschaert, C. A. Rentería Jiménez, and N. Raes. 2012. In search of the perfect aphrodisiac: Parallel use of bitter tonics in West Africa and the Caribbean. J. Ethnopharmacol. 143:840–850. doi:10.1016/j.jep.2012.08.008.

———, B. Van der Hoorn, M. Stech, S. Bantjes Arostegui, and J. Miller. 2016. A quantitative assessment of the vegetation types on the island of St. Eustatius, Dutch Caribbean. Global Ecology and Conservation 7:59–69. doi:10.1016/j.gecco.2016.05.003.

Van der Burg, W. J., J. De Freitas, A. O. Debrot, and L. A. P. Lotz. 2012. Naturalised and invasive alien plant species in the Caribbean Netherlands: status, distribution, threats, priorities and recommendations. Imares/Carmabi/PRI, Wageningen.

Van Proosdij, A.S.J. 2012. Arnoldo's Zakflora. Wat in het wild groeit en bloeit op Aruba, Bonaire en Curacao. De Walburg Pers, Zutphen.

Wiersema, J. H. and B. León. 2013. World Economic Plants: A Standard Reference, 2nd edition. CRC Press, Boca Raton.

Zimmermann, H. G., V. C. Moran, and J. H. Hoffmann. 2001. The Renowned Cactus Moth, Cactoblastis cactorum (Lepidoptera: Pyralidae): Its Natural History and Threat to Native Opuntia Floras in Mexico and the United States of America. The Florida Entomologist 84(4):543–551. doi:10.2307/3496386.
Acknowledgments
This study was funded by Naturalis Biodiversity Center, the Alberta Mennega Stichting, and the Van Eeden fonds. Fieldwork was facilitated by the Caribbean Netherlands Science Institute (CNSI) and Hannah Madden (STENAPA). We would like to thank our informants and field assistants Ambrosius van Zanten and Celford Gibbs for their time and sharing their knowledge. Franklin Axelrod of the Puerto Rico herbarium (UPR) assisted us with plant identification. Students and staff of the course Tropical Biodiversity and Field Methods contributed in collecting and identifying specimens during the plot inventory.
Electronic supplementary material
Below is the link to the electronic supplementary material.
About this article
Cite this article
Posthouwer, C., Verheijden, T.M.S. & van Andel, T.R. A Rapid Sustainability Assessment of Wild Plant Extraction on the Dutch Caribbean Island of St. Eustatius. Econ Bot 70, 320–331 (2016). https://doi.org/10.1007/s12231-016-9356-9
Received:

Accepted:

Published:

Issue Date:

DOI: https://doi.org/10.1007/s12231-016-9356-9
Key Words
Wild plant harvesting

Caribbean

Sustainability

Nature conservation

Ethnobotany