Morels of Palas Valley, Pakistan: A Potential Source for Generating Income and Improving Livelihoods of Mountain Communities. The local economy in the Palas Valley of Pakistan is agro-pastoral, and people rely on income and subsistence from livestock production followed by wild-collection of morels. The purpose of this study was to investigate the market potential of morels, their folk uses, traditions, and habitat conditions. Market and field surveys were conducted in various regions of the country. The information regarding ethnic uses of morels and the traditional beliefs of people in the Palas Valley and its surroundings were recorded. The data we collected included supply and demand, pricing, and market fluctuations and trends. A specially designed questionnaire was used to gather details from focus groups, and individual discussions and personal interviews during field visits were conducted. The study areas included: Palas Valley, Peshawar, Lahore, and Karachi, which are the major herbal market places in Pakistan. The Palas Valley was found to have the potential and natural resources to become an excellent market for morels. The results of the present study indicate that five species of morels (Morchella esculenta, M. conica, M. elata, M. deliciosa, and M. gigas) growing in Palas Valley are traded all over Pakistan. We found that a total of 15,000 kg morels from the Palas Valley were exported annually to national and international markets. This generated significant revenue (USD 343,000 per year) at the valley level. Local people, especially herdsmen, together with their wives and children, were mainly collecting this resource. Local knowledge about the methods of morel collection, drying, storage, and market price was limited. A continuous decline was observed in morel market supply in Pakistan. The main reasons identified included quality variation due to poor harvest treatments, trade practices of middlemen, availability of materials, and poor marketing strategies. The study concludes that morels are a potential source of income generation and improving livelihoods for underprivileged mountain communities. However, morel populations seem to be gradually declining due to possibly unsustainable collection techniques. There is tremendous potential to boost the income of ethnic communities by promoting training and enhancing the trade of morels based on modern scientific studies. This would not only bring considerable income opportunities for the population of Palas Valley, but would also decrease their dependence on timber sales and thus decrease the pressure on local forests.
Access options
Buy single article
Instant access to the full article PDF.
USD 39.95
Price excludes VAT (USA)
Tax calculation will be finalised during checkout.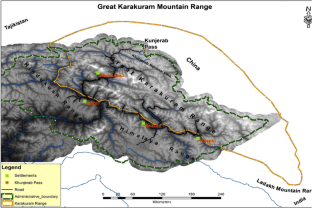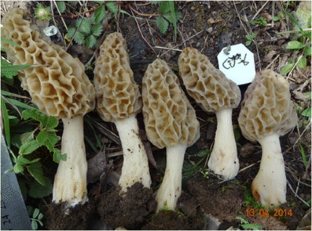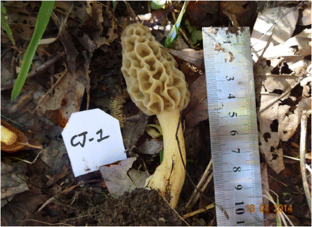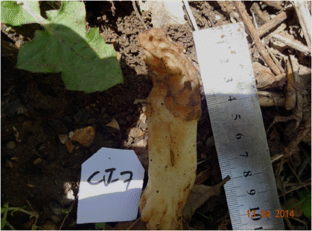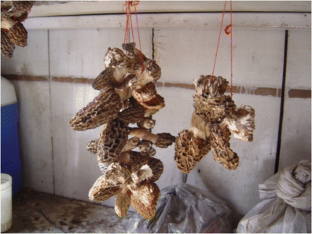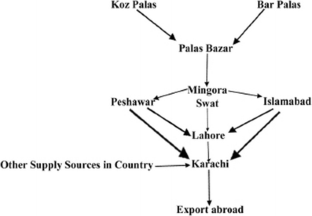 Literature Cited
Abbasi, A. M., M. A. Khan, M. H. Shah, M. M. Shah, A. Pervez, and A. Mushtaq. 2013. Ethnobotanical appraisal and cultural values of medicinally important wild edible vegetables of Lesser Himalayas-Pakistan. Journal of Ethnobiology and Ethnomedicine 9:66.

Biddulph, J. 1880. Tribes of the Hindoo Koosh. Office of the Superintendent of Government Printing, Calcutta.

Birdlife International Factsheet Palas Valley. 2015. http://www.birdlife.org/datazone/sitefactsheet.php?id=16412 (March 2015).

Boda, R. H., A. H. Wani, M. A. Zargar, et al. 2012. Nutritional values and antioxidant potential of some edible mushrooms of Kashmir valley. Pakistan Journal of Pharmacological Science 25:623–627.

Bodeker, G. 2002. Medicinal plants: Towards sustainability and security. IDRC Medicinal Plants Global Network Discussion Papers, WOCMAP III Chiang Mai.

Edwards, S. R. 2006. Saving biodiversity for human lives in northern Pakistan. IUCN.

El Enshasy, H., E. A. Elsayed, R. Aziz, and M. A. Wadaan. 2013. Mushrooms and truffles: Historical biofactories for complementary medicine in Africa and in the Middle East. Evidence Based Complementary and Alternative Medicine 2013. doi:10.1155/2013/620451.

Farnsworth, N. R. and D. D. Soejarto. 1991. Global importance of medicinal plants. Pages 25–51 in O. Akerele and V. H. Heywood, eds., Conservation of medicinal plants. Cambridge University Press, Cambridge.

Hamayun, M., S. A. Khan, H. Ahmad, D.-H. Shin, and I.-J. Lee. 2006. Morel collection and monitoring: A case study from the Hindu-Kush mountain region of Swat, Pakistan. Lyonia 11:7–13.

Hobley, M. and P. Bird. 2001. Institutions for coping with change: Can existing structures cope? International Forestry Review 3(3):188–197.

Iqbal, M., S. Ahmad, and H. Sher. 2000. Market survey of medicinal herbs in Malakand, Peshawar, Lahore and Karachi. Intercooperation Organization Suisse pour le Developpement et la Cooperation, 23–45.

Jodha, N. S. 1992. Mountain perspective and sustainability: A framework for development strategies. The Himalayan Review XX–XXIII:11–24.

Kalač, P. 2009. Chemical composition and nutritional value of European species of wild growing mushrooms: A review. Food Chemistry 113:9–16.

Kalyoncu, F., M. Oskay, H. Sağlam, T. F. Erdogan, and A. Ü. Tamer. 2010. Antimicrobial and antioxidant activities of mycelia of 10 wild mushroom species. Journal of Medicinal Food 13:415–419.

Karki, M. 2003. Organic conversion and certification: A strategy for improved value-addition and marketing of medicinal plants products in the Himalayas. Indian Forester 129:130–142.

Khan, B., A. Abdukadir, R. Qureshi, and G. Mustafa. 2011. Medicinal uses of plants by the inhabitants of Khunjerab National Park, Gilgit, Pakistan. Pakistan Journal of Botany 43:2301–2310.

Kim, M.-Y., P. Seguin, J.-K. Ahn, J.-L. Kim, S.-C. Chun, E.-H. Lim, S.-K. Seo, E.-Y. Kamh, S.-L. Kim, Y.-J. Park, H.-M. Ro, and I.-M. Chung. 2008. Phenolic compound concentration and antioxidant activities of edible and medicinal mushrooms from Korea. Journal of Agricultural Food Chemistry 56:7265–7270.

Kuo, M. 2005. Morels. University of Michigan Press, Ann Arbor.

Lakhanpal, T. N., O. Shad, and M. Rana. 2010. Biology of Indian morels. IK International Pvt. Ltd., New Delhi, India.

Larsen, H. O. and C. S. Olsen. 2007. Unsustainable collection and unfair trade? Uncovering and assessing assumptions regarding central Himalayan medicinal plant conservation. Biodiversity and Conservation 16:1679–1697.

Latif, A. and Z. K. Shinwari. 2005. Sustainable market development for non-timber forest products in Pakistan. Ethnobotany Leaflets 2005:3.

Lev, E. and Z. Amar. 2002. Ethnopharmacological survey of traditional drugs sold in the Kingdom of Jordan. Journal of Ethnopharmacology 82:131–145.

Lo, H.-C. and S. P. Wasser. 2011. Medicinal mushrooms for glycemic control in diabetes mellitus: History, current status, future perspectives, and unsolved problems (Review). International Journal of Medicinal Mushrooms 13.

Lundy, M., M. V. Gottret, C. Ostertag, R. Best, and S. Ferris. 2007. Participatory market chain analysis for smallholder producers. CIAT, Cali, Colombia.

Mati, E. and H. J. de Boer. 2011. Ethnobotany and trade of medicinal plants in the Qaysari Market, Kurdish Autonomous Region, Iraq. Jourmal of Ethnopharmacology 133:490–510.

Myers, N., R. A. Mittermeier, C. G. Mittermeier, G. A. B. de Fonseca, and J. Kent. 2000. Biodiversity hotspots for conservation priorities. Nature 403:853–858.

Negi, C. S. 2006. Morels (Morchella spp.) in Kumaun Himalaya. Natural Products Radian 5:306–310.

Nitha, B. and K. K. Janardhanan. 2008. Aqueous-ethanolic extract of morel mushroom mycelium Morchella esculenta, protects cisplatin and gentamicin induced nephrotoxicity in mice. Food Chemistry and Toxicology 46:3193–3199.

Pieroni, A. 2008. Local plant resources in the ethnobotany of Theth, a village in the Northern Albanian Alps. Genetic Resources and Crop Evolution 55:1197–1214.

Population Census Organization. 1998. District Census Report, 10–89.

Rashid, A., M. F. Swati, H. Sher, and M. N. Al-Yemeni. 2011. Phytoecological evaluation with detail floristic appraisal of the vegetation around Malam Jabba, Swat, Pakistan. Asian Pacific Journal of Tropical Biomedicine 1:461–467.

Saqib, Z. and A. Sultan. 2005. Ethnobotany of Palas Valley, Pakistan. Ethnobotanical Leaflets 2005:28.

———, R. N. Malik, M. I. Shinwari, and Z. K. Shinwari. 2011. Species richness, ethnobotanical species richness and human settlements along a Himalayan altitudinal gradient: Prioritizing plant conservation in Palas Valley, Pakistan. Pakistan Journal of Botany 43:129–133.

Senthilkumar, U., K. C. Ritesh, M. Sanjappa, D. Narasimhan, R. Uma Shaanker, and G. Ravikanth. 2014. Livelihood and revenue: Role of rattans among Mongoloid tribes and settlers of Andaman and Nicobar islands, India. Ethnobotany Research and Application 12:141–154.

Sher, H. 2002. Some medicinal and economic plants of Mahodand, Utror, Gabral Valleys (district Swat), Gabur, Begusht, Valleys (district Chitral). Technical report prepared for Pakistan Mountain Areas Conservation project, 23–45.

———. 2013. Collection and marketing of high value medicinal and aromatic plants from district Swat, Pakistan. Washington, D.C.: International Food Policy Research Institute (IFPRI).

———, Z. D. Khan, A. U. Khan, and F. Hussain. 2004. Ethnobotanical study on some plants in village Tigdari, district Swat, Pakistan. Acta Botanica Yunnanica 42–54.

———, A. Aldosari, A. Ali, and H. J. de Boer. 2014. Economic benefits of high value medicinal plants to Pakistani communities: An analysis of current practice and potential. Journal of Ethnobiology and Ethnomedicine 1:6.

——— and A. H. Shah. 2014. Traditional role of morels (Morchella spp.) as food, medicine and income in Palas Valley, Pakistan. Biology and Medicine:7(3) Editorial Note.

———, A. Aldosari, A. Ali, and H. J. de Boer. 2015. Indigenous knowledge of folk medicines among tribal minorities in Khyber Pakhtunkhwa, northwestern Pakistan. Journal of Ethnopharmacology. DOI: 10.1016/j.jep.2015.03.022.

Shinwari, Z. K. 2010. Medicinal plants research in Pakistan. Journal of Medicinal Plants Research 4:161–176.

Society for Economic Botany. 2014. Guidelines of professional ethics. http://econbot.org/index.php?module=content&type=user&func=view&pid=3 (March 2014).

Taşkın, H., S. Büyükalaca, K. Hansen, and K. O'Donnell. 2011. Multilocus phylogenetic analysis of true morels (Morchella) reveals high levels of endemics in Turkey relative to other regions of Europe. Mycologia 11–180.

Thatoi, H. and S. K. Singdevsachan. 2014. Diversity, nutritional composition and medicinal potential of Indian mushrooms: A review. African Journal of Biotechnology 13:523–545.

Wasser, S. P. 2002. Medicinal mushrooms as a source of antitumor and immunomodulating polysaccharides. Applied Microbiology and Biotechnology 60:258–274.

———. 2011. Current findings, future trends, and unsolved problems in studies of medicinal mushrooms. Applied Microbiology and Biotechnology 89:1323–1332.

Wei, W., X. Luo, L. Zheng, M. Yu, N. Jiang, X. Y. Xu, and Z. R. Zang. 2011. Isolation of a wild Morchella spp. strain and the effects of its extract on ethanol-induced gastric mucosal lesions in rats. Zeitschrift fuer Naturforschung C-J Bioscience 66:55.

Wylly, H. C. 2012. Tribes Of Central Asia: From the Black Mountain to Waziristan. Global Oriental Classic Reprints.
Acknowledgments
The authors would like to extend their sincere appreciation to the National Research Program for Universities of the Higher Education Commission, Pakistan, for research funding and support.
About this article
Cite this article
Sher, H., Aldosari, A. & Bussmann, R.W. Morels of Palas Valley, Pakistan: A Potential Source for Generating Income and Improving Livelihoods of Mountain Communities. Econ Bot 69, 345–359 (2015). https://doi.org/10.1007/s12231-015-9326-7
Received:

Accepted:

Published:

Issue Date:

DOI: https://doi.org/10.1007/s12231-015-9326-7
Key Words
Morels

edible mushrooms

ethnic uses

mountain communities

market potential

local livelihoods

ethnobotany