Abstract
Yarrow ( Achillea millefolium L.): A Neglected Panacea? A Review of Ethnobotany, Bioactivity, and Biomedical Research. Yarrow (Achillea millefolium L.) is one of the most widely used medicinal plants in the world, primarily for wounds, digestive problems, respiratory infections, and skin conditions, and secondarily, among other uses, for liver disease and as a mild sedative. Preclinical studies indicate that it may have anti-inflammatory, anti-ulcer, hepatoprotective, anxiolytic, and perhaps antipathogenic activities. Animal studies have also shown that yarrow is generally safe and well tolerated. The claim that yarrow has been shown to be specifically contraindicated during pregnancy is based on a single low-quality rat study the results of which were incorrectly interpreted. The combination of human use data from multiple cultures, independently reporting similar activities for yarrow, and the discovery of potentially relevant bioactivities by in vitro and animal studies represent meaningful evidence of the plant's efficacy. We therefore argue that human clinical trials should be funded and conducted.
Access options
Buy single article
Instant access to the full article PDF.
US$ 39.95
Tax calculation will be finalised during checkout.
Subscribe to journal
Immediate online access to all issues from 2019. Subscription will auto renew annually.
US$ 79
Tax calculation will be finalised during checkout.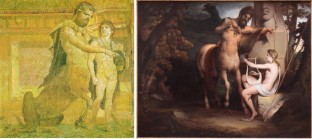 Literature Cited
Aguirrezabalaga, I., I. Santamaría, and M. A. Comendador. 1994. The w/w+ SMART is a useful tool for the evaluation of pesticides. Mutagenesis 9:341–346.

Allen, D. E. and G. Hatfield. 2004. Medicinal plants in folk tradition. Timber Press, Portland, Oregon.

Anon. 2011. Research breakthrough. http://medicaltraditions.org/institute/news/2-general/168-research-breakthrough-2000-year-old-medicine-revealed (February 2011).

Arnold, T. H. 2002. Medicinal and magical plants of Southern Africa: An annotated checklist. National Botanical Institute, Pretoria.

Bélanger, A. and L. Dextraze. 1993. Variability of chamazulene within Achillea millefolium. Acta Horticulturae (ISHS) 330:141–146.

Benedek, B. and B. Kopp. 2007. Achillea millefolium L. s.l. revisited: Recent findings confirm the traditional use. Wiener Medizinische Wochenschrift 157:312–314.

———, N. Geisz, W. Jäger, T. Thalhammer, and B. Kopp. 2006. Choleretic effects of yarrow (Achillea millefolium s.l.) in the isolated perfused rat liver. Phytomedicine 13:702–706.

———, N. Gjoncaj, J. Saukel, and B. Kopp. 2007a. Distribution of phenolic compounds in Middleeuropean taxa of the Achillea millefolium L. aggregate. Chemistry and Biodiversity 4:849–857.

———, B. Kopp, and M. F. Melzig. 2007b. Achillea millefolium L. s.l.—Is the anti-inflammatory activity mediated by protease inhibitors? Journal of Ethnopharmacology 113:312–317.

———, K. Rothwangl-Wiltschnigg, E. Rozema, N. Gjoncaj, G. Reznicek, J. Jurenitsch, B. Kopp, and S. Giasl. 2008. Yarrow (Achillea millefolium L. s.l.): Pharmaceutical quality of commercial samples. Pharmazie 63:23–26.

Bini, I., A. Jankovi, D. Jankovi, I. Jankovi, and Z. Vručini. 2010. Evaluation of healing and antimicrobiological effects of herbal therapy on venous leg ulcer: Pilot study. Phytotherapy Research 24:277–282.

Blumenthal, M., W. R. Busse, A. Goldberg, J. Gruenwald, T. Hall, S. Klein, C. W. Riggins, and R. S. Rister, eds. 1998. The complete German commission E monographs: Therapeutic guide to herbal medicines. American Botanical Council, Austin, Texas.

Boswell-Ruys, C. L., H. E. Ritchie, and P. D. Brown-Woodman. 2003. Preliminary screening study of reproductive outcomes after exposure to yarrow in the pregnant rat. Birth Defects Research Part B, Developmental and Reproductive Toxicology 68:416–420.

Bozin, B., N. Mimica-Dukic, M. Bogavac, L. Suvajdzic, N. Simin, I. Samojlik, and M. Couladis. 2008. Chemical composition, antioxidant and antibacterial properties of Achillea collina Becker ex Heimerl s.l. and A. pannonica Scheele essential oils. Molecules 13:2058–2068.

Breinholt, V. and J. C. Larsen. 1998. Detection of weak estrogenic flavonoids using a recombinant years strain and a modified MCF7 cell proliferation assay. Chemical Research in Toxicology 11:622–629.

Bussmann, R. W. and D. Sharon. 2007. Plants of the four winds: The magic and medicinal flora of Peru. Graficart, Trujillo, Peru.

Candan, F., M. Unlü, B. Tepe, D. Daferera, M. Polissiou, A. Sökmen, and H. A. Akpulat. 2003. Antioxidant and antimicrobial activity of the essential oil and methanol extracts of Achillea millefolium subsp. millefolium Afan. (Asteraceae). Journal of Ethnopharmacology 87:215–220.

Cano Asseleih, L. M. 1997. Flora medicinal de Veracruz. I. Inventario etnobotánico. Universidad Veracruzana, Xalapa, Mexico.

Cavalcanti, A. M., C. H. Baggio, C. S. Freitas, L. Rieck, R. S. de Sousa, J. E. Da Silva-Santos, S. Mesia-Vela, and M. C. Marques. 2006. Safety and antiulcer efficacy studies of Achillea millefolium L. after chronic treatment in Wistar rats. Journal of Ethnopharmacology 107:277–284.

Cernaj, P., P. M. Repcak, K. Tesarik, and R. Honcariv. 1983. Terpenoid compounds from different parts of Achillea collina Becker inflorescences. Biologia Plantarum (Praha) 25:221–224.

Chandler, R. F., S. N. Hooper, and M. J. Harvey. 1982. Ethnobotany and phytochemistry of yarrow, Achillea millefolium, Compositae. Economic Botany 36:203–223.

Choudhary, M. I., S. Jalil, M. Todorova, A. Trendafilova, B. Mikhova, H. Duddeck, and Atta-ur-Rahman. 2007. Inhibitory effect of lactone fractions and individual components from three species of the Achillea millefolium complex of Bulgarian origin on the human neutrophils respiratory burst activity. Natural Products Research 21:1032–1036.

Cross, D. E., R. M. McDevitt, K. Hillman, and T. Acamovic. 2007. The effect of herbs and their associated essential oils on performance, dietary digestibility and gut microflora in chickens from 7 to 28 days of age. British Poultry Science 48:496–506.

Cruz, C. N. 1979. Dicionário de plantas úteis do Brazil. Civilização Brasiliera, Rio de Janeiro.

Dalsenter, P. R., A. M. Cavalcanti, A. J. Andrade, S. L. Araújo, and M. C. Marques. 2004. Reproductive evaluation of aqueous crude extract of Achillea millefolium L. (Asteraceae) in Wistar rats. Reproductive Toxicology 18:819–823.

Dokhani, S., T. Cottrell, J. Khajeddin, and G. Mazza. 2005. Analysis of aroma and phenolic components of selected Achillea species. Plant Foods for Human Nutrition 60:55–62.

Duke, J. A. 1986. Isthmian ethnobotanical dictionary. Scientific Publishers, Jodhpur, India.

——— and E. S. Ayensu. 1985. Medicinal Plants of China. Reference Publications, Algonac, Michigan.

Ehrendorfer, F. 1973. New chromosome numbers and remarks on the Achillea millefolium polyploid complex in North America. Österreichische Botanische Zeitschrift 122:133–143.

——— and Y.-P. Guo. 2006. Multidisciplinary studies on Achillea sensu lato (Compositae–Anthemidae): New data on systematics and phylogeography. Willdenowia 36:69–87.

Fewkes, J. W. 1896. A contribution to ethnobotany. American Anthropologist 9:14–21.

García Barriga, H. 1975. Flora medicinal de Colombia. Imprenta Nacional, Bogotá, D.E.

Gervais, C. 1977. Cytological investigation of the Achillea millefolium complex (Compositae) in Quebec. Canadian Journal of Botany 55:796–808.

Gherase, F., M. D. Pavelescu, U. Stnescu, and E. Grigorescu. 2002. Evaluarea experimentalia privind activitatea analgezica a unor extracte izolate din specia Achillea collina J. Becker ex Reichenb. Revista Medico-Chiruricala A Societatii de Medici si Naturalisti Din Iasi 106:801–805.

Glasl, S., P. Mucaji, I. Werner, A. Presser, and J. Jurenitsch. 2002. Sesquiterpenes and flavonoid aglycones from a Hungarian taxon of the Achillea millefolium group. Zeitschrift für Naturforschung [C] 57:976–982.

Graf, U., A. A. Moraga, R. Castro, and E. Diaz Carrillo. 1994. Genotoxicity testing of different types of beverages in the Drosophila wing Somatic Mutation And Recombination Test. Food and Chemical Toxicology 32:423–430.

Greger, H. and A. Werner. 1990. Comparative HPLC analyses of alkamides within the Achillea millefolium group. Planta Medica 56:482–486.

Guarrera, P. M. 2006. Usi e tradizioni della flora Italiana. Medicina Popolare ed Etnobotanica. Aracne, Rome.

Gudaitytė, O. and P. R. Venskutonis. 2007. Chemotypes of Achillea millefolium transferred from 14 different locations in Lithuania to the controlled environment. Biochemical Systematics and Ecology 35:582–592.

Guédon, D., P. Abbe, and J. L. Lamaison. 1993. Leaf and flower head flavonoids of Achillea millefolium L. subspecies. Biochemical Systematics and Ecology 21:607–611.

Guo, Y.-P., F. Ehrendorfer, and R. Samuel. 2004. Phylogeny and systematics of Achillea (Asteraceae–Anthemidae) inferred from nrITS and plastid trnL-F DNA sequences. Taxon 53:657–672.

———, J. Saukel, R. Mittermayr, and F. Ehrendorfer. 2005. AFLP analyses demonstrate genetic divergence, hybridization, and multiple polyploidization in the evolution of Achillea (Asteraceae–Anthemidae). New Phytologist 166:273–289.

Hatsuko Baggio, C., G. De Martini Okofuji, C. Setim Freitas, L. M. Brandão Torres, M. C. Andrade Marques, and S. Mesia-Vela. 2008. Brazilian medicinal plants in gastrointestinal therapy. Pages 46–51 in R. R. Watson and V. R. Preedy, eds., Botanical medicine in clinical practice. CABI, Oxon, United Kingdom.

Hausen, B. M., J. Breuer, J. Weglewski, and G. Rücker. 1991. α-Peroxyachifolid and other new sensitizing sesquiterpene lactones from yarrow (Achillea millefolium L., Compositae). Contact Dermatitis 24:274–280.

Hofmann, L. and D. Fritz. 1993. Genetical, ontogenetical and environmental caused variability of the essential oil of different types of the Achillea millefolium complex. Acta Horticulturae (ISHS) 330:147–157.

Holetz, F. B., G. L. Pessini, N. R. Sanches, D. A. Cortez, C. V. Nakamura, and B. P. Filho. 2002. Screening of some plants used in the Brazilian folk medicine for the treatment of infectious diseases. Memorias do Instituto Oswaldo Cruz 97:1027–1031.

Huseini, H. F., S. M. Alavian, R. Hesmat, M. R. Heydari, and K. Abolmaali. 2005. The efficacy of Liv-52 on liver cirrhotic patients: A randomized, double-blind, placebo-controlled first approach. Phytomedicine 12:619–624.

Innocenti, G., E. Vegeto, S. Dall'Acqua, P. Ciana, M. Giorgetti, E. Agradi, A. Sozzi, G. Fico, and F. Tomè. 2007. In vitro estrogenic activity of Achillea millefolium L. Phytomedicine 14:147–152.

Jaenson, T. G., K. Pålsson, and A. K. Borg-Karlson. 2006. Evaluation of extracts and oils of mosquito (Diptera: Culicidae) repellent plants from Sweden and Guinea-Bissau. Journal of Medical Entomology 43:113–119.

Jones, W. H. S. 1956. [Pliny, the Elder] Naturalis Historia. English and Latin. Harvard University Press, Cambridge, Massachusetts.

Kokkalou, E., S. Kokkini, and E. Hanlidou. 1992. Volatile constituents of Achillea millefolium in relation to their infraspecific variation. Biochemical Systematics and Ecology 20:665–670.

Kolos, E. and E. Kolosné Pethés. 1956. Hazai gyogynövényeink, 2nd edition. Tudomanyos es semeretterjeszto, Budapest.

Konyalioglu, S. and C. Karamenderes. 2005. The protective effects of Achillea L. species native in Turkey against H2O2-induced oxidative damage in human erythrocytes and leucocytes. Journal of Ethnopharmacology 102:221–227.

Kumar, N., K. Allen, D. Riccardi, A. Kazi, and J. Heine. 2004. Isoflavones in breast cancer chemoprevention: Where do we go from here? Frontiers in Bioscience 9:2927–2934.

Lamaison, J. L. and A. P. Carnat. 1988. Recherche d'azulène chez les trois sous-espèces d'Achillea millefolium L. Annales Pharmaceutiques Françaises 46:139–143.

Lemmens-Gruber, R., E. Marchart, P. Rawnduzi, N. Engel, B. Benedek, and B. Kopp. 2006. Investigation of the spasmolytic activity of the flavonoid fraction of Achillea millefolium s.l. on isolated guinea-pig ilea. Arzneimittelforschung 56:582–588.

Leroi-Gourhan, A. 1975. The flowers found with Shanidar IV, a Neanderthal burial in Iraq. Science 190:562–564.

——— 1998. Shanidar et ses fleurs. Paléorient 24:79–88.

Lin, L.-T., L.-T. Liu, L.-C. Chang, and C.-C. Lin. 2002. In vitro anti-hepatoma activity of fifteen natural medicines from Canada. Phytotherapy Research 16:440–444.

Mahady, G. B., S. L. Pendland, A. Stoia, F. A. Hamill, D. Fabricant, B. M. Dietz, and L. R. Chadwick. 2005. In vitro susceptibility of Helicobacter pylori to botanical extracts used traditionally for the treatment of gastrointestinal disorders. Phytotherapy Research 19:988–991.

Marchart, E. and B. Kopp. 2003. Capillar electrophoretic separation and quantification of flavone-O- and C-glycosides in Achillea setacea W. et K. Journal of Chromatography B–Analytical Technologies in the Biomedical and Life Sciences 792:363–368.

Maswadeh, H. M., M. H. Semreen, and A. R. Naddaf. 2006. Anti-inflammatory activity of Achillea and Ruscus topical gel on carrageenan-induced paw edema in rats. Acta Poloniae Pharmaceutica 63:277–280.

McKay, D. L. and J. B. Blumberg. 2006. A review of the bioactivity and potential health benefits of chamomile tea (Matricaria chamomilla L.). Phytotherapy Research 20:519–530.

Messina, M., W. McCaskill-Stevens, and J. W. Lampe. 2006. Addressing the soy and breast cancer relationship: review, commentary, and workshop proceedings. Journal of the National Cancer Institute 98:1275–1284.

Michler, B. and C.-G. Arnold. 1999. Predicting presence of proazulenes in the Achillea millefolium group. Folia Geobotanica 34:143–161.

Moerman, D. E. 1998. Native American ethnobotany. Timber Press, Portland, Oregon.

——— 2007. Agreement and meaning: Rethinking consensus analysis. Journal of Ethnopharmacology 112:451–460.

Molina-Hernandez, M., N. P. Tellez-Alcantara, M. A. Diaz, J. Perez Garcia, J. I. Olivera Lopez, and M. T. Jaramillo. 2004. Anticonflic actions of aqueous extracts of flowers of Achillea millefolium L. vary according to the estrous cycle phases in Wistar rats. Phytotherapy Research 18:915–920.

Montanari, T., J. E. de Carvalho, and H. Dolder. 1998. Antispermatogenic effect of Achillea millefolium L. in mice. Contraception 58:309–313.

Murnigsih, T., Subeki, H. Matsuura, K. Takahashi, M. Yamasaki, O. Yamato, Y. Maede, K. Katakura, M. Suzuki, S. Kobayashi, Chairul, and T. Yoshihara. 2005. Evaluation of the inhibitory activities of the extracts of Indonesian traditional medicinal plants against Plasmodium falciparum and Babesia gibsoni. Journal of Veterinary Medical Science 67:829–831.

Orav, A., E. Arak, and A. Raal. 2006. Phytochemical analysis of the essential oil of Achillea millefolium L. from various European countries. Natural Products Research 20:1082–1088.

Orth, M., D. Juchelka, A. Mosandl, and F. C. Czygan. 2000. Enantiomere Monoterpene im ätherischen Öl von Achillea millefolium s.l.: Eine zusätzliche taxonomische Bestimmungshilfe? Pharmazie 55:456–459.

Osbaldeston, T. A. and R. P. A. Wood, eds. 2000. Dioscorides: De materia medica. Ibidis Press, Johannesburg.

Pollington, S. 2000. Leechcraft: Early English charms, plant lore, and healing. Anglo-Saxon Books, Norfolk, England.

Preitschopf, A., B. Michler, and C.-G. Arnold. 1989. Achillea millefolium: Occurrence, ploidal level, and proazulene variation. Planta Medica 55:596.

Qin, L.-Q., J.-Y. Xu, P.-Y. Wang, and K. Hoshi. 2006. Soyfood intake in the prevention of breast cancer risk in women: A meta-analysis of observational epidemiological studies. Journal of Nutrition Science and Vitaminology (Tokyo) 52:428–436.

Ramadan, M., S. Goeters, B. Watzer, E. Krause, K. Lohmann, R. Bauer, B. Hempel, and P. Imming. 2006. Chamazulene carboxylic acid and matricin: A natural profen and its natura prodrug, identified through similarity to synthetic drug substances. Journal of Natural Products 69:1041–1045.

Ramsey, J. 2007. Unreduced gametes and neopolyploids in natural populations of Achillea borealis (Asteraceae). Heredity 98:143–150.

Richardson, I. B. K. 1976. Achillea. Pages 159–165 in T. G. Tutin, V. H. Heywood, N. A. Burgess, et al., eds., Flora Europaea, Vol. 4. Cambridge University Press, Cambridge.

Rodriguez-Arnais, R., E. W. Vogel, and A. Szakmary. 1993. Strong intra-species variability in the metabolic conversion of six procarcinogens to somatic cell recombinagens in Drosophila. Mutagenesis 8:543–551.

Rohloff, J., E. B. Skagen, A. H. Steen, and T. H. Iversen. 2000. Production of yarrow (Achillea millefolium L.) in Norway: Essential oil content and quality. Journal of Agricultural and Food Chemistry 48:6205–6209.

Rücker, G., D. Manns, and J. Breuer. 1991. Peroxide als Pflanzeninhaltsstoffe. 8. Mitt. Guaianolid-Peroxide aus der Schafgarbe, Achillea millefolium L., Ausloser der Schafgarbendermatitis. Archiv der Pharmazie (Weinheim) 324:979–981.

———, M. Neugebauer, and A. Kiefer. 1994. Quantitative Bestimmung von α-Peroxyachifolid in der Schafgarbe durch HPLC mit amperometrischer Detektion. Pharmazie 49:167–169.

Santoro, G. F., M. G. Cardoso, L. G. Guimarães, L. Z. Mendonça, and M. J. Soares. 2007. Trypanosoma cruzi: Activity of essential oils from Achillea millefolium L., Syzygium aromaticum L. and Ocimum basilicum L. on epimastigotes and trypomastigotes. Experimental Parasitology 116:283–290.

Sellerberg, U. and H. Glasl. 2000. Pharmacognostical examination concerning the hemostyptic effect of Achillea millefolium Aggregat. Scientia Pharmaceutica 68:201–206.

Silva, I. and D. M. G. Sant'Ana. 1995. Noções sobre o organismo humano e a utilização de plantas medicinis. Assoeste-Editora Educativa, Cascavel, Paraná, Brazil.

Solecki, R. S. 1975. Shanidar IV, a Neanderthal flower burial in northern Iraq. Science 190:880–881.

Stevenson, M. C. 1915. Ethnobotany of the Zuni Indians. Smithsonian Institution Bureau of American Ethnology Annual Report, No. 30. Smithsonian Institution, Washington, D.C.

Stojanovi, G., N. Radulovi, T. Hashimoto, and R. Pali. 2005. In vitro antimicrobial activity of extracts of four Achillea species: The composition of Achillea clavennae L. (Asteraceae) extract. Journal of Ethnopharmacology 101:185–190.

Sulyok, K. and L. Siklos. 1998. Lajor Atya Tanascai. Hungalibri Kiado, Budapest.

Todorova, M., A. Trendafilova, B. Mikhova, A. Vitkova, and H. Duddeck. 2007. Chemotypes in Achillea collina based on sesquiterpene lactone profile. Phytochemistry 68:1722–1730.

Tozyo, T., Y. Yoshimura, K. Sakurai, N. Uchida, Y. Takeda, H. Nakai, and H. Ishii. 1994. Novel antitumor sesquiterpenoids in Achillea millefolium. Chemical and Pharmaceutical Bulletin (Tokyo) 42:1096–1100.

Trendafilova, A., M. Todorova, B. Mikhova, A. Vitkova, and H. Duddeck. 2006. Sesquiterpene lactones from Achillea collina J. Becker ex Reichenb. Phytochemistry 67:764–770.

Unlü, M., D. Daferera, E. Dönmez, M. Polissiou, B. Tepe, and A. Sökmen. 2002. Compositions and the in vitro antimicrobial activities of the essential oils of Achillea setacea and Achillea teretifolia (Compositae). Journal of Ethnopharmacology 83:117–121.

van Meeuwen, J. A., N. Korthagen, P. C. de Jong, A. H. Piersma, and M. van den Berg. 2007. (Anti)estrogenic effects of phytochemicals on human primary mammary fibroblasts, MCF-7 cells and their co-culture. Toxicology and Applied Pharmacology 221:372–383.

Verzár-Petri, G., B. N. Cuong, J. Tamas, L. Radics, and K. Ujszaszi. 1979. The main azulenogenous sesquiterpene lactones of Achillea millefolium L. ssp. collina as compounds in the plant kingdom. Planta Medica 36:273–274.

Vestal, P. 1940. Notes on a collection of plants from the Hopi Indian region of Arizona made by J. G. Owens in 1891. Botanical Museum Leaflets (Harvard University) 8(8):153–168.

Werner, I., S. Glasl, A. Presser, E. Haslinger, and J. Jurenitsch. 2003. Sesquiterpenes from Achillea pannonica Scheele. Zeitschrift für Naturforschung 58:303–307.

———, ———, and G. Reznicek. 2006. Infrared spectroscopy as a tool for chemotaxonomic investigations within the Achillea millefolium group. Chemistry and Biodiversity 3:27–33.

Whiting, A. F. 1939. Ethnobotany of the Hopi. Museum of Northern Arizona Bulletin #15.

Wichtl, M. 2004. Herbal drugs and phytopharmaceuticals: A handbook for practice on a scientific basis. Third [English] edition. Medpharm Scientific Publishers, Stuttgart, Germany.

Yaeesh, S., Q. Jamal, A. U. Khan, and A. H. Gilani. 2006. Studies on hepatoprotective, antispasmodic and calcium antagonist activities of the aqueous-methanol extract of Achillea millefolium. Phytotherapy Research 20:546–551.

Zand, R. S., D. J. Jenkins, and E. P. Diamandis. 2000. Steroid hormone activity of flavonoids and related compounds. Breast Cancer Research and Treatment 62:35–49.

Zitterl-Eglseer, K., J. Jurenitsch, S. Korhammer, E. Haslinger, S. Sosa, R. Della Loggia, W. Kubelka, and C. Franz. 1991. Entzündungshemmede sesquiterpenlactone von Achillea setacea. Planta Medica 57:444–446.
Acknowledgments
The authors wish to thank Brad Bennett, Alain Touwaide, Emanuela Appettiti, and several sharp-eyed anonymous reviewers; all helped with important elements of the paper. Bob Voeks, editor of Economic Botany, modified the production schedule to help us add late-breaking issues.
DM adds "For Mike."
About this article
Cite this article
Applequist, W.L., Moerman, D.E. Yarrow (Achillea millefolium L.): A Neglected Panacea? A Review of Ethnobotany, Bioactivity, and Biomedical Research1 . Econ Bot 65, 209 (2011). https://doi.org/10.1007/s12231-011-9154-3
Received:

Accepted:

Published:
Key Words
Achillea millefolium

ethnobotany

medicinal plants

toxicology

yarrow