Abstract
Ilex Vomitoria Ait. (Yaupon): A Native North American Source of a Caffeinated and Antioxidant-Rich Tea. Yaupon holly (Ilex vomitoria Ait.) is a caffeine-containing shrub native to the southeastern United States where its leaves and twigs were traditionally used to prepare a stimulating and healthful beverage by Amerindians and more recent colonists. For a variety of mostly socioeconomic and cultural reasons, widespread consumption of yaupon tea ceased by the late 19th century, but the species is widely used in ornamental horticulture. Given the environmental damage associated with other caffeine crops, we believe that disuse of this species is unfortunate, and we report on traits that consumers may consider valuable. We found that total foliar biomass, caffeine, and antioxidant production all increased with nitrogen fertilization in one common ornamental yaupon cultivar, 'Nana.' Increasing light availability was associated with increased antioxidant activity but not with the decreased caffeine production predicted by the carbon/nutrient balance hypothesis for secondary metabolite production. We also found the highest caffeine concentrations in another yaupon cultivar, 'Pendula,' but suggest that the wide range of chemical variation offered by wild-type yaupon populations renders them more suitable as sources for the development of high caffeine-producing varieties. The results of this study suggest that yaupon is a viable caffeine alternative for North Americans living within its range on the southeastern coastal plain.
Access options
Buy single article
Instant access to the full article PDF.
US$ 39.95
Tax calculation will be finalised during checkout.
Subscribe to journal
Immediate online access to all issues from 2019. Subscription will auto renew annually.
US$ 79
Tax calculation will be finalised during checkout.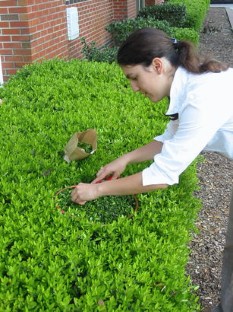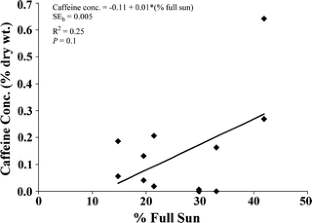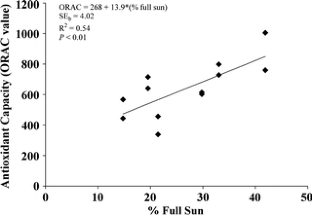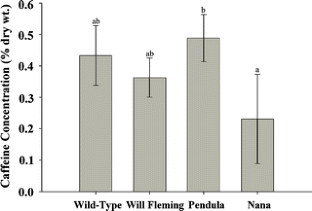 Literature Cited
Ames, B. N., M. K. Shigenaga., and T. M. Hagen. 1993. Oxidants, Antioxidants, and the Degenerative Diseases of Aging. Proceedings of the National Academy of Sciences 90:7915–7922.

Bastos, D. H. M., E. Y. Ishimoto, M. O. M. Marques, A. F. Ferri, and E. A. F. S. Torres. 2006. Essential Oil and Antioxidant Activity of Green Mate and Mate Tea (Ilex paraguariensis) Infusions. Journal of Food Composition and Analysis 19:538–543.

Bracesco, N., M. Dell, A. Rocha, S. Behtash, T. Menini, A. Gugliucci, and E. Nunes. 2003. Antioxidant Activity of a Botanical Extract Preparation of Ilex paraguariensis: Prevention of DNA Double-Strand Breaks in Saccharomyces cerevisiae and Human Low-Density Lipoprotein Oxidation. Journal of Alternative and Complementary Medicine 9:379–387.

Bryant, J. P., F. S. Chapin, and D. R. Klein. 1983. Carbon/Nutrient Balance of Boreal Plants in Relation to Vertebrate Herbivory. Oikos 40:357–368.

Carini, M., R. Maffei Facino, G. Aldini, M. Calloni, and L. Colombo. 1998. Characterization of Phenolic Antioxidants from Mate (Ilex paraguayensis) by Liquid Chromatography/Mass Spectrometry and Liquid Chromatography/Tandem Mass Spectrometry. Rapid Communications in Mass Spectrometry 12:1813–1819.

Chandra, S. and E. Gonzalez de Mejia. 2004. Polyphenolic Compounds, Antioxidant Capacity, Quinone Reductase Activity of an Aqueous Extract of Ardisia compressa in Comparison to Maté (Ilex paraguariensis) and Green (Camellia sinensis) Teas. Journal of Agricultural and Food Chemistry 52:3583–3589.

Dietsch, T. V., S. M. Philpott, R. A. Rice, R. Greenberg, and P. Bichier P. 2004. Conservation Policy in Coffee Landscapes. Science 303:625.

Edwards, A. L. and B. C. Bennett. 2005. Diversity of Methylxanthine Content in Ilex cassine L. and Ilex vomitoria Ait: Assessing Sources of the North American Stimulant Cassina. Economic Botany 59:275–285.

Fairbanks, C. H. 1979. The Function of Black Drink among the Creeks. Pages 120–149 in Charles M. Hudson, ed., Black Drink: A Native American Tea. University of Georgia Press, Athens.

FAOSTAT Online Database. 2007. http://faostat.fao.org/site/567/default.aspx#ancor (30 April 2007).

Fredholm, B. B. 1984. Gastrointestinal and Metabolic Effects of Methylxanthines. Progress in Clinical and Biological Research 158:331–354.

Fuller, H. M., R. I. Arnold, and M. K. Murphy. 2002. Using Chemistry to Understand Culture: Why Did Native Americans Vomit after Drinking Yaupon Tea? Journal of Undergraduate Chemistry 1:47–51.

Gilbert, R. M. 1986. Caffeine: The Most Popular Stimulant. Chelsea House Publishers, New York.

Graham, H. N. 1998. Maté. Pages 193–197 in Gene A. Spiller, ed., Caffeine. CRC Press, Boca Raton, Florida.

Hale, E. M. 1891. Ilex cassine: The Aboriginal North American Tea. USDA Division of Botany 14:1–22.

Hudson, C. M. 1979. Introduction. Pages 1–9 in Charles M. Hudson, ed., Black Drink: A Native American Tea. University of Georgia Press, Athens.

———. 1995. "Black Drink" and the Indians of the Southeastern United States. Pages 15–21 in James M. Affolter and M. Henry, eds., People and Plants: Cultural and Historical Connections. State Botanical Gardens of Georgia, Athens.

Jamieson, R. W. 2001. The Essence of Commodification: Caffeine Dependencies in the Early Modern World. Journal of Social History 35:269–294.

Mazzafera, P. 1994. Caffeine, Theobromine, and Theophylline Distribution in Ilex paraguariensis. Revista Braseleira de Fisiologia Vegetal 6:149–151.

Merrill, W. L. 1979. The Beloved Tree. Pages 40–82 in Charles M. Hudson., ed., Black Drink: A Native American Tea. University of Georgia Press, Athens.

O'Brien, T. G. and M. F. Kinnaird. 2003. Caffeine and Conservation. Science 300:587.

———. 2004. Response to: Conservation Policy in Coffee Landscapes. Science 303:625–626.

Ou, B., M. Hampsch-Woodill, and R. L. Prior. 2001. Development and Validation of an Improved Oxygen Radical Absorbance Capacity Assay using Fluorescein as the Fluorescent Probe. Journal of Agricultural and Food Chemistry 49:4619–4626.

Palumbo, M. J., F. E. Putz, and S. T. Talcott. 2007. Nitrogen Fertilizer and Gender Effects on the Secondary Metabolism of Yaupon Holly, a Caffeine-Containing North American Holly. Oecologia 151:1–9.

Perfecto I. and I. Armbrecht. 2003. The Coffee Agroecosystem in the Neotropics: Combining Ecological and Economic Goals. Pages 159–194 in John H. Vandermeer, ed., Tropical Agroecosystems. CRC Press, Boca Raton, Florida.

Power, F. B. and V. K. Chestnut. 1919. Ilex vomitoria as a Native Source of Caffeine. Journal of the American Chemical Society 41:1307–1312.

Reginatto, F. H., M. L. Athayde, G. Gosmann, and E. P. Schenkel. 1999. Methylxanthine Accumulation in Ilex Species—Caffeine and Theobromine in Erva-mate (Ilex paraguariensis) and Other Ilex Species. Journal of the Brazilian Chemical Society 10:443–446.

Schinella, G. R., G. Troiani, V. Dávila, P. M. de Buschiazzo, and H. A. Tournier. 2000. Antioxidant Effects of an Aqueous Extract of Ilex paraguariensis. Biochemical and Biophysical Research Communications 269:357–360.

Spiller, M. A. 1984. The Methylxanthine Beverages and Foods: Chemistry, Consumption, and Health Effects. Alan R. Liss, Inc., New York.

Stewart, A. J., W. Mullen, and A. Crozier. 2005. On-line High Performance Liquid Chromatography Analysis of the Antioxidant Activity of Phenolic Compounds in Green and Black Tea. Molecular Nutrition and Food Research 49:52–60.

Sturtevant, W. C. 1979. Black Drink and Other Caffeine-Containing Beverages among Non-Indians. Pages 150–165 in Charles M. Hudson, ed., Black Drink: A Native American Tea. University of Georgia Press, Athens.

Talcott, S. T., L. R. Howard, and C. H. Brenes. 2000. Antioxidant Changes and Sensory Properties of Carrot Puree Processed with and without Periderm Tissue. Journal of Agricultural and Food Chemistry 48:1315–1321.

Terao, J., M. Piskula, and Q. Yao. 1994. Protective Effect of Epicatechin, Epicatechin Gallate, and Quercetin on Lipid Peroxidation in Phospholipids Bilayers. Archives in Biochemistry and Biophysics 308:278–284.

Weinberg, B. A. and B. K. Bealer. 2001. The World of Caffeine: The Science and Culture of the World's Most Popular Drug. Routledge Press, New York.

Wright, Jr J. L. 1986. Creeks and Seminoles. University of Nebraska Press, Lincoln.

Yokozawa, T., E. Dong, T. Nakagawa, H. Kashiwagi, H. Nakagawa, S. Takeuchi, and H. Y. Chung. 1998. In Vitro and in Vivo Studies on the Radical-Scavenging Activity of Tea. Journal of Agricultural and Food Chemistry 46:2143–2150.

Young, I. S. and J. V. Woodside. 2001. Antioxidants in Health and Disease. Journal of Clinical Pathology 54:176–186.
Acknowledgments
We thank Isabel Meister for help in the field and Michelle Mack and Rick Stepp for useful comments on earlier drafts of this manuscript. We also thank Paulo Brando for help with the statistics and Youngmok Kim and Jorgé Cardona for assistance with the second round of caffeine assays. This study was funded in part by a grant from the Robert B. Ragland Environmental Foundation.
About this article
Cite this article
Palumbo, M.J., Talcott, S.T. & Putz, F.E. Ilex Vomitoria Ait. (Yaupon): A Native North American Source of a Caffeinated and Antioxidant-Rich Tea. Econ Bot 63, 130–137 (2009). https://doi.org/10.1007/s12231-009-9078-3
Received:

Accepted:

Published:

Issue Date:
Key Words
Carbon/nutrient balance hypothesis

cassina

phenolics