Abstract
Wild Mushroom Markets in Central Mexico and a Case Study at Ozumba. More than 200 species of wild edible mushrooms are consumed in Mexico, and over 100 are sold in local, regional, and wholesale markets. This paper analyzes general trends in the commercialization of wild edible mushrooms at twelve markets in central Mexico, where at least 90 species are sold and more than 100 local names were registered. The paper then focuses its analysis on the traditional market at Ozumba (state of Mexico) near Izta-Popo and Zoquiapan national parks. In 2006, 411 stands selling more than 60 mushroom species were sampled throughout the year to record information on the vendors and the species they sold. The greatest diversity of species was recorded in July and August. More than 90% of the wild mushroom vendors were women, and 64% were 40 to 60 years old. The economic value of wild mushrooms in some regions of Mexico appears to contribute to the maintenance of traditional ethnobiological knowledge, generally observed to be in overall decline.
Abstract
La comercialización de hongos silvestres en mercados en el centro de México: Panorama y estudio de caso en Ozumba. En México, más de 200 especies de hongos comestibles silvestres son consumidas, de las cuales más de 100 son comercializadas en mercados locales, regionales y de mayoristas. El presente artículo analiza las tendencias generales en la comercialización de los hongos silvestres comestibles en doce mercados de la parte Central de México, donde al menos 90 especies son comercializadas y se registraron más de 100 nombres comunes. Posteriormente el artículo enfoca su análisis en el mercado tradicional de Ozumba, estado de México cerca de los parques nacionales Izta-Popo y Zoquiapan. Con la finalidad de registrar información relacionada con los vendedores y las especies en venta, en 2006, se muestrearon 411 puestos los cuales comercializaron más de 60 especies de hongos a lo largo del año. La mayor diversidad de especies se registró en Julio y Agosto. Más del 90% de las vendedoras fueron mujeres y 64% tenían entre 40 y 60 años de edad. A pesar de la gran relevancia ecológica y cultural de los hongos silvestres comestibles en México, el conocimiento tradicional ancestral relacionado con los hongos parece estar declinando en términos generales. Sin embargo, la importancia económica de los hongos comestibles en algunas regiones contribuye para el mantenimiento de estos conocimientos ancestrales.
Access options
Buy single article
Instant access to the full article PDF.
US$ 39.95
Tax calculation will be finalised during checkout.
Subscribe to journal
Immediate online access to all issues from 2019. Subscription will auto renew annually.
US$ 79
Tax calculation will be finalised during checkout.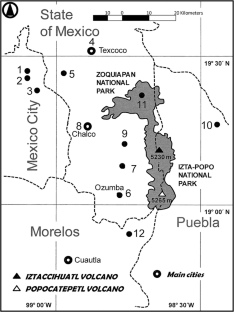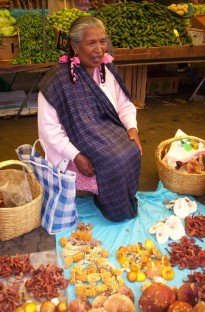 Literature Cited
Bandala, V. M., L. Montoya, and I. H. Chapela 1997. Wild Edible Mushrooms in Mexico: A Challenge and Opportunity for Sustainable Development. Pages 76–92 in M. E. Palm and I. H. Chapela, eds., Mycology in Sustainable Development: Expanding Concepts, Vanishing Borders. Parkway Publishers, Inc., Boone, North Carolina.

CONABIO. 1998. La diversidad biológica de México: Estudio de un país. Comisión Nacional para el Conocimiento y Uso de la Biodiversidad (CONABIO), México.

DOF. 2007. Comisión Nacional de los Salarios Mínimos, Diario Oficial de la Federación (DOF) del 29 de Diciembre de 2006. México. http://www.sat.gob.mx/sitio_internet/asistencia_contribuyente/informacion_frecuente/salarios_minimos/ (11 October 2007). (In Spanish)

Edouard, F. and R. Quero. 2005. Del bosque a los mejores platillos internacionales, los hongos de la sierra norte de Oaxaca. Servicio de Información Agroalimentaria y Pesquera, OEIDRUS. Oaxaca, México. http://www.oeidrus-portal.gob.mx/oeidrus_oax/noticias.php?id_noticia=572 (12 October 2007). (In Spanish)

———, ———, and E. Marshall. 2006. Hongos silvestres Boletus edulis, Cantharellus cibarius, Amanita caesarea, Tricholoma magnivelare (Basidiomycetes) Hongos frescos, deshidratados y de exportación: Negocio comunitario y emprendedores. Pages 54–57 in E. Marshall, K. Schreckenberg, and A.C. Newton, eds., Comercialización de productos forestales no maderables: Factores que influyen en el éxito. Conclusiones del Estudio de México y Bolivia. Centro Mundial de Vigilancia de la Conservación del PNUMA, Cambridge, U.K. (In Spanish)

Garibay-Orijel, R., J. Caballero, A. Estrada-Torres, and J. Cifuentes 2007. Understanding Cultural Significance, The Edible Mushroom Case. Journal of Ethnobiology and Ethnomedicine 3:4.

Guzmán, G. 1997. Los nombres de los hongos y lo relacionado con ellos en América Latina. Instituto de Ecología. Xalapa, Veracruz, México.

INEGI. 2000. XII Censo General de Población y Vivienda 2000. Resultados finales, Instituto Nacional de Estadística Geografía e Informatica (INEGI), México.

Izta-Popo National Park. 2007. Información general del Parque Nacional Izta-Popo, Zoquiapan y Anexos. Areas naturales Protegidas, Secretaria del Medio Ambiente y Recursos Naturales, México. http://iztapopo.conanp.gob.mx/ (12 October 2007). (In Spanish)

Mariaca-Méndez, R., L. C. Silva-Pérez, and C. A. Castaños-Montes 2001. Proceso de recolección y comercialización de hongos comestibles silvestres en el Valle de Toluca, México. Ciencia Ergo Sum 8:30–40. (In Spanish)

Martínez-Carrera, D., P. Morales, E. Pellicer-González, H. León, A. Aguilar, P. Ramírez, P. Ortega, A. Largo, M. Bonilla, and M. Gómez 2002. Studies on the Traditional Management and Processing of Matsutake Mushrooms in Oaxaca, Mexico. Micologia Aplicada International 14:25–43.

Mittermeier, R. A. and C. Goettsch 1992. La importancia de la diversidad biológica en México. In J. Sarukhán and R. Dirzo, eds., México ante los retos de la biodiversidad. CONABIO, México.

Perry, J. 1991. The Pines of Mexico and Central America. Timber Press, Portland, Oregon.

Pilz, D., R. McLain, S. Alexander, L. Villarreal-Ruiz, S. Berch, T. L. Wurtz, C. G. Parks, E. McFarlane, B. Baker, R. Molina, and J. E. Smith. 2007. Ecology and Management of Morels Harvested from the Forests of Western North America. Gen. Tech. Rep. PNW-GTR-710. Portland, Oregon, U.S. Department of Agriculture, Forest Service, Pacific Northwest Research Station.

Ruán-Soto, F., R. Garibay-Orijel, and J. Cifuentes 2006. Process and Dynamics of Traditional Selling Wild Edible Mushrooms in Tropical Mexico. Journal of Ethnobiology and Ethnomedicine 2:3.

Sitta, N. and M. Floriani. 2008. Nationalization and Globalization Trends in the Wild Mushroom Commerce of Italy with Emphasis on Porcini (Boletus edulis and Allied Species). Economic Botany 62(3).

Valencia, A. S. 2004. Diversidad del género Quercus (Fagaceae) en México. Boletín de la Sociedad Botánica de México 75:33–53. (In Spanish)

Villarreal, L., and J. Pérez-Moreno 1989a. Los hongos comestibles silvestres de México, un enfoque integral. Micología Neotropical Aplicada 2:77–114.

———. 1989b. Aprovechamiento y Conservación del "matsutake americano" (Tricholoma magnivelare) en los bosques de México. Micología Neotropical Aplicada 2:131–144.

Yang, X., J. He, C. Li, J.-Z. Ma, Y. Yang, and J. Xu. 2008. Matsutake Trade in Yunnan Province, China: An Overview. Economic Botany 62(3).

Zamora, M. and J. M. Torres. 2002. IX. Estado actual de la información sobre productos forestales no madereros. In Depósito de documentos de la FAO: Estado de la información forestal en México. FAO, Santiago, Chile. http://www.fao.org/DOCREP/006/AD398S/AD398s11.htm (12 October 2007). (In Spanish)
Acknowledgments
We deeply acknowledge David Arora for his valuable suggestions and remarkable insight. This study was financially supported by the Project "SEMARNAT-CONACyT-2004-C01-45, Los hongos silvestres comestibles del Parque Nacional Izta-Popo-Zoquiapan y Anexos." We are also very grateful to native collectors and sellers in the studied area who kindly provided the necessary information. The figures are courtesy of M.Sc. students from Colegio de Postgraduados: V. Carrasco-Hernández, M. Cruz García-Nieto, J Cruz-Blasi, and Jazmín Cortes-Sarabia from ITA25, Cd. Altamirano, Guerrero.
About this article
Cite this article
Pérez-Moreno, J., Martínez-Reyes, M., Yescas-Pérez, A. et al. Wild Mushroom Markets in Central Mexico and a Case Study at Ozumba. Econ Bot 62, 425–436 (2008). https://doi.org/10.1007/s12231-008-9043-6
Key Words
Wild edible fungi

rural development

traditional ethnobiological knowledge

non-timber forest products

national parks management

Mexico