Abstract
Hallucinogenic Mushrooms in Mexico: An Overview. Psilocybe, with 53 known hallucinogenic species in Mexico, is the most important and diverse group of sacred mushrooms used by Mexican indigenous cultures. Psilocybe caerulescens, known by the present-day Nahuatl Indians as teotlaquilnanácatl, is hypothesized to be the ceremonially-used teonanácatl mushroom cited by Sahagún in the 16th century, the true identity of which has remained obscure for centuries. Correcting a widely disseminated error derived from early published information on Mexican hallucinogenic mushrooms, emphasis is placed on the fact that Panaeolus species have never been used traditionally in Mexico. Reports of the use of species of Amanita, Clavaria, Conocybe, Cordyceps, Dictyophora, Elaphomyces, Gomphus, Lycoperdon, Psathyrella, and Stropharia as sacred or narcotic mushrooms are discussed. A brief history of the discovery of hallucinogenic mushrooms in Mexico is presented, as well as notes on their taxonomy, distribution, and traditional use in Mexico.
Abstract
Hongos Alucinógenos en México: Historia, Taxonomia, Distribución Geográfica y Uso Tradicional. Psilocybe, con 53 especies alucinógenas conocidas en México, es el grupo más importante y más diverso de hongos sagrados usados por las culturas indígenas mexicanas. Se propone aquí que Psilocybe caerulescens, nombrado por los nahuatls de hoy día teotlaquilnanácatl, es el hongo ceremonial teonanácatl citado por Sahagún en el siglo XVI, cuya identidad verdadera permanece oscura desde hace siglos. A fin de corregir un error muy diseminado derivado de los primeros datos publicados sobre los hongos alucinógenos mexicanos, se hará hincapié en el hecho de que las especies Paneolus nunca han sido usadas tradicionalmente en México. Se discutirán aquí informes sobre el uso de especies de Amanita, Clavaria, Conocybe, Cordyceps, Dictyophora, Elaphomyces, Gomphus, Lycoperdon, Psathyrella y Stropharia como hongos sagrados o narcóticos, y se presentará también una breve historia del descubrimiento de hongos alucinógenos en México, como también algunos datos sobre su taxonomía, su distribución, y su uso tradicional en México.
This is a preview of subscription content, log in to check access.
Access options
Buy single article
Instant access to the full article PDF.
US$ 39.95
Tax calculation will be finalised during checkout.
Subscribe to journal
Immediate online access to all issues from 2019. Subscription will auto renew annually.
US$ 99
Tax calculation will be finalised during checkout.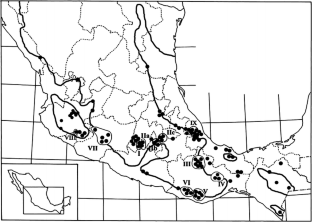 Literature Cited
Davis W. 1996. One River. Touchstone, New York.

Doniz, R., Ma. de los A. Olay, and J. C. Reyes. 2001. Museo Universitario Alejandro Rangel Hidalgo. Pages 16–31 in Los Tesoros de Colima. Arqueología Mexicana, ed. especial 9.

Guzmán G. 1959. Sinopsis de los Conocimientos Sobre los Hongos Alucinógenos Mexicanos. Boletín de la Sociedad Botánica de México 24:14–34.

———. 1960. Nueva Localidad de Importancia Etnomicológica de los Hongos Neurotrópicos Mexicanos. Ciencia, México, 20:85–88.

———. 1978. Variation, Distribution, Ethnomycological Data and Relationships of Psilocybe aztecorum, a Mexican Hallucinogenic Mushroom. Mycologia 70:385–396.

———. 1983. The Genus Psilocybe. Beihefte Nova Hedwigia 74, Cramer, Vaduz.

———. 1990. Wasson and the Development of Mycology in Mexico. In TH. J. Riedlinger, ed., The Sacred Mushroom Seeker: Essays for R. Gordon Wasson. Historical, Ethno-and Economic Botany Series 4. Discorides, Portland.

———. 2003. Traditional Uses and Abuses of Hallucinogenic Fungi: Problems and Solutions. International Journal of Medicinal Mushrooms 5:57–59.

———. 2005. Species Diversity of the Genus Psilocybe in the World Mycobiota, with Special Attention to Hallucinogenic Properties. International Journal of Medicinal Mushrooms 7:305–331.

——— and A. López-González, 1970. Nuevo Hábitat y Datos Etnomicológicos de Psilocybe muliercula. Boletín de la Sociedad Mexicana de Micología 4:44–48.

———, J. Q. Jacobs, F. Ramírez-Guillén, D. Murrieta, and E. Gándara. 2005. The Taxonomy of Psilocybe fagicola–Complex. Journal of Microbiology (Korea) 43:158–165.

———, F. Ramírez-Guillén, and M. Torres. 2004. The Hallucinogenic Species of Psilocybe in Colombia, Their Indian Use, New Records, and New Species. International Journal of Medicinal Mushrooms 6:83–93.

———, R. G. Wasson, and T. Herrera, 1975. Una Iglesia Dedicada al Culto de un Hongo, "Nuestro Señor del Honguito," en Chignahuapán, Puebla. Boletín de la Sociedad Mexicana de Micología 9:137–147.

Heim, R. 1956. Les Champignons Divinatoires Utilizes dans les Rites des Indies Mazatèques, Recuellis du Cours de Leur Premier Vovage an Mexique in 1953, par Mme Valentina Pavlovna Wasser et M.R. Gordon Wasson. Comptes Rendus des Séances de l'Academie des Sciences 242:965–968.

———, R. Cailleux, R. G. Wasson, and P. Thévenard. 1967. Nouvelles Investigations sur les Champignons Hallucinogènes. Archives du Muséum d'Histoire Naturelle, 7e Série, IX, Paris.

——— and R. G. Wasson. 1958. Les Champignons Hallucinogèns du Mexique. Ed. Museum National d'Histoire Naturelle, Paris.

Hofmann, A., R. Heim, A. Brack, and H. Kobel. 1958. Psilocybin, ein Psychotroper Wirkcstoff aus dem Mexikanishchen Rauchpilz Psilocybe mexicana Heim. Experientia 14:107–109.

Laughlin, R. M. 1975. The Great Tzotzil Dictionary of San Lorenzo Zinacatán. Smithsonian Contributions to Anthropology Series, #19. Washington, D.C.

Lowy, B. 1974. Amanita muscaria and the Thunderboldt Leyend in Guatemala and Mexico. Mycologia 66:188–190.

Mapes, C., G. Guzmán, and J. Caballero. 1981. Etnomicología Purépecha. El Conocimiento y uso de los Hongos en la Cuenca de Pátzcuaro, Michoacán. Dirección de Culturas Populares and Sociedad Mexicana de Micología, Mexico City.

Ott, J., G. Guzmán, J. Roman, and J. L. Díaz. 1975. Nuevos Datos Sobre los Supuestos Licoperdáceos Psicotrópicos y dos Casos de Intoxicación Provocados por Hongos del Género Scleroderma en Mexico. Bol. Soc. Mex. Mic. 9:67–76.

Reko, B. P. 1945. Mitobotánica Zapoteca. Private ed., Tacubaya, D.F.

Saffor, W. E. 1915. An Aztec Narcotic. Journal of Heredity 6:291–311.

Sahagún, Fray B. de. 1569–1582. Historia de las Cosas de la Nueva España. Mexico City (with several reprints both in Spanish and English, besides two Indian bilingually codexes, in Nahuatl and Spanish, directed by Sahagún, also reprinted).

Samorini, G. 2001. Fungi Allucinogeni. Studi Etnomicologici. Telesterion, Duzza, Italy.

Schultes, R. E. 1939. Plantae Mexicanae II. The Identification of Teonanácatl, a Narcotic Basidiomycete of the Aztecs. Botanical Museum Leaflets, Harvard University 7:37–56.

———. 1940. Teonanácatl: The Narcotic Mushroom of the Aztecs. American Anthropologist 42:429–443.

———. 1976. Hallucinogenic Plants. Golden Press, New York.

——— and A. Hofmann. 1979. Plants of the Gods: Origins of Hallucinogenic Use. McGraw-Hill Books, New York.

Singer, R. 1949. The Agaricales (Mushrooms) in Modern Taxonomy. Lilloa 22:5–832.

———. 1958. Mycological Investigations on Teonanácatl, the Mexican Mushroom I. Mycologia 50:239–261.

———. 1975. The Agaricales in Modern Taxonmy. Third ed. Cramer, Vaduz.

——— and A. H. Smith. 1958. Mycological Investigations on Teonanácatl, the Mexican Mushrooms II. A Taxonomic Monograph of Psilocybe, Section Caerulescentes. Mycologia 50:262–303.

Stresser-Péan, G. and R. Heim. 1960. Sur les Agarics Divinatoires des Totonaques. Comptes Rendus des Séances de l' Academie des Sciences 250:1115–1160.

Wasson, R. G. 1957. Seeking the Magic Mushroom. Life, May 13, New York.

———, G. Cowan, F. Cowan, and W. Rhodes. 1974. María Sabina and Her Mazatec Mushroom Velada. Ethnomicological Studies 3. Harcourt Brace Jovanovich, New York (four cassettes).

Wasson, V. P. and R. G. Wasson. 1957. Mushrooms, Russia and History. Pantheon Books, New York.
Acknowledgments
This author expresses his thanks to his colleagues Etelvina Gándara, Virginia Ramírez-Cruz, and Florencia Ramírez-Guillén (all of them in Instituto de Ecología at Xalapa), Laura Guzmán-Dávalos (Universidad de Guadalajara), Elizur Montiel-Arcos and Victor Mora (Universidad de Morelos), and James Q. Jacobs (Arizona) for their help in the laboratory and with other information. In the past, professors Richard E. Schultes, Rolf Singer, Roger Heim, and R. Gordon Wasson provided much important information and bibliographic material. Teofilo Herrera (University of Mexico) assisted in making initial contacts with Singer and Heim. Manuel Hernández (Instituto de Ecología at Xalapa) helped with computer tasks. David Arora and Glenn H. Shepard, Jr. assisted in the final revision of the manuscript.
About this article
Cite this article
Guzmán, G. Hallucinogenic Mushrooms in Mexico: An Overview. Econ Bot 62, 404–412 (2008). https://doi.org/10.1007/s12231-008-9033-8
Key Words
Ethnomycology

sacred mushrooms

Psilocybe

distribution

shamanism

hallucinogens