Abstract
Origins and Dispersal of Cultivated Vanilla (Vanilla planifolia Jacks. [Orchidaceae]). Vanilla is a clonally propagated crop originating from Mesoamerica. Information regarding the circumstances under which vanilla cultivation began is incomplete. Presumably, the Totonac people of Papantla (north-central Veracruz, Mexico) were the earliest to cultivate vanilla; however, the oldest reports of vanilla use relate to the pre-Columbian Maya of southeastern Mexico/Central America, where vanilla was a cacao-beverage spice. We utilized Amplified Fragment Length Polymorphism (AFLP) marker diversity to infer the origins and relationships among cultivated and non-cultivated vanilla in Mesoamerica and on islands in the Indian Ocean, which comprise today's principal production regions of vanilla. Our results suggest that, genetically, vanilla cultivated outside of Mesoamerica is most closely related to cultivated stock from Papantla; whereas unique clones of V. planifolia are found in non-cultivated and cultivated individuals from elsewhere in Mesoamerica. This is consistent with a single origin for cultivated vanilla outside of Mexico, along with multiple origins for cultivated material within Mexico. These data suggest that vestiges of pre-Columbian Maya vanilla cultivars are not found in commercial production today.
Access options
Buy single article
Instant access to the full article PDF.
USD 39.95
Price excludes VAT (USA)
Tax calculation will be finalised during checkout.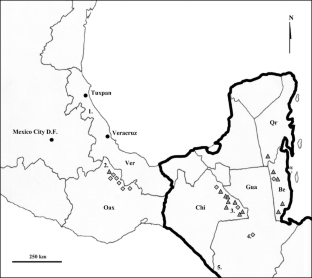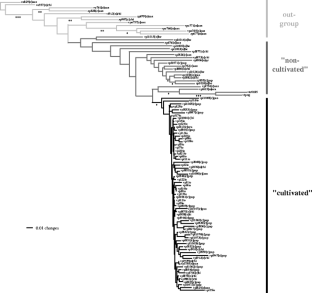 Literature Cited
Anderson, E. 1967. Plants, Man and Life. University of California Press, Berkeley, California.

Bergmann, J. F. 1969. The Distribution of Cacao Cultivation in Pre-Columbian America. Annals of the Association of American Geographers 591:85–96.

Blanca, J. M., J. Prohens, G. J. Anderson, E. Zuriaga, J. Cañizares, and F. Nuez. 2007. AFLP and DNA Sequence Variation in an Andean Domesticate, Pepino (Solanum muricatum, Solanaceae): Implications for Evolution and Domestication. American Journal of Botany 94:1219–1229.

Bory S., P. Lubinsky, A.-M. Risterucci, J. L. Noyer, M. Grisoni, M.-F. Duval, and P. Besse. In press. Patterns of Introduction and Diversification of Vanilla planifolia (Orchidaceae) in Reunion Island (Indian Ocean). American Journal of Botany.

Bruman, H. 1948. The Culture History of Mexican Vanilla. The Hispanic American Historical Review 283:360–376.

Brush, S. B. 2004. Farmer's Bounty: Locating Crop Diversity in the Contemporary World. Yale University Press, New Haven, Connecticut.

Cameron, K., M. W. Chase, W. M. Whitten, P. J. Kores, D. C. Jarrell, V. A. Albert, T. Yukawa, H. G. Hills, and D. H. Goldman. 1999. A Phylogenetic Analysis of the Orchidaceae: Evidence from rbcL Nuceotide Sequences. American Journal of Botany 862:208–224.

——— and M. A. Soto Arenas. 2003. Vanilloideae. Pages 281–334 in A. M. Pridgeon, Phillip J. Cribb, Mark W. Chase, Finn Rasmussen, eds., Genera Orchidacearum. Volume 3: Orchidoideae (Part 2), Vanilloideae. Oxford University Press, Oxford, United Kingdom.

Casas, A., J. Cruse-Sanders, E. Morales, A. Otero-Arnaiz, and A. Valiente-Banuet. 2006. Maintenance of Phenotypic and Genotypic Diversity in Managed Populations of Stenocereus stellatus (Cactaceae) by Indigenous Peoples in Central Mexico. Biodiversity and Conservation 153:879–898.

Caso Barrera, L. and M. A. Fernández. 2006. Cacao, Vanilla and Annatto: Three Production and Exchange Systems in the Southern Maya Lowlands, XVI–XVII Centuries. Journal of Latin American Geography 52:29–52.

Castillo, R. and E. M. Engleman. 1993. Caracterización de dos tipos de Vanilla planifolia. Acta Botánica Mexicana 25:49–59.

Chambers, K. J., S. B. Brush, M. N. Grote, and P. Gepts. 2007. Describing Maize (Zea mays L.) Landrace Persistence in the Bajío of Mexico: A Survey of 1940s and 1950s Collection Locations. Economic Botany 611:60–72.

Childers, N. F., H. R. Cibes, and E. Hernández-Medina. 1959. Vanilla-The Orchid of Commerce. Pages 477–510 in C. L. Withner, ed., The Orchids. A Scientific Survey. Ronald Press Company, New York.

Cibrián Jaramillo, A. 1999. Variación Genética de Vanilla planifolia en México. Master's thesis, Facultad de Biologia, Universidad Nacional Autónoma de México (UNAM), Mexico City, D.F., Mexico.

Coe, S. D. 1994. America's First Cuisines. University of Texas Press, Austin, Texas.

———, and M. D. Coe. 1996. The True History of Chocolate. Thames and Hudson, New York.

Correll, D. S. 1953. Vanilla—Its Botany, History, Cultivation and Economic Import. Economic Botany 7:291–358.

Ecott, T. 2004. Vanilla: Travels in Search of the Luscious Substance. Penguin, London.

Elias, M., O. Panaud, and T. Robert. 2000. Assessment of Genetic Variability in a Traditional Cassava (Manihot esculenta Crantz) Farming System, Using AFLP Markers. Heredity 85:219–230.

———, G. S. Mühlen, D. McKey, A. C. Roa, and J. Tohme. 2004. Genetic Diversity of Traditional South American Landraces of Cassava (Manihot Esculenta Crantz): An Analysis Using Microsatellites. Economic Botany 58(2):242–256.

Ellstrand, N. C., and M. L. Roose. 1987. Patterns of Genotypic Diversity in Clonal Plant Species. American Journal of Botany 74:123–131.

Emshwiller, E. 2006. Evolution and Conservation of Clonally Propagated Crops: Insights from AFLP Data and Folk Taxonomy of the Andean Tuber Oca (Oxalis tuberosa). Pages 308–333 in T. J. Motley, Nyree Zerega, and Hugh Cross, eds., Darwin's Harvest. New Approaches to the Origins, Evolution and Conservation of Crops. Columbia University Press, New York.

FAOSTAT (Food and Agriculture Organization of the United Nations). http://faostat.fao.org/ April 30, 2008.

Gentry, H. S. 1982. Agaves of Continental North America. University of Arizona Press, Tucson, Arizona.

Hágsater, E., M. A. Soto-Arenas, G. A. Salazar Chávez, R. L. Jiménez Machorro, M. A. López Rosas, and R. L. Dressler. 2005. Orchids of Mexico. Productos Farmacéuticos, Mexico City, Mexico.

Henderson, J. S., R. A. Joyce, G. R. Hall, W. J. Hurst, and P. E. McGovern. 2007. Chemical and Archaeological Evidence for the Earliest Cacao Beverages. Proceedings of the National Academy of Sciences of the USA 10448:18937–18940.

Hernández Apolinar, M. 1997. Crecimiento y Reproducción de Vanilla planifolia (Orchidaceae) en Usila, Oaxaca. Master's thesis, Facultad de Biologia, Universidad Nacional Autónoma de México (UNAM), Mexico City, D.F., Mexico.

Hughes, C. E., R. Govindarajulu, A. Robertson, D. L. Filer, S. A. Harris, and C. D. Bailey. 2007. Serendipitous Backyard Hybridization and the Origin of Crops. Proceedings of the National Academy of Sciences of the USA 10436:14389–14394.

Hurst, W. J., S. M. Tarka, Jr., T. G. Powis, F. Valdez, Jr., and T. R. Hester. 2002. Cacao Usage by the Earliest Maya civilization. Nature 418:289.

Jones, G. D. 1983. The Last Maya Frontiers of Colonial Yucatan. Pages 64–91 in M. L. Murdo and R. Wasserstrom, eds., Spaniards and Indians in Southeastern Mesoamerica. Essays on the History of Ethnic Relations. University of Nebraska Press, Lincoln, Nebraska.

Kelly, I. and A. Palerm. 1952. The Tajin Totonac: Part I. History, Subsistence, Shelter and Technology. Institute of Social Anthropology Publication No. 13. Smithsonian Institution. United States Printing Office, Washington, D.C.

Kim, S.-C., C. Lee, and A. Santos-Guerra. 2005. Genetic Analysis and Conservation of the Endangered Canary Island Woody Sow-Thistle, Sonchus gandogeri (Asteraceae). Journal of Plant Research 118:147–153.

Kiple, K. F. and K. C. Ornelas. 2000. The Cambridge World History of Food. Vol. 2. Cambridge University Press, Cambridge, United Kingdom.

Kourí, E. 2004. A Pueblo Divided: Business, Property, and Community in Papantla, Mexico. Stanford University Press, Stanford, California.

Lubinsky, P. 2007. Historical and Evolutionary Origins of Cultivated Vanilla. Ph.D. thesis, Botany and Plant Sciences, University of California, Riverside, California.

———, M. Van Dam, and A. Van Dam. 2006. Pollination of Vanilla and Evolution in Orchidaceae. Lindleyana 75(12):926–929.

Macleod, M. 1973. Spanish Central America: A Socioeconomic History, 1520–1720. University of California Press, Berkeley, California.

McNeil, C. L., ed. 2006. Chocolate in Mesoamerica: A Cultural History of Cacao. University of Florida Press, Gainesville, Florida.

Medellín-Morales, S. G. 1988. Arboricultura y Silvicultura Tradicional en una Comunidad Totonaca de la Costa. Master's thesis, Ecologia y Recursos Bioticos, Instituto Nacional de Investigaciones Sobre Recursos Bioticos (INIREB, Xalapa, Veracruz, Mexico.

Millon, R. F. 1955. Trade, Tree Cultivation, and the Development of Private Property in Land. American Anthropologist 57:698–712.

Nei, M. and W.-H. Li. 1979. Mathematical Model for Studying Genetic Variation in Terms of Restriction Endonucleases. Proceedings of the National Academy of Sciences of the USA 76:5269–5273.

Nuttall, Z. 1925. The Gardens of Ancient Mexico. Annual Report of the Board of Regents of the Smithsonian Institution, Publication 2758. United States Printing Office, Washington, D.C., pp. 453–464.

Portères, R. 1954. Le genere Vanilla et ses espèces. Pages 94–290 in G. Bouriquet, ed., Le Vanillier et la Vanille dans le Monde. Éditions Paul Lechevalier, Paris.

Purseglove, J. W., E. G. Brown, C. L. Green, and S. R. J. Robbins. 1981. Spices. Volume 2. Longman, London.

Rain, P. 2004. Vanilla: The Cultural History of the World's Most Popular Flavor and Fragrance. Jeremy P. Tarcher/Penguin, New York.

Ramírez, S. R., B. Gravendeel, R. B. Singer, C. R. Marshall, and N. E. Pierce. 2007. Dating the Origin of the Orchidaceae from a Fossil Orchid with Its Pollinator. Nature 448:1042–1045.

Sauer, J. D. 1993. Historical Geography of Crop Plants: A Select Roster. CRC Press, Boca Raton, Florida.

Schlüter, P. M., M. A. Soto Arenas, and S. A. Harris. 2007. Genetic Variation in Vanilla planifolia (Orchidaceae). Economic Botany 614:328–336.

Schultes, R. E. 1941. Economic Aspects of the Flora of Northeastern Oaxaca. Ph.D. thesis, Botany Department, Harvard University, Cambridge, Massachusetts.

Smith, N. J. H., J. T. Williams, D. L. Plucknett, and J. P. Talbot. 1992. Tropical Forests and Their Crops. Cornell University Press, Ithaca, New York.

Soto Arenas, M. A. 1999. Filogeografia y Recursos Genéticos de las Vainillas de México. Project J101, CONABIO, Mexico.

Spooner, D. M., K. McLean, G. Ramsay, R. Waugh, and G. L. Bryan. 2005. A Single Domestication for Potato Based on Multilocus Amplified Fragment Length Polymorphism Genotyping. Proceedings of the National Academy of Sciences of the USA 10241:14694–14699.

Swofford, D. L. 2002. PAUP 4.0: Phylogenetic Analysis Using Parsimony. Sinauer, Sunderland, Massachusetts.

Tanaka, R. and H. Kamemoto. 1984. Chromosomes in Orchids: Counting and Numbers. Pages 323–410 in J. Arditti, ed., Orchid Biology. Reviews and Perspectives. Comstock Publishing Associates, Ithaca, New York.

Thompson, J. E. S. 1958. Thomas Gage's Travels in the New World. University of Oklahoma Press, Norman, Oklahoma.

Toledo, V. M., B. Ortiz, and S. Medellín-Morales. 2001. Biodiversity Management in a Sea of Pasturelands: Indigenous Resource Management in the Humid Tropics of Mexico. Etnoecológica 2(3).

Vos, P., R. Hogers, M. Bleeker, M. Reijans, T. van de Lee, M. Homes, A. Frijters, J. Pot, J. Peleman, M. Kuiper, and M. Zabeau. 1995. AFLP: A New Technique for DNA Fingerprinting. Nucleic Acids Research 2321:4407–4414.

Zerega, N. Y. C., D. Ragone, and T. Motley. 2004. Complex Origins of Breadfruit (Artocarpus altilis, Moraceae): Implications for Human Migrations in Oceania. American Journal of Botany 915:760–766.
Acknowledgements
Earlier versions of this manuscript benefited from editorial comments by M. Roose, J. G. Waines, and two anonymous reviewers. M. A. Soto Arenas played a crucial advisory role in the initial phases of this research, especially in helping locate putative populations of wild vanilla in Mexico. Generous financial support was provided to P. Lubinsky from a NSF Graduate Research Fellowship, a UC-MEXUS doctoral grant, and the Department of Botany and Plant Sciences at UC Riverside.
About this article
Cite this article
Lubinsky, P., Bory, S., Hernández Hernández, J. et al. Origins and Dispersal of Cultivated Vanilla (Vanilla planifolia Jacks. [Orchidaceae])1 . Econ Bot 62, 127–138 (2008). https://doi.org/10.1007/s12231-008-9014-y
Received:

Accepted:

Published:

Issue Date:

DOI: https://doi.org/10.1007/s12231-008-9014-y
Key Words
Vanilla

Orchidaceae

Mesoamerica

AFLP

crop origins