Abstract
Cultural Importance Indices: A Comparative Analysis Based on the Useful Wild Plants of Southern Cantabria (Northern Spain). This paper compares four indices based on informant consensus. Each index aims to assess the cultural significance of plant species and is suitable for statistical testing of different hypotheses. For the comparison, we used data concerning plants traditionally used in the Campoo area of southern Cantabria in northern Spain. Our results show a positive and significant correlation between the number of uses (NU) and the frequency of citation (FC) of the species. It seems to be a general rule that the more versatile a plant, the more widespread its usefulness. In addition, NU is highly influenced by the number of use-categories in the study. Consequently, an objective index must rely on FC more than NU. We propose the use of the cultural importance index (CI), which is defined as the summation of the informants' proportions that mention each of the uses of the species. The CI index is highly correlated with FC and, although it also considers diversity of use, each use-category is conveniently weighted by the number of informants mentioning it. Despite the use of cultural significance indices being questioned, we believe that indices based on in-depth, semi-structured interviews are still very useful for compilation studies of passive knowledge, such as most ethnobotanical works conducted in the last three decades in Europe.
Access options
Buy single article
Instant access to the full article PDF.
US$ 39.95
Tax calculation will be finalised during checkout.
Subscribe to journal
Immediate online access to all issues from 2019. Subscription will auto renew annually.
US$ 79
Tax calculation will be finalised during checkout.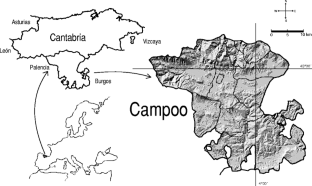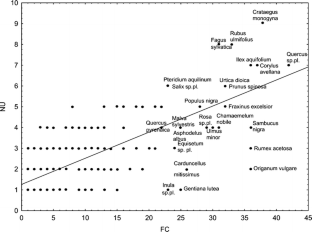 Literature Cited
Adu-Tutu, Y., M. Afful, K. Asante-Appiah, D. Lieberman, J. B. Hall, and M. Elvin-Lewis. 1979. Chewing Stick Usage in Southern Ghana. Economic Botany 33:320–328.

Albuquerque, U. P. and R. F. P. Lucena. 2005. Can Apparency Affect the Use of Plants by Local People in Tropical Forests? Interciencia 30(8):506–511.

________, R. F. P. Lucena, J. M. Monteiro, A. T. N. Florentino, and C. F. C. B. R. Almeida. 2006. Evaluating Two Quantitative Ethnobotanical Techniques. Ethnobotany Research and Applications 4:51–60.

Bennett, B. C. and G. T. Prance. 2000. Introduced Plants in the Indigenous Pharmacopoeia of Northern South America. Economic Botany 54(1):90–102.

Berlin, B. 1992. Ethnobiological Classification: Principles of Categorization of Plants and Animals in Traditional Societies. Princeton University Press, Princeton, New Jersey.

Bonet, M. A. and J. Vallès. 2003. Pharmaceutical Ethnobotany in the Montseny Biosphere Reserve (Catalonia, Iberian Peninsula): General Results and New or Rarely Reported Medicinal Plants. Journal of Pharmacy and Pharmacology 55(2):259–270.

________, C. Blanché, and J. Vallès. 1992. Ethnobotanical Study in River Tenes Valley (Catalonia, Iberian Peninsula). Journal of Ethnopharmacology 37:205–212.

________, and J. Vallès. 2002. Use of Non-Crop Food Vascular Plants in Montseny Biosphere Reserve (Catalonia, Iberian Peninsula). International Journal of Food Sciences and Nutrition 53:225–248.

Byg, A. and H. Balslev. 2001. Diversity and Use of Palms in Zahamena, Eastern Madagascar. Biodiversity and Conservation 10:951–970.

Camejo-Rodrigues, J., L. Ascensão, M. A. Bonet, and J. Vallès. 2003. An Ethnobotanical Study of Medicinal and Aromatic Plants in the Natural Park of "Serra de São Mamede" (Portugal). Journal of Ethnopharmacology 89:199–209.

Canales, M., T. Hernandez, J. Caballero, A. R. de Vivar, G. Avila, A. Duran, and R. Lira. 2005. Informant Consensus Factor and Antibacterial Activity of the Medicinal Plants Used by the People of San Rafael Coxcatlan, Puebla, Mexico. Journal of Ethnopharmacology 97(3):429–439.

Carvalho, A. M. 2005. Etnobotánica del Parque Natural de Montesinho. Plantas, tradición y saber popular en un territorio del Nordeste de Portugal. Ph.D. dissertation, Departamento de Biología, Facultad de Ciencias, Universidad Autónoma de Madrid, Spain.

Case, R. J., S. G. Franzblau, Y. H. Wang, S. H. Cho, D. D. Soejarto, and G. F. Pauli. 2006. Ethnopharmacological Evaluation of the Informant Consensus Model on Anti-Tuberculosis Claims among the Manus. Journal of Ethnopharmacology 106(1):82–89.

Estomba, D., A. H. Ladio, and M. Lozada. 2006. Medicinal Wild Plant Knowledge and Gathering Patterns in a Mapuche Community from North-western Patagonia. Journal of Ethnopharmacology 103(1):109–119.

Galeano, G. 2000. Forest Use at the Pacific Coast of Chocó, Colombia: A Quantitative Approach. Economic Botany 54(3):358–376.

Garibaldi, A. and N. J. Turner. 2004. Cultural Keystone Species: Implications for Ecological Conservation and Restoration. Ecology and Society 9(3):1.

Garibay-Orijel, R., J. Caballero, A. Estrada-Torres, and J. Cifuentes. 2007. Understanding Cultural Significance, the Edible Mushrooms Case. Journal of Ethnobiology and Ethnomedicine 3:4.

Heinrich, M., A. Ankli, B. Frei, C. Weimann, and O. Sticher. 1998. Medicinal Plants in Mexico: Healers' Consensus and Cultural Importance. Social Science and Medicine 47:1859–1871.

Höft, M., S. K. Barik, and A. M. Lykke. 1999. Quantitative Ethnobotany. Applications of Multivariate and Statistical Analyses in Ethnobotany. People and Plants working paper 6. United Nations Educational, Scientific and Cultural Organization (UNESCO), Paris.

Hoffman, B. and T. Gallaher. 2007. Importance Indices in Ethnobotany. Ethnobotany Research and Applications 5:201–218.

Kristensen, M. and H. Balslev. 2003. Perceptions, Use and Availability of Woody Plants among the Gourounsi in Burkina Faso. Biodiversity and Conservation 12:1715–1739.

Kufer, J., H. Förther, E. Pöll, and M. Heinrich. 2005. Historical and Modern Medicinal Plant Uses—The Example of the Ch'orti' Maya and Ladinos in Eastern Guatemala. Journal of Pharmacy and Pharmacology 57(9):1127–1152.

Ladio, A. H. and M. Lozada. 2001. Nontimber Forest Product Use in Two Human Populations from Northwest Patagonia: A Quantitative Approach. Human Ecology 29(4):367–381.

Lastra, J. J. 2003. Etnobotánica en el Parque Nacional de Picos de Europa. Ministerio de Medio Ambiente. Parques Nacionales, Madrid, Spain.

Lozada, M., A. H. Ladio, and M. Weigandt. 2006. Cultural Transmission of Ethnobotanical Plant Knowledge in a Rural Community of Northwestern Patagonia, Argentina. Economic Botany 60(4):374–385.

Moerman, D. E. 1994. North American Food and Drug Plants. Pages 1–21 in N. L. Etkin, ed., Eating on the Wild Side. The University of Arizona Press, Tucson, Arizona.

________. 2007. Agreement and Meaning: Rethinking Consensus Analysis. Journal of Ethnopharmacology 112:451–460.

Monteiro, J. M., U. P. de Albuquerque, E. M. de Freitas Lins-Neto, E. L. de Araujo, and E. L. C. de Amorim. 2006. Use Patterns and Knowledge of Medicinal Species among Two Rural Communities in Brazil's Semi-Arid Northeastern Region. Journal of Ethnopharmacology 105(1–2):173–186.

Pardo-de-Santayana, M. 2003a. Las plantas en la cultura tradicional de la antigua Merindad de Campoo. Ph.D. dissertation, Departamento de Biología, Facultad de Ciencias, Universidad Autónoma de Madrid, Spain.

________. 2003b. Nomenclatura popular de Quercus (Fagaceae) en los valles meridionales de Cantabria. Anales del Jardín Botánico de Madrid 60(1):189–197.

________, J. Tardío, and R. Morales. 2005. The Gathering and Consumption of Wild Edible Plants in the Campoo (Cantabria, Spain). International Journal of Food Sciences and Nutrition 56(7):529–542.

________, J. Tardío, M. Heinrich, A. Touwaide, and R. Morales. 2006. Plants in the Works of Cervantes. Economic Botany 60(2):159–181.

________, J. Tardío, E. Blanco, A. M. Carvalho, J. J. Lastra, E. San Miguel, and R. Morales. 2007. Traditional Knowledge on Wild Edible Plants in the Northwest of the Iberian Peninsula (Spain and Portugal): A Comparative Study. Journal of Ethnobiology and Ethnomedicine 3:27.

Pelto, P. J. and G. H. Pelto. 1975. Intra-Cultural Diversity: Some Theoretical Issues. American Ethnologist 2(1):1–18.

Phillips, O. 1996. Some Quantitative Methods for Analyzing Ethnobotanical Knowledge. Pages 171–197 in M. N. Alexiades, ed., Selected Guidelines for Ethnobotanical Research: A Field Manual. New York Botanical Garden, New York.

________ and A. H. Gentry. 1993a. The Useful Plants of Tambopata, Peru: I. Statistical Hypotheses Tests with A New Quantitative Technique. Economic Botany 47(1):15–32.

________ and A. H. Gentry. 1993b. The Useful Plants of Tambopata, Peru: II. Additional Hypothesis-Testing in Quantitative Ethnobotany. Economic Botany 47(1):33–43.

Pieroni, A. 1999. Gathered Wild Food Plants in the Upper Valley of the Serchio River (Garfagnana), Central Italy. Economic Botany 53(3):327–341.

________. 2001. Evaluation of the Cultural Significance of Wild Food Botanicals Traditionally Consumed in Northwestern Tuscany, Italy. Journal of Ethnobiology 21(1):89–104.

_________, H. Muenz, M. Akbulut, K. H. C. Baser, and C. Durmuskahya. 2005. Traditional Phytotherapy and Trans-Cultural Pharmacy among Turkish Migrants Living in Cologne, Germany. Journal of Ethnopharmacology 102(1):69–88.

Prance, G. T., W. Balee, B. M. Boom, and R. L. Carneiro. 1987. Quantitative Ethnobotany and the Case for Conservation in Amazonia. Conservation Biology 1(4):296–310.

Reyes-García, V., T. Huanca, V. Vadez, W. Leonard, and D. Wilkie. 2006. Cultural, Practical, and Economic Value of Wild Plants: A Quantitative Study in the Bolivian Amazon. Economic Botany 60(1):62–74.

Rossato, S., H. F. Leitão-Filho, and A. Begossi. 1999. Ethnobotany of Caiçaras of the Atlantic Forest Coast (Brazil). Economic Botany 53(3):377–385.

San Miguel, E. 2004. Etnobotánica de Piloña (Asturias). Cultura y saber popular sobre las plantas en un concejo del Centro-Oriente Asturiano. Ph.D. Dissertation, Departamento de Biología, Facultad de Ciencias, Universidad Autónoma de Madrid, Spain.

Silva, V. A., L. H. C. Andrade, and U. P. Albuquerque. 2006. Revising the Cultural Significance Index: The Case of the Fulni-ô in Northeastern Brazil. Field Methods 18(1):98–108.

Stepp, J. R. and D. E. Moerman. 2001. The Importance of Weeds in Ethnopharmacology. Journal of Ethnopharmacology 75:19–23.

Stoffle, R. W., D. B. Halmo, M. J. Evans, and J. E. Olmsted. 1990. Calculating the Cultural Significance of American Indian Plants: Pauiute and Shoshone Ethnobotany at Yucca Mountain, Nevada. American Anthropologist 92(2):416–432.

Tardío, J., H. Pascual, and R. Morales. 2005. Wild Food Plants Traditionally Used in the Province of Madrid. Economic Botany 59(2):122–136.

Trotter, R. T. and M. H. Logan. 1986. Informant Consensus: A New Approach for Identifying Potentially Effective Medicinal Plants. Pages 91–112 in N. L. Etkin, ed., Plants in Indigenous Medicine and Diet: Biobehavioral Approaches. Redgrave Publishing Company, New York.

Turner, N. J. 1988. "The Importance of a Rose": Evaluating the Cultural Significance of Plants in Thompson and Lilloet Interior Salish. American Anthropologist 90:272–290.

Wan, C., C. Chiu, K. Tam, S. Lee, I. Y. Lau, and S. Peng. 2007. Perceived Cultural Importance and Actual Self-Importance of Values in Cultural Identification. Journal of Personality and Social Psychology 92(2):337–354.
Acknowledgements
We are grateful to all the people of the Campoo region who kindly shared their knowledge and time and to everyone who provided introductions to local people. We also thank the Spanish Ministry of Science and Education for financing this work (AP97 00827638, CGL2006-09546/BOS) and Ramón Morales for his help and encouragement during the fieldwork and for revising the manuscript. We are also grateful to Lesley Ashcroft, Roy Thompson, Marisa Tello, Susana González, and Laura Aceituno for checking the manuscript and to three anonymous reviewers and Daniel Moerman for their valuable remarks.
About this article
Cite this article
Tardío, J., Pardo-de-Santayana, M. Cultural Importance Indices: A Comparative Analysis Based on the Useful Wild Plants of Southern Cantabria (Northern Spain)1 . Econ Bot 62, 24–39 (2008). https://doi.org/10.1007/s12231-007-9004-5
Received:

Accepted:

Published:

Issue Date:
Keywords
Quantitative ethnobotany

cultural importance index

traditional knowledge

Spain