Abstract
Worldwide, potato (Solanum tuberosum L) is rated as one of the most important food crops after wheat, rice and maize. Bacterial wilt, caused by Ralstonia solanacearum (Rs), is one of the most economically important diseases of potato. The purpose of this study was to identify diploid germplasm with resistance to bacterial wilt. The wilting degree was assessed by analyzing the wilt percentage of six Solanum commersonii clones which were artificially inoculated with Rs in a growth chamber. Two Rs strains (CMR15 and UW551) were used to inoculate the clones evaluate resistance. MSEE912–08, a selfed progeny from PI320266 was identified as the most resistant of the clones in this study exhibiting the lowest RAUDPC for wilting and a Wilting Degree rating of 0.4 (less than 25% wilted leaves) 20 days post inoculation when inoculated with the UW551 Rs strain, and 1.3 with the CMR15 strain. The resistance observed was characterized by reduction in wilting over time, rather than lack of disease. The most resistant clone from this study was self-pollinated to create a mapping population to identify single nucleotide polymorphic (SNP) markers associated with Rs resistance.
Resumen
A nivel mundial, la papa (Solanum tuberosum L.) esta catalogada como uno de los mas importantes cultivos alimenticios, después del trigo, el arroz y el maíz. La marchitez bacteriana, causada por Ralstonia solanacearum (Rs) es una de las enfermedades mas económicamente importantes de la papa. El propósito de este estudio fue identificar germoplasma diploide con resistencia a la marchitez bacteriana. Se evaluó el grado de marchitamiento mediante el análisis del porcentaje de marchitez de seis clones de Solanum commersonii que fueron inoculados artificialmente con Rs en una cámara de crecimiento. Se usaron dos sepas de Rs (CMR15 y UW551) para inocular los clones y evaluar su resistencia. El clon MSEE912–08, una progenie endogáminca de PI310266 se identificó como el mas resistente en este estudio, mostrando la RAUDPC mas baja para marchitamiento y con un Grado de Marchitez de 0.4 (menos del 25% de hojas marchitas) a los 20 días post inoculación cuando se inocularon con la variante UW551 de Rs, y 1.3 con la sepa CMR15. La resistencia observada se caracterizó por la reducción en marchitamiento en el tiempo, en vez de carencia de enfermedad. El clon mas resistente de este estudio se autopolinizó para crear un mapeo de población e identificar marcadores polimórficos de nucleótidos únicos (SNP) asociados con la resistencia a Rs.
Access options
Buy single article
Instant access to the full article PDF.
US$ 39.95
Tax calculation will be finalised during checkout.
Subscribe to journal
Immediate online access to all issues from 2019. Subscription will auto renew annually.
US$ 79
Tax calculation will be finalised during checkout.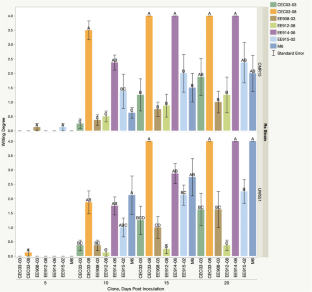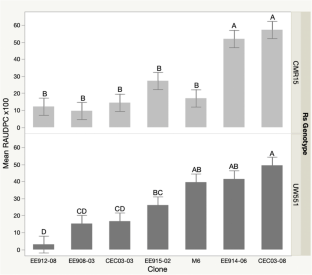 References
Albuquerque, P., A. Marcal, C. Caridade, R. Costa, M. Mendes, and F. Tavares. 2015. A quantitative hybridization approach using 17 DNA markers for identification and clustering analysis of Ralstonia solanacearum. Plant Pathology 64: 1270–1283.

Álvarez, B., E.G. Biosca, and M.M. López. 2010. On the life of Ralstonia solanacearum, a destructive bacterial plant pathogen. Current research, technology and education topics in applied microbiology and microbial biotechnology 1: 267–279.

Aversano, R., F. Contaldi, M.R. Ercolano, V. Grosso, M. Iorizzo, F. Tatino, L. Xumerle, A. Dal Molin, C. Avanzato, A. Ferrarini, M. Delledonne, W. Sanseverino, R.A. Cigliano, S. Capella-Gutierrez, T. Gabaldon, L. Frusciante, J.M. Bradeen, and D. Carputo. 2015. The Solanum commersonii genome sequence provides insights into adaptation to stress conditions and genome evolution of wild potato relatives. Plant Cell 27: 954–968.

Bernardo R (2014) Essentials of plant breeding. In. Stemma press, pp 191-193.

Boschi, F., C. Schvartzman, S. Murchio, V. Ferreira, M.I. Siri, G.A. Galvan, M. Smoker, L. Stransfeld, C. Zipfel, F.L. Vilaro, and M. Dalla-Rizza. 2017. Enhanced bacterial wilt resistance in potato through expression of Arabidopsis EFR and introgression of quantitative resistance from Solanum commersonii. Frontiers in Plant Science 8: 1642.

Carputo, D., L. Monti, J. Werner, and L. Frusciante. 1999. Uses and usefulness of endosperm balance number. Theoretical and Applied Genetics 98: 478–484.

Carputo, D., R. Aversano, A. Barone, A. Di Matteo, M. Iorizzo, L. Sigillo, A. Zoina, and L. Frusciante. 2009. Resistance to Ralstonia solanacearum of sexual hybrids between Solanum commersonii and S. tuberosum. American Journal of Potato Research 86: 196–202.

Caruso, I., L. Castaldi, G. Caruso, L. Frusciante, and D. Carputo. 2008. Breeding potential of Solanum tuberosum – S. commersonii pentaploid hybrids: Fertility studies and tuber evaluation. Euphytica 164: 357–363.

Cellier, G., and P. Prior. 2010. Deciphering phenotypic diversity of Ralstonia solanacearum strains pathogenic to potato. Phytopathology 100: 1250–1126.

Champoiseau PG, Jones JB, Allen C (2009) Ralstonia solanacearum race 3 Biovar 2 causes tropical losses and temperate anxieties. Plant Health Progress.

Clarke, C.R., D.J. Studholme, B. Hayes, B. Runde, A. Weisberg, R. Cai, T. Wroblewski, M.C. Daunay, E. Wicker, J.A. Castillo, and B.A. Vinatzer. 2015. Genome-enabled Phylogeographic investigation of the quarantine pathogen Ralstonia solanacearum race 3 Biovar 2 and screening for sources of resistance against its core effectors. Phytopathology 105: 597–607.

Fegan, Ma, Prior P (2005) How complex is the "Ralstonia solanacearum species complex". in: Bacterail Wilt Disease and the Ralstonia solanacearum Species Complex. C. Allen, P. Prior, and A. C. Hayward, eds. American Phytopathological Society, St. Paul, MN.: 449–461.

Fock, I., C. Collonnier, A. Purwito, J. Luisetti, V. Souvannavong, F. Vedel, A. Servaes, A. Ambroise, H. Kodja, G. Ducreux, and D. Sihachakr. 2000. Resistance to bacterial wilt in somatic hybrids between Solanum tuberosum and Solanum phureja. Plant Science 160: 165–176.

Fock, I., C. Collonnier, J. Luisetti, A. Purwito, V. Souvannavong, F. Vedel, A. Servaes, A. Ambroise, H. Kodja, and G. Ducreux. 2001. Use of Solanum stenotomum for introduction of resistance to bacterial wilt in somatic hybrids of potato. Plant Physiology and Biochemistry 39: 899–908.

Franc GD, Loria R, Stevenson WR, Weingartner D (2001) Compendium of potato diseases. The American Phytopathological Society.

Habe, I. 2018. An in vitro assay method for resistance to bacterial wilt (Ralstonia solanacearum) in potato. American Journal of Potato Research 95: 311–316.

Hosaka, K., and E.R. Hanneman. 1998. Genetics of self-compatibility in a self-incompatible wild diploid potato species Solanum chacoense. 2. Localization of an S locus inhibitor (Sli) gene on the potato genome using DNA markers. Euphytica 103: 265–271.

Huet, G. 2014. Breeding for resistances to Ralstonia solanacearum. Frontiers in Plant Science 5.

Ishihara, T., I. Mitsuhara, H. Takahashi, and K. Nakaho. 2012. Transcriptome analysis of quantitative resistance-specific response upon Ralstonia solanacearum infection in tomato. PLoS One 7: e46763.

Jansky, S.H., and S.J. Peloquin. 2006. Advantages of wild diploid Solanum species over cultivated diploid relatives in potato breeding programs. Genetic Resources and Crop Evolution 53: 669–674.

Johnston, S., and R. Hanneman. 1980. Support of the endosperm balance number hypothesis utilizing some tuber-bearing Solanum species. American Potato Journal 57: 7–14.

Laferriere, L.T., J.P. Helgeson, and C. Allen. 1999. Fertile Solanum tuberosum + S. commersonii somatic hybrids as sources of resistance to bacterial wilt caused by Ralstonia solanacearum. Theoretical and Applied Genetics 98: 1272–1278.

Murashige, T., and F. Skoog. 1962. A revised medium for rapid growth and bio assays with tobacco tissue cultures. Physiologia Plantarum 15: 473–497.

Poland, J.A., P.J. Balint-Kurti, R.J. Wisser, R.C. Pratt, and R.J. Nelson. 2009. Shades of gray: The world of quantitative disease resistance. Trends in Plant Science 14: 21–29.

Simko, I., and H.P. Piepho. 2012. The area under the disease progress stairs: calculation, advantage, and application. Phytopathology 102: 381–389.

Siri, M., G.A. Galván, L. Quirici, E. Silvera, P. Villanueva, F. Ferreira, L.F. Fraguas, and M. Pianzzola. 2009. Molecular marker diversity and bacterial wilt resistance in wild Solanum commersonii accessions from Uruguay. Euphytica 165: 371–382.

Siri, M.I., A. Sanabria, and M.J. Pianzzola. 2011. Genetic diversity and aggressiveness of Ralstonia solanacearum strains causing bacterial wilt of potato in Uruguay. Plant Disease 95: 1292–1301.

Zuluaga, A.P., M. Sole, H. Lu, E. Gongora-Castillo, B. Vaillancourt, N. Coll, C.R. Buell, and M. Valls. 2015. Transcriptome responses to Ralstonia solanacearum infection in the roots of the wild potato Solanum commersonii. BMC Genomics 16: 246.
Acknowledgments
This research work was supported by the United States Agency for International Development (USAID), as part of the Feed the Future initiative, under the CGIAR Fund, award number BFS-G-11-00002, and the predecessor fund for the food Security and Crisis Mitigation II grant award number EEM-G-00-04-00013.
About this article
Cite this article
Otieno, S.A., Collins, P., Coombs, J. et al. Screening for Ralstonia solanacearum Resistance in Solanum commersonii. Am. J. Potato Res. 98, 72–77 (2021). https://doi.org/10.1007/s12230-020-09819-8
Accepted:

Published:

Issue Date:
Keywords
Diploid potato

Bacterial wilt

Resistance breeding