Abstract
Advances in technology have opened multiple formats of rapid communication for Extension personnel to communicate with clientele. Today, Extension personnel at many universities use webpages, social media, applications on smart phones, and many other ways to deliver timely messages to clientele. For example, the University of Maine Cooperative Extension provides a hotline for the latest information for pest and disease occurrence, distribution, and control. This has been expanded into text-based information delivery, which has been well accepted. North Dakota State University and University of Minnesota potato Extension website contains information on potato production, current issues and provides many resources for potato growers. In addition to the website, information is shared by Twitter and Facebook. An application providing growers with late blight and early blight risk, current weather information, and inversion warnings is a new project being delivered to growers since 2017. North Dakota State University provides pesticide information on the Pest Management application. This application also allows users to submit a picture for pest identification assistance. The use of the web as an archival source for traditional extension documents has been expanded to distance education with videos for continuing education credits. These methods, mixed with traditional field days, winter meetings, and Extension bulletins, are how Extension is reaching today's potato farmer and industry with timely information.
Resumen
Los avances en la tecnología han abierto múltiples formatos de comunicación rápida para la comunicación del personal de Extensión con su clientela. Hoy en día, el personal de Extensión usa páginas de la red, redes sociales, aplicaciones en teléfonos inteligentes, y muchas otras maneras para hacer llegar los mensajes oportunamente a su clientela. El Servicio de Extensión de la Universidad de Maine suministra una línea de información mas reciente en la incidencia, distribución y control de plagas y enfermedades. Esto se ha extendido en una distribución de información basada en texto que ha sido bien aceptada. La Universidad Estatal de Dakota del Norte y el sitio de internet del servicio de extensión de Papa de la Universidad de Minnesota, contiene información de la producción de papa, temas de actualidad y suministra muchas fuentes para los productores de papa. Además, en su sitio de la red se comparte la información por twitter y Facebook. Una aplicación que informa a los productores con los riesgos de los tizones temprano y tardío, información actualizada del clima, y advertencia de inversiones, es un proyecto nuevo liberado para los productores en 2017. La Universidad Estatal de Dakota del Norte da información sobre plaguicidas en la aplicación de manejo de plagas. Esta aplicación también permite a los usuarios que envíen una foto para asistencia en la identificación de plagas. El uso de la red como una fuente de archivo para documentos tradicionales de extensión se ha expandido a educación a distancia con videos para créditos en educación continua. Estos métodos, mezclados con días de campo tradicionales, reuniones de invierno, y boletines de Extensión, es como la Extensión esta alcanzando al productor de papa de hoy y a la industria con información oportuna.
Access options
Buy single article
Instant access to the full article PDF.
US$ 39.95
Tax calculation will be finalised during checkout.
Subscribe to journal
Immediate online access to all issues from 2019. Subscription will auto renew annually.
US$ 79
Tax calculation will be finalised during checkout.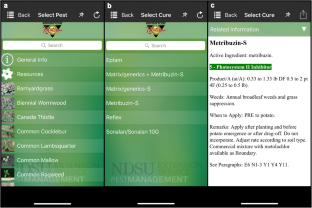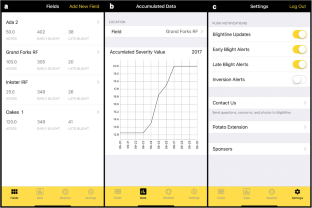 References
Johnson, S.B. 2006. Potato disease and forecasting information delivery harmonized across international Borders with IMMPACT. Journal of Extension 44 (6): 6IAW6. Available at: https://www.joe.org/joe/2006december/iw6.php.

Johnson, S.B. 2009. Expanded information delivery using the world wide web. Journal of Extension 47 (6): v47-6tt5. Available at: https://www.joe.org/joe/2009december/tt5.php.

Johnson, S.B. 2011. Delivery of PowerPoint® videos on the world wide web. Journal of Extension 49 (2): v49-2tt9. Available at: https://joe.org/joe/2011april/tt9.php.

Johnson, S.B., and J.D. Dwyer. 2007. Information delivery using and automated computer/telephone system (or 10,000 contacts in 10 years). Journal of Extension 45 (5): 5TOT4. Available at: https://www.joe.org/joe/2007october/tt4.php.

Rasmussen, W.D. 1989. Taking the university to the people: Seventy-five years of cooperative extension. Ames: Iowa State University Press.

Typhina, E., R.E. Bardon, and L.W. Gharis. 2015. Collaborating with your clients using Social Media & Mobile Communications. Journal of Extension 53 (1): v53-1tt2. Available at: https://joe.org/joe/2015february/tt2.php.

USDA. 2020. Potatoes 2019 Summary. https://downloads.usda.library.cornell.edu/usda-esmis/files/fx719m44h/ks65j252d/wm118c91g/pots0920.pdf
About this article
Cite this article
Robinson, A.P., Johnson, S.B. Information Delivery Methods for Management Decisions. Am. J. Potato Res. 98, 12–15 (2021). https://doi.org/10.1007/s12230-020-09814-z
Accepted:

Published:

Issue Date:
Keywords
Extension

Internet

Social Media

Smartphone Application