Abstract
Common scab of potato caused by pathogenic Streptomyces species poses an economic burden to commercial potato cultivation. Despite decades of research, no molecular markers linked to this trait are currently available, making the development of scab resistant potato varieties inefficient. We evaluated common scab lesion type and tuber coverage in 198 individuals segregating for common scab resistance in replicated field trials with high natural disease pressure over two growing seasons. To identify genetic features associated with resistance, we genotyped the tetraploid (4x) population and parental lines (Kalkaska and Tundra) using the Illumina Infinium 8303 Potato Array and conducted genome-wide association analysis. Here, we report two significant single nucleotide polymorphism (SNP) markers on chromosome 1 associated with both scab traits in both years as well as a SNP marker on chromosome 2 associated with scab tuber coverage. Gene expression profiling of the parents of this population in response to Thaxtomin A treatment revealed differential expression of genes in tubers putatively involved in cell wall biosynthesis and hormone signaling.
Resumen
La roña común de la papa, causada por especies patogénicas de Streptomyces, representa una carga económica al cultivo comercial de papa. A pesar de décadas de investigación, actualmente no se encuentran disponibles marcadores moleculares ligados a este carácter, haciendo ineficiente el desarrollo de variedades de papa resistentes a la roña. Evaluamos el tipo de lesión de la roña común y cubrimiento de tubérculo en 198 individuos segregantes para resistencia a la roña común en ensayos de campo repetidos con alta presión natural de la enfermedad en dos ciclos de cultivo. Para identificar características genéticas asociadas con la resistencia, genotipamos a la población tetraploide (4x) y a las líneas parentales (Kalkaska y Tundra) usando la matriz de papa Illumina infinitum 8303 y se condujo el análisis de la asociación amplia del genoma. Aquí reportamos dos marcadores significativos de polimorfismo de nucleótido individual (SNP) en el cromosoma 1 asociados tanto a caracteres de la roña en ambos años como al marcador SNP en el cromosoma 2 asociado con el cubrimiento de la roña en el tubérculo. El perfil de la expresión génica de los progenitores de esta población en respuesta a tratamiento con Thaxtomin A reveló expresión diferencial de genes en tubérculos putativamente involucrados en la biosíntesis de pared celular y en señalamiento hormonal.
Access options
Buy single article
Instant access to the full article PDF.
USD 39.95
Price includes VAT (USA)
Tax calculation will be finalised during checkout.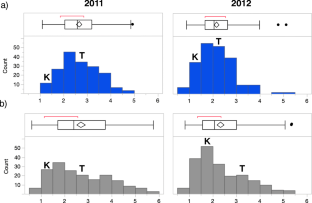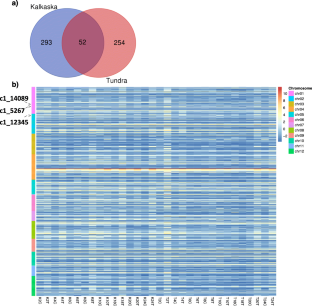 References
Acuna, I.A., G.A. Strobel, B.J. Jacobsen, and D.L. Corsini. 2001. Glucosylation as a mechanism of resistance to thaxtomin A in potatoes. Plant Science 161: 77–88.

Alam, Z. 1972. Inheritance of scab resistance in 24-chromosome potatoes. 6764–6764.

Anders, S., P.T. Pyl, and W. Huber. 2015. HTSeq—a python framework to work with high-throughput sequencing data. Bioinformatics 31: 166–169. https://doi.org/10.1093/bioinformatics/btu638.

Antico, C.J., C. Colon, T. Banks, and K.M. Ramonell. 2012. Insights into the role of jasmonic acid-mediated defenses against necrotrophic and biotrophic fungal pathogens. Frontiers in Biology 7: 48–56.

Atiq, M., A. Khalid, W. Hussain, A. Nawaz, S. Asad, and T. Ahmad. 2013. Genetic potential of potato germplasm against common scab disease caused by streptomyces scabies. Pakistan Journal of Phytopathology 25: 27–30.

Bari, R., and J.D. Jones. 2009. Role of plant hormones in plant defence responses. Plant Molecular Biology 69: 473–488.

Bignell, D.R., J.K. Fyans, and Z. Cheng. 2013. Phytotoxins produced by plant pathogenic streptomyces species. Journal of Applied Microbiology 116: 223–235.

Bolger, A.M., M. Lohse, and B. Usadel. 2014. Trimmomatic: A flexible trimmer for Illumina sequence data. Bioinformatics 30: 2114–2120. https://doi.org/10.1093/bioinformatics/btu170.

Bradshaw, J.E., C.A. Hackett, B. Pande, R. Waugh, and G.J. Bryan. 2008. QTL mapping of yield, agronomic and quality traits in tetraploid potato (Solanum tuberosum subsp. Tuberosum). Theoretical and Applied Genetics 116: 193–211. https://doi.org/10.1007/s00122-007-0659-1.

Braun, S., A. Gevens, A. Charkowski, C. Allen, and S. Jansky. 2017a. Potato common scab: A review of the causal pathogens, management practices, varietal resistance screening methods, and host resistance. American Journal of Potato Research 94: 283–296.

Braun, S.R., J.B. Endelman, K.G. Haynes, and S.H. Jansky. 2017b. Quantitative trait loci for resistance to common scab and cold-induced sweetening in diploid potato. The Plant Genome: 10.

Bukhalid, R.A., S.Y. Chung, and R. Loria. 1998. Nec1, a gene conferring a necrogenic phenotype, is conserved in plant-pathogenic Streptomyces spp. and linked to a transposase pseudogene. Molecular Plant Microbe Interactions 11: 960–967.

Castilleux, R., B. Plancot, M. Ropitaux, A. Carreras, J. Leprince, I. Boulogne, M.-L. Follet-Gueye, Z.A. Popper, A. Driouich, and M. Vicré. 2018. Cell wall extensins in root–microbe interactions and root secretions. Journal of Experimental Botany 69: 4235–4247.

Cipar, M., and C. Lawrence. 1972. Scab resistance of haploids from two Solanum tuberosum cultivars. American Potato Journal 49: 117–119.

Clarke, C.R., C.G. Kramer, R.R. Kotha, L.A. Wanner, D.L. Luthria, and M. Kramer. 2019. Cultivar resistance to common scab disease of potato is dependent on the pathogen species. Phytopathology 109: 1544–1554.

Davidson, R.M., C.N. Hansey, M. Gowda, K.L. Childs, H. Lin, B. Vaillancourt, R.S. Sekhon, N. de Leon, S.M. Kaeppler, and N. Jiang. 2011. Utility of RNA sequencing for analysis of maize reproductive transcriptomes. The Plant Genome 4: 191–203.

Dees, M.W., and L.A. Wanner. 2012. In search of better management of potato common scab. Potato Research 55: 249–268.

Dees, M., E. Lysøe, M. Alsheikh, J. Davik and M. Brurberg. 2016. Resistance to Streptomyces turgidiscabies in potato involves an early and sustained transcriptional reprogramming at initial stages of tuber formation. Molecular Plant Pathology 703–713.

Derksen, H., C. Rampitsch, and F. Daayf. 2013. Signaling cross-talk in plant disease resistance. Plant Science 207: 79–87.

Douches, D.S., J. Coombs, R. Hammerschmidt, W. Kirk, and C. Long. 2009. Kalkaska: A round white chip-processing potato variety with common scab resistance. American Journal of Potato Research 86: 347–355. https://doi.org/10.1007/s12230-009-9089-8.

Driscoll, J., J. Coombs, R. Hammerschmidt, W. Kirk, L. Wanner, and D. Douches. 2009. Greenhouse and field nursery evaluation for potato common scab tolerance in a tetraploid population. American Journal of Potato Research 86: 96–101.

Enciso-Rodriguez, F., D. Douches, M. Lopez-Cruz, J. Coombs and G. De Los Campos. 2018. Genomic selection for late blight and common scab resistance in tetraploid potato (Solanum tuberosum). G3: Genes|Genomes|Genetics 200273.

Fantino, E., M. Segretin, F. Santin, F. Mirkin, and R. Ulloa. 2017. Analysis of the potato calcium-dependent protein kinase family and characterization of StCDPK7, a member induced upon infection with Phytophthora infestans. Plant Cell Reports 36: 1137–1157.

FAOSTAT. 2017. Food and agriculture organization of the united nations. www.faostat.fao.org.

Felcher, K.J., J.J. Coombs, A.N. Massa, C.N. Hansey, J.P. Hamilton, R.E. Veilleux, C.R. Buell, and D.S. Douches. 2012. Integration of two diploid potato linkage maps with the potato genome sequence. PLoS One 7: e36347. https://doi.org/10.1371/journal.pone.0036347.

Gebhardt, C., and J.P. Valkonen. 2001. Organization of genes controlling disease resistance in the potato genome. Annual Review of Phytopathology 39: 79–102.

Glazebrook, J. 2005. Contrasting mechanisms of defense against biotrophic and necrotrophic pathogens. Annual Review of Phytopathology 43: 205–227.

Goth, R., K. Haynes and D. Wilson. 1993. Evaluation and characterization of advanced potato breeding clones for resistance to scab by cluster analysis. Plant Disease 77 (9): 911.

Haynes, K., B. Christ, C. Burkhart, and B. Vinyard. 2009. Heritability of resistance to common scab in diploid potatoes. American Journal of Potato Research 81: 165–170.

Hiltunen, L.H., I. Laakso, V. Chobot, K.S. Hakala, A. Weckman, and J.P. Valkonen. 2006. Influence of thaxtomins in different combinations and concentrations on growth of micropropagated potato shoot cultures. Journal of Agricultural and Food Chemistry 54: 3372–3379.

Hiltunen, L.H., M. Alanen, I. Laakso, A. Kangas, E. Virtanen, and J.P.T. Valkonen. 2011. Elimination of common scab sensitive progeny from a potato breeding population using thaxtomin a as a selective agent. Plant Pathology 60: 426–435.

Hirsch, C.N., C.D. Hirsch, K. Felcher, J. Coombs, D. Zarka, A. Van Deynze, W. De Jong, R.E. Veilleux, S. Jansky, P. Bethke,  D.S. Douches, and C.R. Buell. 2013. Retrospective View of North American Potato ( L.) Breeding in the 20 and 21 Centuries.Genes|Genomes|Genetics 3 (6):1003–1013.

Hirsch, C.D., J.P. Hamilton, K.L. Childs, J. Cepela, E. Crisovan, B. Vaillancourt, C.N. Hirsch, M. Habermann, B. Neal and C.R. Buell. 2014. Spud DB: A resource for mining sequences, genotypes, and phenotypes to accelerate potato breeding. The Plant Genome 7: 1–12. https://doi.org/10.3835/plantgenome2013.12.0042. 

Holterman, M., E. Bakker, S. van den Elsen, T. Borm,  H. Pomp, M. Sterken, J. Helder and A. Goverse. 2017. The development of a high-throughput marker platform for genome-wide mapping of NB-LRR resistance genes in potato. In 5th Plant Genomics & Gene Editing Congress: Europe.

Jansky, S., K. Haynes, and D. Douches. 2019. Comparison of two strategies to introgress genes for resistance to common scab from diploid Solanum chacoense into tetraploid cultivated potato. American Journal of Potato Research 96: 255–261.

Katsir, L., A.L. Schilmiller, P.E. Staswick, S.Y. He, and G.A. Howe. 2008. Coi1 is a critical component of a receptor for jasmonate and the bacterial virulence factor coronatine. Proceedings of the National Academy of Sciences 105: 7100–7105.

Khatri, B.B., R.S. Tegg, P.H. Brown, and C.R. Wilson. 2010. Infection of potato tubers with the common scab pathogen Streptomyces scabiei in a soil-less system. Journal of Phytopathology 158: 453–455.

Kim, D., J.M. Paggi, and S.L. Salzberg. 2019. Graph-based genome alignment and genotyping with hisat2 and hisat-genotype. Nature Biotechnology 37: 907–915.

King, R.R., C.H. Lawrence, M.C. Clark, and L.A. Calhoun. 1989. Isolation and characterization of phytotoxins associated with Streptomyces scabies. Journal of the Chemical Society, Chemical Communications 13: 849–850.

King, R.R., C.H. Lawrence, and J.A. Gray. 2001. Herbicidal properties of the thaxtomin group of phytotoxins. Journal of Agricultural and Food Chemistry 49: 2298–2301.

Kinkel, L.L., J.H. Bowers, K. Shimizu, E.C. Neeno-Eckwall, and J.L. Schottel. 1998. Quantitative relationships among thaxtomin a production, potato scab severity, and fatty acid composition in streptomyces. Canadian Journal of Microbiology 44: 768–776.

Lamport, D., M. Kieliszewski, Y. Chen, and M. Cannon. 2011. Update on the extensin super- family. Role of the extensin superfamily in primary cell wall architecture. Plant Physiology 156: 9–11.

Lawrence, C., M. Clark, and R. King. 1990. Induction of common scab symptoms in aseptically cultured potato tubers by the vivotoxin, thaxtomin. Phytopathology 80: 606–608.

Loria, R., Clark, C. A., Bukhalid, R. A., & Fry, B. A. (2001). Gram-positive bacteria: 504 streptomyces. In N. W. Schaad, J. B. Jones & W. Chun (Eds.), Laboratory guide for 505 identification of plant pathogenic bacteria (pp. 236–249.). St. Paul/Minnesota: APS Press.

Loria, R., D.R. Bignell, S. Moll, J.C. Huguet-Tapia, M.V. Joshi, E.G. Johnson, R.F. Seipke, and D.M. Gibson. 2008. Thaxtomin biosynthesis: The path to plant pathogenicity in the genus streptomyces. Antonie Van Leeuwenhoek 94: 3–10.

Love, S.L. 1999. Founding clones, major contributing ancestors, and exotic progenitors of prominent north American potato cultivars. American Journal of Potato Research 76: 263–272.

Murphy, A.M., H. De Jong, and G.C. Tai. 1995. Transmission of resistance to common scab from the diploid to the tetraploid level via 4x-2x crosses in potatoes. Euphytica 82: 227–233.

Navarro, L., P. Dunoyer, F. Jay, B. Arnold, N. Dharmasiri, M. Estelle, O. Voinnet, and J.D. Jones. 2006. A plant miRNA contributes to antibacterial resistance by repressing auxin signaling. Science 312: 436–439.

Navarro, F., K. Rak, E. Banks, B. Bowen, C. Higgins, and J. Palta. 2015. Strategies for selecting stable common scab resistant clones in a potato breeding program. American Journal of Potato Research 92: 326–338.

Neubauer, J.D., E.C. Lulai, A.L. Thompson, J.C. Suttle, and M.D. Bolton. 2012. Wounding coordinately induces cell wall protein, cell cycle and pectin methyl esterase genes involved in tuber closing layer and wound periderm development. Journal of Plant Physiology 169: 586–595.

Pavek, J., D. Corsini, J. Garner, S. Michener, W. Sparks, G. Carnahan, C. Stanger, A. Mosley, M. Johnson, and G. Carter. 1981. Lemhi russet: A new high yielding potato variety with wide adaptation, attractive tubers, and high internal quality. American Potato Journal 58: 619–625.

Rashid, A. 2016. Defense responses of plant cell wall non-catalytic proteins against pathogens. Physiological and Molecular Plant Pathology 94: 38–46.

Robinson, M., D. McCarthy, and G. Smyth. 2010. EdgeR: A bioconductor package for differential expression analysis of digital gene expression data. Bioinformatics. 26: 139–140.

Rosyara, U., W. De Jong, D. Douches, and J. Endelman. 2016. Software for genome-wide association studies in autopolyploids and its application to potato. Plant Genome 9: 1–10.

Scheible, W.-R., B. Fry, A. Kochevenko, D. Schindelasch, L. Zimmerli, S. Somerville, R. Loria, and C.R. Somerville. 2003. An Arabidopsis mutant resistant to thaxtomin a, a cellulose synthesis inhibitor from Streptomyces species. The Plant Cell 15: 1781–1794.

Seipke, R.F., and R. Loria. 2008. Streptomyces scabies 87-22 possesses a functional tomatinase. Journal of Bacteriology 190: 7684–7692.

Solomon-Blackburn, R.M., and H. Barker. 2001. A review of host major-gene resistance to potato viruses X, Y, a and V in potato: Genes, genetics and mapped locations. Heredity 86: 8–16.

Stevenson, F., J.G. McLean, W. Hoyman, and R. Akeley. 1955. Early gem: A new early, russet-skin, scab-resistant variety of potato adapted to the early potato-producing sections of Idaho and to certain sections of North Dakota. American Potato Journal 32: 79–85.

Tai, H.H., D. De Koeyer, M. Sønderkær, S. Hedegaard, M. Lagüe, C. Goyer, L. Nolan, C. Davidson, K. Gardner, and J. Neilson. 2018. Verticillium dahliae disease resistance and the regulatory pathway for maturity and tuberization in potato. The Plant Genome 11: 1–15.

Tegg, R., L. Melian, C. Wilson, and S. Shabala. 2005. Plant cell growth and ion flux responses to the streptomycete phytotoxin thaxtomin A: Calcium and hydrogen flux patterns revealed by the non-invasive mife technique. Plant Cell Physiology 46: 638–648.

Tegg, R.S., S.N. Shabala, T.A. Cuin, N.W. Davies, and C.R. Wilson. 2013. Enhanced resistance to the cellulose biosynthetic inhibitors, thaxtomin A and isoxaben in arabidopsis thaliana mutants, also provides specific co-resistance to the auxin transport inhibitor, 1-npa. BMC Plant Biology 13: 76.

Thangavel, T., R. Tegg, and C. Wilson. 2016. Toughing it out – Disease resistant potato mutants have enhanced tuber skin defenses. Phytopathology 106: 474–483.

Thines, B., L. Katsir, M. Melotto, Y. Niu, A. Mandaokar, G. Liu, K. Nomura, S. He, G.A. Howe, and J. Browse. 2007. Jaz repressor proteins are targets of the scf coi1 complex during jasmonate signalling. Nature 448: 661–665.

Tegg, R.S., and C.R. Wilson. 2010. Relationship of resistance to common scab disease and tolerance to thaxtomin A toxicity within potato cultivars. European Journal of Plant Pathology 128 (2):143–148.

Wanner, L. 2006. A survey of genetic variation in streptomyces isolates causing potato common scab in the United States. Bacteriology 96: 1363–1371. https://doi.org/10.1094/PHYTO-96-1363.

Wiersema, H. 1974. Testing for resistance to common scab. Potato Research 17: 356–357.

Wilson, C. 2001. Variability within clones of potato cv. Russet burbank to infection and severity of common scab disease of potato. Journal of Phytopathology 149: 625–628.

Wilson, C., G. Luckman, R. Tegg, Z. Yuan, A. Wilson, A. Eyles, and A. Conner. 2009. Enhanced resistance to common scab of potato through somatic cell selection in cv. Iwa with the phytotoxin thaxtomin a. Plant Pathology 58: 137–144.

Wilson, C.R., R.S. Tegg, A.J. Wilson, G.A. Luckman, A. Eyles, Z.Q. Yuan, L.H. Hingston, and A.J. Conner. 2010. Stable and extreme resistance to common scab of potato obtained through somatic cell selection. Phytopathology 100: 460–467.

Yang, X., X. Guo. Y. Yang, P. Ye, X. Xiong, J. Liu, D. Dong, and G. Li. 2018. Gene profiling in late blight resistance in potato genotype sd20. International Journal of Molecular Sciences 19.

Yuan, J., B. Benoît, D.K. David, R. Umesh, W. Zixiang and L.E. Martin. 2019. Genome-wide association study of resistance to potato common scab. Potato Research. https://doi.org/10.1007/s11540-019-09437-w.

Zorrilla, C., F. Navarro, S. Vega, K. Bamberg, and J. Palta. 2014. Identification and selection for tuber calcium, internal quality and pitted scab in segregating 'Atlantic'x 'Superior'reciprocal tetraploid populations. American Journal of Potato Research 91: 673–687.
Funding
This work was supported by funds from the U.S. Department of Agriculture, National Institute of Food and Agriculture, Agriculture and Food Research Initiative Plant Breeding, Genetics, and Genome grant 2009-85606-05673 to David Douches. This project was also supported by Project GREEEN (Generating Research and Extension to meet Economic and Environmental Needs) funding awarded to Project Director David Douches and funds from the Solanaceae Coordinated Agriculture Project (SOLCAP).
About this article
Cite this article
Kaiser, N., Coombs, J., Felcher, K. et al. Genome-Wide Association Analysis of Common Scab Resistance and Expression Profiling of Tubers in Response to Thaxtomin A Treatment Underscore the Complexity of Common Scab Resistance in Tetraploid Potato. Am. J. Potato Res. 97, 513–522 (2020). https://doi.org/10.1007/s12230-020-09800-5
Accepted:

Published:

Issue Date:
Keywords
Streptomyces

Common scab

GWAS

RNAseq