Abstract
Some foods promote inflammation and some reduce it. Chronic intestinal inflammation drives a variety of diseases such as inflammatory bowel disease (IBD), colon cancer, obesity, cardiovascular diseases, and type 2 diabetes, which plagues society today. Because plant-based food is effective against chronic diseases via modulation of gut microbiota and inflammation, there is a growing interest in anti-inflammatory staple food crops. Potato contains anti-inflammatory components such as resistant starch, fiber, and anthocyanins. Given the wide variation in potato germplasm for these compounds, there exists an opportunity to further develop potato as a potent anti-inflammatory staple crop.
Resumen
Algunos alimentos promueven inflamación y otros la reducen. La inflamación crónica intestinal conduce a una variedad de enfermedades tales como la enfermedad del intestino inflamado (IBD), cáncer de colon, obesidad, enfermedades cardiovasculares, y la diabetes tipo 2, que invaden a la sociedad hoy en día. Debido a que el alimento basado en plantas es efectivo contra enfermedades crónicas por vía de la modulación de la microbiota del intestino y de la inflamación, existe un creciente interés en cultivos de alimentos básicos antiinflamatorios. La papa contiene componentes antiinflamatorios tales como almidón resistente, fibra, y antocianinas. Considerando la amplia variación en el germoplasma de papa para estos compuestos, existe una oportunidad de desarrollar papa más adelante como un potente cultivo básico antiinflamatorio.
Access options
Buy single article
Instant access to the full article PDF.
USD 39.95
Price includes VAT (USA)
Tax calculation will be finalised during checkout.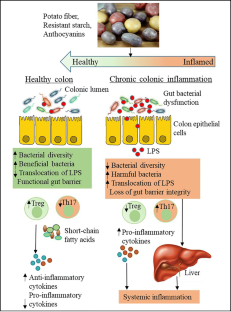 Abbreviations
CRP:

C-reactive protein

DSS:

dextran sulfate sodium

HCD:

high-calorie diet

IBD:

Inflammatory bowel disease

LPS:

lipopolysaccharide

RS:

resistant starch

SCFA:

short-chain fatty acid
References
Bjerregaard, Peter, Marit Eika Jørgensen, and Knut Borch-Johnsen. 2007. Cardiovascular risk amongst migrant and non-migrant Greenland Inuit in a gender perspective. Scandinavian Journal of Public Health 35: 380–386. https://doi.org/10.1080/14034940701195214.

Camire, Mary E. 2016. Potatoes and human health. In Advances in potato chemistry and technology: Second edition, 685–704. https://doi.org/10.1016/B978-0-12-800002-1.00023-6.

Charepalli, Venkata, Lavanya Reddivari, Sridhar Radhakrishnan, Ramakrishna Vadde, Rajesh Agarwal, and Jairam K.P. Vanamala. 2015. Anthocyanin-containing purple-fleshed potatoes suppress colon tumorigenesis via elimination of colon cancer stem cells. Journal of Nutritional Biochemistry 26: 1641–1649. https://doi.org/10.1016/j.jnutbio.2015.08.005.

Cuervo, Adriana, Nuria Salazar, Patricia Ruas-Madiedo, Miguel Gueimonde, and Sonia González. 2013. Fiber from a regular diet is directly associated with fecal short-chain fatty acid concentrations in the elderly. Nutrition Research 33: 811–816. https://doi.org/10.1016/j.nutres.2013.05.016.

Han, Kyu-Ho, Naoto Hashimoto, Ken-Ichiro Shimada, Mitsuo Sekikawa, Takahiro Noda, Hiroaki Yamauchi, Makoto Hashimoto, Hideyuki Chiji, David L. Topping, and Michihiro Fukushima. 2006. Hepatoprotective effects of purple potato extract against D-galactosamine-induced liver injury in rats. Bioscience, Biotechnology, and Biochemistry 70: 1432–1437. https://doi.org/10.1271/bbb.50670.

Heron, Melonie. 2017. Deaths: Leading causes for 2015. National Vital Statistics Reports 66: 60.

Hidalgo, Maria, M. Jose Oruna-Concha, Sofia Kolida, Gemma E. Walton, Stamatina Kallithraka, Jeremy P.E. Spencer, Glenn R. Gibson, and Sonia De Pascual-Teresa. 2012. Metabolism of anthocyanins by human gut microflora and their influence on gut bacterial growth. Journal of Agricultural and Food Chemistry 60: 3882–3890. https://doi.org/10.1021/jf3002153.

Iablokov, V., B.C. Sydora, R. Foshaug, J. Meddings, D. Driedger, T. Churchill, and R.N. Fedorak. 2010. Naturally occurring glycoalkaloids in potatoes aggravate intestinal inflammation in two mouse models of inflammatory bowel disease. Digestive Diseases and Sciences 55: 3078–3085. https://doi.org/10.1007/s10620-010-1158-9.

Kaspar, K.L., J.S. Park, C.R. Brown, B.D. Mathison, D.A. Navarre, B.P. Chew, K.D. Wutzke, et al. 2011. Pigmented potato consumption alters oxidative stress and inflammatory damage in men1,2. Journal of Nutrition 141: 108–111. https://doi.org/10.3945/jn.110.128074.

Kenny, Olivia M., Catherine M. McCarthy, Nigel P. Brunton, Mohammad B. Hossain, Dilip K. Rai, Stuart G. Collins, Peter W. Jones, Anita R. Maguire, and Nora M. O'Brien. 2013. Anti-inflammatory properties of potato glycoalkaloids in stimulated Jurkat and Raw 264.7 mouse macrophages. Life Sciences 92: 775–782. https://doi.org/10.1016/j.lfs.2013.02.006.

Li, Hong, Christopher Lelliott, Pernilla Håkansson, Karolina Ploj, Anna Tuneld, Martina Verolin-Johansson, Lambertus Benthem, Björn Carlsson, Leonard Storlien, and Erik Michaëlsson. 2008. Intestinal, adipose, and liver inflammation in diet-induced obese mice. Metabolism: Clinical and Experimental 57: 1704–1710. https://doi.org/10.1016/j.metabol.2008.07.029.

Madiwale, Gaurav P., Lavanya Reddivari, Martha Stone, David G. Holm, and Jairam Vanamala. 2012. Combined effects of storage and processing on the bioactive compounds and pro-apoptotic properties of color-fleshed potatoes in human colon cancer cells. Journal of Agricultural and Food Chemistry 60: 11088–11096. https://doi.org/10.1021/jf303528p.

Nofrarías, Miquel, Daniel Martínez-Puig, Joan Pujols, Natàlia Majó, and José F. Pérez. 2007. Long-term intake of resistant starch improves colonic mucosal integrity and reduces gut apoptosis and blood immune cells. Nutrition 23: 861–870. https://doi.org/10.1016/j.nut.2007.08.016.

NPC. 2018. Statistics: U.S. per capita utilization of potatoes, by category: 1970-2017. PotatoStatistical Yearbook 76–77.

Ooi, Jot Hui, Amanda Waddell, Yang-Ding Lin, Istvan Albert, Laura T. Rust, Victoria Holden, and Margherita T. Cantorna. 2014. Dominant effects of the diet on the microbiome and the local and systemic immune response in mice. PLoS One 9: e86366. https://doi.org/10.1371/journal.pone.0086366.

Panasevich, Matthew R., Jacob M. Allen, Matthew A. Wallig, Jeffrey A. Woods, and Ryan N. Dilger. 2015. Moderately fermentable potato fiber attenuates signs and inflammation associated with experimental colitis in mice. The Journal of Nutrition 145: 2781–2788. https://doi.org/10.3945/jn.115.218578.

Paturi, Gunaranjan, Tafadzwa Nyanhanda, Christine A. Butts, Thanuja D. Herath, John A. Monro, and Juliet Ansell. 2012. Effects of potato fiber and potato-resistant starch on biomarkers of colonic health in rats fed diets containing red meat. Journal of Food Science 77: H216–H223. https://doi.org/10.1111/j.1750-3841.2012.02911.x.

Reddivari, Lavanya, Jairam Vanamala, Sudhakar Chintharlapalli, Stephen H. Safe, and J. Creighton Miller. 2007. Anthocyanin fraction from potato extracts is cytotoxic to prostate cancer cells through activation of caspase-dependent and caspase-independent pathways. Carcinogenesis 28: 2227–2235. https://doi.org/10.1093/carcin/bgm117.

Reddivari, Lavanya, Jairam Vanamala, Matam Vijay-Kumar, and Mary J. Kennett. 2017. Potato anthocyanins attenuate inflammation in a mouse model of colitis. In USDA project directors meeting abstract book 50. Las Vegas, NV.

Sido, Abigail, Sridhar Radhakrishnan, Sung Woo Kim, Elisabeth Eriksson, Frank Shen, Qunhua Li, Vadiraja Bhat, Lavanya Reddivari, and Jairam K.P. Vanamala. 2017. A food-based approach that targets interleukin-6, a key regulator of chronic intestinal inflammation and colon carcinogenesis. Journal of Nutritional Biochemistry 43: 11–17. https://doi.org/10.1016/j.jnutbio.2017.01.012.

Simpson, Hannah L, and Barry J. Campbell. 2015. Review article: Dietary fibre-microbiota interactions. Alimentary Pharmacology and Therapeutics 42(2): 158–179.

Sun, Xiaofei, Min Du, Duroy A Navarre, and Mei-Jun Zhu. 2017. Purple potato extract promotes intestinal epithelial differentiation and barrier function by activating AMP-activated protein kinase. Molecular nutrition & food research. Germany. https://doi.org/10.1002/mnfr.201700536.

Tasson, Laura, Cristina Canova, Maria Grazia Vettorato, Edoardo Savarino, and Renzo Zanotti. 2017. Influence of diet on the course of inflammatory bowel disease. Digestive Diseases and Sciences 62: 2087–2094. https://doi.org/10.1007/s10620-017-4620-0.

Thompson, Matthew D., Henry J. Thompson, John N. McGinley, Elizabeth S. Neil, Denise K. Rush, David G. Holm, and Cecil Stushnoff. 2009. Functional food characteristics of potato cultivars (Solanum tuberosum L.): Phytochemical composition and inhibition of 1-methyl-1-nitrosourea induced breast cancer in rats. Journal of Food Composition and Analysis 22: 571–576. https://doi.org/10.1016/j.jfca.2008.09.002.

Visvanathan, Rizliya, Chathuni Jayathilake, Barana Chaminda Jayawardana, and Ruvini Liyanage. 2016. Health-beneficial properties of potato and compounds of interest. Journal of the Science of Food and Agriculture 96: 4850–4860. https://doi.org/10.1002/jsfa.7848.

Wu, Xianli, and Alexander G. Schauss. 2012. Mitigation of inflammation with foods. Journal of Agricultural and Food Chemistry 60: 6703–6717. https://doi.org/10.1021/jf3007008.

Zhang, Hua, Yousef I. Hassan, Justin Renaud, Ronghua Liu, Cheng Yang, Yong Sun, and Rong Tsao. 2017. Bioaccessibility, bioavailability, and anti-inflammatory effects of anthocyanins from purple root vegetables using mono- and co-culture cell models. Molecular Nutrition and Food Research 61. https://doi.org/10.1002/mnfr.201600928.
Acknowledgements
We acknowledge Jairam K. P. Vanamala, Ph.D. for reviewing the article. Research is supported by Agriculture and Food Research Initiative competitive grant 2016-67017-24512 from the USDA National Institute of Food and Agriculture.
About this article
Cite this article
Reddivari, L., Wang, T., Wu, B. et al. Potato: an Anti-Inflammatory Food. Am. J. Potato Res. 96, 164–169 (2019). https://doi.org/10.1007/s12230-018-09699-z
Keywords
Potato

Anthocyanins

Fiber

Resistant starch

Inflammation

Gut bacteria