Abstract
Dormancy hinders progress in attempts to fast track potato tuber generations. In this study, we evaluated the ability of gibberellic acid (GA) to overcome dormancy in freshly harvested tubers of 11 potato cultivars in 2 years of field trials. Tubers were wounded and dipped in 0, 10, 100, and 1,000 ppm GA. Then they were planted in the field 5 days later. Vine length and stem number were measured throughout the season. Tubers were also harvested and weighed. Cultivars varied in their response to GA treatment. However, for all cultivars, wounding followed by treatment with 10 or 100 ppm effectively overcame dormancy. The 1,000 ppm treatment produced excessive vine growth and lower yield compared to the lower concentrations. Consequently, wounding of freshly harvested tubers, followed by a dip in 10 or 100 ppm GA is recommended to overcome tuber dormancy in programs interested in rapid cycling.
Resumen
La dormancia obstaculiza el progreso en los intentos de acelerar la obtención de generaciones de tubérculos. En este estudio, evaluamos la habilidad del ácido giberelico (GA) para superar la dormancia en tubérculos recién cosechados de once variedades de papa, en dos años de ensayos de campo. Se les hicieron incisiones a los tubérculos y se sumergieron en 0, 10, 100, y 1,000 ppm de GA. Se plantaron en el campo cinco días después. Se midió la longitud y el número de tallos a lo largo del ciclo de cultivo. Los tubérculos también se cosecharon y pesaron. Las variedades tuvieron diferencias en su respuesta a los tratamientos con GA. No obstante, para todas ellas, las incisiones seguidas de tratamientos con 10 o ppm superaron efectivamente la dormancia. El tratamiento con 1,000 ppm produjo excesivo crecimiento del tallo y más bajo rendimiento comparado con las concentraciones más bajas. Consecuentemente, se recomienda hacer las heridas a los tubérculos recién cosechados, seguidas de inmersión en 10 o 100 ppm de GA para superar la dormancia del tubérculo en programas interesados en ciclos rápidos.
Access options
Buy single article
Instant access to the full article PDF.
US$ 39.95
Tax calculation will be finalised during checkout.
Subscribe to journal
Immediate online access to all issues from 2019. Subscription will auto renew annually.
US$ 79
Tax calculation will be finalised during checkout.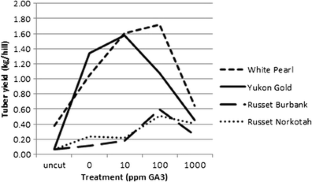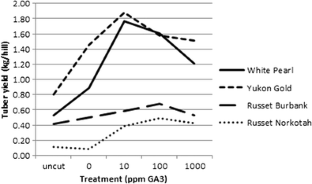 References
Bamberg, J.B. 2010. Tuber dormancy lasting 8 years in the wild potato Solanum jamesii. American Journal of Potato Research 87: 226–228.

Brian, P.W., H.G. Hemming, and M. Radley. 1955. A physiological comparison of gibberellic acid with some auxins extension of wheat coleoptile sections. Physiologia Plantarum 8: 899–912.

Bryan, J. 1989. Breaking dormancy of potato tubers. International Potato Center Research Guide 16. International Potato Center. Lima, Peru.

Fernie, A.R., and L. Willmitzer. 2001. Molecular and biochemical triggers of potato tuber development. Plant Physiology 127: 1459–1465.

Hermundstad, S.A., and S.J. Peloquin. 1986. Tuber yield and tuber traits of haploid-wild species F1 hybrids. Potato Research 29: 289–297.

Huamán, Z., and D. Spooner. 2002. Reclassification of landrace populations of cultivated potatoes (Solanum sect. Petota). American Journal of Botany 89: 947–965.

Jansky, S.H., and S.J. Peloquin. 2006. Advantages of wild diploid Solanum species over cultivated diploid relatives in potato breeding programs. Genetic Resources and Crop Evolution 53: 669–674.

Jansky, S., A. Hamernik, and X. Cai. 2012. Rapid cycling with true potato seed. Seed Science and Technology 40: 43–50.

Kim, H.S., J.H. Jeon, K.H. CHoi, Y.H. Joung, and H. Joung. 1999. Effects of rindite on breaking dormancy of potato microtubers. American Journal of Potato Research 76: 5–8.

Liedl, B., M. Taylor, and S. Desborough. 1989. Development of a rapid-cycling population of Solanum tuberosum Group Phureja. American Journal of Potato Research 66: 557–561.

Rappaport, L., H. Timm, and L.F. Lippert. 1958. Gibberellin on white potatoes. California Agriculture 12: 4–6.

Rentzsch, S., et al. 2011. Dose- and tissue-specific interaction of monoterpenes with the gibberellin-mediated release of potato tuber bud dormancy, sprout growth and induction of α-amylases and β-amylases. Planta 235: 137–151.

Sonnewald, U. 2001. Control of potato tuber sprouting. Trends in Plant Science 6: 333–335.

Spooner, D., and W. Hetterscheid. 2006. Origins, evolution, and group classification of cultivated potatoes. In Darwin's harvest: New approaches to the origins, evolution, and conservation of crops, ed. T. Motley, N. Zerega, and H. Cross, 285–307. New York: Colombia University Press.

Suttle, J.C. 2004. Physiological regulation of potato tuber dormancy. American Journal of Potato Research 81: 157–164.

Wiltshire, J., and A. Cobb. 1996. A review of the physiology of potato tuber dormancy. Annals of Applied Biology 129: 553–569.
Acknowledgments
The authors appreciate the assistance of Nick Kueler (UW-Madison Dept. Computing and Biometry) with statistical analyses.
Electronic supplementary material
Below is the link to the electronic supplementary material.
About this article
Cite this article
Jansky, S., Hamernik, A. Rapid Cycling of Potato Tuber Generations by Overcoming Dormancy. Am. J. Potato Res. 92, 148–152 (2015). https://doi.org/10.1007/s12230-014-9415-7
Keywords
Gibberellic acid

Tuber dormancy