Abstract
Owyhee Russet (AO96160-3) originated from a cross between A89384-10 and A89512-3 in 1996. Owyhee Russet was released in 2009 by Oregon State University, in cooperation with the USDA-ARS and the Agricultural Experiment Stations of Idaho and Washington and is a product of the Northwest Potato Variety (Tri-State) Development Program. Owyhee Russet has semi-erect medium sized vines with medium to late maturity. The tubers are long, with a tan skin, medium russeting, and attractive tuber appearance for fresh market. Owyhee Russet was evaluated in several locations across the Northwest for more than 15 years. Total yield of Owyhee Russet is similar to that of Russet Burbank and Ranger Russet but significantly higher than Russet Norkotah. U.S. No.1 tuber yield of Owyhee Russet is significantly higher than Russet Burbank and Russet Norkotah, resulting in substantially higher marketable yield. Owyhee Russet tubers have significantly higher specific gravity than Russet Burbank and Russet Norkotah. Fry color following tuber storage at 4°C and 9°C is significantly lighter for Owyhee Russet than the comparison varieties. Relative strengths include high yield with a very high proportion of U.S. No.1 tubers, good tuber appearance and excellent processing quality, resistance to cold sweetening, common scab and Fusarium dry rot. Weaknesses include susceptibility to foliar and tuber late blight and susceptibility to metribuzin herbicide injury. Allelic patterns of five SSR markers have shown that Owyhee Russet has a distinctive DNA genetic fingerprint from its russet type reference varieties which are Ranger Russet, Russet Burbank, and Russet Norkotah.
Resumen
Owyhee Russet (AO96160-3) se originó de la cruza entre A89384-10 y A89512-3 en 1996. Owyhee Russet se liberó en 2009 por la Universidad Estatal de Oregon, en cooperación con el USDA-ARS y las Estaciones Agrícolas Experimentales de Idaho y Washington y es un producto del Programa de Desarrollo de Variedades de Papa del Noroeste (Tres Estados). Owyhee Russet tiene tallos semi-erectos de tamaño intermedio con madurez de intermedia a tardía. Los tubérculos son largos, con piel color café ligero, medio escamada y de apariencia atractiva para el mercado fresco. Se evaluó en varias localidades a lo largo del noroeste por mas de 15 años. Su rendimiento total es similar al de Russet Burbank y Ranger Russet, pero significativamente más alto que el de Russet Norkotah. El rendimiento de tubérculo U.S. No. 1 de Owyhee Russet es significativamente mayor que el de Russet Burbank y Russet Norkotah, lo que resulta en substancialmente mas alto rendimiento comercial. Los tubérculos de Owyhee Russet tienen significativamente más gravedad específica que Russet Burbank y Russet Norkotah. El color del freído después del almacenamiento a 4°C y 9°C es significativamente mas claro para Owyhee Russet que para las variedades de referencia. Las fortalezas relativas incluyen alto rendimiento con una muy alta proporción de tubérculos U.S. 1, buena apariencia de tubérculos y excelente calidad de procesamiento, resistencia al endulzado por frío, roña común, y la pudrición seca por Fusarium. Las debilidades incluyen susceptibilidad al tizón tardío del follaje y del tubérculo y a daño por el herbicida metribuzin. Los patrones alélicos de cinco marcadores SSR han mostrado que Owyhee Russet tiene una huella genética de ADN distintiva de sus variedades de referencia tipo russet que son Ranger Russet, Russet Burbank, y Russet Norkotah.
This is a preview of subscription content,
to check access.
Access this article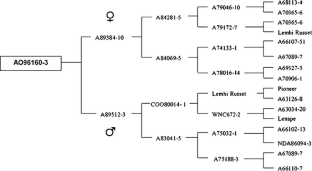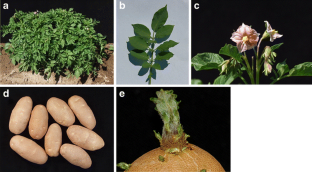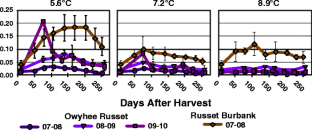 References
Bergers, W.W. 1980. A rapid quantitative assay for solanidine glycoalkaloids in potatoes and industrial potato protein. Potato Research 23: 105–110.

Bradford, N.M. 1976. A rapid and sensitive method for the quantitation of microgram quantities of protein using the principle of protein dye binding. Analytical Biochemistry 72: 248–254.

Corsini, D., and J. Pavek. 1986. Fusarium dry-rot resistant potato germplasm. American Journal of Potato Research 63: 629–638.

Corsini, D.L., J.J. Pavek, and J.R. Davis. 1988. Verticillium wilt resistance in non-cultivated tuber-384 bearing Solanum species. Plant Disease 75: 148–151.

Corsini, D.L., J.J. Pavek, M.W. Martin, and C.R. Brown. 1994. Potato germplasm with combined resistance to leafroll virus and viruses X and Y. American Potato Journal 71: 377–386.

Horowitz, W. (ed.). 2000. AOAC official methods of analysis. (17th ed., sects. 50.1.09 (985.33), and 45.1.15 (967.22). Gaithersburg, MD: Association of Official Analytical Chemists International.

Karaagac, E., S. Yilma, and M.I. Vales. 2010. SSR-Based DNA Fingerprinting of Potato Clones from the Pacific Northwest Potato Variety Development Program. ISHS Acta Horticulturae 859: 121–127.

Mosley, A., S. Yilma, D. Hane, S. James, K. Rykbost, , C. Shock, B. Charlton, E. Eldredge, and L. Leroux. 2003. In National Potato Germplasm Evaluation and Enhancement Report, eds. K.G. Haynes & Haynes) pp. 369–388. Oregon

Ocamb, C.M., P.B. Hamm, and D.A. Johnson. 2007. Benzimidazole resistance of Fusarium species recovered from potatoes with dry rot from storages located in the Columbia Basin of Oregon and Washington. American Journal of Potato Research 84: 169–177.

Pavek, J.J., D.L. Corsini, J.G. Garner, S. Michener, W.C. Sparks, G.F. Carnahan, C.E. Stanger, A.R. Mosley, M.J. Johnson, G.E. Carter, R.E. Voss, M.W. Martin, and R.H. Johansen. 1981. Lemhi Russet: A new, high yielding potato variety with wide adaptation, attractive tubers, and high internal quality. Am Potato J 58: 619–625.

Ross, F.A. 1959. Dinitrophenol methods for reducing sugars. In Potato Processing, eds. W.F. Talburt and O. Smith, 469–470. Connecticut: A VI Publishing Comp.
Acknowledgements
The authors thank Jenny Reed, Robert Smith, Lori Ewing, Margaret Bain, Nora Fuller, Zach Holden, and Brian Schneider for their contributions to the development and release of Owyhee Russet. We also thank our industry cooperators, our collaborators in the Western Regional Potato Variety Trials, and the Idaho, Washington, and Oregon potato commissions. The Oregon Agricultural Experiment Station, the Oregon Potato Commission, the Potato Variety Management Institute ( PVMI), the USDA Cooperative State Research, Education, and Extension Service, and the USDA Agricultural Research Service provided partial financial support for this research.
About this article
Cite this article
Yilma, S., Vales, M.I., Charlton, B.A. et al. Owyhee Russet: A Variety with High Yields of U.S. No. 1 Tubers, Excellent Processing Quality, and Moderate Resistance to Fusarium Dry Rot (Fusarium solani var. coeruleum) . Am. J. Pot Res 89, 175–183 (2012). https://doi.org/10.1007/s12230-012-9239-2
Published:

Issue Date:

DOI: https://doi.org/10.1007/s12230-012-9239-2
Keywords