Abstract
Ten potato cultivars were evaluated in Argentina for foliage and tuber susceptibility to Phytophthora infestans, the oomycete pathogen causing late blight. Pathogen isolates collected from two major potato production regions in the country were polymorphic for specific virulence and isozyme banding patterns, although diversity was found among and not within specific locations. Four of the cultivars were found to be highly resistant in foliage, having little disease in the field and greenhouse and race-specific resistance is suspected. One of these is Russet Burbank, which is highly susceptible in the United States. Cultivar Shepody was the most susceptible and was assigned a value of 8, which was used together with area under disease progress curve values to calculate scale values of the other cultivars on a 1 to 9 susceptibility scale (where 9 is highly susceptible). Cultivar Ranger Russet had values of about 2.5 and resistance could be race-non-specific. The other cultivars for which race incompatibility did not appear to be a problem had susceptibility values between 4 and 8. Foliage susceptibility values for greenhouse and field were correlated. Foliage and tuber susceptibility were also correlated, although with exceptions and only one cultivar, Innovator, was highly resistant in tubers. The two isolates chosen for assessment of foliage susceptibility in the greenhouse differed for aggressiveness in separate tests where components were measured; however, no cultivar-by-isolate interaction was measured. Cultivars with high levels of putative race-specific foliage resistance should be used with constant monitoring in Argentina.
Resumen
Se evaluaron diez cultivares de papa en Argentina para susceptibilidad de follaje y tubérculo a Phytophthora infestans, el oomiceto patógeno causante del tizón tardío. Aislamientos del patógeno colectados de dos regiones importantes productoras de papa en el país fueron polimórficos para virulencia específica y para patrones de bandas de isoenzimas, aunque la diversidad que se encontró fue entre y no dentro de localidades específicas. Se encontró que cuatro de los cultivares fueron altamente resistentes en follaje, con poca enfermedad en el campo e invernadero, sospechándose de resistencia específica a razas. Una de ellas es Russet Burbank, que es altamente susceptible en los Estados Unidos. El cultivar Shepody fue el mas susceptible, con un valor de 8, que se usó junto con los valores del área bajo la curva de progreso de la enfermedad para calcular valores de escala de los otros cultivares en una escala de susceptibilidad de 1 a 9 (donde 9 es altamente susceptible). El cultivar Ranger Russet tuvo valores cercanos a 2.5 y la resistencia pudo ser no específica para razas. Los otros cultivares, para los cuales la incompatibilidad de las razas no parecía ser problema, tuvieron valores de susceptibilidad entre 4 y 8. Se correlacionaron los valores de susceptibilidad del follaje para el invernadero y el campo. Así también se correlacionó la susceptibilidad de follaje y tubérculo, aunque con excepciones y solo un cultivar, Innovator, fue altamente resistente en tubérculos. Los dos aislamientos escogidos para análisis de susceptibilidad del follaje en el invernadero difirieron en agresividad en pruebas separadas en las que se midieron los componentes; no obstante, no se midió la interacción cultivar-aislamiento. Los cultivares con altos niveles de supuesta resistencia del follaje específica a razas deberían de usarse con monitoreo constante en Argentina.
Access options
Buy single article
Instant access to the full article PDF.
US$ 39.95
Tax calculation will be finalised during checkout.
Subscribe to journal
Immediate online access to all issues from 2019. Subscription will auto renew annually.
US$ 79
Tax calculation will be finalised during checkout.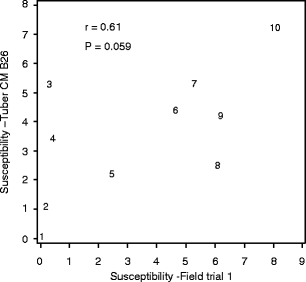 References
Andreu, A.B., and D.O. Caldiz. 2006. Early management of late blight (Phytophthora infestans) by using systemic fungicides applied to seed potato tubers. Crop Protection 25: 281–286.

Andrivon, D., R. Pelle, and D. Ellisseche. 2006. Assessing resistance types and levels to epidemic diseases from the analysis of disease progress curves: principles and application to potato late blight. American Journal of Potato Research 83: 455–461.

Bathia, S.K., and R.J. Young. 1985. Reaction of potato tuber slices to Phytophthora infestans in relation to physical age. American Potato Journal 62: 471–478.

Black, W., C. Mastenbroek, W.R. Mills, and L.C. Peterson. 1953. A proposal for an international nomeclature of races of Phytophthora infestans and genes controlling immunity in Solanum demissum derivates. Euphytica 2: 173–240.

Caldiz, D.O. 2006. Producción, cosecha y almacenamiento de papa en la Argentina. Capital Federal, Argentina: McCain Balcarce; BASF Argentina.

Campbell, C.L., and L.V. Madden. 1990. Introduction to plant disease epidemiology. New York: Wiley.

Carmona, D., M.A. Huarte, G. Arias, A. López, A.M. Vincini, H.A. Alvarez Castillo, P. Manetti, S. Capezio, E. Chaves, M. Torres, J. Eyherabide, J. Mantecón, L. Chichón, and D. Fernández. 2003. Integrated pest management in Argentina. Integrated pest management in the global arena. UK: CABI.

Caten, C.E., and J.L. Jinks. 1968. Spontaneous variability of single isolates of Phytophthora infestans. I. Cultural variation. Canadian Journal of Botany 46: 329–348.

Daayf, F., and H.W. Platt. 2000. Changes in metalaxyl resistance among glucose phosphate isomerase genotypes of Phytophthora infestans in Canada during 1997 and 1998. American Journal of Potato Research 77: 311–318.

Dorrance, A.E., and D.A. Inglis. 1998. Assessment of laboratory methods for evaluating potato tubers for resistance to late blight. Plant Disease 82: 442–446.

Flier, W.G., L.J. Turkensteen, G.B.M. van den Bosch, P.F.G. Vereijken, and A. Mulder. 2001. Differential interaction of Phytophthora infestans on tubers of potato cultivars with different levels of blight resistance. Plant Pathology 50: 292–301.

Flier, W.G., G.B.M. van den Bosch, and L.J. Turkensteen. 2003. Stability of partial resistance in potato cultivars exposed to aggressive strains of Phytophthora infestans. Plant Pathology 52: 326–337.

Forbes, G.A., M.G. Chacón, H.G. Kirk, M.A. Huarte, M. Damme, S. Distel, G.R. Mackay, H.E. Stewart, R. Lowe, J.M. Duncan, H.S. Mayton, W.E. Fry, D. Andrivon, D. Ellissèche, R. Pellé, H.W. Platt, G. MacKenzie, T.R. Tarn, L.T. Colon, D.J. Budding, H. Lozoya-Saldaña, A. Hernandez-Vilchis, and S. Capezio. 2005. Stability of resistance to Phytophthora infestans in potato: an international evaluation. Plant Pathology 54: 364–372.

Fry, W.E. 1975. Integrated effects of polygenic resistance and a protective fungicide on development of potato late blight. Phytopathology 65: 908–911.

Fry, W.E. 1978. Quantification of general resistance of potato cultivars and fungicide effects for integrated control of potato late blight. Phytopathology 68: 1650–1655.

Fry, W.E., N.J. Grünwald, D.E.L. Cooke, A. McLeod, G.A. Forbes, and K. Cao. 2009. Population Genetics and population diversity of Phytophthora infestans. In Oomycete genetics and genomics: Biology, interactions with plants and animals, and toolbox, ed. K. Lamour, and S. Kamoun, 139–162. New York: Wiley-Blackwell.

Goodwin, S.B., R.E. Schenider, and W.E. Fry. 1995a. Use of cellulose-acetate electrophoresis for rapid identification of allozyme genotypes of Phytophthora infestans. Plant Disease 79: 1181–1185.

Goodwin, S.B., L.S. Sujkowski, and W.E. Fry. 1995b. Rapid evolution of pathogenicity within clonal lineages of the potato late blight disease fungus. Phytopathology 85: 669–676.

Gregory, P.H. 1948. The multiple-infection transformation. Annals of Applied Biology 35: 412–417.

Hansen, J.G., M. Koppel, A. Valskyte, I. Turka, and J. Kapsa. 2005. Evaluation of foliar resistance in potato to Phytophthora infestans based on an international field trial network. Plant Pathology 54: 169–179.

Huarte, M.A. 2002. Niveles Disponibles de Resistencia al Tizón Tardío en Latinoamérica. In: Memorias del Taller Internacional Complementando la Resistencia al Tizón (Phytophthora infestans) en los Andes, Lima, Perú.

Jenkins, J.C., and R.K. Jones. 2003. Classifying the relative host reaction in potato cultivars and breeding lines to the US-8 strain of Phytophthora infestans in Minnesota. Plant Disease 87: 983–990.

Kapsa, J. 2002. Varietal resistance of potatoes to late blight and chemical protection strategy. Journal of Plant Protection Research 42: 101–107.

Kirk, W.W., F.M.A. El-Samen, J.B. Muhinyuza, R. Hammerschmidt, D.S. Douches, C.A. Thill, H. Groza, and A.L. Thompson. 2005. Evaluation of potato late blight management utilizing host plant resistance and reduced rates and frequencies of fungicide applications. Crop Protection 24: 961–970.

Mantecon, J.D. 1998. Potential yield losses caused by late blight in Argentina during the last decade. Fungicide & Nematicide Test 53: 202–204.

Micheletto, S., M. Andreoni, and M.A. Huarte. 1999. Vertical resistance to late blight in wild potato species from Argentina. Euphytica 112: 133–138.

Micheletto, S., R. Boland, and M.A. Huarte. 2000. Argentine wild diploid Solanum species as sources of quantitative late blight resistance. Theoretical Applied Genetics 101: 902–906.

Naerstad, R., A. Hermansen, and T. Bjor. 2007. Exploiting host resistance to reduce the use of fungicides to control potato late blight. Plant Pathology 56: 156–166.

Platt, H.W., and G. Tai. 1998. Relationship between resistance to late blight in potato foliage and tubers of cultivars and breeding selections with different resistance levels. American Journal of Potato Research 75: 173–175.

Porter, L.D., D.A. Inglis, and D.A. Johnson. 2004. Identification and characterization of resistance to Phytophthora infestans in leaves, stems, flowers, and tubers of potato clones in the Pacific Northwest. Plant Disease 88: 965–972.

Tooley, P.W., W.E. Fry, and M.J.V. Gonzalez. 1985. Isozyme characterization of sexual and asexual Phytophthora infestans. Journal of Heredity 76: 431–435.

Toxopeus, H.J. 1961. On the inheritance of tuber resistance of Solanum tuberosum to Phytophthora infestans in the field. Euphytica 10: 307–314.

Van Damme, M., and A. Ridao. 1994. Determination of races and mating type of Phytophthora infestans isolated in Argentina. Fitopatología 29: 78.

Van Damme, M., S. Capezio, and M.A. Huarte. 1998. Phenotypes of Phytophthora infestans isolated in Argentina during 1994–1996: mating type, metalaxyl reaction and isozyme analysis. Fitopatología 33: 53.

Vleeshouwers, V.G., W. van Dooijeweert, F. Govers, S. Kamoun, and L.T. Colon. 2000. The hypersensitive response is associated with host and nonhost resistance to Phytophthora infestans. Planta 210: 853–864.

Yuen, J.E., and G.A. Forbes. 2009. Estimating the level of susceptibility to Phytophthora infestans in potato genotypes. Phytopathology 99: 782–786.
Acknowledgements
This study was supported by McCain Argentina S.A. Special thanks are due to McCain Argentina field workers for their cooperation in collecting and transporting leaf and tuber samples to the University laboratory.
About this article
Cite this article
Andreu, A.B., Caldiz, D.O. & Forbes, G.A. Phenotypic Expression of Resistance to Phytophthora infestans in Processing Potatoes in Argentina. Am. J. Pot Res 87, 177–187 (2010). https://doi.org/10.1007/s12230-009-9121-z
Keywords
Aggressiveness

Host resistance

Late blight

Potato

Solanum tuberosum
Phytophthora infestans