Abstract
The widely grown and important 'Russet Burbank' potato has now been almost 100 years under cultivation. 'Russet Burbank', derived from 'Burbank', is described as the classic example of a periclinal chimeral cultivar that is (by definition) a stable entity. This research investigated the chimeral status of the New Brunswick (NB) clone of 'Russet Burbank'. This was done through regeneration of somatic embryos from specific tuber tissues representing the three histogenic layers of the shoot meristem from microtubers and field tubers. Intraclones were evaluated for tuber periderm characteristics in two field seasons. Most intraclones had tubers with russet periderm regardless of tuber source tissues. The frequency of up to 4% for non-russet (wild-type) and up to 21% for patchy periderm suggests that one or more types of gene expression modification should be investigated for these phenotypic changes. Clearly, NB 'Russet Burbank' is not presently organized in a periclinal chimeral arrangement.
Resumen
La ampliamente cultivada e importante papa 'Russet Burbank' tiene ahora casi 100 años bajo cultivo. 'Russet Burbank', derivada de 'Burbank', es descrita como el clásico ejemplo de cultivar de quimera periclinal que es (por definición) una entidad estable. Se investigó la condición quimérica del clon de Nueva Brunswick (NB) de 'Russet Burbank'. Esto se hizo a través de la regeneración de embriones somáticos provenientes de tejidos específicos del tubérculo que representan las tres capas histogénicas del meristemo de brotes de microtubérculos y de tubérculos provenientes del campo. Los intraclones fueron evaluados para características del peridermo del tubérculo en dos temporadas de campo. La mayoría de los intraclones tuvieron tubérculos con peridermo rugoso independientemente de la procedencia del tejido del tubérculo. La frecuencia de hasta el 4% para peridermo no-rugoso (tipo silvestre) y hasta 21% para peridermo rugoso sugiere el estudio de uno o más tipos de modificaciones en la expresión génica para determinar estos cambios fenotípicos. Claramente, el NB 'Russet Burbank' no está organizado en un arreglo de quimera periclinal.
Access options
Buy single article
Instant access to the full article PDF.
USD 39.95
Price excludes VAT (USA)
Tax calculation will be finalised during checkout.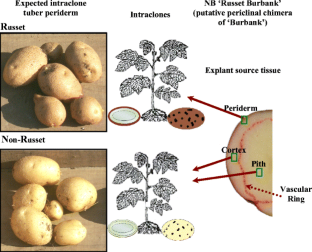 References
Asseyeva, T. 1927. Bud mutations in the potato and their chimerical nature. J Gen 19: 1–27.

Asseyeva, T. 1931. Bud mutations in the potato. Bull Appl Bot Leningrad 27: 135–217.

Atkinson, D., B. Geary, J. Stark, S. Love, and J. Windes. 2003. Potato varietal responses to nitrogen rate and timing. Western Nutrient Management Conference, Salt Lake City, UT. 5:149–155.

Bertsch, C., F. Kieffer, P. Maillot, S. Farine, C. Buttelin, D. Merdinoglu, and B. Walter. 2005. Genetic chimerism of Vitis vinifera cv. Chardonnay 96 is maintained through organogenesis but not somatic embryogenesis. BMC Plant Biol 5: 20.

Brown, C.R. 1993. Origin and history of the potato. Am Potato J 70: 363–373.

Burge, G.K., Ed.R. Morgan, and J.F. Seelye. 2002. Opportunities for synthetic plant chimeral breeding: Past and future. Plant Cell, Tissue Organ Culture 70: 13–21.

CFIA (Canadian Food Inspection Agency). 2008. Potato varieties. Russet Burbank. http://www.inspection.gc.ca/english/plaveg/potpom/var/russetburbank/russetbe.html (visited April 2008).

Canli, F.A. 2003. A review on thornless roses. Pak J Biol Sci 6: 1712–1719.

Clark, C.F. 1930. The origin by mutation of some American potato varieties. Proceedings of the 17th Annual Meeting Potato Association of America, pp. 117–124.

Clark, C.F. 1933. Further studies of the origin of russeting in the potato. Am Potato J 10: 88–91.

Clark, D.F., and P.M. Lombard. 1946. Descriptions of and key to American potato varieties. Circular No 741. Washington, DC: United States Department of Agriculture, p. 37.

Darling, H.M. 1968. Varieties. Chapter 8. In Potatoes: Production storing processingWestport, Connecticut: The Avi Pub Co. Inc.

Davis, J.W. 1992. Aristocrat in burlap: A history of the potato in Idaho. Idaho Potato Commission.

De Jong, H. 1981. Inheritance of russeting in cultivated diploid potatoes. Potato Res 24: 309–313.

Dermen, H. 1960. Nature of plant sports. Am Hortic Mag 39: 123–173.

Franks, T., R. Botta, and M.R. Thoams. 2002. Chimerism in grapevines: Implications for cultivar identity, ancestry and genetic improvement. Theor Appl Genet 104: 192–199.

Hardenburg, E.V. 1949. Potato production. 130. Ithaca, NY: Comstock Pub Co., Inc.

Hartmann, H.T., D.F. Kester Jr, F.T. Davis, and R.L. Genève. 2002. Plant propagation: Principles and practices, 7th edn. 242–248. New Jersey USA: Prentice Hall.

Hocquigny, S., F. Pelsy, V. Dumas, S. Kindt, M.C. Heloir, and D. Merdinoglu. 2004. Diversification within grapevine cultivars goes through chimeric states. Genome 47: 579–589.

Howard, H.W. 1959. Experiments with a potato periclinal chimera. Genetics 30: 278–291.

Howard, H.W. 1961. Mericlinal chimeras in the potato variety Gladstone. New Phytol 60: 388–392.

Hu, W., M.C.P. Timmermans, and J. Messinga. 1998. Interchromosomal recombination in Zea mays. Genetics 150: 1229–1237.

Idaho Potatoes. 2008. Idaho's famous potato: The discovery of Russet Burbank; excerpted from Davis JW Aristocrat in Burlap: A history of the potato in Idaho. http://132.178.236.111/information/otherprojects/potato/russets.html (visited March, 2008).

Kaeppler, S.M., and R.L. Phillips. 1993. DNA methylation and tissue culture-induced variation in plants. In Vitro Cell Devel Biol. Plant 29: 125–130.

Klekowski, E.J., N. Kazarinova-Fukshansky, and H. Mohr. 1985. Shoot apical meristems and mutation: Stratified meristems and angiosperm evolution. Am J Bot 72: 1788–1800.

Klopfer, K. 1965. Uber den Nachweis von drei selbstandigen Schichten im Sprozscheitel der Kartoffel. Z Pflanzenzucht 53: 67–87.

Krantz, F.A. 1951. Potato breeding in the United States. Z Pflanzenzucht 29: 388–393.

Larkin, P.J., and W.R. Scowcroft. 1981. Somaclonal variation—A novel source of variability from cell cultures for plant improvement. Theor Appl Genet 60: 197–214.

Leclerc, Y., D.J. Donnelly, and J.E.A. Seabrook. 1994. Microtuberization of layered shoots and nodal cuttings of potato: The influence of growth regulators and incubation periods. Plant Cell, Tissue Organ Cult 37: 113–120.

Lee, M., and R.L. Phillips. 1988. The chromosomal basis of somaclonal variation. Ann Rev Plant Physiol Plant Mol Biol 39: 413–437.

Marcotrigiano, M. 1990. Genetic mosaics and chimeras: Implications in biotechnology. In Biotechnology in agriculture and forestry. Somaclonal variation and crop improvement I, vol. 11, ed. Y.P.S. Bajaj, 85–111. Springer-Verlag, Berlin.

Marcotrigiano, M., and T.M. Gradziel. 1997. Genetic mosaics and plant improvement. Plant Breed Rev 15: 43–84.

Miller, J.C. 1954. Selection of desirable somatic mutations: A means of potato improvement. Am Potato J 31: 358–359.

Murashige, T., and F. Skoog. 1962. A revised medium for rapid growth and bio assays with tobacco tissue cultures. Physiol Plant 15: 473–497.

Norris, R., R.H. Smith, and K.C. Vaughn. 1983. Plant chimeras used to establish de novo origin of shoots. Science 220: 75–76.

Ortiz-Medina, E. 2006. Potato tuber protein and its manipulation by chimeral disassembly using specific tissue explantation for somatic embryogenesis. Doctoral thesis. Office of Graduate and Postdoctoral Studies, McGill University, Montreal, Canada.

PAA (Potato Association of America), 2008. Variety images and descriptions. Russet Burbank. http://www.umaine.edu/PAA/Varieties/russburbank.htm. (visited April 2008).

Pedroso, M.C., and M.S. Pais. 1995. Factors controlling somatic embryogenesis. Plant Cell Tissue Organ Cult 43: 147–154.

Poethig, S. 1989. Genetic mosaics and cell lineage analysis in plants. Trends Genet 58: 273–277.

SAS. 2003. Version 9.1 of the SAS system for windows. Cary, NC, USA: SAS Institute Inc.

Seabrook, J.E.A., and L.K. Douglass. 2001. Somatic embryogenesis on various potato tissues from a range of genotypes and ploidy levels. Plant Cell Rep 20: 175–182.

Sharma, S.K., and S. Millam. 2004. Somatic embryogenesis in Solanum tuberosum L.: A histological examination of key developmental stages. Plant Cell Rep 23: 115–119.

Skirvin, R.M., K.D. McPheeters, and M. Norton. 1994. Sources and frequency of somaclonal variation. HortScience 29: 1232–1237.

Stevenson, J.F. 1949. Old and new potato varieties. Am Potato J 26: 395–404.

Stewart, R.N., F.G. Meyer, and H. Dermen. 1972. Camellia + 'Daisy Eagleson': A graft chimera of Camellia sasanqua and C. japonica. Am J Bot 59: 515–524.

Thornton, R.E., and J.B. Sieczka (eds). 1980. Commercial potato production in North America. Am Potato J (S) 57.

Tilney-Bassett, R.A.E. 1986. Plant chimeras. 41 Bedford Square, London: Edward Arnold (Publishers) Let, pp. 4, 38–42, 50–62, and 111–121.

Van Harten, A.M. 1972. A suggested method for investigating L1 constitution in periclinal potato chimeras. Potato Res 15: 73–75.
Acknowledgements
The authors wish to thank Dr. X.-Q. Li (AAFC, Fredericton, NB) and Drs. W.E. Grant (Emeritus) and A. Kushalappa (Plant Science Department, McGill University, QC) for manuscript review. We thank McCain Foods Canada Ltd. for extensive field support and Dr. Jihad Abdulnour for technical assistance. We also thank the Bon Accord Elite Seed Potato Centre (Bon Accord, NB, Canada), The Plant Propagation Center NB Department of Agriculture, Fisheries and Aquaculture (Fredericton, NB, Canada) and The USDA Research Service, Inter-Regional Potato Introduction Station (Sturgeon Bay, WI, USA) for supplying plants and pictorial reference material. We are grateful for financial support from the NSERC Discovery Grant Program (D.J. Donnelly) and for graduate scholarships from the Government of Egypt (A.M.K. Nassar) and the Consejo Nacional de Ciencia y Tecnologia Mexico (E. Ortiz-Medina).
About this article
Cite this article
Nassar, A.M.K., Ortiz-Medina, E., Leclerc, Y. et al. Periclinal Chimeral Status of New Brunswick 'Russet Burbank' Potato. Am. J. Pot Res 85, 432–437 (2008). https://doi.org/10.1007/s12230-008-9041-3
Received:

Accepted:

Published:

Issue Date:

DOI: https://doi.org/10.1007/s12230-008-9041-3
Keywords
'Burbank'

Solanum tuberosum

Somatic embryogenesis

Histogenic layers