Abstract
Tuber color and appearance are important factors that influence consumer decision-making. In order to evaluate which factors are important to consumers in Maine, we surveyed 275 people over 2 years and four locations to assess fresh potato consumption patterns and to determine how specific potato characteristics influence variety selection. A majority of the study participants were women between the ages of 41 and 60. Over 60% of survey participants cooked and consumed fresh potatoes between one and three times per week, and over 84% of participants reported that baked, mashed, or roasted potatoes were their preferred methods of preparing fresh potatoes. Over 96% of survey participants expressed that potatoes were a healthy food, although more than a third stated that they limited their carbohydrate consumption. The most important potato characteristics found to influence fresh potato purchase were skin quality and place of origin with 30% and 41% of participants giving each of these factors the highest possible score. Participants appear to recognize the importance of the industry, and many expressed interest in buying locally grown potatoes. Skin quality was the most important characteristic influencing preference for whole white and yellow skin varieties (seven of eight varieties) evaluated in the study. Skin quality also influenced variety selection of whole red skin potatoes in five of eight varieties. This suggests that more research is needed to develop varieties and production methods that produce attractive blemish-free potatoes. When participants could see the potato flesh, it significantly influenced variety selection with all potatoes. Flesh color was the most important characteristic of halved potatoes with 13 of 14 possible varieties. Pictures showing potato flesh color may also help retail sales of table stock varieties. The yellow fleshed varieties with white and purple skins were quite popular, but yellow flesh, red skin varieties were less popular.
Access options
Buy single article
Instant access to the full article PDF.
US$ 39.95
Tax calculation will be finalised during checkout.
Subscribe to journal
Immediate online access to all issues from 2019. Subscription will auto renew annually.
US$ 79
Tax calculation will be finalised during checkout.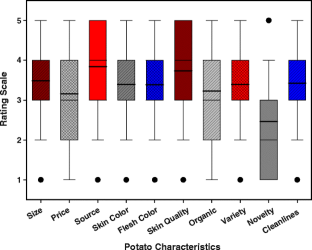 References
Binkley, J.K. 2006. The effect of demographic, economic, and nutritional factors on the frequency of food away from home. Journal of Consumer Affairs 40: 372–391.

Blanke, N.M., and B. Burdick. 2005. Food (miles) for thought: energy balance for locally grown verses imported apples. Environmental Science of Pollution Research International 12: 125–127.

Blisard, N., B.H. Lin, J. Cromartie, and N. Ballenger. 2002. American's changing appetite: food consumption and spending to 2020. Food Review 25: 2–9.

Blisard, N., J. Variyam, and J. Cromartie. 2003. Food expenditures by U.S. households: looking ahead to 2020. USDA-Economic Research Service TB-1713. Washington, DC: USDA-Economic Research Service.

Bourn, D., and J. Prescott. 2002. A comparison of the nutritional value, sensory qualities, and food safety of organically and conventionally produced foods. Critical Review of Food Science and Nutrition 42: 1–34.

Brown, C.R. 2005. Antioxidants in potato. American Journal of Potato Research 82: 163–172.

Buzby, J.C., and H.A. Farah. 2006. Americans switch from fresh to frozen potatoes. Amber Waves 4(3).

Caldwell, J.S., B.C. Brunstetter, C.W. Culpepper, and B.D. Ezell. 1945. Causes and control of discoloration in dehydration of white potatoes. Canner 100: 35–40.

Crommartie, J. 2002. Population growth and demographic change: 1980–2020. Food Review 25: 10–12.

Elle-Martin, J.A., J.H. Ledikwe, and B.J. Rolls. 2005. The influence of food portion size and energy density on energy intake: implications for weight management. American Journal of Clinical Nutrition 82: 236s–241s.

Fernandez, G., A. Velangi, and T.M. Wolever. 2005. Glycemic index of potatoes commonly consumed in North America. Journal of American Dietetics Association 105: 557–562.

Guthrie, J.F., B.H. Lin, and E. Frazao. 2002. Role of food prepared away from home in the American diet, 1977–78 versus 1994–96: changes and consequences. Journal of Nutrition Education Behavior 34: 140–150.

Hedstrom, N. 2004. Vegetables for health the pyramid way: potatoes. Bulletin 4179. Bangor: University of Maine Cooperative Extension.

Hamrick, K., and H.J. Shelley. 2006. How much time do Americans spend preparing and eating food? Amber Waves 4(5).

Iwanzik, W., M. Trevini, R. Stute, and R. Hilbert. 1983. Carotinoidgehalt und zusammensetzung verschiedener deutscher kartoffelsorten und deren bedentung fur die fleischfarbe der knolle. Potato Research 26: 149–162.

Jones, A. 2002. An environmental assessment of food supply chains: a case study of dessert apples. Environmental Management 30: 560–576.

Lachman, J., and K. Hamouz. 2005. Red and purple coloured potatoes as a significant antioxidant source in human nutrition—review. Plant and Soil Environment 51: 477–482.

Lewis, C.E., J.R.L. Walker, J.E. Lancaster, and K.H. Sutton. 1998. Determination of anthocyanin, flavonoids, and phenolic acids in potatoes. I. Coloured cultivars of Solanum tuberosum L. Journal of Science and Food Agriculture 77: 45–57.

Lin, B., and E. Frazao. 1999. Away-from-home-foods increasingly important to quality of American diet. USDA-Economic Research Service AIB-749. Washington, DC: USDA-Economic Research Service.

Lisinska, G., and W. Leszczynski. 1989. Potato science and technology. New York: Elsevier Applied Science.

Lister, C.E. 1999. Natural antioxidants in fruits and vegetables. Leatherhead Food RA Food Industry Journal 2: 251–264.

Maine Potato Board. 2000. The Maine potato industry. Caribou: Maine Potato Board(Publication available upon request).

MINTEL. 1999. Organic food and drink retailing. London: UK Economist Intelligence Unit.

New England Agricultural Statistics. 2007. Maine potatoes: acreage, yield, size and grade, 2006 crop. USDA: National Agriculture Statistics Service.

Padel, S., and C. Foster. 2005. Exploring the gap between attitudes and behavior: understanding why consumers buy or do not buy organic food. British Food Journal 107: 606–624.

Putnam, L., J. Allhouse, and L. Scott-Kantor. 2002. The U.S. per capita food supply trends: more calories, refined carbohydrates, and fats. Food Review 25: 2–15.

Stevens-Garmon, J., C. Huang, and B. Lin. 2007. Organic demand: a profile of consumers in the fresh produce market. Choices 22: 109–116.

Stewart, H., N. Blisard, S. Bhuyan, and R.M. Nayga. 2004. The demand for food away from home: full service or fast food. USDA-Economic Research Service Report No. 829. Washington, DC: USDA-Economic Research Service.

Tevini, M., and G. Schonecker. 1986. Occurrence, properties, and characterization of potato carotenoids. Potato Research 29: 265.

Williams, P.R., and J.K. Hammitt. 2000. A comparison of organic and conventional fresh produce buyers in the Boston area. Risk Analysis 20: 735–746.

Woolfe, J.A. 1987. The potato in the human diet. Cambridge: Cambridge University Press.

World Health Organization (WHO). 2000. Obesity preventing and managing the global epidemic. Report of a WHO Consultation on Obesity. Technical Report Series No. 894. Geneva: WHO.

Yen, S. 1993. Working wives and food away from home. Journal of Agricultural Economics 73: 884–895.
About this article
Cite this article
Jemison Jr, J.M., Sexton, P. & Camire, M.E. Factors Influencing Consumer Preference of Fresh Potato Varieties in Maine. Am. J. Pot Res 85, 140–149 (2008). https://doi.org/10.1007/s12230-008-9017-3
Keywords
Potato Variety

Flesh Color

Potato Industry

Fresh Potato

Silver Scurf